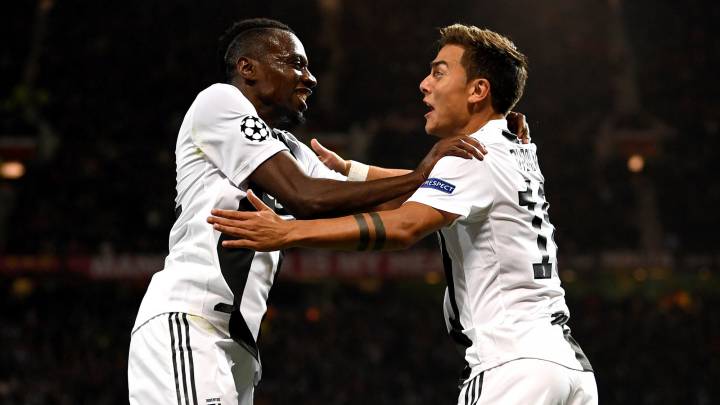 Manchester United vs Juventus: match report
Juventus left Old Trafford with a 1-0 victory after Dybala struck in the 17th minute, but the score-line did not reflect the gaping difference in quality between the two sides.
Juve looked dangerous from the off and after 15 minutes, it felt like it wouldn't be long until they opened the scoring. Just two minute later, Ronaldo found himself in space on the right and put in a low cross towards the six-yard box. Juve had a bit of luck when the ball fell to the feet of Dybala after two deflections, and the Argentinean slotted past De Gea with ease from short range.
United, who had only 30% possession in the first half, really had nothing to give. Their best and only real chance came just two minutes before Dybala's goal, when a Mata cross from a set-piece found the head of Pogba. The Frenchman's header was on target but was easily saved by Szczesny. Juve were easily in control for the rest of the half, and looked like they were sailing to victory.
Second half
United were slightly better in the second half, but just lacked the killer instinct to trouble Juventus in the Italian side's third. Juve meanwhile looked dangerous every time they got the ball. And they would have been two-nil up after 52 minutes had it not been for De Gea, who managed a wonderful save to keep out an equally wonderful strike by Ronaldo from the edge of the box that was sailing into the top right corner.
United, for their part, were unlucky not to have an equalizer in the 75th minute after an amazing piece of individual skill from Pogba. The Frenchman won the ball about 25 yards out and turned quickly to face the Juventus goal before launching a low and hard shot that hit the left post.
But that was as good as it got for Mourinho, who made no changes in the game, and Juventus held on to their one-goal lead and secured the three points.
Manchester United vs Juventus: live updates
Manchester United vs Juventus: preview
Manchester United and Juventus face off at Old Trafford on Tuesday night in Group H of the Champions League, with Cristiano Ronaldo making a return to his former home for the first time since 2013.
This will be the first time the two sides have met in the competition since 2002-2003, when United won both group stage games between the sides (2-1 at home, 3-0 away). The English and Italian clubs have squared off 12 times in total, with both teams winning five each and drawing twice. United have won the last three encounters, but will not be favorites tonight despite home advantage.
Manchester United
United have only won one of their last six games. That win came against Newcastle two weeks ago, with the Red Devils' thrilling second half comeback to seal a 3-2 victory marking the start of a mini resurgence. That game was followed by the 2-2 draw with Chelsea at Stamford bridge, a satisfactory, yet disappointing, result for Mourinho, after the Blues found a 96th minute winner to deny United the three points.
"United's form was shown in the past two matches. The way we can play, and the way we want to play was shown in the last two matches, so we will try to [play that way again]," said Mourinho at the pre-match press conference.
Sitting in second place with four points in Group H, his side go into the game unbeaten and having not conceded a goal in their two previous Champions League games against Young Boys (3-0) and Valencia (0-0). But Juventus will provide a much sterner test and with two difficult trips to Turin and Valencia ahead, anything less than a draw tonight will make United's road to the second round much rockier.
Juventus
Juventus' early season form, meanwhile, has been markedly contrasting to that of United. Massimiliano Allegri's side have won 10 of their 11 games in all competitions this season – only dropping points for the first time last weekend against Genoa. With six points, they sit top of Group H ahead of United, following victories against Valencia and Young Boys.
Since joining Juve from Real Madrid this summer, Cristiano Ronaldo has scored five goals in ten games and returns to Champions League action after he sat out the previous game againt Young Boys due to suspension. The ex-United hero is likely to receive a warm reception at Old Trafford tonight, and will be looking to score at his former home as he did so for Real Madrid four years ago to put United out of the competition.
He will likely be joined up front by Dybala, while the other member of the regular Juve striking trio, Mandzukic is missing due to an ankle sprain. But Allegri's side have plenty of firepower to cope without the Croatian and are tipped to leave Old Trafford with the three points.