Barcelona 2-0 Inter Milan match report: Champions League
Barcelona, without their injured talisman Leo Messi, dealt comfortably with Inter Milan, thanks to goals in each half, from Rafinha and Jordi Alba.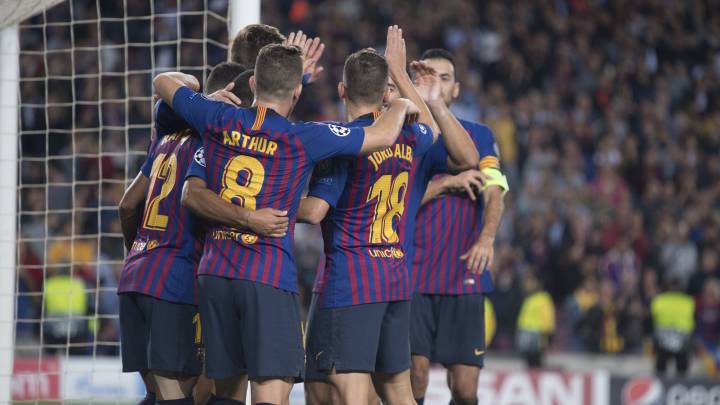 Barcelona 2-0 Inter Milan: match report
Barcelona passed their first test post-Messi injury, maybe not with flying colours, but there wre plenty of important and convincing performances, and three points too. Inter Milan, who didn't really show up until the second half, made life difficult for Barcelona for spells in that second 45 but couldn't find the breakthrough.
Sin Messi, Barcelona started with Rafinha and he was playing on the right-hand side of a three-pronged attack. It was the attacker who got the opener after a lovely ball from Luis Suarez sent in from the right as the former Inter player placed home with his left foot.
Coutinho went closest after that with a free after he was bundled over just outside the penalty area. With no Messi, the Brazilian got the chance to take the free in a position where his teammate usually thrives. It hit the wall and went out for a corner just as the referee blew for full time.
Inter made a change at the break and it worked. They replaced Candreva with Politano and he had two early chances with Ter Stegen saving the first and Politano's accuracy, or lack thereof, saving Barcelona on the second occasion.
That was mostly it from Inter as their aggressive pressing mixed with frustration started to get them into trouble. Luis Suarez was fouled a number of times in dangerous positions and the referee had to ensure he kept things from boiling over.
It wasn't until Arturo Vidal and Rakitic linked up before the Croatian found Alba inside the area to slot home that Barcelona could breathe a sigh of relief though. The first touch was sublime and it capped an excellent performance from the left-back.
With the game as good as settled and with Inter showing no signs of getting themselves back into it, Messi, who was in the stands with arm in sling, made his way out of the stand and down the tunnel. He had seen enough and Barcelona had done enough with another far sterner test coming on Sunday; the Clásico.
Barcelona vs Inter Milan: live match updates and commentary
90'+3' GAME OVER at Camp Nou!
89'   Lautaro with a strike and that's gathered by Ter Stegen. 
87'   Semedo with a lovely ball into the box and Suarez swings a foot at it on the volley. Caught by Handanovic. 
85'   Barcelona fans loving life now after a nervy second half with just a goal lead. 
83' GOAL! Alba finishes this one. Lovely, neat touch inside the box and he finished beyond Handanovic. Rakitic with the pass into the box and he slots home.
82'   Rakitic curls one just wide now. Dangerous but his left-footed effort is just wide. 
79'   Ball into the box from the left from Asamoah. Lautaro shoots but misses. It's wide.
77' Balde replaces Perisic. 
77' Vidal replaces Arthur. They're booing him and applauding Arthur.
75'   Suarez with the free...and the rebound! Both blocked as Inter attack. A rare one too that ends as quickly as it began.
74' And another yellow. Skriniar fouls Suarez and he isn't happy. He tells Suarez to get up and stop diving. 
73' There's a yellow for Brozovic. He chops Coutinho down and deserves that. 
71' Rafinha replaced for Nelson Semedo. He is the difference-maker so far. 
70'   Two decent chances for Inter with the first resulting in a corner. The header is cleared and Barcelona break. Coutinho hits the crossbar and Suarez follows it up with a curled effort. It goes over the bar. 
69'   Rakitic with a shot and Handanovic saves.
68'   Inter trying their best to win the ball back up high but Barcelona holding them off for now. 
67'   Corner and Coutinho gets it but he's offside.
66'   Suarez shoots. It hits the wall and they had someone lying behind the wall. Brilliant but it didn't hit him. 
64'   Suarez is fouled now just outside the box. Himself and Miranda having a right battle tonight! 
64'   Sergi Roberto cross and it's rejected by Inter. Barcelona keep it but have to go back with it. 
63' Lautaro Martinez comes on for Valero. Two striker on now for Spalletti. 
62' Suarez is eventually booked. It's not for talking though. He goes in with a high foot on Miranda and gets the yellow.
61'   Corner and it's whipped in eventually as Lenglet with the header. Handanovic saves it easily in the end. 
61'   Lenglet goes so close again. He shoots with his left and Handanovic rejects it again.
60'   Coutinho handles the ball and it's goes out for a goalkick anyway. 
58'   Suarez with a lovely run into the box and beats a couple of defenders but can't beat Handanovic. Corner. 
56'   Suarez fouled as the ball makes it to his feet. Well, the ball would have made it to his feet if he wasn't fouled before that.
54'   Politano has made a massive impact. He sets Icardi free down the right and then his cross is half-blocked. Inter pushing way higher up the field.
53'   Politano hits the ground and thinks he has a free. He grabs the ball and it's a free to Barcelona. Valero kicks Alba after the free was taken. 
51'   Really sharp from Inter after winning the ball high up the field. Politano with the effort after Icardi backheels into his path. Much more dangerous from Inter.
50'   Politano with a cross that turned into a shot. It was about to curl in but Ter Stegen gets a hand to it as it bounces and puts it behind for a corner. 
47'   Valero puts Pique under pressure. The Inter player is fouled in the end but Pique caught him with a stray hand and he hits the ground. Free to Barcelona though.
47' Candreva taken off a the break by Inter.  Politano comes on. 
46'   We are back underway for the second half! 
45'+1'   Coutinho with the strike. Hits the wall and goes just wide. No time for the corner! 
45'+1'   Coutinho fouled just outside the box. This is Mess-land.
45'+1'   One minute of added time. One last chance for Barcelona. 
45'   Barcelona wanted a foul by Brozovic earlier on as he toppled Arthur over. 
44'   Perisic breaks. Inter relying on counter now and he gets a cross in but Alba gets back to clear. 
43'   Sergi Roberto picks it up on the right and he sends it towards the penalty area. Coutinho can't get anything on it and Inter clear. Barcelona win it back though through a throw. 
42'   Ball over the top in search of Perisic and it's too long. Ter Stegen gathers. 
40'   Suarez down injury and Inter have the ball. Fans want them to kick the ball out. They do. He looks fine. 
38'   Ball into Icardi but it's headed out and only as far as Vecino. He hits it first time and that flies over Ter Stegen's goal. A bullet but an off target bullet. 
37'   Chance now for Inter to do something. They lose it but Ter Stegen's pass out is won back. Inter pushing forward a little bit now. 
36'   Busquets fouls Valero. 
36'   Barcelona moving a little more freely now. Inter yet to react after the goal. 
35'   Suarez called for offside and he has another go at the linesman. Very unneccesary. 
35'   In fairness, that goal was coming. 
32' GOAL! Rafinha with a ball out wide to Suarez and he clips it back inside. Lovely finish from the Messi replacement. 
31'   Alba with a dangerous cross and Asamoah picks it up. All very frenetic at the moment. 
29'   Corner for Barcelona. Coutinho whips it in and Lenglet reaches it again. All he can do though is knock it out of reach of Suarez, who was waiting for it. 
27'   Coutinho with a cross field ball to Roberto. Suarez does well to keep it in and Barcelona on the move again. Beautiful football from Barcelona. Alba into Suarez and a wonderful flick to Rafinha before the shot is saved by Handanovic. 
26'   Icardi is through on goal. He has his arm pulled back and he slips. Looks very much like a penalty but the referee doesn't give it. On replay, it is clear it wasn't. Just very good defending from Lenglet.
26'   Icardi gets it and shoots on sight. Blocked for a throw. Icardi a real livewire but Inter haven't created much recently.
25'   Rafinha obstructs Asamoah off the ball and Inter have a free. 
24'   Suarez forces a save from Handanovic. He was offside though and he has a word for the linesman too. The official made the right call.
23'   Free for Inter as they take their time over this. As soon as they take it, Barcelona pounce, and win it back. Inter really not comfortable on the ball.
22'   Alba breaks free on the left. He runs towards goal but he takes the wrong option and plays it inside when he might have gone himself, maybe?!
21'   Results in a Rafinha shot from outside the box. Some very neat passing around the edge of the square.
21'   They thought they had it back for a second but Brozovic handles the ball to win it. Free is taken quickly down the right and Barcelona recycle and keep it moving. 
20'   Barcelona playing keep-ball here and Inter can't get a look. 
19'   Excellent header from Lenglet. 
18'   So close. Lenglet with a poweful header as Handanovic gets down to save it with his feet. Nice work from the keeper. 
17'   Coutinho with a lovely pass into the path, almost, of Jordi Alba. He wins a corner. That was the kind of ball Messi usually provides for the left-back.
16'   Low and teasing cross into the box that time by Perisic. 
16'   Ter Stegen with another poor kick. Really dangerous ball into the box from the left and Icardi just pokes it over. 
15'   Arthur in tight quarters and he tries to pass it forward. Inter win it back and Alba gets toppled over and Inter win the throw. 
14'   Coutinho with a pass across the field and Asamoah jumps it. Fairly lax from the Brazilian.
13'   Ball into the box and Saurez is fighting for it. He gets a slight nick in the back and heads it up into the arms of Handanovic. 
13'   Coutinho with a Coutinho. He cuts onto his right and makes a yard. He curls it high but it's over the bar. Not bad but never on target.
12'   Rakitic tries to chip one over Inter's defence but Suarez is offside and there's nobody else there to pick it up. Inter with the restart.
11'   Some nice passes by Barca before Alba's cross is blocked before Barcelona win it again. 
9'   Ball into the box and Icardi takes it down well. He takes it out to the right to make an angle and shoots. Blocked by Pique for a corner. 
8'   Inter win it back. Suarez playing as a false nine and when he usually drops out to the left, he is dropping more centrally. No luck so far with it for Barcelona.
7'   Coutinho hits the deck now but the referee waves it away. No free. 
6'   Inter attack down the right and Alba gets caught turned around as the ball comes flying well over the penalty area. Rafinha picks it up and has his feet swept from under him. Free to Barcelona.
5'   Coutinho tries to link with Suarez and he does play it in behind but Suarez fouls Skriniar. 
4'   Suarez gets fouled. He is back up though and Barcelona attack down the left and there's an offside. 
3'   Ter Stegen with an errant kick out to Perisic and he volleys it wide. Scare for Barca. 
2'   First touch for Inter.  They nearly play themselves into trouble but get it away. Barcelona pressing high up the field.
2'   An early touch for Rafinha as he picks it up and spreads it to Rakitic. 
1'   We are underway. 
    Messi sighting. He's on the bench with a sling on his arm. 
    And now it's Icardi and Busquets up for the toss. 
    The teams line up for a photo together in support of the #EqualGame campaign. 
    The Champions League music rings around the stadium!
    Teams in the tunnel as they make their way down the steps at the Camp Nou. Sergio Busquets captains Barcelona tonight.
So, Spurs were leading 2-1 and had Hugo Lloris sent off before conceding a late equaliser. It is pretty much a two-team group now! 
    Pique believes Barcelona "can cope without Messi." He has no back-up so he will have to be careful tonight!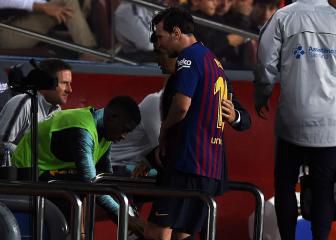 It's a restructuring for both sides tonight in midfield and in key areas for their sides. 
    Spalletti wasn't mincing his words when speaking about Nainggolan's injury after the AC Milan game. "Nainggolan has been chopped down," Spalletti said to Sky Sport Italia. "We have to take him to the hospital and see. He won't be with us for a while."
    Warm-ups underway at the Camp Nou. It's a very decent 21 degrees in Barcelona tonight.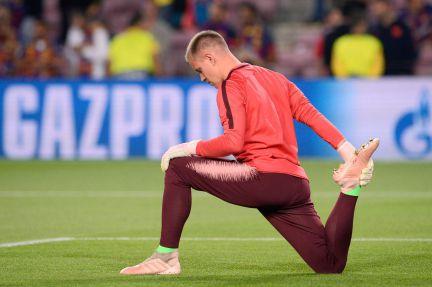 Candreva, Valero, D'Ambrosio and Miranda in for Spalletti's side as he makes four changes for the trip to Barcelona.
    Dembélé misses out and Rafinha comes in for Messi as Valverde refuses to lean on the French man in time of crisis.
    Hello and welcome to our live coverage of Barcelona vs Inter in the battle of the unbeatens in Group B at the Camp Nou! Kick-off at 21:00 CET.
Barcelona vs Inter Milan live online: preview
Barcelona have their first test since losing Lionel Messi to a broken arm on Sunday night. They play Inter Milan at the Camp Nou, the venue for their upcoming game against Real Madrid in LaLiga, in a curtain raiser and Champions League showdown against the Itailian giants. Kick-off from Barcelona is at 21:00 CET as Ernesto Valverde tries to maximise his side's qualities without his Argentinian superstar to call on.
Both sides on display on Wednesday night at the Camp Nou are unbeaten and it looks increasingly like it will be the pair vying for first place and a potentially easier path through the competition. The games at home and away for both sides will have a massive bearing on how the group looks at the end of the round and it starts in Barcelona on Wednesday night. Barcelona are leading LaLiga and coming off a good victory over Sevilla while Inter are keeping in touch in third and are coming off a win themselves at the weekend.
Ernesto Valverde will also have to contend with the absence of Samuel Umtiti and Thomas Vermaelen as his options are thread-bare at the back. The club's numbers without Messi are not great, however, and Inter will look to take advantage of their lack of dynamism without him in the number 10 spot. It also makes them unpredictable and could give Coutinho the onus to become a more central figure in the team. They will, however, have to keep an eye on fatigue with Real Madrid having an extra 24 hours to recover having played last night. Regardless of what they say, they will have one eye on that game on Sunday with the chance to send Real Madrid spiralling further into crisis with a win.
Inter, for their part, have just come away from their biggest derby where they beat AC Milan 1-0 thanks to a Mauro Icardi goal. They did lose Radja Nainggolan to an ankle injury half an hour into that game and his presence will be missed at the Camp Nou on Wednesday night. Icardi, the big name Argentinian on show on the night in Messi's absence, is upset he won't get to meet his compatriot because it's "nice to play against great footballers" but he says it does give Inter a chance to have a cut off Barcelona. "He's a big miss and it means we can go head to head [with Leo gone] because we have the qualities needed to take them on," Icardi said who is a former Barcelona youth team player.