Real Madrid round-up: Kroos, Lopetegui, Capello, Hugo Boss
Kroos backs Lopetegui, while Fabio Capello recalls being in a similar position to the current coach during his time at Madrid, before turing things around in the Clásico at Camp Nou.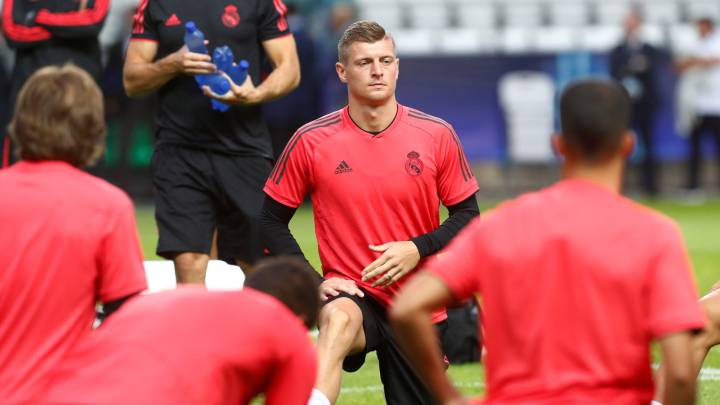 Kroos: 'We want Lopetegui to stay on'
Toni Kroos is the latest player to offer his support to under-fire Madrid coach Julen Lopetegui. After four defeats from five, the win against Viktoria Plzen on Tuesday offered some relief for Lopetegui, but was by no means a guarantee he will keep his job.
Kroos, however, believes the players must also share the blame for Madrid's poor run and says he wants Lopetegui to stay on. "He's a good coach. That is my opinion," said the German international. "We are going to turn this situation around with Lopetegui, because we work hard day in, day out and the results will have to start coming."
Posts standing in the way of Madrid
"I think we've hit the posts 12 times in the last four games," said Lopetegui after the Viktoria game. The Basque coach was incorrect with his calculation, but did highlight an important issue that has been standing in the way of goals. Madrid have hit the uprights on seven occasions in their last four games, and 11 times in total this season over 13 matches – quite a high figure, yet still two less than Barcelona, who have struck the post 13 times in 13 games.
So far this season, Madrid have had 256 shots on goal, 97 of which have been on target. Of those shots on target, 20 have been goals, meaning they have to take an average of 4.8 shots on target to score. To put that in perspective, Barcelona need to take an average of just 2.9 shots on target to score, while Atlético need an average of 2.5 shots on target per goal – almost half that or Madrid. This is just yet another statistic that shows clearly how much Los Blancos are missing Cristiano Ronaldo.
Capello on Madrid's current woes
Fabio Capello was the latest to highlight the impact of Ronaldo's departure. In an Interview with Sky Italy, the former Madrid coach said, "Without Ronaldo, you don't start each game 1-0 up, like what was happening before. It's clear they are missing somebody to replace him."
Capello also recalled his own time at Madrid, when he was also in a similar position to Lopetegui, but then managed to change things around: "I hope Lopetegui has the same luck as I had. They also gave me four days, but then we drew with three goals in the Clásico at Camp Nou, and from there we kept growing and went on to win the title." No doubt Lopetegui will hope his team can take a similar trajectory, starting this Sunday in Barcelona.
Kroos target of PSG
On the same day that Toni Kroos was backing Lopetegui, two Italian newspapers, Corriere dello Sport and Tuttosport, claim that PSG are eyeing up the German international and plan to put in an offer for him next summer. It's not the first time Madrid midfielder has been linked with a move to the Ligue 1 champions, and in the past he has criticized the French league's lack of competitiveness.
The boss smiles in Hugo Boss
Yesterday the squad posed for photos in the new official Hugo Boss team suits. In a photo posted to the club's Twitter account, ahead of the release of the official team photo, Lopetegui can be seen smiling ear to ear, which is a rare sight these days. But a win on Sunday in Camp Nou will no doubt give him much more reason to smile than a well-fitted designer suit.