Puyol: "Real Madrid relied a lot on Cristiano's goals"
The former Barcelona captain spoke about the Clásico during an interview and also discussed Leo Messi, Cristiano Ronaldo and Ernesto Valverde.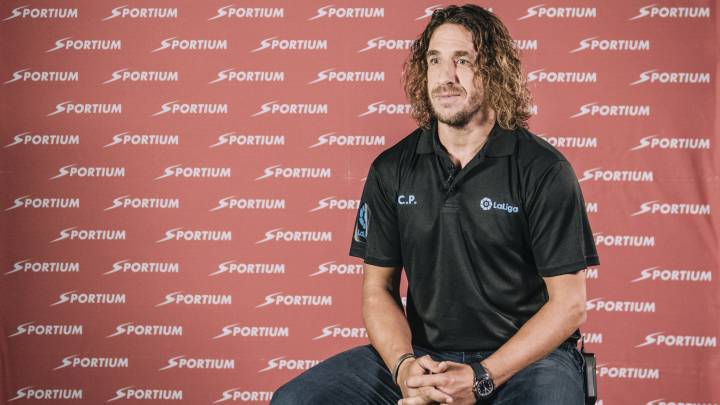 Former Barcelona captain Carles Puyol gave an interview with Sportium and analysed the upcoming Clásico, the departure of Cristiano Ronaldo from Real Madrid and the ramifications of Leo Messi's injury.
Cristiano Ronaldo: "When your best player leaves it's logical that the team suffers a slump. They need to look for solutions, another way of playing; they relied a lot on Cristiano's goals. Now they have to replace those goals with other scorers and look for a different style. It's a task for both the players and the coach."
Messi injury: "The best player in the world is always important to the team. There are other great players around him who can also make the difference but when you have the best player in the world it's normal that you depend on him."
Arthur comparisons to Xavi: "Comparing any player to Xavi is a serious business. Any player is going to lose out in a comparison like that and it puts pressure on Arthur that I don't think he needs on his shoulders. He needs to play his football. If he is at Barcelona it's because they've seen the necessary qualities and means that he has the characteristics to play for Barça and he's showing that. We need to allow him to grow, let him play his football and not compare him to Xavi."
Puyol: "I'd say Valverde is the best coach in the league"
Clásico: "Barça need to play their style of football, have the ball and try and capitalise on the chances they have to score. Barça's style is very clear."
Valverde: "For me, Valverde is an excellent coach and he's doing a very good job. Last season was a good one and I would say that he is the best coach in the league."
Clásico experiences: "I've played in some great Clásicos, some poor ones and some tough ones, but if I had to choose one it would be the 6-2 win in the Bernabéu. And the most painful one was a year earlier, the 4-1 defeat."