"After the Clásico I hope to be still breathing, I won't die"
Julen Lopetegui faced the press before Real Madrid's trip to Barcelona where they played the Clásico at the Camp Nou on Sunday afternoon.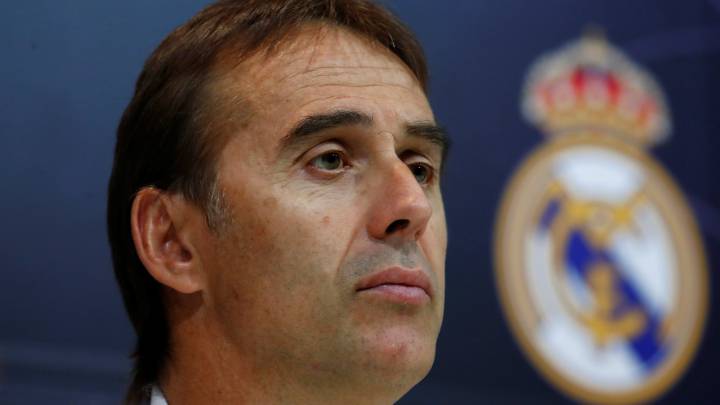 Julen Lopetegui spoke to the press before the Clásico with a very sombre mood around Valdebebas. He said he hopes to keep breathing regardless of what happens in the aftermath of the Clásico.
The Real Madrid manager also confirmed that Carvajal was out but that they are confident with whoever plays in his place and he says that he knows perfectly well who he will pick.
Meanwhile, Marcelo looks set to play as will Isco. The team trained after the press conference and leave for Barcelona on Saturday night before the game at 16:15 CET on Sunday afternoon.
Julen Lopetegui press conference: live updates
    And that's it from Lopetegui as he heads off to train the team before the embark on the journey up to Barcelona.
    Asked if it bothers him that people say it would be a surprise if Real Madrid win. "I can't be worried about what people say. It doesn't bother me what people say and I accept it and we can win in any field."
    "Sergio is our captain and always does a great job and we are very lucky to have him and he is one of the best."
    "We have different options but we trust everyone who could be playing. Carvajal isn't available but aside from that, we trust everyone who is going to play."
    Marcelo's injury. "He took a knock and he trained with us like normal. Isco is good, he has been off for a month and hasn't finished the two games he has played. Tomorrow he could be in the line up, we will see."
    "You can't commit errors, you have to trust yourself and your ability and how to damage the opponent. All of these things are important."
    What's the most important thing in the Clásico?
    "You watch the game in your way, we watch it a different way. Everyone watches it with their interests."
    "No. The situation is good for you, the journalists, but it doesn't help us. What makes me calm is that my team can turn this around and there are just a few games when we haven't had the chance to win."
    Do you think the dressing room is nervous?
    "We are in October and we have played some good games and while they haven't gone our way, we will be ready for a game like this."
    Asked when Real Madrid are injured and down, they are more dangerous. Do you agree?
    "All I can do is think about my job and I am not worried about what people are saying but just on my team."
    How do you live through all this media attention?
    "I think the team is ready to play any kind of strategy we have. I think we have done it well in certain game and we will see tomorrow what out strategy is but it'll be a team that you recognise for sure."
    "We have a very important game and I have to just focus on the game tomorrow. We have a trip this afternoon and we have to be in the best shape for tomorrow." This was about the players supporting him.
    "Barcelona and Real Madrid, there is no bigger game. It's the game with the biggest level I have been involved in. Every game is important but it is a very big game."
    Is is the most important game of your career?
    "Obviously, I trust them and they trust me. All we can do is keep underlining we are working well and hard and to show the fans. We are excited and ready for this game."
    Player supporting you, does that help you?
    "We are going to focus, thinking about ourselves. We know who we play but we have to make the most of what we have."
    "I don't think I'll die. I think there is life after the Clásico."
    Do you think there's life for Lopetegui after the Clásico?
    "You have to play well, firstly and basically I am focused on the football. We have to defend and attack well."
    Asked what the keys for the game are?
    Lopetegui sits down and gets set to ask questions ahead of the Clásico.
    And it's the first clásico since 2007 without either Ronaldo or Messi. But are Real Madrid better off without Cristiano in the biggest game in world football?
    Another thing that has been debated is what Real Madrid's best system is. They played a 4-4-2 against Roma, won 3-0, and were utterly convincing. Lopetegui might return to this system on Sunday is the suggestion as they had the best of both worlds with loads of possession and 26 shots on target too.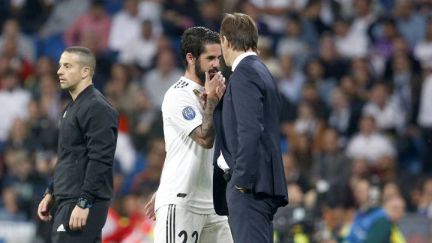 One of the issues that Perez was said to have with Lopetegui's handling of his role is the pre-game rituals and meeting. Perez prefers that they meet the day before and stay together that night. Lopetegui isn't as strict as the president of the club might like. He has changed training today, which is now earlier than planned which might have something to do with their pre-match plans.
    There is also rumours swirling regarding Antonio Conte. He is said to be ready to step in if the Clásico doesn't got to plan. 
    For some pre-presss conference reading, here is a pre-game round-up of a lot of what's happening around Real Madrid.
Lopetegui's run since taking over as Real Madrid manager does not make for pretty reading: losses to Sevilla, Levante, Alavés, CSKA Moscow and a draw with Atlético were finally joined by a win over Plzen in midweek but the performance was hardly inspiring and it may take an eye-catching result tomorrow to save his bacon. 
Lopetegui is of course under a little bit of pressure after a run of one win in six games and many observers suspect that El Clásico may be his last game in charge if the result does not go Madrid's way. 
Julen Lopetegui is to appear before the media ahead of Real Madrid's clash with Barcelona at Camp Nou on Sunday. The Real boss is expected to field questions at around 15:45 CEST.