BARCELONA - REAL MADRID
A Clásico VAR assessment: 12 penalties in the last 10 games
With VAR, there would have been plenty of change in Clásico games over the last five years and we assessed every incident that should have recieved different treatment.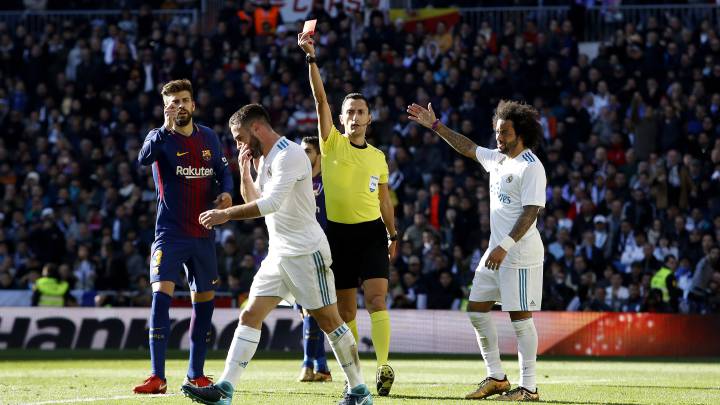 The Clásico needs very little introduction. Millions of fans will tune in on Sunday from all over the world to see the very best game in football. The encounter between the sides in this year's league game is slightly different, however, and will be the first with VAR.
We take a look at how VAR would have influenced the Clásicos in the last five seasons with the help of the Video Assistant Referee. With the technology, two goals would have been cancelled (one for either side) from the last half a decade, three added (two for Barcelona and one for Real Madrid and there would have been 12 penalties with seven of them in favour of Madrid.
Barcelona 2 - Madrid 1 (26-10-13)
In this game, Undiano Mallenco did not give two penalties that should have been gives. In th 51st minute, Pepe stepped on Cesc inside the area. Another one, in the 70th minute, was also not whistled when Mascherano pushed Cristiano in the back.
Madrid 3 - Barcelona 4 (23-3-14)
Undiano Mallecano returned for another Clásico in charge. in this game, there could have been four VAR-related incidents. The first, in the 16th minute, was when he could have whistled Pepe for a foul on Neymar. In the 54th minutes, Undiano gave a penalty to Cristiano for a foul by Alves. It was a foul but it was outside the area. And that would have prevented Real Madrid's third goal.
Again, there was a penalty blown but it was outside the area when Ramos fouled Neymar. Barcelona would have also had a goal less to their account. Also, Ramos was sent off for the foul. And the final action came when Pique fouled Bale on 76th minutes, which should have been a penalty. The VAR would have also told Undiano that Busquets raised his studs in a challenge that came very close to Pepe's face and might have resulted in a red card.
Madrid 3 - Barcelona 1 (25-10-14)
Gil Manzano was selected as the referee for this game. He made two mistakes with one in favour of each team. On 20 minutes, there was a penalty on Pique for tripping Benzema. Two minutes later, it was Marcelo who fouled inside the area when he grabbed Neymar from the back. This was also missed by Manzano although he did blow Pique for a penalty on 35 minutes which Cristiano slotted home.
Barcelona 2 - Madrid 1 (22-3-15)
Mateu Lahoz didn't make any errors in this game according to Urizar Azpitarte, the referee who analysed the games for As. He also approved of Lahoz' decision to rule out Bale's goal for offside.
Madrid 0 - Barcelona 4 (21-11-15)
Fernández Borbalán made just one mistake in a rather one-sided game. He didn't see the penalty on Ramos for a foul on Suarez. The new Barcelona signing was fouled by the central defender on 55 minutes and it would have resulted in his second yellow. He was correct in allow Neymar's goal as the Brazilian was not offside.
Barcelona 1 - Madrid 2 (2-4-16)
There was a goal ruled out for Bale wrongly in this encounter. The Welsh attacker won the ball in the air from Alba without a foul. Hernández Hernández sais that he leaned on the Barcelona defender's shoulders and it would have meant Barcelona won 1-3. Also, Pepe should have been sent off when he went in on Suarez with his elbow when the play had stopped.
Barcelona 1 - Madrid 1 (3-12-16)
Clos Gómez missed to Mascherano misdemeanours in this game. The first was a foul on Lucas Vazquez when he arrived in the area and the Argentine took him down. The second, on 23 minutes was when Mascherano pulled Ronaldo's jersey as he shot and neither was whistled.
Madrid 2 - Barcelona 3 (23-4-17)
A year later, Hernández Hernández was appointed as the referee for the Clásico. The game that ended with a Messi goal after a flowing move up the field but it might have been different when Umtiti fouled Cristiano inside two minutes.
On 19 minutes, Marcelo should have been sent off with his foul on Messi. It was a direct red but it wasn't Marcelo who got it, with Ramos seeing the card instead.
Madrid 0 - Barcelona 3 (23-12-17)
Sanchez Martinez was right not awarding Ronaldo with a penalty in the second minute but he missed twice too. In the 31st minutes, Carvajal should have given away a penalty when he took Pique's supporting leg gfrom under him and Ramos should have been sent off in the 54 minutes in a collision with Luis Suarez.
Barcelona 2 - Madrid 2 (6-5-18)
In the last Clásico, there were four incidents that would have drawn the attention of VAR. Hernández Hernández had to sent Bale off for a foul on Umtiti on 77 minutes. he should not have counted Barca's second for a foul on Varane, which propelled the counter attack. He should, however, have given Suarez' for a goal that was ruled out for offside. And finally, he should have given a penalty for a foul by Jordi Alba on Marcelo.