Empoli - Juventus live online: goals, as it happened
A second half double from the Portuguese striker was enough to secure maximum points for Juventus at the Stadio Carlo Castellani.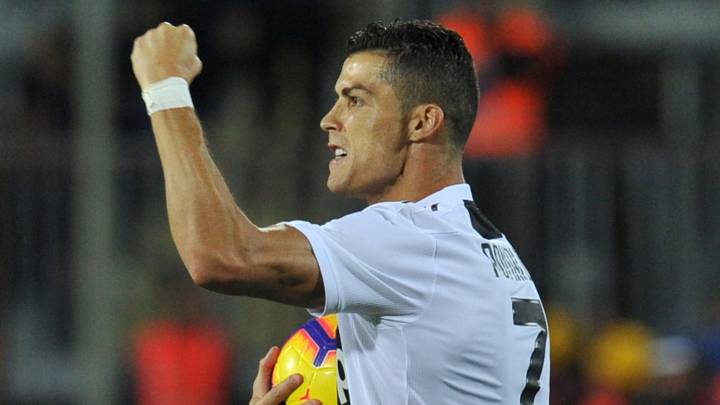 The Juventus juggernaut shows no signs of slowing down with newly promoted Empoli the "Old Lady's " latest victims after a Cristiano Ronaldo second half double ensured the maximum points headed northbound to Turin.
Promoted Empoli, with one win all season and 18th in the 20-team table, stunned the visitors with a Francesco Caputo goal -- the first time Juve had trailed at halftime this season.
But the champions turned the match around after the break as Ronaldo took his league tally to seven and left his side top with 28 points out of a possible 30, seven points clear of second-placed Napoli who play on Sunday.
Empoli-Juventus: as it happened
90'+4' FT in Tuscany: Empoli 1-2 Juventus 
90'+4'   Another free for Empoli.... keeper is up !
90'+3'   Krunic goes for the spectacular and fires over on the turn. Better from the home side but a little too late   
90'+2'   Free for Empoli as time ticks....Last throw of the dice for the Tuscan side. 
Next up for Empoli ...Napoli with Juve at home to Cagliari
Card for Ucan for protesting
90'   Corner for Empoli with 4' to be added
Barzagli on and De Sciglio off for Juve.
88'   A half hearted call for a Juve penalty after CR7 tumbles in the box...nothing doing for the match official.  
87'   Empoli are void of ideas in this half when it comes to taking the threat to the Juve area. Lofted hopeful hooved balls are not the way to break the champions rearguard down ! 
86'   Time running out for the Tuscan side. 
85'   Corner for Empoli....but woefully struck as Juve break.
84'   Empoli getting plenty of the ball now but deep inside their own half but wasteful as they move forward. 
Change for Empoli: Traore off/ La Gumina on. 
80'   Into the final ten we go .... Empoli need to give the fans something to get the stadium rocking and they seem to have run out of ideas. The CR7 winner has really rocked the men in blue.
79' Change for Juve: Pjanic off and Douglas Costa his replacement.
78'   Slightly more than 10' for Empoli to find an equaliser. They've not really troubled the Juve goal in this half with Szczesny somewhat of a spectator
Card for Dybala for a pull
76'   Long passage of Juve possession as they make the Empoli players chase the game... The home side may just have one or two more chances.  
change for Empoli: Zajc off / Ucan on
74'   Juventus looking comfortable now with the goal providing a degree of tranquility for the visitors. empoli have put in a major shift and clear to see the home side tiring
73'   Empoli 1-2 Juve 
70'   A fine strike from Cristiano and that must see the game beyond Empoli. The definition of "top corner" from the Portugal international as he bags his 7th Serie A strike this season.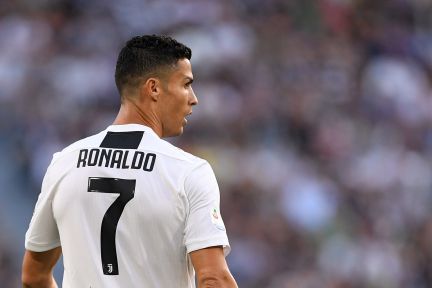 CR7 rocket .... Empoli 1-2 Juve ...what a strike from CR7 !!!!!!
Antonelli having to come off with a muscle problem .... Pasqual his replacement (Empoli)
68'   Possession after 68': Empoli 41-59 Juve (%)
Some Juve fans did make the trip to Tuscany tonight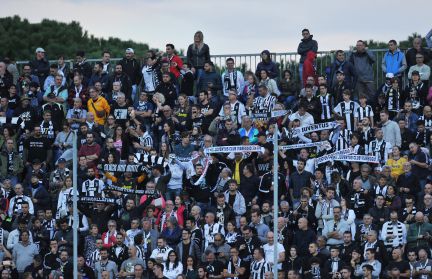 Cuadrado in and Bernadeschi off for Juve 
Cuadrado still waiting to come on ! 
65' Krunic breaks for Empoli but runs out steam and Juve regain possession  
63'   Juve on the counter....Empoli look to get bodies behind the ball as Juve build.... 
61' Cuadrado set to come on for Juve. 
59'   Time for a change for Empoli ? The home side are starting to look tired after their endeavour in holding the Serie A champions at bay for so long. 
57'   Key moment in the game for Empoli. Vital they hold their game together and keep their heads as Juve start to sense that the game is there for the taking. Card for Traore. 
CR7 !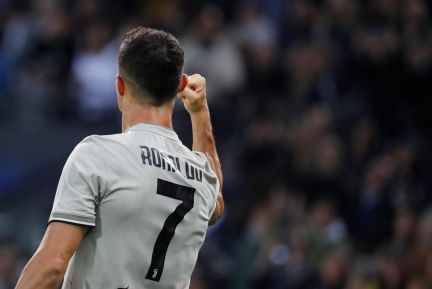 54'   6th Serie A goal for CR7 and a well taken spot kick. The penalty decicion was (I feel) correct.   
54' Dybala to take... nope...CR7 .... looks pensive ... steps up and .... scores.... gooooooool......1-1  
52'   Penalty .... Dybala toppled by Bennacer ...correct decision.....
51'   Cristiano's first half beautiffuly summed up in this photo.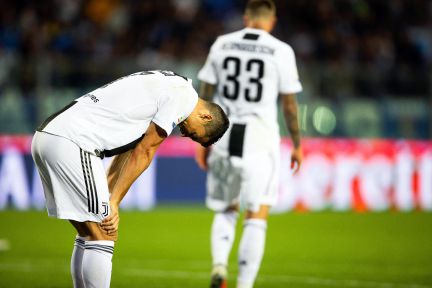 50' Empoli have a breather and win a corner themselves. Poor delivery from Zajc and Juve clear. 
49'   The men in blue managed to ride that storm with wave after wave of pressure from the visitors ...now Bernardeschi fires just over. My word, what did Allegri say at the break ?
48'   Betancur strikes early for Juve earning a corner for his side ... Crazy pressure from Juve as Pjanic hits the woodwork. 
No changes at the break for either side.  
Francesco Caputo of Empoli FC celebrates his goal during the Serie A match between Empoli and Juventus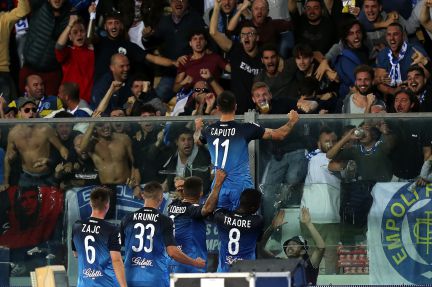 46'   Juve start the second half
The teams take to the pitch again with Caputo's goal the difference between both sides. Can Empoli ride the storm and inflict the first defeat on Juventus all season ? 
HT in Empoli: The home side ahead thanks to a fine strike form Caputo
Acquah has looked good for the home side as Betancur is carded for a trip on Krunic
3 minutes actually !
45'   2 mins. to be added.
44'   VAR time ? Yes. Ref looks at previous incident as the ball hits Bonucci on the hand. No spot kick says referee and the decision is the right one. Excellent use and implementation of VAR.
Bernardeschi carded for a trip on Krunic. First card of the night. 
42'   Empoli battling well and fightling for every breaking ball. Essential they hang on to the interval.
40' 5 to go to the break as Empoli launch a dangerous cross with Szczesny lost.  
39'   Nice header from Cristiano rising well to latch onto an Alex Sandro delivery. Once again the ball was straight at the Empoli keeper.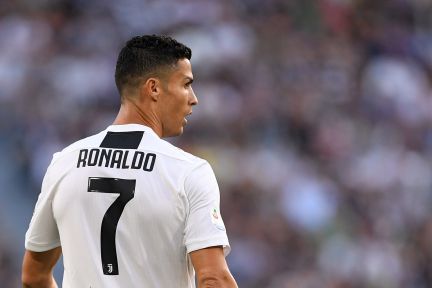 36'   Juve closing down their opponents quickly and not letting the home side get comfortable in possession. Looks like Miaetta is in trouble again as the defender pulls up.  
35'   CR7 to strike a freekick for Juve..... Usual poise.... strike takes a deflection and drifts out for a corner
34'   The game back to it's previous pattern pre-goal... Juve on the ball and Empoli chasing the game. Home fans still in fine voice buyoed on by the result.   
32'   Key for the home side is to keep Juve at bay through to the break.
30'   Possession after 30': Empoli 38-62 Juventus (%)
29'   So....what can Juve offer. Not the first time the Serie A champions have been behind but Empoli have looked dangerous.
Empoli 1-0 Juventus
Caputo drives the home side ahead with a sweet left footed curler
27' Goooooooool . Empoli strike !
26'   Traore gets a taking to after a robust challenge on Dybala. The Argentine player is set to deliver .... Leaves it for Pjanic and Alex Sandro heads (once again) straight at the home keeper.
25'   Quiet game so far from Cristiano Ronaldo. An early right footed shot is all we've seem from the Portugal international so far this evening.
23'   Ref decides that it was a goal kick as Empoli keep up the pressure with a half hearted appeal for a penalty for the home side. 
20'   Empoli corner bundled away by the Juve defence with the ball bobbling around the area. Pressure from the men in blue as they win yet another corner.
19'   Empoli giving up possession too cheaply and allowing Juve to totally dominate the action.
17'   Play resumes.... and Maietta restarts as Juve win another corner.... Pjanic takes and Alex Sandro sees his header deflected. Empoli counter....
15'   Play held up as  Maietta is down with an injury. The defender looks to be in some trouble as he attepmted to block a Alex Sandro cross. 
So often the key to playing Juve is to keep the game alive. At present one would struggle to appreciate the gulf in the Serie A table between both teams but it's impreative that the home side keep a clean sheet for as long as possible.  
11'   Zajc rifles a half volley but it drifts high and over the bar. Decent spell now for Empoli.
10'   Juve certainly the better side after the first 10 minutes but one or two positive signs for the home team. Pjanic next to try his luck but his right footed shot fails to trouble the keeper and drifts wide.  
8'   Nicely worled from Empoli as Bonucchi gives away a corner for the men in blue. Corner cleared and Antonelli fails to find a team mate and the move breaks down.
6'   CR7 with his first input of the evening driving a right footed shot high and wide  
5' Alex Sandro heads on goal but the ball is directed straight at Provedel in the Empoli goal.
5'   Dybala takes and forces the Empoli keeper to tip the ball away for another corner kick for Juve. 
5'   First corner of the evening goes to Juve after a sustained spell of possession.
3'   Early domination from the men in black and white. Empoli yet to get the ball into the opposing area.  
3' We're using the new Nike Merlin hi-viz winter ball tonight.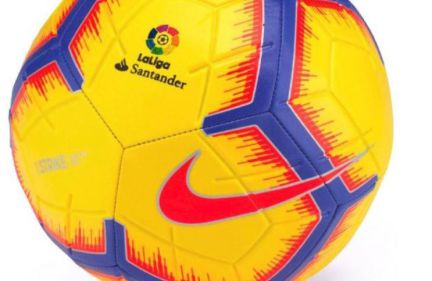 Off we go .... Empoli start us off !
The teams take to the pitch as the Serie A anthem plays ahead of kick-off. 
Travelling Juve fans were planning on boycotting tonight's game, disgruntled with Empoli are planning on charging supporters 60-75 euro for tickets for the visit of Juventus.  All a result of the CR7 effect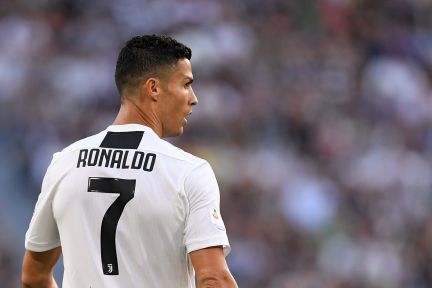 The visitors from Turin will wear their classic black & white stripes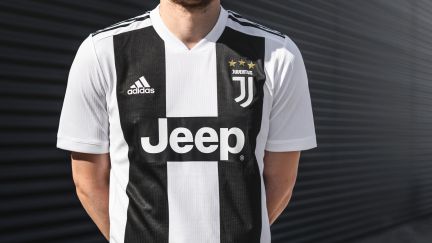 Empoli set to play in their classic blue kit tonight.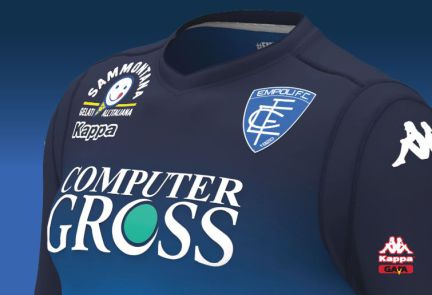 Genoa stemmed an impressive run for Juventus last week recording an impressive 1-1 draw in Turin after Allegri's side had recored ten back-to-back wins in all competition.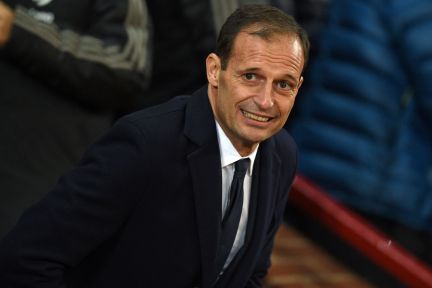 Just one win for Empoli all season and that came back on opening day with a 2-0 win at home over Cagliari. Last time Empoli faced Juve at home the "Old Lady" ran out 0-3 victors. 
It's a 18th vs. 1st Serie A battle tonight with Empoli facing a tough task ahead. As we've seen however in recent weeks, teams do up their game when the Juve juggernaut comes to town.  
Stadio Carlo Castellani, Empoli, Italy - October 27, 2018 General view outside the stadium before the match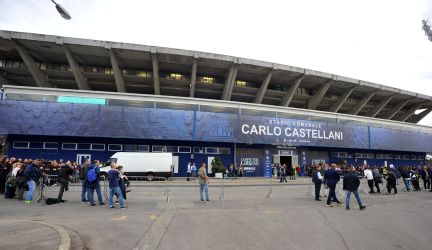 Juve starting XI: Szczesny; De Sciglio, Bonucci, Chiellini, Alex Sandro; Bentancur, Pjanic, Matuidi; Bernardeschi, Dybala, Cristiano Ronaldo
A mild Tuscan evening awaits both sides with a temperature of 22c but some thunderstorms/rain forcest during the game


Hello and welcome to our live coverage as Juve travel to Tuscany to face Empoli with a kick off at 1800 CEST. 
Empoli-Juventus: preview
Table topping Juve will be anxious to keep the positive sensations intact after the win at Old Trafford midweek in the Champions League as they face 18th placed Empoli in Serie A.
Despite a 1-1 draw at home last Saturday to Genoa, Allegri's side still a four point advantage over nearest rivals Napoli who face Roma at home on Sunday.
Key absentees for the Juve coach this evening will be Sami Khedira and Mario Mandzukic along with play maker Emre Can who looks poised to undergo an operation to correct a thyroid problem.