Hamilton matches Fangio's five as Verstappen wins Mexican Grand Prix
Max Verstappen won the Mexican Grand Prix but the day belonged to Lewis Hamilton, who became a five-time drivers' champion.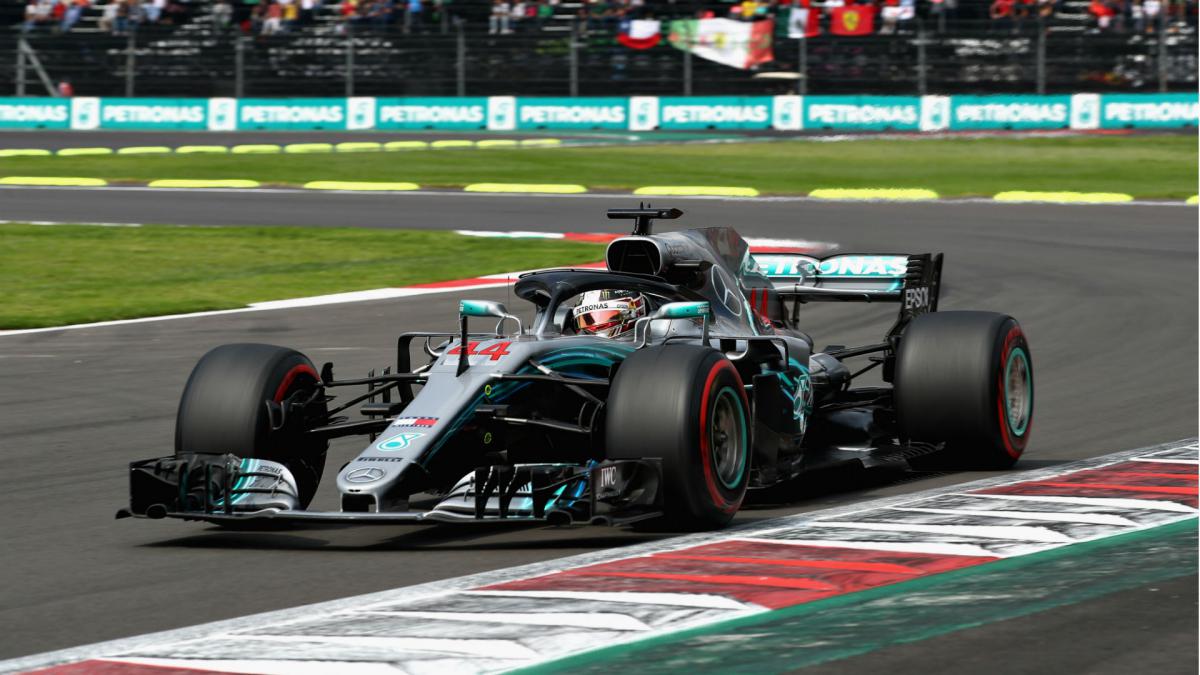 Lewis Hamilton moved level with Juan Manuel Fangio on five Formula One drivers' championships on Sunday in a Mexican Grand Prix that was won by Max Verstappen.
Sebastian Vettel headed into the race knowing only a win and a finish of eighth or worse for Hamilton would be enough to take the title chase into the penultimate round of the season.
But the German could only manage second place, meaning Hamilton's fourth-place finish was inconsequential in his bid to retain the crown.
Hamilton's title adds to the Mercedes driver's previous wins in 2008, 2014, 2015 and 2017, the last of which was also secured at the Autodromo Hermanos Rodriguez with a non-podium finish.
The former McLaren man, starting from third, attempted to dart between the Red Bulls of Verstappen and Daniel Ricciardo off the grid, but was doggedly held off by the Dutchman into turn one.
Persistent tyre problems hindered Hamilton's race and chances of wrapping up the title with a win, but he remained safely within the required top seven.
Vettel's tilt for victory saw him pull off impressive overtakes on Ricciardo and Hamilton over the course of the race, but he ultimately finished as runner-up to Verstappen.
A late engine issue denied Ricciardo a place on the podium, with Raikkonen finishing third ahead of Hamilton and fifth-placed Valtteri Bottas.
HAMILTON'S TYRES AND TRIBULATIONS
Although he ended the day with the drivers' title, it was not a race Hamilton will look back on fondly.
Despite making a rapid start, the Briton was in a constant battle with his tyres and even left the track at one point under pressure from Ricciardo.
Hamilton was unhappy on the supersoft tyres after pitting on lap 12, while Vettel flourished.
It was after Hamilton ran wide on lap 47, reporting that his tyres were "dead", that he was called in for a new set of ultras.
But Hamilton and Mercedes knew a place in the top seven was all that was needed to take the title and, although he continued to complain of problems with the car, that outcome never really looked in doubt.
VETTEL'S BEST NOT GOOD ENOUGH
It was an admirable effort from Vettel to stave off the inevitable and keep the title race alive - just about - heading to Brazil for the penultimate race of the season.
The Ferraris looked far more comfortable on the supersoft tyres than their rivals and Vettel pounced to overtake Ricciardo and Hamilton to go second.
A second pit stop put Vettel back behind Ricciardo but the Australian's retirement handed his former team-mate a meaningless second place.
For all Vettel's efforts in Mexico, it is mistakes earlier in the season that have ultimately cost him a better run at a first title since 2013.
MAX-ICAN GRAND PRIX
After seeing team-mate Ricciardo retire with an engine issue eight laps from the end of the race, Verstappen told Red Bull to turn his power unit down if needed.
But the 21-year-old endured no such problem in the closing laps of a race he led for the most part, having built up a cushion of almost 15 seconds over Vettel.
The result was Verstappen's fifth victory in F1 and his second of the season.
He was also the winner of this race when Hamilton clinched his fourth world title in 2017.
IN THE POINTS
1. Max Verstappen (Red Bull) 1:38:28.851
2. Sebastian Vettel (Ferrari) +17.316s
3. Kimi Raikkonen (Ferrari) +49.914s
4. Lewis Hamilton (Mercedes) +1:18.238s
5. Valtteri Bottas (Mercedes) +1 lap
6. Nico Hulkenberg (Renault) +2 laps
7. Charles Leclerc (Sauber) +2 laps
8. Stoffel Vandoorne (McLaren) +2 laps
9. Marcus Ericsson (Sauber) +2 laps
10. Pierre Gasly (Toro Rosso) +2 laps
DRIVER STANDINGS
1. Lewis Hamilton (Mercedes) 358 - CHAMPION
2. Sebastian Vettel (Ferrari) 294 (-64)
3. Kimi Raikkonen (Ferrari) 236 (-122)
4. Valtteri Bottas (Mercedes) 227 (-131)
5. Max Verstappen (Red Bull) 216 (-142)
CONSTRUCTOR STANDINGS
1. Mercedes 585
2. Ferrari 530 (-55)
3. Red Bull 362 (-223)
4. Renault 114 (-471)
5. Haas 84 (-501)
NEXT UP
The Formula One season heads to Brazil for the penultimate round of the campaign on November 11 and Hamilton will be keen not to follow last season's record of not winning a race after making sure of the title, particularly with the constructors' crown still up for grabs.