BARCELONA 5 - REAL MADRID 1
Ramos on Conte's tough approach: "Respect is won, not imposed"
Sergio Ramos spoke to the press after his side's defeat at the hands of Barcelona and discussed Julen Lopetegui's future and Antonio Conte.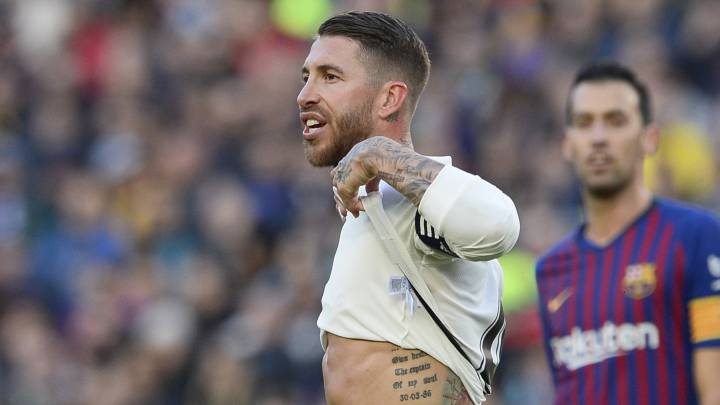 Sergio Ramos went through mixed zone at the Camp Nou after Real Madrid's defeat at the hands of Barcelona.
Difficult defeat: "It's a really bad situation for the dressing room, it was a key game to take an important step. We sentenced ourselves with the result, that came after a good reaction we had to draw. After the 3-1, they knew how to take advantage of the dynamic of doubts. Congratulations to Barça. They made us suffer, but we are united, we will come out of this difficult moment together and turn the page."
Last few hour of Lopetegui as the manager: "I have always said the same, these are not decisions in our hands, we are to the death with the manager who is in place, these decisions come fromt above, we will see what happens in the next few hours."
Can Conte substitute Lopetegui? "Everyone can say what they want and it's respectable. We have to wait, although they haven't said anything. They are decisions that don't correspond to us and we have to be self critical, treflect. And aside from that, change the streak."
Casemiro saus you are a disaster: "When the difficult moments arrive, it's inopportune to opine in that way. You have to keep your cool, you can't point to anyone. We know that everyone can give a little more and the blame is with the players too. It has been a game in which we gifted them the first 45 minutes and when you do that against a talented opponent, they punish you. There are lots of things to reflect on, in the bad there are conclusions you can draw on to improve."
What have you said to Lopetegui? "I have always had a good relationship with all of the managers and in what I have said to him, I said to him alone. Today there was no moment to speak."
Are you convinced of the heavy hand of a manager like Conte? "Respect is won, it's not imposed. Not one name or another. We have won everything with managers that you know, and at the end, the management of the dressing room is more important than the technical knowledge of a manager."



LaLiga Santander
*Update 28 de octubre de 2018