Official: Real Madrid announce Lopetegui has been sacked; Solari named as caretaker coach
Directors met this evening and an announcement was made just before 9pm. Solari will oversee the games against Melilla and possibly Valladolid and Viktoria Plzen.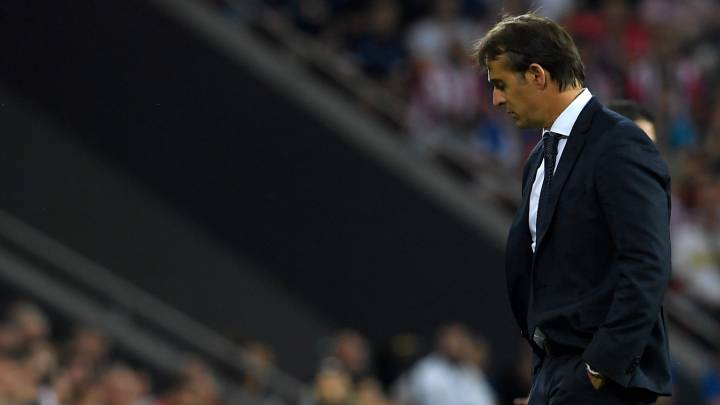 Real Madrid officially announced the departure of their coach during the last four months with a brief statement, published just before 21:00 hours local time this evening: Julen Lopetegui is no longer Real Madrid coach. The news, which had been anticipated since Sunday, was formally announced by the club following a meeting of the board of directors at the Santiago Bernabéu. No club official appeared to give explanations to the media.
Real Madrid's statement on Julen Lopetegui
"Real Madrid C.F. board of directors, which met today, 29 October 2018, has made the decision to terminate Julen Lopetegui's contract as the club's coach.
This decision, which was taken with the utmost responsibility, seeks to bring about a turnaround in the first-team's fortunes at a time when all of this season's targets are still achievable.
The board considers there to be a large disparity between the quality within the Real Madrid squad, which boasts eight nominees for the next Ballon d'Or award - an unprecedented number in the club's history - and the team's results to date.
The club places on record its thanks to Julen Lopetegui and all of his coaching staff for their efforts and work and wishes them all the best in their future careers.
Santiago Solari will take temporary charge of the team, assuming his role as first-team coach from tomorrow, Tuesday".
Last training session
The coach's situation had been extremely delicate since the team's defeat at Mendizorroza and the heavy defeat at Camp Nou sentenced his fate. This morning he supervised his final training session in Valdebebas, although he'd already said farewell to his players in Barcelona after Sunday's game.
In theory, Santiago Solari, prior to tonight the coach with reserves Real Madrid Castilla, will oversee this week's Copa del Rey tie against Melilla, Madrid's opening game in the competition, while the club continues the search for a substitute. It is possible that Solari will be on the bench for the next games - against Valladolid and Viktoria Plzen.
Lopetegui's figures: P14 W6 D2 L6
Lopetegui's tenure at Real Madrid has been extremely short. He was only in charge for 14 official games in a disastrous spell which started and ended with defeats. The team crashed to defeat against Atlético on his debut in the European Super Cup and were thrashed 5-1 by Barcelona at Camp Nou yesterday which turned out to be his final game as coach.
The Basque coach was unable to stem a steady flow of poor results - with just one win and five defeats in the team's last seven outings. Lopetegui leaves Madrid with the side slumped in ninth place in the table, seven points adrift of leaders Barcelona and below clubs including Alavés, Espanyol, Valladolid, Levante and Getafe.
Lopetegui, was relieved from his post as national team coach just two days before Spain's World Cup campaign started when it was leaked that he has accepted the Madrid post, for which he signed a three-year contract- out of which he lasted little over three months.