Gremio vs River: Copa Libertadores 2018: as it happened, goals, match report
River Plate eliminated the holders Gremio in dramatic fashion as a VAR awarded penalty was executed by Pity Martinez to see the Argentine side through to the final.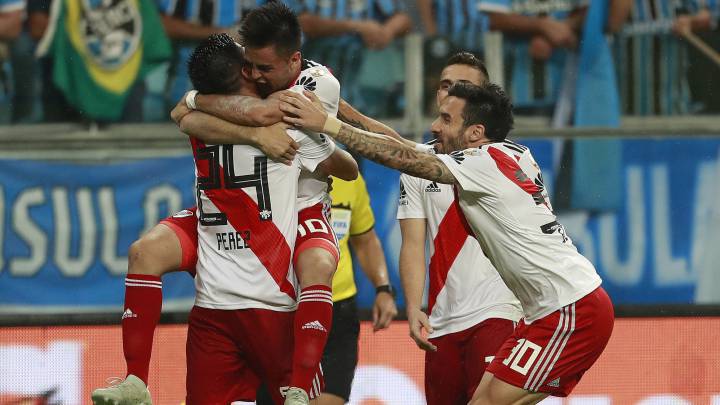 Andrés Cunha is a brave man. He is also the match official who awarded River Plate a 95th minute penalty away to holders Gremio with the Argentine side needing one goal to secure a place in the 2018 Copa Libertadores final.
The conspiracy theories will run and run after the late drama at the Arena do Gremio as the Uruguayan official was called by the VAR team to revisit an incident when the ball ricocheted off a Gremio defender for a corner in time added on. After spending considerable time reviewing the replay, the match official pointed to the spot and chaos ensued. Gremio players were incensed, none more than Bressan who eventually received a red card for his actions. In the aftermath, Pity Martinez stepped up, slotted the ball home and his goal saw River seal a place in the 2018 final.
Ahead of the final drama, Gremio were outplayed for the majority of the game by a focused River Plate who probed and forged for a breakthrough. It was the home side who opened the scoring with Leonardo seeing a 36th minute shot deflected to put the Brazilian outfit in a commanding position.
River however, failed to throw in the towel but the outcome of the evening could have been so different had Everton taken his chance when set through on a one-v-one with River keeper Armani. Gallardo's side were rewarded for their persistence in the 82nd minute as Rafael Santos Borré headed the "Millionarios" level before the late VAR penalty drama ensued that sees the Buenos Aires outfit the first finalists with Palmeiras or city rivals Boca Juniors their potential opponents
Gremio-River: Copa Libertadores 2018: as it happened
What a dramatic finish to a pulsating tie ...Gremio (2017 winners) are out as VAR awards River a late, late penalty which Martinez converted. The fall out from this game I expect to run and run for some time. We'll see you again for the second semi final tomorrow
That's it .... River are in the final ...but what a way to do it ...dramatic fashion.... Gremio players surround the ref. Military police surround the ref. ... River players celebrate ...what scenes..... Fans leave the Arena do Gremio and I fear there will be plenty nof unhappy Tricolor supporters in the streets of Porto Alegre tonight. 
The fall out from the end of this game will be monumental with the conspiracy theories rampant
River strike but the move has been ruled out for offside.....
Terrible kick as the ball drifts into Armani's hands.... The holders are heading out ..... 
Dangerous freekick awarded to Gremio .... 90 seconds to go ...last chance saloon for the Brazilain side
90'+9'   Now River waste time as Palacios goes to ground ..... Gremio in a major hurry 
90'+8'   Don't forget we have 13 minutes of added time too...
Gremio down to 10 men too 
90'+8'   My word..what drama...meanwhile play goes on as Gremio now need to find the goal ..... 
gooooooooooooooooooooooooooooooooooooooooooooooooooooooooooooooooool. River ahead
90'+4' Pity Martinez to take.... (13' of time to be added too).... The penalty is scored..... 
90'+4'   Still no sign of the spot kick being taken
The referee has "cojones" it has to be said ! 
Gremio delegates in suits are on the sideline talking to the match official and referee team.....This is not going to end well what ever happens... Military police are now talking to the delegates ....
River score .... they're in the final .....(with at least 10 mins of time to be added it has to be said) .... a hush has broken out at the Arena do Gremio.... 
What scenes ! We're into the 90th minute of play too ..... Drama as River have still to take the spot kick 
Bressan has been sent off for his outburst
Was the decision the correct one ? Debatable .... play is held up as Gremio players talk to the match official.... 
Bressan is furious and trying to attack the referee.
Cards flying everywhere 
Gremio playes loing their cool .....
87' Penalty for River
85'   VAR check for the ref .... Was there a handball on a recent play ?  
Another change for Gremio as Jael comes off with Da Silva his replacement
As it stands ...Gremio are through.... another goal for River sees the Buenos Aires side through to the final ....Drama !!!!!
River fans now in fine voice.... 7' of normal time left and at least 5' to be added
Gremio 1-1 River
Goooooooooooooooooooooooooooooooooooooool. River strike. Santos Borre heads home
81'   The Gremio fans find their voice again sensing that the end of the tie is nigh and a place in the final beckons 
80'   Another Gremio player down, this time an outfield player with cramp
Cicero booked for leading with an elbow
77' Grohe is back on his feet and okay to take the restart. The match official needs to take these stops into consideration.
75'   Grohe on the ground yet again. More pressure from River as they forge, looking for a goal that would provide a lifeline and offer a glimmer of hope  
River change: Quintero off-Scocco on
73'   River press and win another corner.... The Argentine side still trying long range efforts but failing to break down a well drilled Gremio side.
Miranda-Bressan (change for Gremio)
70' Card for Pinola and Bressan
69'   Yet another Gremio player down and getting attention.
68'   Just over 20' remaining at the Arena do Gremio... El Tricolor inching closer to their second consecutive final
67'   River's final ball getting sloppy now as tiredness and frustration kicks in
66'   Everton ..one on one with Armani and the keeper saves...what a chance for Gremio to close the tie 
61'   Everton fires a right footed effort and forces Armani into action with the River keeper getting down well to smother the ball.
61'   Less than 30' to go ...River need that goal as Everton touches the ball and receives a major cheer from the packed Arena do Gremio stand 
59'   Santos Borre crashes into the Gremio keeper Grohe and once again the holders see time slip by as the keeper stays on the ground.....all to their favour. 
58'   Hang on ...VAR talking to the ref. This could be a red for Miranda as he was late in flying into Martinez .... No, just a yellow. 
Pity Martinez injured and Miranda carded for a dangerous challenge
57'   Leo Gomes tries his luck from long range but his shot is high and over then River bar
Maicon off-Everton on for Gremio
52'   Gremio with 11 men behind the ball as Alisson steals tha ball and breaks. The dry pitch is not helping matters as players from both sides lose the ball. Change imminent ....   
50'   Credit to Gremio though.... they lose their finest player from the 2017 win in Arthur (moved to Barcelona) and have been forced to play both semi finals without talismanic players Luan and Everton, and are still on the cusp of another Libertadores final.
49'   Gremio happy to cut the rhythm of the game, a strategy that suits their game plan and the pattern of the tie to perfection.
47'   What a strike from Palacios, he had options on but the 20-year -old is playing with such confidenec he tried his luck from 25 yards and watched his shot just fizz over the Gremio bar.
46'   Off we go.... 45' before we discover who will be the first Copa Libertadores 2018 finalist
Change at the break: Nacho Fernandez off/the highly talented Pity Martinez on 
River take to the pitch with Gremio yet to apear. Two goals for River (with no reply) will be enough for the Argentine side to progress.
Can River find a way back in Porto Alegre? An early goal in the second half is vital if Gallardo's side are to aspire for a place in next week's final.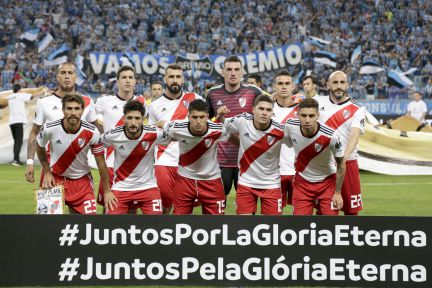 49'   That's time of the first 45'. Gremio ahead with their only attack on the River plate goal. River not out of the tie by any measure but need to be more clinical in front of goal. Quick break and we'll be right back with the action from Porto Alegre to discover who will be the first Copa Libertadores 2018 finalist.  
48'   1 shot on target, 1 goal from Gremio. 100% effectivity !
47'   Fine ball in from River but well cut out by Miranda. One has to admire Gremio's defensive play in both legs.
46'   4' of time to be added
44'   River still push and probe. Gallardo's men trying to not let the Gremio goal affect their morale and still push. A little more composure in front of goal needed by the Argentine side who are dominating in the build up play  
42'   Santos Borre strikes from long range and Gremio keeper Grohe clashes with the post in his efforts to stop the ball. Gremio have tended to use the "injured" player tactic to kill the game (and in the first leg too) but this time the keeper looks in trouble.
40'   Milton Casco tries a long range effort but once again the ball is blocked by a Gremio defender.  
38' Half hearted call for a spot kick as Alisson falls in the area...Ref. having nothing of it and waves play-on.
38'   The noise level at the Arena do Gremio has just gone up to 11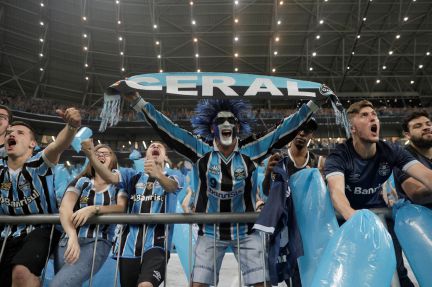 Gremio 1-0 River Plate
Gooooooooooooooooooooooooooooooooooooool. Gremio strike with the ball striking Pratto following a fine Leo Gomes strike. 
32'   A vastly different game to that we witnessed last week at El Monumental as River forge ahead looking for the goal and Gremio able to strike on the break using Alissons speed. 
Perez carded for a professional foul pulling back Allison 
30'   30' gone in Porto Alegre. Gremio still the side who will be in next week's first leg of the final as things stand. Don't forget that the other semi is another Brazil-Argentina match-up as Palmeiras face Boca Juniors
27'   So close from Palacios as he strikes the ball perfectly but has to watch his shot miss the target by inches.
25'   River win a dangerous free kick, just outside the area....Quintero whacks the ball into the wall. Gremio unable to get the ball into the opposition half.   
The change is being made, a shame for the River as Ponzio leaves the action and Enzo Perez his replacement 
20'   It's wave after wave of attacks from the men in red and white but .... Gremio are masters at defending....
18' River Plate really looking for the goal that would tie the aggregate score as Enzo Perez warms up on the sideline as former Zaragoza player appears to be carrying a knock 
15' River really seem to believe that they can turn this tie around as they control possession and put the hosts under pressure.  
11'   Palacios goes close with a long range rasping drive that goes inches wise. The Tucaman born player is currently being strongly linked with Real Madrid. 
10' Great strike from Ponzio as the Gremio keeper is forced to tip over. River looking the stronger and hungrier side after 10'.
9'   A shot of an anxious looking Gallardo in the press zone with the River coach serving a one game ban from COMNEBOL for for his team's late re-entry to the pitch after halftime of their Copa Libertadores semifinal first leg against Gremio last week
5'   River have started with  more intensity in the first five minutes than they displayed in the full 90 minutes last week in Buenos Aires. Good for the game ..... 
3'   Both clubs have won three Copa Libertadores titles with Gremio current holders (beating Lanus last season). River's last win was back in 2015.
1'   Dont forget Gremio talisman Everton is fit but on the bench and Luan has failed to recover for the game as Quintero beaks into the area and makes a mess of the finish blazing the ball across the front of the goal.
    Tonight's match official Andres Cuña gets us underway in Porto Alegre.....
What a noise in the stadium.....and what a match awaits...holders Gremio against one of the giants of South America in River Plate. We're all set...
The home side will sport their classic "tricolor" shirt of black, blue and white stripes, cited by many as one of the finest shirts in the business.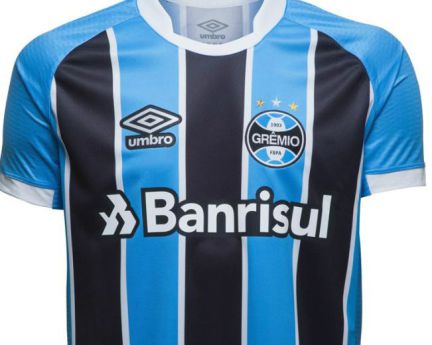 River tonight will wear thier classic white shirt with red sash, red shorts & socks
A packed Arena do Gremio awaits with 4,000 River fans present with 7,000 in total making the trip. Up against them 57.000 Tricolor Gaúcho torcedores. Gremio-River Plate is moments away: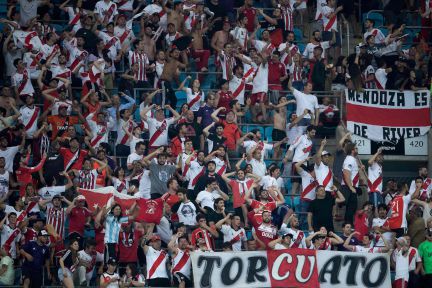 Tremendous atmosphere in Porto Alegre as Gremio fans welcome the team bus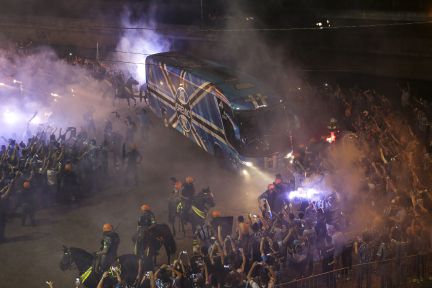 Holders Gremio go into the game with a 1-0 advantage following Michel's second half goal at El Monumental last week in a convincing win with an especially solid defensive display from El Tricolor.
Hello and welcome to our live coverage of the second leg, Copa Libertadores 2018 semi final from Porto Alegre (Brazil) as Gremio face River Plate. Kick off at the Arena do Grêmio is 2145 Brazilian time / 01:45 CET.
Gremio-River Plate: preview
Title holders Grêmio hold a trump hand in this decisive second leg against River Plate at Arena do Grêmio. The Brazilians hold a one-goal advantage from last week's first leg in Buenos Aires, thanks to Michel's solitary strike plus they will be playing in front of a home crowd. But it's only a slender advantage and anything can happen between two clubs who hold three titles between them. The winners will meet the team that emerges from the other semi-final - another Brazilian-Argentinean affair, between Palmeiras and Boca Juniors.
Walter Kannemann was solid in the first leg and the defender's absence is a blow for the home side. Everton will be back having trained with the squad ahead of the game but striker Luan is expected to miss the semi final, having not recovered totally from injury.
River will not have head coach Gallardo on the bench in Porto Alegre tonight with the Argentine coach being hit with a late COMNEBOL ban. The positive news for the head coach is a full strength squad to select from and knowing that 4,000 River fans (of the 7,000 who have made the trip to Brazil) will be pushing their side for a place in the 2018 Libertadores final.