Cultural 0-1 Barcelona Copa del Rey: match report
Clement Lenglet came off the bench to head home late on in the Copa del Rey clash as Barcelona take the lead back to Camp Nou for the second leg.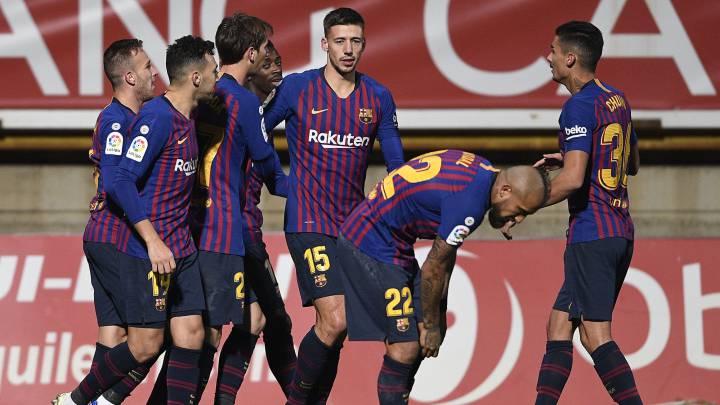 Cultural 0-1 Barcelona: match report
Barcelona scraped by Cultural Leonesa on Wednesday night in the Copa del Rey as Ernesto Valverde rang the changes to rest many of his players after their exploits in El Clásico.
The team Valverde picked has lenty of B team players with Malcom and Dembele offered starts along with Munir and Arturo Vidal.
Cultural, whos sit 5th in their Segunda B group, came out fighting although it looked like Barcelona would dominated possession and it would be a purely counter-attacking effort from the home side.
That wasn't the case though as Barca lost control of the game after the opening exchanges and Cultural had plenty of opportunities to open the scoring with Barça looking less dangerous as the game half continued.
Sergi Samper had to go off and he left the field distraught with Aleña replacing him. The injury prone midfielder will be wondering what he has to do to catch a break after another unfortunate injury.
Barcelona were keen to score an away goal and pushed everything forward in the second. Saul Gonzalez had the best chance of the half for Cultural. Cillessen palmed over his strike from outside the box and after that, Barcelona took over.
Munir blazed over as Barcelona looked more likely with more possession, more chances and more men inside their opponents' half of the field.
It would take a set-piece header from Lenglet, the sub, to break the deadlock in injury time as Barcelona take an away goal and a 1-0 lead back to the Camp Nou for the second leg.
Cultural vs Barcelona: live updates
90'+5' GAME OVER as Lenglet's goal decides the first leg.
90'+4' Second yellow and a red card for Marcos. He has a right go at the referee after too and the fourth official. He's not happy.
90'+1' GOAL! Lenglet with the last chance and he heads it home. ​
86'  Barcelona with another free as Suarez is fouled and takes the free. Aleña gets it but Cultural clear.
86'   That might have been the chance. Aleña touches a cross down to Munir. He takes a touch and a shot but it's way over.
85'   Barcelona pushing everything forward now. They want that away goal.
82'   Free for Barcelona as Miranda is caught late. Way out on the left byt Dembele stands over it. Can't shoot but he whips it in and Lenglet heads just over the bar.
80' Arthur on for Malcom.
80'   Corner for Barcelona. Denis Suarez sends it in and it breaks to Miranda. He hits it wide. 
79'   Valverde gets himself booked for having a go at the ref. Munir was fouled and the manager took up his case for him.
77' Saul, the man who got a cramp when he took that last shot. On comes Alonso.
76'   Outside the box and that's a really nice save from the keeper. More danger as it bounces at the back post. Headed wide though.
76'   Incredible strike from Saul. Tapped over by Cillessen. 
75'   Corner comes in and Vidal heads it out for another corner. 
75'   Corner for Cultural. 
74'   Ball from Lenglet over the top but Dembele can't take it down. A really nice ball over the top and a tough one to take down. 
73'   The frustration continues for Barcelona. Vidal into Malcom and his touch lets him down before he fouls the defender. 
72'   Liberto Beltran chases a ball down the field by it's back to Cillessen and cleared. 
70'  Suarez bundled over but Aleña picks it up and Barcelona remain on the counter. Aleña gets it back after a pass to Dembele and he shoots. Saved by Palatsi.
70'   Cultural very patient in playing the ball out from the back. They cough it up soon after though. 
69'   Perez is taken off for Rodriguez. 
67'   Movement on the Leonesa bench.
65'   Shot comes from Perez and Cillessen saves.
64'   Foul by Chumi on Perez.
63'   Dembele launches it into the sky.
62'   Aleña turns Marcos and he is tripped up. Lovely move from the sub but he's pulled down and Barcelona have a free. Too far out to shoot though, maybe.
61' Romero does indeed go off for Martinez. 
61' Cuenca comes off for Lenglet. 
59'   Pass from Miranda inside to Malcom and that's onto the roog of the net. Bobbled up just as he was going to strike it.
58'   Or maybe not. He told them to take their time on the sideline. He is up again and the sub might have to sit back down.
58'   Martinez will come on for Romero. 
57'   No Cultural are dealing with an injury. Second half hasn't gotten going yet like the first half. 
55'   Semedo took a fair heavy blow to his knee as he tried to kick the ball and the Cultural player gets his body in the way. He looks really uncomfortable. 
53'   Cultural had a chance earlier as Beltran broke into the box. He couldn't get a shot away though.
52'  Malcom taken down. 
52'   Denis Suarez with a nice run now but the slide arrives and he loses possession. 
51'   Ortiz with a nice run down the middle. He fakes a shot and gets it onto his left before shooting low into Cillessen. Saved easily in the end. 
47'   Aleña sends it out wide. Miranda crosses and it's headed back out for a throw. 
46'   Cultural gets us back underway.
Teams back on the field. No changes! 
45'+1'   HALF-TIME!
45'+1'   They play it around the middle and can't get a shot away. 
45'   Last chance for an attack for Barcelona. 
44'   Another giveaway by Barcelona and Ortiz flicks it forward. Couple of failed clearances before Barcelona eventually get it away. 
43'   Players slipping all over the field. Barcelona struggling to keep the ball now as they had been. Vidal gives it away this time.
41' Miranda is booked now for a foul on Perez. 
40'   Dangerous ball into the box by Cultural. Headed clear.
39'   Cultural hanging in there. Barcelona not quite attacking like they had been before. 
36'   Cultural back on the attack. Ball bobbles around for a second after Dembele sends it into the middle. Ends up being slid back to Cillessen. 
32'   Samper replaced by Aleña. Not clear as to what is wrong with him though. He walks off under his own weight. 
32'   Sergi Samper is down injured. Really bad luck for the midfielder. 
30'   Bernal wins it back off Barca and tries to cross but it hits Vidal's hand and there's no free. Fans not happy. Blocked back to Cillessen and he clears for a throw. Cultural been really good so far. 
29'   Ball into the box from a free. Munir grabs his head and it's wide. 
28'   Cuenca fouls now. He hauls down Perez, who has been very lively tonight.
27'   Miranda brushes himself off and crosses but it's headed out for another corner for Barcelona.
25' Ball into the box. Cultural looking dangerous. Saul Gonzalez fouls Mirnda and is booked.
25'   Cultural fans not happy now as Beltran is fouled by Semedo. No free.
24'   Munir sent through but he's offside. Palatsi rushes off his line too and makes a good save anyway.
23'   Chumi bundled over now. Cultural with some very tactical fouls to slow down Barcelona. 
22'   Cultural attack now. Deep cross but Cillessen has his eyes all over it and his hands too. 
20'   Slip from Cultural. Nicho gets the ball but he slips and Barcelona have a chance to attack. 
19'   Ball into the box and Cultural try to get a shot away but can't find the right moment. Barcelona break at speed but there's a foul and their counter ends. 
17'   No wya through yet for Barcelona. Munir gets it in the penalty area and tries to get a shot away. Can't though as Cultural gather around him.
17'   Barcelona restart. 
16'   Cillessen plays it out to Semedo. and then onto Vidal, back again and then he looks for Malcom. He is taken down from the back. 
15'   Quite a battling display so far. Malcom in the thick of things. Cultural keep it after a brief fight for the ball and try to build something.
13'   Ball into the box and it's headed up into the air where Garrido heads it back towards Cillessen. 
12'   It's Perez again. Cillessen gets down to his left this time and saves. Corner for Cultural.
9'   Culutral with an attack. Should be a corner but Perez' shot is wide and the referee didn't see the deflection.
7'   Barcelona keeping the ball well despite some pressure from Cultural. Ball makes its way to Semedo from Malcom. He runs it out for a goalkick though.
5'   Foul on Munir as Barcelona break at speed. Everything slows down now.
4'  Headed wide at the front post.
4'   Ball in and it's headed out for another corner for Barcelona. This is going to be a long night for Cultural.
4'   Dembele fouled now as Barcelona have a chance to swing one in from the left. The French attacker will take it too.
3'   Corner for Barcelona and Cultural get it away but Barcelona are straight back up the field. 
1'   We are underway in Leon! 
Cultural vs Barcelona: Preview
Barcelona open their Copa del Rey campaign with a visit to Second Division B side Cultural Leonesa at the Estadio Municipal Reino de León on Wednesday night.
After the 5-1 thrashing of Real Madrid on Sunday, and ties against Rayo (LaLiga) and Inter (Champions League) coming up, coach Ernesto Valverde will be expected to rest a number of regulars for this game, which will give several youngsters an opportunity to earn some all-important minutes. But even a much weakened Barcelona side will be tipped to easily overcome the León minnows in both legs of the tie, as the Blaugrana go in search of their fifth consecutive Copa del Rey title.
Currently sitting in fourth in Second Division B, Cultural Leonesa, meanwhile, will just hope for a better showing than their last Copa del Rey clash with Barcelona. The two sides last met in 2009, with Barcelona winning 7-0 on aggregate (2-0 away, 5-0 at home).