Juventus 3-1 Cagliari: Serie A 2018/19 week 11 result, report
Juventus saw off a spirited Cagliari side at Allianz Stadium courtesy of strikes by Dybala and Cuadrado, and an own goal by Bradaric.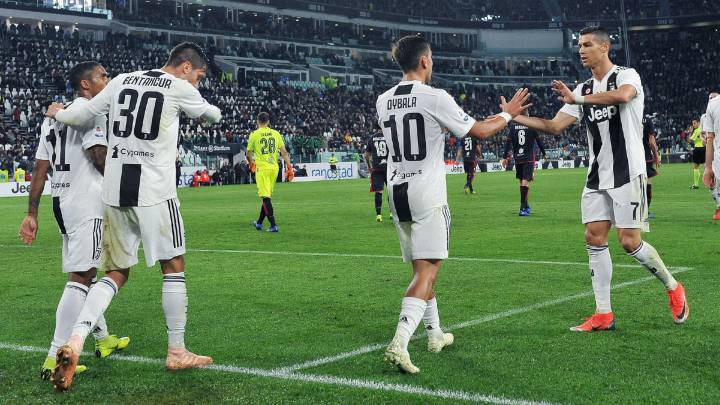 Juventus 3-1 Cagliari: match report
Juventus reasserted their six-point advantage at the top of Serie A with victory over Cagliari in a highly watchable encounter at Allianz Stadium on Saturday night.
With title rivals Inter Milan and Napoli both winning earlier in the weekend, Massimiliano Allegri's men knew they needed to claim all three points against the Rossoblu to avoid seeing their lead cut, and did just that with what is their fifth straight triumph over the Sardinians.
Cagliari cancel out Dybala opener in even first half in Turin
But although Paulo Dybala put the hosts ahead with a first-minute goal that was their quickest in Serie A since 2012, Cagliari gave as good as they got in the opening period and were deservedly level shortly after the half-hour mark, when Joao Pedro fired low past Wojciech Szczesny at his near post.
42'' - Paulo Dybala has scored the earliest Juventus' Serie A goal since 2012 (Vidal in 18'' v Inter) on November 3rd. Anniversary. #JuventusCagliari

— OptaPaolo (@OptaPaolo) 3 November 2018
Bradaric o.g., late Cuadrado strike ensure win for hosts
However, Cagliari's Filip Bradaric turned Douglas Costa's cross into his own net moments later to put Juve back on course for victory and, after a second 45 which, in the main, was controlled by the hosts, substitute Juan Cuadrado sealed the points late on, finishing from close range after collecting Cristiano Ronaldo's pass.
Having registered 10 wins and a draw so far in Serie A, it is the Bianconeri's best ever start to a league campaign after 11 games.
Juventus 3-1 Cagliari: as it happened
93'   Peep peep peeeeeep! Juventus triumph 3-1 and re-establish their six-point lead at the top of Serie A. Cagliari gave a fine account of themselves away to the champions and, having managed to level once, could have got a second equaliser moments before Cuadrado sealed the points for the hosts. Having been on top for much of the second 45, though, Juve ultimately deserved their win.
92'   Ufff. Cristiano launches himself into an overhead kick, but it's an air shot. Given his recent history at that same end of Allianz Stadium, we'll let him off.
90'   Three minutes of time added on in Turin.
  Juventus break forward, and suddenly Cristiano and Cuadrado have a two on one. The Portuguese draws his man and slips the ball into the Colombian, who advances into the box and drills home past Cragno from close range!
86' And having come through that scare, Juventus make it 3-1 and surely seal the three points!
85'   What a block by Benatia! The Moroccan stretches to cut out a great chance for Cagliari's Pavoletti from eight yards out, before it's pinball stuff inside the Juventus box... and the Bianconeri survive!
84'   Twice Juve go close to making it 3-1! First Cristiano cuts inside on the left-hand side of the box and shoots on goal, only for Pisacane to deflect over. Moments later, Bentancur has an almost identical chance on the opposite edge of the six-yard area, but is also denied!
83' Juve make their final change, Barzagli replacing Matuidi. Defender on for a midfielder.
82'   Ufff! Barella brings the ball down with a superb flick over his head, looks up, and fires a shot on goal from 25 yards... but it's over! Having been well on top for much of the second half, Juventus are now being asked a few questions by Cagliari. Just under ten minutes remaining.
80' Cagliari make that substitution, with Padoin - who is a former Juve player - coming off to warm applause from the home fans, and Sau replacing him.
78' Cagliari are readying their third and final change as Juventus win a corner which Dybala will deliver... and Cagliari will clear. However, the Bianconeri come right back at the visitors, Dybala clipping a ball to the back post that Cristiano looks to get on the end of, but only succeeds in fouling his man.
74'   Matuidi sees yellow after being penalised for a foul on Pavoletti.
71'   And Sandro immediately wins Juve a free-kick in shooting territory. Cristiano stands over it... and batters it straight into the wall!
70'   That change sees Pjanic come off for Alex Sandro, who is a full-back by trade but appears to be on in a central midfield role this evening.
69'   There's a shooting chance for Dybala, but he drags his effort wide from the edge of the box. We're about to see a second Juventus change.
68'   Twice Cagliari get the ball into the box, but Juventus deal with it on each occasion. First, the visitors win themselves a free-kick that Cigarini stands over and plops into the area, only for the Bianconeri to clear. The Sardinians come again, Srna swinging the ball over to the back post, where he has two men waiting - but Szczesny gathers.
67' And they duly make that sub, Ionita coming off for Farago.
65'   Matuidi drives past Srna on the left wing and is brought down by the Croat, giving Pjanic a chance to whip a free-kick into the box. However, Cragno punches clear. Cagliari are preparing another sub.
62' Pisacane is the third Cagliari player to see yellow, before there is concern for the visitors as Pedro stays down after falling awkwardly. He looks like he'll be OK, though. 
59'   Cuadrado is again involved as Juventus go close! Bonucci finds the Colombian's run down the right, and the winger looks up and plays the ball across to Cristiano, who's waiting in the middle... but it's too close to Cragno, and he grabs hold! Cuadrado has had a real impact on the game, and Juve very much look like stretching their lead here.
57'   Dybala flops to the turf inside the box, but the penalty shouts are only timid and the referee is unsurprisingly unmoved. 
56' Cagliari make their first change, Bradaric coming off - after a night that he won't look back on overly fondly - and Cigarini on in his stead.
55'   Dybala slips in Cristiano, who's one-on-one with Cragno... but his shot is saved, and the flag was up.
53'   Just as I write that, Pedro almost brings the ball under his spell in a dangerous position in the Juve box, but is just crowded out of it. Moments later, Cagliari launch a quick break that has the men in black and white shirts backpedalling furiously... but Castro tries a backheel that is too cute by half, and the chance is lost.
52'   Cuadrado again gets himself into a good crossing position and swings one in right onto Matuidi's head, only for the former PSG midfielder to glance his header well over. It's been all Juventus so far in this second 45.
49'   Actually, they opt to play it short, before sending a long ball over to Matuidi at the far post... but it's a little bit too long, and is harmlessly out for a goal-kick.
48' Cuadrado is immediately into the action, flighting over an inviting cross that Cristiano can't quite get his head to. Moments later, Pavoletti becomes the second man into the book after a late challenge on the Juventus striker, and the hosts have a chance to deliver one into the box.
46'   Juventus have made a half-time substitution, with one winger replacing another as Massimiliano Allegri throws on Juan Cuadrado for Douglas Costa. No changes for Cagliari.
Peeeep! Back underway.
The teams are back out in Turin; the second half is almost go.
  As things stand, Juventus are going back six points clear of Inter and Napoli.

49'   Peep peep peeeep! That's half time at Allianz Stadium, where Juventus go in 2-1 ahead thanks to Bradaric's own goal - which came straight after Cagliari had deservedly cancelled out Dybala's early opener for the hosts. It's been an intense, enjoyable affair so far.
47'   Cristiano hits the post! Costa feeds the ball out to the Portuguese, who has peeled off to the left. He advances into the box, gets it out of his feet and unleashes one at Cragno's goal, but it bounces back off the woodwork!
45'   Four minutes of time added on at the end of a first half that has been a thoroughly good watch.
42'   No. Signor Mariani says there was nothing wrong with Bradaric's control. Looking at another replay just now, I'm not so sure.
41'   Oooh, Bradaric's night could be about to get even worse. The midfielder controls the ball inside his own box and carries it out of the area, but there are shades of handball about the way he brought it under his spell - and the referee trots over to his pitchside monitor to have a look. Is it going to be a penalty to the hosts?
Costa gets to the byline on the left and fires a low cross into the danger area, where Bradaric stretches to cut the ball out and succeeds only in diverting it past Cragno. That's a real kick in the teeth for Cagliari, who have been excellent in this first half.
37' Or not! Juventus immediately re-take the lead, and it's an unfortunate one for the visitors as Bradaric puts through his own net! 
It's a fine goal, too. Joao Pedro brings the ball down at the back post, swivels on a six-pence and pings it low past Szczesny! Game on!
35' Equaliser for Cagliari! They've given as good as they've got in this first half, and now they have their reward!
33'   Juventus win a corner, and then another. The second is finally worked out to Bentancur on the right of the box, the Uruguayan cutting it back to Pjanic to clip over the far post... but it's an overly looping delivery, and Cagliari deal with it. 
30' Srna's delivery is cleared, before Cagliari recycle and come again... only for a stray square ball to be snaffled up by Bentancur. He drives forward on the break, and is tugged back by Bradaric, who is probably right to cut out that counter - but in the process becomes the first man into the referee's notebook.
28'   Juventus knock it about for what feels like an eternity, before Cagliari win it back and, via a free-kick conceded by Pjanic in midfield, win themselves a corner on the right.
22'   Cagliari have really come into this game, and - that early goal aside - are giving a decent account of themselves. The ball falls to Ionita 30 yards or so from the Juve goal, and he is given all the time in the world to take one touch, two touches... and finally see a shot deflected off target for a corner, which ultimately comes to nothing.
The way Pedro utterly ignored the ball was spectacularly schoolboy, even if there was a shout of a penalty.
18'   Moments later, Cagliari almost level, Pedro and Pavoletti both getting on the end of Srna's inviting cross into the six-yard box - I'm not sure which of the two got the final touch - and drawing a fine stop from Szczesny!
16'   Play to the whistle, dammit! Juve defender Benatia appears to handle a threatening cross from the right, and Cagliari's Joao Pedro forgets all about the ball - despite it dropping almost to his feet in a dangerous position - and is waving his arms wildly in the air calling for a penalty. We do indeed go to VAR, but the referee decides there's nothing doing.
13'   Pjanic sends a glorious, raking ball out to Dybala on the right, the forward bringing the ball under his spell at the second attempt before pinging a dangerous low cross into the box. Matuidi is lurking with intent inside the 18-yard box, but it's just behind the Frenchman, and Cagliari survive.
11' Ufff! That's a delicious ball by Costa, which just evades Cristiano at the back post. From the right-hand channel, the Brazilian curls it in with the outside of his boot, but it's a yard ahead of the Portuguese.
10' Lucas Castro robs Matuidi and suddenly Cagliari are scuttling forward on a dangerous break. However, Castro reaches shooting territory before flopping to the turf and being told by referee Maurizio Mariani that he ain't getting a free-kick for that.
8'   Now Matuidi flashes a header just wide!  Could so easily have been 2-0 nil and, in all likelihood, game over.
5'   Cagliari look to respond immediately to that early concession, winning a corner on the left which finally comes to nought. Juve then come right back at the Rossoblu, Costa swinging in a far-post cross that Dybala can't quite get his head onto, before Cancelo bustles into the box - but sees his low effort stopped by Cragno. It's been a whirlwind start in Turin.
Oh, hold on. It's gone upstairs for the video assistant ref to have a shufties at whether or not there was an offside in the build-up.
1' The little Argentine bamboozles the Cagliari defence with a weaving run into the box, before stroking a low finish past Cragno and inside the near post!
1' And no sooner do we kick off than Dybala scores for Juventus!
Peeep! Underway!
The teams are out at Allianz Stadium... but first we have the presentation of a Juventus shirt commemorating Cristiano Ronaldo's 400 career goals in Europe's major leagues.
Incidentally, if you're wondering how and where to watch tonight's game in Turin, then wonder no further...
However, history certainly points to Juventus re-establishing their six-point lead at the top: the Bianconeri have won their last four against Cagliari with an aggregate score of 10-0, and haven't lost to the Sardinians since back in November 2009. 
Both Inter and Napoli scored five this weekend in victories over Genoa and Empoli, respectively, with their wins taking them to within three points of the league leaders...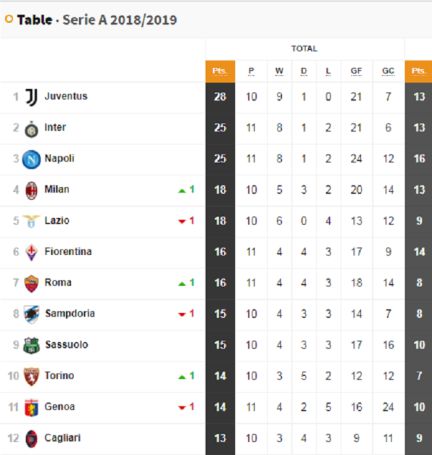 Juve make three changes to the side that beat Empoli 2-1 last time out, with Joao Cancelo and Medhi Benatia coming into the defence, and Douglas Costa replacing the injured Federico Bernardeschi. Mattia de Sciglio shifts over from right-back to left-back.
  Visitors Cagliari, who currently find themselves 12th in Serie A, come into this clash on a decent run of form, having won two and drawn one of their last three league games, and coach Rolando Maran has named an XI that is unchanged from last weekend's 2-1 victory over basement side Chievo.
With just under half an hour to go until our 20:30 CET kick-off at Allianz Stadium, let's get straight into the team news...
  Good evening and welcome to our live coverage of Juventus' home Serie A clash with Cagliari, as the league leaders look to reassert their advantage at the top of the table in the wake of thumping wins for title rivals Inter Milan and Napoli.
Juventus vs Cagliari: Serie A match preview
Juventus host Cagliari at Allianz Stadium tonight (20:30 CET) aiming to re-establish their six-point lead at the top of Serie A after big wins for title rivals Inter Milan and Napoli this weekend.
After Napoli thumped lowly Empoli 5-1 at San Paolo on Friday night, Inter responded by thrashing Genoa 5-0 in Milan this afternoon to put pressure on leaders Juve - although recent history points to the Bianconeri reasserting their advantage at the head of the table.
Juventus unbeaten against Cagliari in nine years
A 1-1 draw at Genoa two weeks ago was the only time that the Italian champions, winners of the last seven Serie A titles, have not tasted victory this season, with the Vecchia Signora's record in all competitions currently reading: 12 wins, one draw and no defeats.
What's more, Cagliari - once coached by current Juve boss Massimiliano Allegri - have not beaten the Vecchia Signora in any of the sides' last 15 meetings, in a run stretching back to 2009, and have lost their last four against the Turin giants without even scoring.
Cagliari on good recent run of Serie A form
However, the Rossoblu arrive in northern Italy off the back of a good sequence of recent results that has seen Rolando Maran's men take seven points from their past three Serie games, with a draw at Fiorentina sandwiched between victories over Bologna and, last time out, Chievo.