Rayo 2-3 Barcelona match report: LaLiga 2018-19
Luis Suárez and substitute Ousmane Dembélé secured a 3-2 victory in the final five minutes after Rayo had taken the game to the Liga leaders after the break.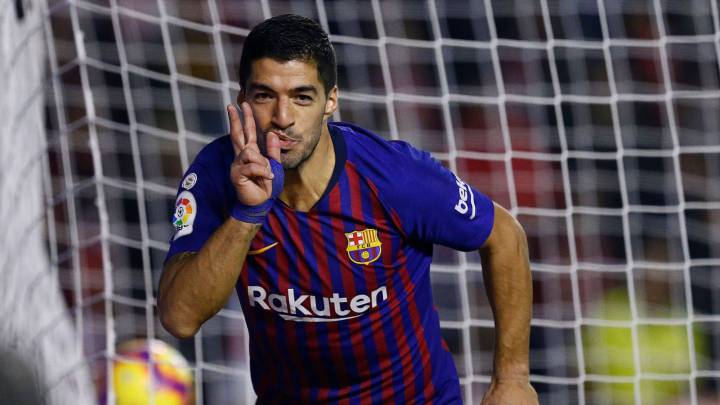 For 30 minutes, it appeared it would be business as usual in Vallecas. For 30 minutes, Barcelona stroked the ball from side to side, thwarted the occasional Rayo incursion and looked immensely comfortable with a 1-0 lead delivered from the unerring left boot of Luis Suárez. For 30 minutes, Barcelona were Barcelona.
And then the wind changed direction. Rayo, so often on the receiving end of five, six or seven of the best when the claret and blue shirts roll into town, elected to try something different. Rayo decided to torment their tormentor; the home side, 18 places below the league leaders, suddenly started playing like them.
The warning shot came on 30 minutes, a shot across Marc-André Ter Stegen's bow that José Pozo only had to steer inside the post. The midfielder, a late addition to the starting line-up, was just testing his own sights though. Five minutes later he unleashed a missile from 25 yards that beat the Barça keeper, smashed into the foot of the post and into the back of the net.
Barça, suddenly, were floundering in deep water. Every Rayo attack produced panic in the visitors' back line and only Suárez - sublime in recent weeks and a cut above his teammates all evening - eased the pressure with a curling effort that smacked a post.
The whistle was timely for Barça; a chance to regroup and for Ernesto Valverde to work some magic with his chalkboard. But it was Míchel, Rayo's youthful coach in his first season in Primera, who waved a wand. His side came out after the break and far from adopting a protective stance over their precious strike, immediately went looking for another. Raúl de Tomás, who fired Rayo into the top-flight last season, found himself one-on-one with Ter Stegen, who produced a wonderful stop with his foot to deny the on-loan Madrid striker.
Rayo succumb to Barça jinx
It was a stay of execution, De Tomás proving instrumental as Rayo took the lead moments later. His header beat Ter Stegen but not the upright and the rub of the green went the home side's way, the ball falling to Álvaro García, who had been on the pitch for 35 seconds, to crack into a gaping net.
Rayo could have sat back on that, played the waiting game, but it simply served as a shot of confidence and Álvaro was involved again as an Adri Embarba cross fell to him in the area but Jordi Alba was there to rescue his side.
The home side continued to push for a third with Álvaro and Pozo taking turns to skin the fading Sergi Roberto on the right while Barça's attack hooked increasingly desperate balls in the vague direction of Suárez at the other end. It seemed as though Rayo would be next on the score sheet, Luis Advíncula spurning a couple of gilt-edged chances, when Ousmane Dembélé threw a left boot at a knock-down from Gerard Piqué. In terms of technique, it was a perfect hit. In terms of luck, it was a double six, passing through the legs of two defenders before rippling the bottom corner. Rayo keeper Alberto barely had time to see it, much less react.
If fate appeared to thumb its nose at Rayo then, Suárez's trademark celebration four minutes later was insult to injury. Completely unmarked at the far post - the otherwise excellent Embarba picking that very moment for a daydream - the Uruguayan slid in to poke in a Roberto cross past the dive of Alberto. It was more than Barça deserved and the cruellest blow for Rayo, who have rarely been that close to matching the reigning champions, let alone beating them. With the football gods seemingly favouring the storied above the bold, it may be some time before the Estadio de Vallecas witnesses such a close encounter again.
In the meantime, those that were present will tell their kids about the night when Rayo came so agonisingly close to turning the page on one of Spanish football's most one-sided fixtures.
Rayo Vallecano vs Barcelona: as it happened
What a game in Vallecas and what a comeback from Barcelona, who open up a four-point lead at the top of the table over Atlético Madrid. 
90'+4' Ter Stegen! Advincula gets on the end of the delivery and the keeper makes the save. And that's it! 
90'+4'   Advincula gets into a tangle in the corner and wins one from his side. Rayo keeper Alberto is up...! 
90'+3'   Rayo appeal for a free kick as Embarba goes down in a challenge with Alba but the ref remains unmoved. 
90'+2' Rayo sub Velázquez goes in the book for an elbow on Vidal. There wasn't much in it but the Chilean certainly milked it for all it was worth, with an eye on the clock no doubt. 
90'+1'   Barça now 3-2 up in the space of five minutes and there'll be four more. 
89'   This is sensational stuff! The Uruguayan finds himself unattended at the far post and strokes home a free kick to make it 3-2! Embarba completely lost at sea there and Suárez given the freedom of Vallecas. 
89'   Gooooooooooool! Suárez! 
88'   That's certinaly taken the wind out of the home side's sails... can they manage one final charge? There won't be a lot of added time. 
85'   Piqué, in his role as a target man, nods a hit-and-hope down to Dembélé, whose shot screws through the legs of two defenders and into the far corner! That's to take nothing away from the strike, it was a beautiful hit, but that's a cruel blow for Rayo, who were just starting to drop back to hang on to their deserved lead. 
85' Goooooooooooooool! Dembélé! 
85'   Suárez! The Uruguayan finally gets a sniff of goal from Alba's cross and gets a powerful header on target but Alberto is down to make the save, and a decent save it was. 
84'   Piqué appears to have moved up into a centre forward position now....! 
83'   Barça get into a spot of bother at the back and Álex Alegría uses his physical presence to guard the ball as he waits for support but Barça clear eventually. 
82'   Embarba, who has had a lovely running battle with Alba all evening, slides in to prevent the Barça left back from delivering a cross. 
81'   Substitute Munir eyes glory and tries his luck from distance but it's wide. Rayo moments away from history now. 
80'   Suárez gets through finally and squeezes off a weak shot that Alberto gathers easily. The Uruguayan goes down under the lightest of touches with full West End theatrics and the ref simply invites him to get up. Suárez, unamused, does just that. 
78'   This time it's Pozo who gets away down the same flank and he finds Advincula, who pulls off a shot that defies many laws of logic and seems to pop up out of his heel. Another great chance and Rayo are not sitting on this lead. 
77'   Álvaro again streaks down the right, showing Roberto a clean set of heels, but he dallies too long in the area and the Barça defender recovers to nick the ball off his boot. Rayo could do with getting the pig skin out to the left as often as possible. The goal scoring sub can shift a bit and Robeto is out of puff. 
Just a reminder to underline how mental this Liga season has been - Rayo are 19th and had managed one win before today, against 20th-placed Huesca. 
75'   15 minutes for Rayo to keep this up and claim a famous victory. Barça have absolutely nothing going on in attack. It's hard to remember the last time Suárez had a touch. 
73'   Advincula! It's a decent hit from the Peruvian but there's not quite enough sting on it to bother Ter Stegen, who was well-positioned anyway. 
72'   With all due respect to Rayo, they are now playing like Barcelona while the visitors look like a side in the relegation zone. Álvaro gets away on the left and shoots in a cross that nobody is there to meet and then the home side simply come again fron the other flank and win a free kick. 
70'   That rather sums up Barça's second half. Rakitic, of all people, plays a pass across the pitch and straight out for a goal kick. 
69' It looks as though Rayo defender Gálvez will have to go off. A muscle problem by the looks of things.  Meanwhile, Jordi Alba finds his way into the book for what appeared to be a fruity observation as to the veracity of the Rayo man's injury. 
68'   Rayo come again and Imbula pokes a shot just wide from the edge of the area! 
66' Double change for Barça. Munir and Vidal on for the visitors.  
65'   Pozo works his way into the area and his attempted shot sits up for Embarba, who swings a boot at it but it's straight into the grateful paws of Ter Stegen. Rayo going all out now! 
64' RDT, who has a yellow to his name, is off to be replaced by Álex Alegria. 
63'   Rayo almost bag a third! More good work on the Rayo left leaves Embarba to feed Álvaro, who almost gets a boot on it but is thwarted in extremis by Jordi Alba! 
62'   Alberto immediately makes amends as Coutinho pops one over the top for Dembélé and he comes and gathers. 
61'   Coutinho takes and it's a poor delivery but Alberto conspires to spill the ball in the area and there' a flurry of boots before Rayo bring it clear. Not a good moment for a spot of keeper nerves there. 
60'   Jordi Alba makes a bit of a meal of a tangle with Advincula and wins a free kick out on the left. 
58'   Rayo are really on top now and Barça perhaps a little guilty of assuming after their early goal and 30 minutes of knocking the ball about with ease that it was a matter of how many. Now they trail and deservedly so. All credit to the home side for going for a result despite falling behind. 
56'   RDT hits a header against the post and the rebound falls to García, who with his first touch slams the ball into an empty net with Roberto caught bewteen reacting to the ricochet or closing him down! Rayo lead 2-1! 
56' Gooooooooooooool! Rayo take the lead! 
56' Trejo off for Rayo now, Álvaro García on. 
55'   Rayo are picking their passes through the Barça defence extremely well now and only the flag prevents the home side from getting a shot off. Arthur was completely outstripped by Amat in the run-up to that. 
53'   Indeed it was. Odd decision from Valverde, considering Rafinha had at least been getting involved. Coutinho has been largely anonymous. 
52' And there is the change, Dembélé on and it seems that it was Rafinha that got hooked... 
52'   Ter Stegen! Embarba finds his way through and is one-on-one with the Barça keeper, who makes a fantastic save to keep the scores level! 
51'   Rafinha! The Brazilian finds a yard on the far side of the Rayo box and attempts to feed Suárez but fails to find his teammate. 
50'   Coutinho hasn't really got into the game so far and it probably won't be long before Valverde gives Dembélé a nod. 
49'   Barça work a nice move with Alba and Suárez combining but a rare poor touch from the striker bobs out for a goal kick. 
48' RDT goes in the book for a shoulder barge on Busquets. He only really brushed the Barça captain but the ref sees fit to pull out his notebook. 
47'   Rafinha, who isn't having the best of games, loses the ball from a Jordi Alba pass and Rayo have a chance to look for a way out of their half but Barça win it back. Foul awarded to Barça as Advincula clips Sergi Roberto in midfield. 
46'   No changes at half time by the looks of. 
46'   And we're back underway in Vallecas! 
Ernseto Valverde will probably instruct his side to get back to playing the possession game after the break. Rayo suddenly look dangerous every time they go forward. 
Rayo can perhaps consider themsleves unlucky not to have gone in 2-1 up after that sweeping move ended with Pozo firing wide from point blank range. The woodwork also denied Barça a lead though in what was a frantic end to the half. 
45' Not a second of added time and Rayo go in for the break playing Barça at their own game and on level terms. 
43'   He takes it himself and it's a training ground job, hammered into the near post with two white shirts attacking it. Nobody makes contact though and Barça clear, less than comfortably. Suárez launches a counter with Coutinho in support but Rayo get back to thwart it. End to end stuff now after 30 mins of Barça knocking it about like a training game. 
42'   Rayo are really going for it now and the game has opened up for the home side with Barça suddenly on the back foot. Embarba tries his luck and wins a corner for the home side... 
40'   Luis Suárez rattles the post! What a strike from the Uruguayan. Arthur does well to tee up his teammate and with barely any backlift Suárez curls a beauty goalwards that hammers Alberto's far upright and pings off to safety. 
37'   Barça look for an immediate reply as Rafinha plays a ball in but Rayo simply gobble it up and break again... Sergi Roberto and Jodri Alba combine to deny Embarba on the right as Rayo look to turn the screw before half time. 
35' Ter Stegen is beaten at his near post by an absolute belter from Pozo! What a screamer that was! He wasn't even in the starting line-up originally but came in as a late replacement and he's repaid his coach's faith there. From about 25 yards out he cracks one to the foot of Ter Stegen's post, just out of reach and into the back of the net! 1-1! 
35' Gooooooooooooool! And there it is! Rayo equalise! 
34'   Piqué plays a ball back to Ter Stegen and the Barça keeper hoofs it straight out under pressure. Rayo have their tails up now and the home fans sense something coming... 
33'   Barça not as assured now as they had been in the opening 30 minutes and Rayo are seeing a bit more of the ball. 
30'   How did he miss that?? Great work from Rayo as RDT plays a ball across the box and all Pozo has to do it steer it in but he misses the near post by a whisker! Barça caught completely on the hop there and the usually super reliable Sergi Roberto had no idea what was going on there. 
28'   Over 70 percent of the ball has been Barça's so far. Rayo manage to get their boots on it for a sally forward and find RDT, but the striker's touch deserts him and it's back to Barça knocking it around in their own half again. 
26'   Barça settle into a long period of possession, Rayo eventually manage to nab it back, then hand it straight back to Busquets in midfield. 
24'   Barça launch an attack down the right and Rakitic swings in a cross that Rayo hack clear. The home side look vulnerable every time the visitors go forward at the moment. 
22'   Jordi Alba endears himself to the home fans as he shoves Embarba into the hoardings on a 50-50 but the ref sees nothing in it other than a free kick. It's lofted in and Imbula gets under it but he can't get over it and Ter Stegen watches it sail over the bar. 
20'   Coutinho almost slides Suárez through but his pass is cut out. Rayo break from the back but the final ball is long and out for a Barça throw. 
18'   Imbula goes on a leggy run and wins a corner for the home side. Ter Stegen gathers with little fuss but then gets involved in a little afters with Advincula. Just handbags though. 
18'   Suárez is almost through again but the lino has his flag aloft, much to the chagrin of the Uruguay forward. 
16' The home fans are not happy as Lenglet flattens Trejo and the ref reaches for his pocket. Yellow card for the Frenchman. 
15'   Barça get the ball to Suárez in the area but he's pickpocketed and it's out for a corner....
14'   Barça try exactly the same gig again, Busquets this time finding Alba with a searchign ball. He plays it back to Coutinho, who is exactly where Suárez was a few minutes earlier, but the Brazilian dithers a tad and is closed down by three Rayo defenders. 
13'   Rayo play one over the top and it comes down to a foot race between Lenglet and Embarba. The France defender wins it and the Rayo forward clatters into his back, drawing the attention of the ref who duly awards a free kick. 
12'   Barça come again and Suárez drops out to the right in search of a telling ball into the area but Rayo manage to close ranks and clear. 
11' That takes Suárez's tally to eight in the league and makes him the joint top-scorer in LaLiga with his international teammate Cristhian Stuani. 
10' The in-form Uruguayan picks up Jordi Alba's simple tap-back in the box and steers it in past the despairing dive of two Rayo defenders. Far too easy for Barça that. 
10'   Goooooooooool! Luis Suárez! 
9'   The ref makes the international sign of "calm down now, chaps" as Rayo commit their fourth foul in the opening 10 minutes.  
8'   Sergi Roberto, perhaps Barça's least appreciated player, finds Coutinho with a glorious cross-field ball but the Brazilian tries to play Suárez in first-time and misjudges his pass. 
6'   It's a decent hit but Suárez puts too much curl on it and it flies wide of Alberto's right stick. 
5'   Suárez over the resulting free kick... 
4'   Rayo aren't seeing much of the ball at the moment but they've set up well to stifle Barça in midfield. No way through for the visitors at the moment. Rayo win a free kick and Advincula gets into a right old pickle as the ball is played back to him. Suárez is there to pounce and the Rayo man prefers to incur a booking rather than let the Uruguayan canter through. 
3'   Barça settle onto the ball now and look to build something out from the back. The visitors running everything through Arthur at the moment. 
2'   Rayo have come out swinging and launch an attack down the right but it's eventually pulled back for offside. 
Sergio Busquets will captain Barcelona this evening with Messi absent. 
The teams are out and the handshakes underway. 
Barcelona once stuck seven past Rayo in Vallecas without reply and average 4.7 goals a game against the Madrid side. Let's see what Rayo can do about that record this evening. 
10 minutes to go until kick-off in Vallecas. 
There's been a last-minute change to the Rayo line-up... Álvaro García has been ruled out and José Ángel Pozo will replace him in the starting XI. 
  There was unfortunately a spot of bother before the game with ultras from both sides getting involved in a ruckus. Hopefully things will have calmed down now so that football fans and their families can enjoy their evening. 
Hello and welcome to our live coverage of Rayo vs Barcelona at the Estadio de Vallecas in Madrid. Kick-off is at 20:45.