Malcom: a debut, a goal, a mark made, and in the headlines
The 41-million-euro Brazilian forward left his first mark on the fortunes of his new team, aiding their qualification from the Champìons League group stage.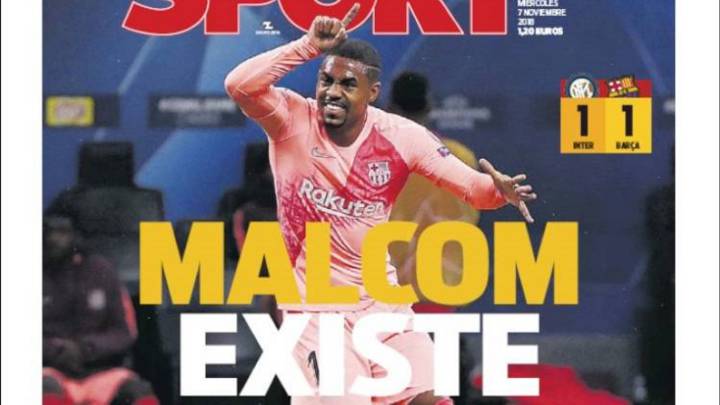 Barcelona's summer signing Malcom was the big surprise in Milan on Tuesday night, scoring the opening goal against Inter which was enough to earn his side a draw, and confirm their place in the knock-out stages of the competition. And his notable presence on the field of play as the evening came to a close also meant he took his place in the morning Catalan-based newspapers.
Malcom in the... headlines
"Malcom Exists", read Sport's front page headline, before going on to explain the simple facts for anyone who'd missed them: "He made his Champions League debut and scored a goal."
The paper felt that Mauro Icardi's equaliser for Inter didn't show the game for what it was: "Valverde kept Messi in reserve, but the team turned up and deserved to win."
Mundo Deportivo, also went with a focus on the Brazilian foward, with the choice of "Malcom X" for their headline. They also point out that "Barça have now made it to the knockout stages of Europe's top competition for 15 consecutive seasons."