Vinicius' agent: "If they give him confidence, there'll be no stopping him"
Vinicius' agent Federico Pena chatted to AS about the talented young player and says he's convinced that he will define an era at the Santiago Bernabéu.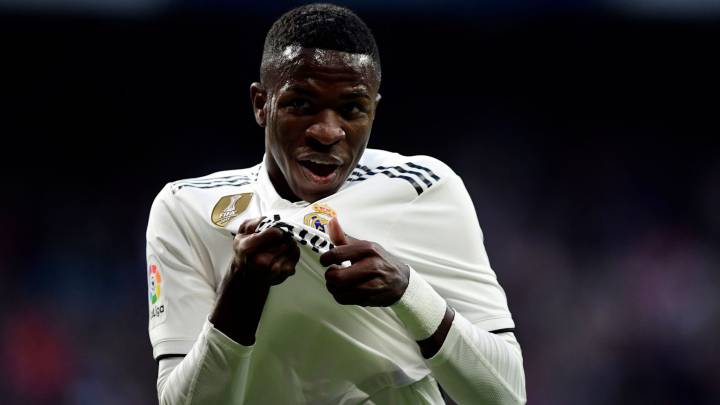 Football agent Federico Pena was one of the first to spot Vinicius Junior's nascent talents and few know the player as well as he does. Pena, now Vinicius' representative told AS this week that the teenager "is a winner".
Do you see Vinicius as the leader is this Real Madrid side?
I don't think you can say he's a leader right at this moment - he still needs to acclimatise to a new country, the European culture and a new language. All of that is very important and he's progressing well but right now he's still way too young to be a leader. If they build up his confidence and have faith in him, there'll be no stopping Vini.
Constantly in the spotlight at Madrid
Does he understand all of the pressure he's being put under?
Any player who wants to do well at a club like Real Madrid needs to be able to handle all of the pressure he's under right now - and more. He's put in some excellent performances. He's not afraid of anything and his strong will helps him deal with any situation. Everything's happening very quickly for him.
Unlike other players, you get the impression that Vinicius is capable of resolving games on his own…
That's what happened the other day. It's not easy being at a club like Real Madrid but he seems to be taking it all in his stride. Everybody feels the pressure at the club, and Vinicius does too because he's only human. I'd say he's starting out with a slight advantage because he went through all of this when he was in Brazil so he's used to it.
Vinicius already a big hit with Madrid supporters
You know him better than most, why do you think Vinicius has won over the fans so quickly?
Because he's a winner. He hates losing and the fans like that. Watching him play is a real joy but what excites me more than that is that he still has years ahead of him to become an even better player. He's maturing little by little...
Please give us an honest answer - do you think he can become a regular starter this season?
We hope so.But Vinicius is the first one to understand how difficult that is because the squad is full of quality. Isco, Asensio and Bale are stars who have already established themselves. But it's also true that in football, things can change in a split second.
28