Manchester United stun Juventus with two late goals in Turin
Juve were made to wait to clinch their last-16 spot as United came from behind in the closing minutes and boosted their chances of progressing.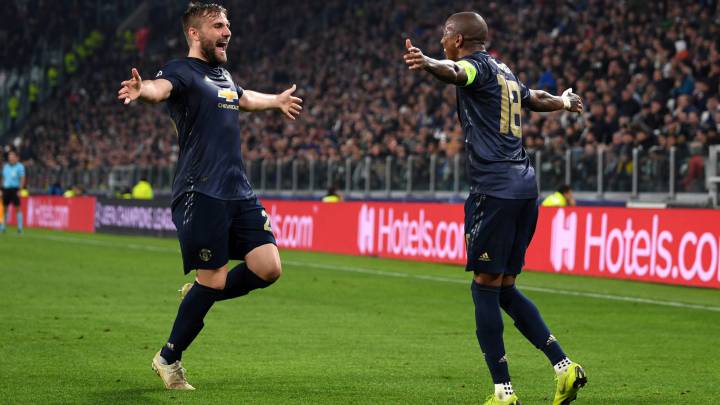 Juventus 1-2 Manchester United: match report
Manchester United gave their hopes of reaching the Champions League last 16 a massive boost on Wednesday night after scoring two late goals at Allianz Stadium to claim a dramatic victory over Group H leaders Juventus.
Ronaldo fires Juve ahead against old club before hosts stunned
Former United star Cristiano Ronaldo looked to have set Juventus on their way to victory, and to qualification as group winners, with a fabulous volley midway through the second half - a goal that was his first in Europe's top club competition since his summer move to Italy from Real Madrid.
However, substitute Juan Mata curled the visitors level with a sweetly-struck free-kick four minutes from time - the first goal Juve have conceded in Europe this term - before the turnaround was completed in the final minute when Ashley Young's dead-ball delivery into the box went in off home defender Alex Sandro.
Red Devils now host group minnows two points clear of Valencia
Having taken to the field down in third after Valencia's 3-1 win over bottom club Young Boys earlier in the evening, defeat would have left United outside of the qualification spots going into their final two group games.
But after their late show in Turin, José Mourinho's men now sit second and welcome Young Boys to Old Trafford on 27 November with a two-point cushion over Valencia, before visiting Los Che in the group's closing round of fixtures.
Juve must wait until Valencia clash to seal last-16 berth
A point would have been enough for Juve to ensure their place in the knockout stages, but this reverse - only their second at home in the Champions League group phase in the last 15 years - means they must now wait until their matchday-five clash at home to Valencia, when a draw will also be enough to go through.
Juventus 1-2 Manchester United: as it happened
  Peep peep peeeep! It's all over in Turin, where United have caused a surprise by beating Juventus in their own back yard, coming from behind to win with two late goals! Mourinho promptly gives it the old cupping-the-ear to the home fans, which a delegation of Juventus players - led by Bonucci - not unsurprisingly takes umbrage with. Rather needless from the Portuguese. Juve are made to wait to clinch last-16 qualfication, and United are firmly back in business in Group H!
92'   Rashford should make it three! What an end to this game! United break and Martial feeds the young English striker, who is one one one with Szczesnt and takes a touch to steady himself, but the keeper gets enough on it to knock it behind!
90' Bonucci immediately looks to get Juventus back level with a shot from distance, but it's off target. Those two goals are the first that the Vecchia Signora have conceded in the Champions League this season, by the way.
United win a free-kick on the left, which Young whips into the box. Fellaini flicks on towards the far post, where Pogba, Sandro and others engage in an almighty scramble, and it ends up in the back of the Juventus net! It's finally given as an own goal by Sandro!
89' Pogba scores from close range! 2-1 to United! Football - bloody hell!
All of which means United are back into second, and though Juve are still going through, it won't be as group winners - at least not yet.
86' And having opened the hosts up a few moments ago. now United do get that equaliser! After more good work from Martial, Pogba wins a free-kick right on the edge of the box. Up steps Mata to take, and the Spaniard curls it over the wall and past Szczesny! All square in Turin!
84'   And there nearly was said successful attack! Martial bursts past Cuadrado and into the box from the left, before cutting it across goal, where Rashford is arriving... but Chiellini hacks it clear. Moments later, a cross from the right finds the head of Fellaini, but the substitute can't quite get enough on it.
83' Juventus make their second change, Barzagli coming on for De Scigilio.
81'   Mata crosses, but Bonucci clears. The difference in class between Juventus and United has been there to see in the last 20 minutes or so. And yet: it's still only 1-0, and the visitors remain one successful attack off coming away from here with a point.
79'   Rashford pings a dangerous shot in from 20 yards or so... but it's off target. That's the first time in a little while that I can remember Juventus being put on the back foot and tested.
78' Double United substitution: Mata and Fellaini on, Herrera and Alexis off.
77'   If things carry on like this, it really is just a matter of time before Juventus seal the points. Pjanic is the latest man in a black and white shirt to shoot on goal, but it's off target.
76'   But that's where the comparisons with Gazza's FA Cup wonder goal begin and end. It hits the wall and United clear.
75' Herrera is the second United man into the book after bringing down Dybala about 35 to 40 yards from goal, and Juventus have a free-kick. Ronaldo standing over it. In the words of Barry Davies: Is he gonna have a crack? He is, you know...
74'   Again Juventus should score! Having laid on the pass for that Pjanic chance, this time it's Cuadrado who fires off target from a similar position on the other side of the box, having been found by Ronaldo.
72'   Juventus again go close to making it two! Cuadrado scuttles into the box on the left and cuts it back to Pjanic, who tries to place the ball past De Gea and into the far corner, but side-foots a yard wide.
That Cristiano goal means that, as it stands, Juventus are going through as group winners, and United will end matchday four down in third place and outside of the qualification spots.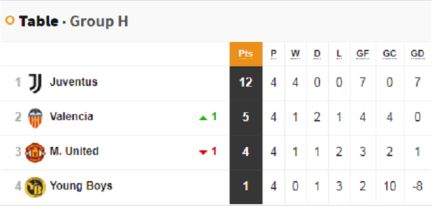 70' Rashford is on for Lingard.
69'   Martial almost gets his head to an Alexis cross at the back post, but it's out for a Juventus goal-kick. And we're going to see a first United change...
It's now 5-0 in Plzen! Kroos with a lovely chip!
67'   Almost two for Juventus! Cristiano is again involved, running at the United defence before laying it back to Pjanic to shoot from the edge of the box... but De Gea beats it out with a fine save!
Bonucci steps out from the back and drops a lovely ball over the United backline and onto Cristiano's instep, and the former Manchester United man makes no mistake with a volley that flies past De Gea and into the back of the net!
64' Gooooal! Cristiano volleys Juventus in front with his first Champions League goal for the Bianconeri! It's a fine goal.
62'   Cristiano swings in an excellent, inswinging cross from the left that Cuadrado throws himself at... but Shaw gets himself in the way bravely, and wins a free-kick for the Colombian's challenge on him. Good work from Shaw, because that was an inviting cross by Cristiano.
60' Juventus make the first change of the night, Khedira coming off for Matuidi. Given this is his first game in just over a month, it's not too surprising that the German is the first man off.
59'   Nice combination play by Pogba and Alexis set up Shaw to cross from the left, but his low ball is cut out for a corner by Bonucci. However, the first is put behind for another, and the second is massively overhit and the chance is lost.
57'   A neat one-two on the right suddenly has De Sciglio bursting through in a fine crossing position, but his ball is blocked as far as Pogba - who then dallies terribly over on the touchline, and initially loses it back to De Sciglio before United finally clear.
54' Alex Sandro caught Young late as the United full-back cut out that Bonucci ball, by the way. It's a yellow card for the Brazilian, and Young is initially down and seemingly in some pain, but is finally back up on his feet and looks OK.
53'   Young cuts out a Bonucci pass and United are bustling forward on the break. First, Lingard slips in Pogba to cross, but the Juventus backline deal with it. Alexis picks up the loose ball and sends it into the danger area again for the visitors, but can't locate a blue shirt, either.
49'   Juventus hit the woodwork! No sooner do United almost take the lead, than Dybala gets the ball out of his foot on the right-hand corner of the box and bends a sweet, curling effort past De Gea, but onto the bar! The Manchester United goalkeeper is not unjustifiably a little bit peeved with his defenders there. Dybala had for too long to set himself and pick his spot.
48'   Ufff! That's the best chance of the night for United! Martial plays a three-man one-two with Pogba and Shaw on the left, collects the return and fires a shot low towards the far post... but it's just wide!
47'   Khedira plops the ball into the box, where Cristiano challenges with Smalling and timidly calls for a penalty after flopping to the turf, but the referee could not be less interested.
46'   No half-time changes for either side, by the way.
Peeeeep! Back underway in Turin!
  As things stand, Juventus are going through to the last 16 with two games to spare, and Manchester United are squeaking back above Valencia and into second by virtue of goal difference. The teams are coming back out at Allianz Stadium - almost time for the second 45.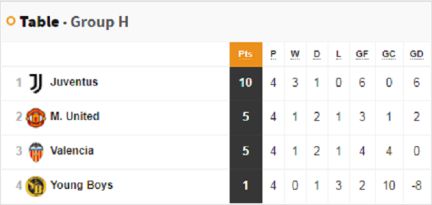 Peeep peeep peeeeep! It's goalless at half time in Turin, where Manchester United can be relatively happy with their night's work so far, albeit Juventus took a step forward in the final quarter of an hour or so, and twice went close through Cuadrado's deflected cross and Khedira's shot against the post.
44'   United just get themselves a little spell on the ball, which is probably what they need most right now. They finally work it out to Pogba on the left, but he slaps a tame shot right at Sczcesny. Up the other end, Cristiano sees a first-time shot deflected behind for a corner... which Chiellini is almost there to knock home at the back post!
42'   But Juventus come straight back and win a free-kick that Dybala will deliver from the right. It's a delicious ball from the Argentinian, one begging for a white and black shirt to bury it... but Herrera hacks it clear.
40'   Juventus attack once more, and Ronaldo has a chance to take on Shaw on the right. He performs a couple of stepovers and bustles into the box, but his attempted cut-back is badly mishit, and the visitors survive.
37'   Now Lingard has to look alive to put a Pjanic cross behind. One corner becomes two, and from the second Dybala tries a Paul Scholes-esque volley from the edge of the box, but there's a wall of blue in the way and it's blocked. Juve are starting to turn the screw here, though. Can United respond?
Over in Plzen, Benzema has his second and Real Madrid's third!
35'   Fresh from one close shave, United almost concede once more! Ronaldo gets to the byline, looks up and finds Khedira on the penalty spot, but the German drags his shot onto the post! After a very encouraging first 30 minutes for United, Juve are just starting to come to life in attack now.
34'   That's fine goalkeeping from De Gea, and the closest we've come yet to an opening goal! Cuadrado picks the ball up on the right, takes on Shaw and fizzes in a low cross, which takes a wicked deflection off Matic and is flying into the far corner... only for De Gea to show fine reflexes and a firm hand to keep it out!
31'   Although they almost let themselves get caught on the break, as Khedira strides forward, collects the ball and advances towards the United penalty area, but finally sends a tame enough shot right down De Gea's gullet.
30'   ...but he pings it straight into the wall. Still, it's been a very decent first half hour from United.
29'   Herrera is pulled back by Pjanic close to the Juventus area, and the visitors have a free-kick in shooting territory. Alexis to take...
27'   United play it about for a good 60 to 90 seconds or so, before Matic flights an inviting ball over the top of the Juventus backline and into the run of Alexis, but the Chilean can't quite get his outstretched boot to it, and it's a goal-kick for the hosts.
23'   Dybala gets himself into a dangerous position just inside the United area, but despite his best attempts to wriggle himself into a shooting position, he's crowded out of it by a gaggle of blue shirts. Juve work it back out to Cuadrado, who lays it off for Pjanic to strike from the edge of the area... but it's blocked!
That's Real Madrid 2-0 up in Plzen...
21'   United get a chance of their own to swing a free-kick into the box, but Alexis' delivery is straight onto Bonucci's head and Juventus clear.
By the way, Real Madrid have taken the lead against Viktoria Plzen in our other live game, Karim Benzema putting the holders ahead. You can follow all the action from the Czech Republic here. 
19'   Cristiano almost gets Khedira in on goal with a neat, flicked header, but Lindelof gets there just in front of the German to hoof it away.
17'   Shaw brings down Cuadrado on the right-hand touchline, and the hosts have a chance to swing it into the box. Pjanic and Dyabal over it... but it fails to beat the first man. 
15'   Cristiano gets the ball out of his feet and fires a shot on goal from 25 yards or so, but it's always dipping wide and is never going to trouble De Gea.
12'   Cuadrado is down in the box and appealing for a penalty for what he deems as a tug by Lindelof, but the referee is not interested.
11' There's the first yellow card of the night, after Pogba loses the ball and Matic brings down Dybala.
9'   Juventus really get their foot on the ball for the first time. First, Pjanic flights it into Cristiano, who does a couple of stepovers before seeing his shot blocked. Then Bentancur goes close from 20 yards, before Cristiano skips to the byline and pulls it back... but it evades every black and white shirt!
8'   United have started confidently and are popping it about decently - and winning the ball back from the hosts quickly. One turnover of possession almost leads to an opening for Martial, but it's snuffed out.
5'   Ufff! Dybala chips a neat ball into the path of Cristiano inside the box. Fespite having two men in blue surrounding him gets his volley away, but it's blocked and out for a corner... which the hosts get all wrong.
3'   Young has another crossing chance, but it's a horrible ball and it's out for a goal-kick.
Surely there must have been some way to get United out there in their home kit...
1'   Ashley Young immediately swings one into the box, but it's comfortably dealt with by the Juventus backline. The hosts then come forward and swing one in of their own, but Rodrigo Bentancur can't quite get on the end of Miralem Pjanic's far-post ball.
Underway in Turin!
Our referee tonight is Romania's Ovidiu Hategan. Juventus in black and white, United in their change, all-blue strip.
Teams out, anthem played... Almost ready to go.
Incidentally, should you be out to get yourself in front of a TV screen for tonight's Juventus-Manchester United clash, you may wish to take a look at our useful guide on how and where to watch. There's still time (just),
This man faces his former club once more, and is still searching for his first Champions League goal for Juventus.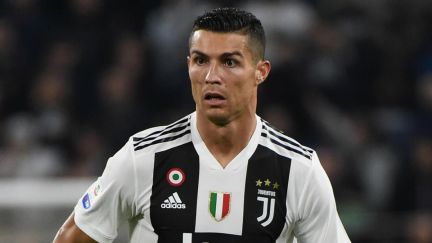 On the other hand, it's all looking a little less rosy for Manchester United, who in the Premier League remain a full nine points behind leaders Manchester City despite their win at Bournemouth. Indeed, Valencia's imminent victory over Young Boys in tonight's early Group H kick-off (Los Che lead 3-1 at Mestalla with just under four minutes of the regulation 90 to go), means that the Red Devils will take to the field in Turin down in third place and fighting to stay alive in this season's Champions League...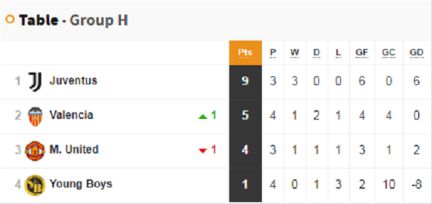 And given that the Bianconeri are yet to concede a single goal in this season's Champions League, you'd certainly get decent enough odds on them getting at least the point that would see them through...  
It's fair to say that Juventus have made a half-decent start to the season: Saturday's win over Cagliari made it 10 victories and a draw so far in Serie A in 2018/19 - their best-ever top-flight record after 11 matches. Now, the Vecchia Signora can clinch their place in the Champions League last 16 tonight by avoiding defeat to United - and can confirm top sport in Group H by taking all three points.
Striker Romelu Lukaku missed the weekend win through injury and remains unavailable to United manager José Mourinho, while Marcus Rashford must again content himself with a place on the bench, despite his stoppage-time winner at Vitality Stadium.
  That's just three quarters of an hour away, so before we look at where the two sides stand going into matchday four of the group  stage, let's dive straight into the team news...
Juventus vs Manchester United: Champions League preview
Juventus host Manchester United tonight (21:00 CET) knowing they are on the cusp of sealing their place in the Champions League knockout stage.
Massimiliano Allegri's men, who have won three out of three so far in Group - without conceding a goal - will qualify for the last 16 if they avoid defeat at Allianz Stadium, and will secure top spot with a victory over the Red Devils.
Meanwhile, visitors United, who were beaten 1-0 by Juve - and outclassed by the Italian champions - in the sides' first group-stage meeting at Old Trafford two weeks ago, have a real fight on their hands to make it out of the group.
Indeed, Valencia's victory over Young Boys in this evening's early Group H kick-off means United start the matchday-four clash in Turin a point behind Los Che and down in third, outside of the last-16 qualification places.
Juventus vs Manchester United: confirmed line-ups
Juventus XI: Szczesny, De Sciglio, Bonucci, Chiellini, Sandro, Khedira, Pjanic, Bentancur, Cuadrado, Dybala, Ronaldo
Manchester United XI: De Gea, Young, Smalling, Lindelof, Shaw, Herrera, Matic, Pogba, Lingard, Alexis, Martial