Solari's Real Madrid run riot against Viktoria Plzen
Despite a shaky start Real Madrid scored two quick goals just after 20 minutes and went on to dominate the game. Vinicius came on and set up Kroos for the fifth.
Viktoria Plzen 0-5 Real Madrid

: match report

All is well at Real Madrid. Santiago Solari is yet to lose, or concede a goal as the manager of the club, Vinicius is stepping up to his role as a first team player, the strikers are striking again and Real Madrid thumped Viktoria Plzen on Wednesday in the Champions League.

That doesn't tell the whole story though. Real Madrid were at once dominant in attack and unsure of themselves at the back in a game that saw some poor defending from both sides throughout. But Real Madrid were far more clinical and had a 4-0 lead before the referee had whistled for the break.

The home side figured they might be able to take advantage of Real Madrid's collective fragile state of mind early on when they pressed them high up the field and nearly had a goal. A ball across the box was deflected onto the crossbar and was eventually cleared as .

Sergio Ramos might have been sent off on another occasion shortly after when his elbow found the bridge of Milan Havel's nose and after that the game swung in Real Madrid's direction.

Karim Benzema drove into the box on 21 minutes and feigned a shot before turning onto his left foot, reshaping his body and going with the right himself. He slotted under the keeper and Real Madrid were about to embark on a 19-minute spell that saw them net four and put the game to bed before the lights were out.

Casemiro headed home from a short corner two minutes later and a long cross to the back post was headed down by Gareth Bale only for Benzema to land his brace after 37 minutes.

Bale rounded out the scoring for the half with a left-footed finish after Benzema headed into his path. It was 4-0 and Real Madrid took the next five minutes to site back and catch their breathe while they admired their purple patch.

Viktoria Plzen had no reply either. The second half started and they came out with their guns blazing even if the guns weren't loaded. Time and time again, their attacks and counters failed to live up to the hype as a pass went astray or communication broke down.

Toni Kroos curled over Hruska after Vinicius, a second half sub, played it into his path after 67 minutes and Real Madrid were clear to land. That was the end of the scoring and it also signalled the end of any massive effort in the game.

Plzen were beaten, Ramos was subbed for rest and Real Madrid turned their attention to recovery and their trip to Galicia where a potent Celta Vigo side.

All is well at Real Madrid but scratch under the surface a little and it's not clear if they are free from their pre-Solari crisis or if there's more than meets the eye.
Viktoria Plzen-Real Madrid: live commentary updates
GAME OVER! Real Madrid very comfortable winners.
90'+3'   Benzema with a run into the box and it's sent in and saved by the keeper.
90'+1'   Three minutes of added time.
90'   Goal for Vazquez but he's offside. Looked like he was on from the replay.
89'   Han ball on Isco and another Real Madrid attack comes to an end. 
88'   Vinicius drives forward and loses it. Ball crossed in for Reznicek and it's offside.
85'  Oh  the ball across the box can't find anyone. 
83'   Reguilon with an excellent tackle and runs out to keep it in play. Real Madrid counter! 
82'   Corner for Plzen. 
80' Chory replaced by Reznicek. 
77'   Vinicius wins the ball back and plays to Isco. He gets the favour returned inthe penalty area but has the ball taken off him and Plzen counter. Courtois saves the header.
75'   Plzen chasing shadows. 
74'   Real Madrid just throwing it around now with ease.
72' Isco on for Kroos. 
70'   Clash of heads between Chory and Javi Sanchez. Both players down now and getting treatment.
69'   Vinicius clips it inside and it's headed into Vazquez' path. He chilenas the ball wide. A buzz every time Vinicius gets the ball. 
68'   Vinicius continues to influence off the bench! 
67' Vinicius is clear through. He drives forward and lays it off to Kroos. He curls it over the keeper. 
63'   Real Madrid struggling at the back again. Ball flies into the air and Nacho can't clear. Shot eventually from Horava and it's blocked before Prochazka strikes wide.
62' Vinicius comes on for Benzema. 
61' Cermak replaced by Horava.
60'   Real Madrid give the ball away at the back through Nacho. Petrzela strikes wide.
60'   Chory looked like he had won a corner but it came off him last as he tried to take it down the right. 
59' Javi Sanchez coming on for Real Madrid. He will replace Sergio Ramos, who is whistled as he leaves the field.
57' Ceballos in the box. He tries to take it down but he fouls the Plzen player in the process.
57'   Plzen counter and nearly catch Real Madrid out from the corner. Odriozola gets back and covers. Reguilon up the other end and he wins a corner for Real Madrid.
56'   Ceballos with some lovely moves to break free and keep the ball. Very nice before he starts another attack. Out for another corner.
54'   Vinicius, Sanchez and Isco warming up.
54'   Nacho missed after Ramos shot is deflected into his path. Himself and Bale were a mile offside though.
52'   Nacho gets himself booked for backchat to the referee. He wanted a corner but didn't get it and had some choice words for the ref. 
52'   Plzen look good again on the attack. Petrzela with a pass out to Chory and he lays it off for Kopic. His shot is saved by Courtois and it's corner, which is easily grabbed by the Belgian.
51'   Benzema looking for his hat-trick. He sends one towards goal and it's out for a corner.
50'   Their semi-sustained attack comes to an end with an offside. 
48'   Courtois to the rescue. Move down the left and Kopic sent through and he strikes into Courtois' lefs. Decent move. 
46'   Lucas tries one from distance. Not as close as it initially looked.
46'   Cross-field ball and Real Madrid win it back. They attack now but not in any massive hurry.
46'   We are back underway for the second half. 
45'+3'   Corner comes in and it's cleared but Real Madrid attack again. Plzen launch it clear and it's the half-time whistle.
45'+2'   Odriozola down the right and it's blocked by Limbersky for a corner.
45'+1'   Three minutes of added time. 
44'   Free comes in and bounces around for a bit before Cermak strikes well over the bar. 
44'   Foul on Chory. Referee was going to play on but he came back to make sure he's alright. 
41'   Cross from the right now and Hruska grabs it. He wanted to launch early but his players weren't in position and he's not happy.
40' 4-0! Bale again. Ball crossed in from the left-hand side and it falls to Bale. Lovely left-footed finish. 
38'   Real Madrid cruising now. Plzen's defending fairly poor but nice leap by Bale and needed to be finished by Benzema. And he did!
37' Bale heads the corner back into Benzema and he heads it home. 3-0. 
36'   Kroos tries hs luck now. Goes wide but it took a deflection. Corner.
36'   Chory caught offside as Plzen look to get one back. They've improved since that spell where Real Madrid scored two but haven't been clinical enough in front of goal.
35'   Limbersky with a ball down the line in search of Kopic but he fouls Nacho, who used his body well to get in front of the attacker.
33'   Lovely move by Plzen but they're on the wrong page. Ball chipped inside and the pull-back is a yard ahead of Havel. Real Madrid survive and clear.
31'   Vazquez cross-field pass is blocked by a Plzen hand. Free for Real Madrid. They have cooled off slightly but still well on top. Plzen looking dangerous on occasion on the counter.
30'   Havel and Plzen break. He has Odriozola in front of him and the right-back blocks it for a corner.
29'   Corner whipped in and cleared again. Plzen really struggling now as they concede another corner.
28'   Benzema follows in a nice Bale strike. Keeper made a mess of it but the French striker nearly turned it home. Corner again.
27'   Headed out by Plzen and Real Madrid have a corner. 
27'   Handled by Reznik as Reguilon crosses. That's a free from the left now for Real Madrid. Kroos to take again.
26'   Plzen with a decen break and Real Madrid clear with Kroos, but his foot is caught late. Ref blows a whistle but Real Madrid were on the attack. Not sure why he didn't play advantage there.
24'   Benzema with another dangerous run and strike across goal. Plzen clear it.
23' GOAL! Casemiro heads home. That's 2-0. Kroos with the delivery.
23'   Real Madrid shaky at the back to start but improving now.
22'   Another cross comes in from the right and it's turned behind for a corner.
20' Benzema! GOAL! He runs into the box, fakes a shot and then pulls it back before slotting it home. 
20'   Quick move forward for Real Madrid and Vazquez' first time cross back inside is a mile over the head of its intended target. 
18'   Bale heads it again and it's offside. He came from an offside position it looks like.
18'   Free for Kroos to whip in again. Maybe a nicer angle for him to deliver a more dangerous cross.
18'   Ceballos into the feet of Benzema. He's fouled now and Real Madrid building again. Vazquez down the right and he's tripped up by Limbersky.
18'   Free comes in and Bale heads it back towards goal but it's wide.
16'   Vazquez nudged in the back by Limbersky and he wins a free. Kroos to take.
14'   It's Havel who he caught. His elbow in a very strange position.
13'   That looks like a broken nose for Chory. Ramos caught him and he is down. His nose is absolutely pumping.
13'   Hand ball from Odriozola as it's sent out to him on the right. Another attack breaks down for Real Madrid.
11'   Close again from Plzen. They are driving forward every chance they get. It's Prochazka this time with the left-footed curling cross. Chory tries to reach for it but isn't tall enough.
9'   Plzen go so, so close. Cross comes in from the left and it's knocked onto the crossbar. Ball isn't properly cleared and Ramos seems to foul Chory but not penalty. Real Madrid all over the place.
7'   Casemiro thrown off the ball way too easily. Chory sneaks in behind and wins a corner for Plzen.
6'   Really sharp passing to get Real Madrid out of trouble in the middle. They attack now and Odriozola crosses to a Plzen jersey.
5'   Ceballos takes a head to the face and he handles the ball in the process. Free for Plzen and he checks to see that there's no blood coming from his nose. There's not.
3'   Plzen look dangerous again in attack. Kroos eventually fouled by Real Madrid far from convincing at the back as they fail to clear on a number of occasions.
2'   Ball clipped over the top by Nacho in search of Odriozola but it's out for a throw.
2'   Real Madrid in possession to start. Bale on the left and Vazquez on the right so far.
1'   Plzen put pressure on Real Madrid early on and they win it back. A quick counter comes to an end as Lucas Vazquez sees it out for a goalkick.
1'   We are underwya in Plzen! 
    The players emerge onto the field. Navas walked by his teammates with hugs for some of them in the tunnel and walked straight past Courtois as he walked past. Anyone looking for a world class keeper in January?
   Roma win and move ahead of Real Madrid in Group G. Check out our Champions League Matchday situation here!
    That last stat isn't helped by the absence of their striker  Michael Krmencik, who suffered a cruciate knee ligament injury recently. He was one or Plzen's better players last week.
    The door swung open for Ceballos under Lopetegui but it shut soon after. He is back in the starting eleven tonight.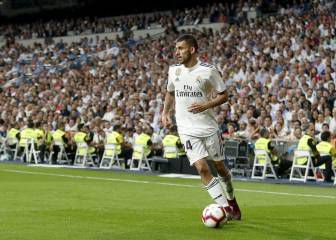 Vinicius doesn't start either despite his intervention at the weekend! We will surely see him at some stage though.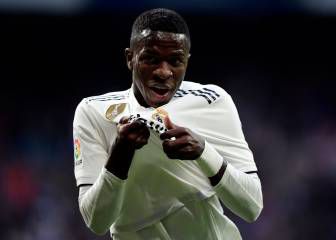 Solari has dropped navas for the Champions League. He started in all three CL games before tonight. That gives us a look into what Solari is thinking and also what Lopetegui might have lost his job for. 
    Real Madrid XI: Courtois, Odriozola, Nacho, Ramos, Reguilon, Casemiro, Kroos, Ceballos, Lucas, Benzema, Bale
    Hello and welcome to our live coverage of Viktoria Plzen versus Real Madrid in the Champions League. Kick-off from Doosan Arena in Czech Republic is at 21:00 CET.
Viktoria Plzen-Real Madrid live online: preview
Real Madrid beat Viktoria Plzen just last week but suggestions that it was a walk in the park would be misguided. The Doosan Arena Plzen is the venue for Real Madrid's clash against Plzen and it's Santiago Solari's first game as the manager in the Champions League. Kick off from the Czech Republic is at 21:00 CET.
Santiago Solari called up 20 players to travel to Plzen but Marcelo, Vallejo, Mariano, Carvajal all remain out with injury. Solari is yet to lose after two games as the manager of Real Madrid with wins against Melilla and Valladolid at the weekend at the Santiago Bernabeu but he still has his work cut out for him. The big questions regarding Real Madrid's team is whether Vinicius will start in place of Bale. The Brazilian has played in the last two games for the club and was decisive in both and many believe it could be his time. Keylor Navas has started in every game in the Champions League but Solari has not said what would happen in goals.
Viktoria Plzen are without Michael Krmencik, who played a starring role despite losing against Real Madrid at the Santiago Bernabeu last week. They have drawn one and lost two of their opening three games and are looking for their firsat win in the competition against a Real Madrid side who are not entirely out of their recent crisis but have improved slightly. The Czech side bounced back after their loss to Real Madrid with an away win against Banik Ostrava and sit second in their league on level points with the leaders, Slavia Prague, on 34 points.