Es Tunis 3-0 Al Ahly CAF Champions League final: match report
Two goals either side of the half by Bguir and a late strike from Bardi helped Esperance Tunis seal a comeback win over Al Ahly in the CAF Champions League final.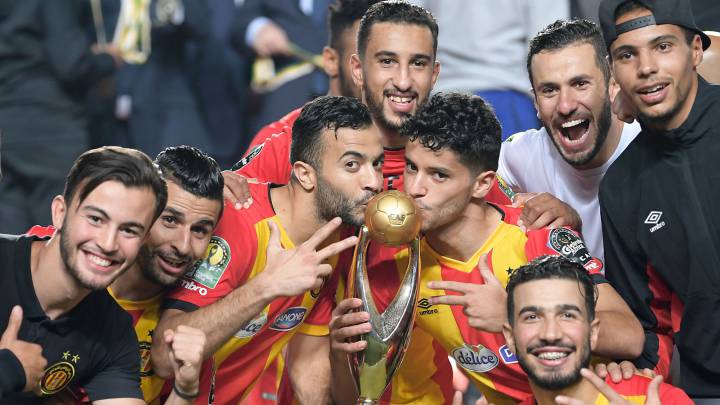 ES Tunis 3-0 Al Ahly: match report
Esperance sealed a massive comeback win to deny Al Ahly the chance to win their 9th African Champions League on Friday when they scored threee times without reply to turn over a 3-1 first leg scoreline. The Tunisians will join the world's best in December in the Club World Cup thanks to their third African Champions League success.
Al Ahly's bus was reportedly attacked before the game and they started the game like a side who were afraid of losing and rattled from the incident. They tried to contain Esperance but they weren't for taming on the night. And once the home side got the bit between their teeth, Al Ahly were helpless to arrest their momentum.
Bguir gave the Tunisians hope on the stroke of half-time when he slotted home from a Khenissi pass. Al Ahly had been stung and they had 15 minutes to think about the next 45 with the home fans baying for goals and the Esperance players knowing they had this final in their hands if they were willing to go ahead and do what was needed to win it.
It was Bguir again after the break when he headed home a cross to put them ahead by two on the night and over the two legs on away goals. Al Ahly needed a reply and they needed it soon with just 31 minutes remaining.
They started in second gear and remained in second gear though.
Anice Badri sent the home fans into raptures when he droves forward and drove beyond the Al Ahly keeper to make it three. If the visitors scored, which didn't look likely with four minutes to play, it would only push the game to extra-time and Esperance had handcuffed their attack all night and didn't stop after taking such a firm lead.
The visitors coudln't even muster a shot, however, as they went down as tamely as anyone might have imagined. The eight time champions would remain as such and Esperance won their third title with Al Ahly adding a fourth runners up medal to their list of honours on a night to forget for them.
ES Tunis - Al Ahly live online: live match commentary
90'+4' Indeed it does! That's it. Esperance win it thanks to a 3-0 win. What a comeback.
90'+3'   Esperance keeping the ball now and Al Ahly have run out of options. They were poor throughout and this is going to end badly for them.
90'   Al Ahly need a reply like never before. 
87' That should do it! Another goal for Esperance. They break down the right and despite having options either side of him, Badri goes it alone. He strikes with his right and sends it across El Shenawy and beats him well. What a strike. 3-0 now and 4-3 on aggregate to the Tunisian side.
85'   Free for Al Ahly. It's deep in thir own half and they are just going to have to start launching the ball forward now. It is launched forward and Soliman's shot is blocked. 
82'   Soliman stands on the ankle of an Esperance player and his denial of it could win an Oscar. He pretends he didn't mean it but my doubts remain. 
82'   Badri with a foul now and Al Ahly can't do anything with it. They haven't had a shot on goal despite trailing here! 
80'   Coulibaly with a foul now and Al Ahly waste more time. Esperance taking all the time in the world over this one and all the other ones for that matter. 
78' Al Ahly made two changes two with Al Sulaya and Hany going off for Hamoudi and Nedved. 
78' Neskini on as the third and final sub for Esperance. He comes on for Belaili. 
78'   Long ball over the top and Esperance have a chance to make it three. Lovely save by El Shenawy from Bardi. And it comes to him again before being rejected again! 
76'   They have had no response whatsoever to the two goals. Fans on their back every time they get the ball even. But they've been really poor.
74'   Offside for Al Ahly as they try their best to score here.
72'   Another injury for Esperance. He's up and fine. They are doing a fine job of timewasting, that's for sure. 
69'   Mejri coming on in place of Khenissi.
68'   Esperance players down injured. Looks like we will have another sub.
68'   Ball whipped inside but it's grabbed by Ben Cherifia. 
66'   Ball comes in but sent back out as quick. 
64'  Soliman involved in a bit of a scrap again. He gets fouled but rolls over onto Chaalali and the referee runs over. Much ado about nothing. Free for Al Ahly. 
64'   Esperance win it back and they move forward again. Foul on the Al Ahly player brings it to a halt though. 
61'   Change for Esperance. Houcine Rabeecoming on for Bguir!
60'   Sorry, it went just wide. Esperance bringing on a sub. 
60'   Esperance not done yet. Bedri with a strike that curls just over the bar! 
58'   Al Ahly went about this all wrong. They're fighting for their lives now. Derbali sees that one out for a throw as Soliman chases down a through ball. 
57'   Ball sent into the box and Esperance defend, which comes with a massive cheer from the crowd. They shoudl expect an onslaight from Al Ahly now. 
54'   Slight delay now. Not sure if the referee was looking at VAR but everything good as Al Ahly kick off again. 
53' Esperance score! Ball into the box and it's headed home by Bguir. Nice finished but he's completely unmarked. 
52'   Still scrappy here but Al Ahly have definitely improved. They probably feel like they need a goal here tonight or they'll lose. 
51'   Bguir, the goalscorer, is fouled and he gets up off the ground and urges the fans to lift their voices. Not sure they go any higher, mate! 
50'   Esperance piling pressure on now and the fans are loving it. 
49'   Injury for two players. Esperance's Mohareb caught late on the ankle and Chaalali hits the deck after being caught with a hand to the face. Free for Esperance. 
48'   Al Ahly far more lively now and they seem a little scared. 
47'   They drive forward now and shot comes in but it dribbles well wide.
46'   We are back underway! Can Esperance build on that goal at the end of the half.
45'   HALF-TIME! That goal could not have come at a better time. Esperance believe!!!!
45' GOOOOOOOOOAL! Esperance take the lead in the tie. It's been coming. Al Ahly sitting back too deep. It's Bguir with the left-footed finish. Ball is cut inside by Khenissi and the attacking midfielder slots home. 
43'   Long ball into the back post and it's chased down before being clipped back inside by Esperance. Derbali is the man who turns it back into the danger zone. Nobody there waiting for it. 
41'   Espérance really not happy. Marginal offside now called again them as they attack. He was about two yards onside as replays show! 
38'   Mohsen hits the ground now. Caught on the top of the knee by Yaakoubi. Fairly meaty challenge to be fair.
35'   Looks like Espérance are moving up a gear here and fans helping them but other than a few half-hearted penalty shouts, they need to do more. Al Ahly perfectly comfortable for now. 10 minutes remain in the half and it remains 3-1 to them on aggregate.
34'   VAR says no and the corner is taken short. Balle came down and Khenissi was bundled off the ball. Samir tried to head it back to the keeper and he left him short. He used his body to kind of throw the striker to the ground but never a penalty, really. VAR even agreed with me.
33'   Referee under some pressure here and goes to VAR. He's smiling but he's talking to the lads in the VAR room. 
32'   Espérance dominating the ball but creating nothing. They're trying to make sure not to concede but at what point do they prioritise scoring to making a game of this. They could go down here without landing a blow.
27'   Espérance with a foul now as Mohsen is clipped. This game has been scrappy with some serious diving and play acting. 
26' It nearly kicks off this time. Soliman fouls Coulibaly and the Espérance player gets up and reacts, which sends Soliman flying. Both players booked. 
25'   Another row! 
24'   Al Ahly to be lacking any attacking intent here. A goal from Espérance should change that though.
22'   And now Khenissi is pulled up for a foul on Mohareb. Looks like the Al Ahly midfielder is making the most of that one. Caught from behind but he's up again and looks fine.
20'   Espérance have improved recently but still no real trouble for El Shenawy as he runs out and grabs another ball into his box.
19'   Referee rushed over again as Bguir tries to go around Ashraf but the defender falls. It's a free out but the fans or the Esparence player are not happy with the decision. Looked like he did clip his ankle.
17'   And then Yaakoubi fouls Mohsen. Free for Al Ahly to relieve some building pressure. 
16'   PENALTY SHOUT! Referee waves it away ball was bobbling around and Esparence player goes flying. No dice. 
15'   Move into the box by Esparence and Samir wins it back. They think they've won a throw but the referee gives it the visitors. Fans not happy.
13'   No, that's never going to work. Hussein with a shot from a mile out and it goes a mile over. 
11'   Worked short and the shot comes in. Not a bad effort but El Shenaway grabs that one with ease. 
11'   Corner now for Esparance. 
10'   Sent in and punched clear by Ben Cherifia. There was a foul just before that though.
9'   Corner for Al Ahly. 
7'   Esparence struggling to get anything going here. Al Ahly doing a good job of breaking up everything they try to do in the middle. Scrappy game so far.
7'   Ball clipped into the box and Esparence win it back and counter. They have room to run into. 
6'   Foul by Al Ahly's Ashraf and Esperance back on the ball. They need a goal. Al Ahly would be fine if it carried on like this for the remaining 85 minutes.
4'   Tame enough start to this one but a long ball down the field looking for Khenissi is the first danger. Grabbed by El Shenawy. 
1'   We are underway in Tunisia!
    We are ready for action! A 3-1 deficit isn't easy but we have to see how Al Ahly respond to that attack on their bus! This opening 20 is going to be fascinating.
    The Al Ahly team bus has been assaulted ahead of the clash tonight.
    Here's a look at some quotes from National Security spokesman Walid Ben Hkima
    There have been security measures put in place to ensure extra safety tonight with metal detectors in the ground and between 50 and 55 thousand will fill the stadium in just under an hour! 
    We have team news for both sides.
    Hello and welcome to our coverage of the CAF Champions League final second leg as home side ES Tunis look to turn around Al Ahly's 3-1 win in the first leg. Kick off from Tunisia is at 20:00 CET.
ES Tunis - Al Ahly live online: preview
Al Ahly grabbed a nifty 3-1 lead in the first lef of the CAF Champions League final. They have to travel to Tunisia and defend that lead in the second leg on Friday November 9 2016 at 20:00 CET. Al Ahly have no trouble winning to competition as they have shown with their eight previous victories but they will be pushed hard to earn their ninth at Stade Olympique de Radès in the south east of Tunisia.
Between 50 and 55 thousand fans will pack into the stadium. "The last time the stadium was so full was before the 2011 revolution... But all preparations are in place, we're ready," National Security spokesman Walid Ben Hkima told 'AFP'. They have installed metal detectors and extra security measures have been put in place to make sure the atmosphere is lively but safe for the North African derby.
The home side boast a very strong attack in Badri, Belaili and Khenissi and will look to score early to pile pressure on Al Ahly after netting an away goal last week. They will have to score at least twice after the visitors scored three goals at home.
The away side will look to Walid Soliman to score an away goal with Islam Mohareb also impressing in the competition to date. They are without Azaro, however, who is suspended from the first leg.
Mouïne Chaâbani of Esperance says, "Al Ahly is a big team, used to playing in the final. They feel optimistic whenever they encounter Esperance, and they have every right to. It's a North African derby."
The two sides have clashed on 14 occasions in the past and Al Ahly have won seven times with ES Tunis earning the spoils on three of those attempts. In the first leg, which was a hotly-contested one, three of the four goals came from penalties with VAR heavily involved. Due to the intensity of that affair, Bamalak Tsimba has been called in and is considered one of the finest referees in Africa. It's definitely something to keep an eye on on Friday night.