Solari: "Nobody has a more broken nose than Ramos"
Santiago Solari has jumped to the defence of Sergio Ramos following the controversial incident in the Viktoria Plzen match on Wednesday.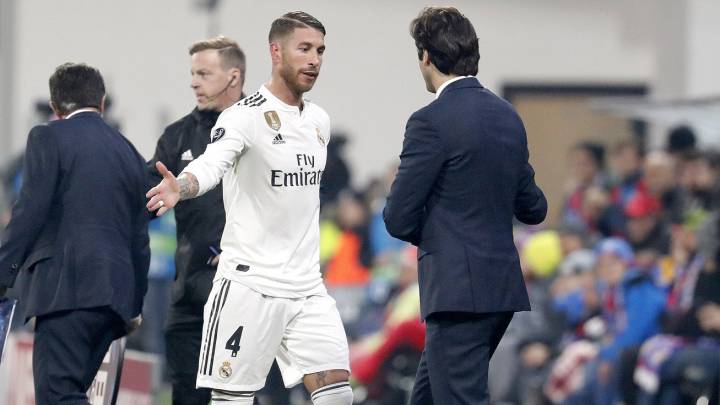 Real Madrid coach Santiago Solari has defended Sergio Ramos amid the controversy surrounding the Madrid captain's challenge on Milan Havel on Wednesday night that left the Viktoria Plzen player with a bloody nose.
"Our captain is a brave and honest man," said Solari in a press conference ahead of Madrid's clash with Celta Vigo on Sunday.
"Everyone who plays football knows that this is a contact sport and there are guys of 80 or 90 kilos moving at maximum speed and those situations [can occur]. Nobody has a more fractured nose than Ramos, he knows first-hand what this sport is. There was no bad intention, he always plays fair, this is a contact sport."
Luis Enrique has also come out to show his support for the Real Madrid defender. The Spain coach called Ramos a "special" player and a "unique professional".
"He is a leader – working and setting an example. I'm very happy with his attitude," he said.
After the Champions League game on Wednesday night, Ramos also defended himself, saying: "I had no intention of hurting him. I spoke with the guy. I went to look for him in the dressing room, but he was not there because he had gone for tests, but I sent him messages to see how he was."
Asked about how it feels to be the target of heavy criticism, Ramos said: "When you have been playing so long and you are the captain of Real Madrid and the national team, you are in the spotlight. And I am the way I am and I am not going to change, I hope to be here for a long time, despite the headaches we give some people."



LaLiga Santander
*Update 10 de noviembre de 2018