The slate will be wiped clean for Dembélé
AS sources at Barcelona give Moisés Llorens the view from inside the dressing room regarding Dembélé.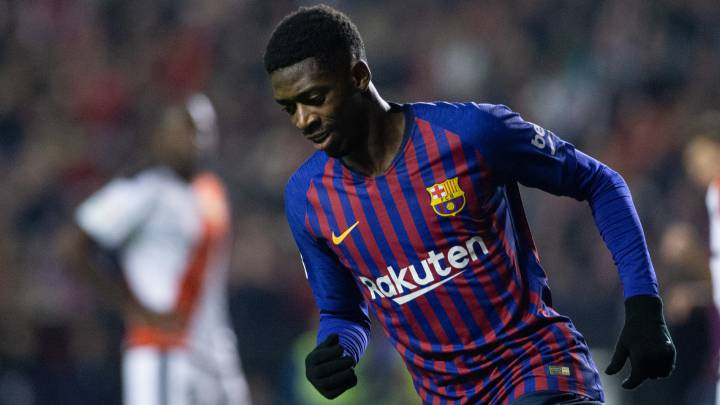 Enough… for now at least. At Barcelona they don't want to speak any more about Ousmane Dembélé, who made headlines last week for another act of indiscipline, that this time the club did not want to be known.
His punishment for failing to show up for training on Thursday was to train alone on Friday and being his ommission from the squad on Saturday for the weekend's game against Betis. On Sunday, with his movements being tracked at all times, he was spotted arriving late at the Camp Nou for the Betis game – something which irritated his team mates.
"It's a problem that we must resolve internally, inside the dressing room," say AS sources at the club who know the problem well.
With increasingly fewer allies in the dressing room, Dembélé, they say, "must understand that a change in his attitude is essential for him to have an opportunity in Valverde's plans."
"A starting place for Betis was his after Coutinho's injury, but he lost it because of his actions." At half time of Sunday's game, he went to the dressing room and came back to his seat with the second half already underway. When the game was over, he left without saying goodbye to anyone.
Punishment enough for Dembélé
What seems obvious is that his colleagues want him to react positively. And for that reason, their statements in public have had a forgiving and positive tone, from Piqué ("We were all young like him and made mistakes… with time he'll improve") to Valverde ("We expect a lot from his quality, he has a great talent and we trust him").
And our sources in the dressing room say that "after the return from the international break, the slate will have been wiped clean, he has already received his punishment."
"He isn't aware of everything he does," they continue. "He's still a kid who has done wrong. Who hasn't? We all made mistakes. He is a great player, a football player with incredible ability, much better than others who now are now talking. But he must change. If he does, he will excel, that is why Barça is good to have patience."
While the dressing room has has been patient, Dembélé is still a long way from getting out of the trouble he has gotten himself into. And the real judgement will come the next time he steps out on to the field at the Camp Nou. That day, "the crowd will have a lot to say". And when that crowd is angry with you, it can leave lasting wounds.