Croatia serve Spain revenge in the form of 93rd minute winner
Croatia led three times on the night, but were pegged back to 1-1, then 2-2, but the last goal, from Jedvaj proved too much for Luis Enrique's men.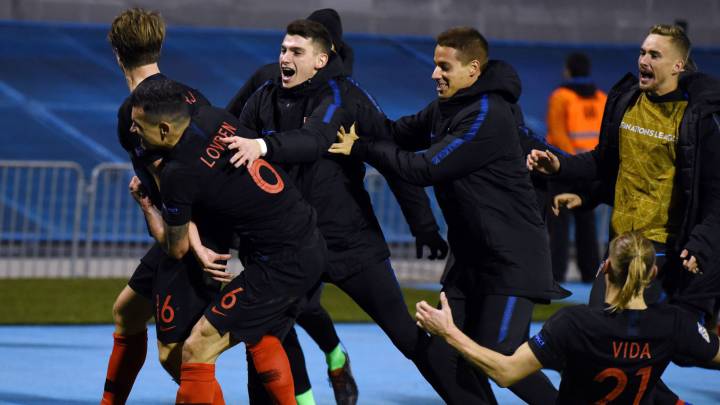 Croatia 3-2 Spain match report:
It was billed as a grudge match despite zlatko Dalic insisting his side were only interested in playing well. Spain had smashed six past them just two months ago and another two months from making it to the World Cup final. Spain, who were eliminated from the same competition by Russia, were stuck in a infinite loop in that game and have proven in the last couple of games that they are capable of showing their Dr Jekyll and Mr Hyde sides when the mood catches them too.
On Thursday in Zagreb, it was a frustrating first half for both sides as tempers bubbled at the surface and more than once things threatened to get out of control. There were mini-battles taking place all over the field as Ceballos and Modric clashed along with Rebic and everyone he came into contact with.
Croatia were sitting back when Spain wanted the ball and were content to keep control without actually controlling the ball. They pressed high for a couple of second after losing it before retreating for fear of being caught out like they were so often back in September against the same opposition.
Ivan Perisic hit the post in those opening exhcnages after De Gea tapped the ball onto the post. Spain, who dominated possession, were largely impotent in front of goal on the odd occasion when they made it that far.
Croatia needed a win to keep their hopes alive and Spain needed a win to ensure they wouldn't have to sweat when England welcome Croatia to Wembley on Sunday so both sides needed to make something happen.
After that first half, which was a frantic kind of boring, the tempest arrived.
It came via a mistake at the back from some close-quarter passing from Spain. Ramos played it out to Roberto, who had his clipped pass cut out. The ball rebounded to Kramaric and Ramos couldn't recover. He called De Gea out but he was on his goalline and the Croatian slammed home to make it 1-0 after 54 minutes.
Just two minutes later, Iago Aspas found Isco in the channel and he squared to Ceballos, who had Vrsaljko draped around him like a cape. He slid home and Spain were level.
Spain's defence malfunctioned against on 69 minutes when a dainty cross from Modric made it's way to the back post, just screaming to be tapped hom. Tin Jedvad obliged as Iñigo Martínez looked around in search of the man who was supposed to be marking the free right-back.
That called Spain back into action when Sime Vrsaljko handled a ball in from Suso that matched Modric's earlier one for lusciousness.
Sergio Ramos, King of Panenkas, stepped up and sent Kalinic the wrong way as he slammed it to his right and left the keeper sprawling to his left. He had the scoreboard attendants scrambling too as the game started to grow into one of the most interesting in international football in some time.
Spain had more chances with Morata having a goal chalked off for offside before Isco's header was blocked too.
The fourth official informed us there would be four minutes of added time as both teams refused to settled for a draw and needed more from the game.
It was Croatia who would be rewarded for their bravery, however, as Jedvad turned home a saved Brekalo shot after a Modric free was saved from going out over the endline by Perisic.
The game ended 3-2 with everything now to play for on Sunday between England and croatia and with Spain being forced to sweat through that game having handed over their fate to their Group 4 rivals.
It can't erase the scars of the 6-0 beating Spain game them in September but as far as revenge goes, a 93rd minute winner is as cold a dish as you can serve.
Croatia - Spain live online: commentary and match updates
90'+3' GAME OVER! What a game we just witnessed.
90'+3' What a cross. Vida glances it wide. But Croatia keep it in. Brekalo shoots and it's saved by Jedvad scores at the back post again. 3-2 Croatia. 
90'+2'   Suso with a ball forward for Roberto but way too hard for him. Perisic up the other end and Ramos slides in to save the day. Corner for Croatia.
90'+1'   Modric whips it in and Lovren heads it down to De Gea.
90'+1'   Four minutes of added time. There is one chance left in this.
90'+1' Ceballos nips Vrsaljko's ankle and he's booked now. 
90'   De Gea grabs a cross and he looks ahead of him and wants to launch it forward.
88'   Might have been Busquets. Jordi Alba leaned into Kramaric and they want a penalty but nothing in it. Modric and Busquets collide and that's what Busquets is booked for.
88'   Suso and Perisic fighting now. Perisic's jersey is all ripped. 
87'   Croatia counter and it's Kramaric who drives it forward but had men either side of him. Corner for Croatia. 
85'   Cross comrs in and it's cleared. Ceballos pass inside but that's no good. 
85'   Morata with a nice cross as Kalinic dives and saves. Spain win it back and attack. 
84'   Asensio to Isco but Isco isn't even looking. Waste of an attack.
83'   Modric strikes with his right but it's blocked and deflected up to De Gea. 
82'   Isco plays the ball through to Suso but he's offside. 
81'   Ramos heads back to De Gea and they start all over again. 10 minutes left. This is a crazy game.
80'   TWO CHANCES! Isco heads it and it's blocked before the strike comes in on the rebound and it hits Isco. So, so close again. 
80'   Alba down the left and Asensio sets him free. Squared and it's a throw. Spain back on the attack.
79'   Asensio was offside as Morata scores! Marginal call. 
77'   Asensio with a chance. He drives it over the bar.
76' GOAL! He buries it! 2-2 now and Spain are back! 
76'   PENALTY! Suso sends it in and it's handled by Vrsaljko.
75'   That is as good a chance as Spain might get. Ball through and it's struck by Roberto and almost falls to Morata after it was saved and flies into the air. He heads it towards goal and it's cleared off the line.
74' Suso coming on for Spain. Saul makes way.
73' Brekalo on for Rebic. 
73'   What a finish we have on our hands. 
71'   Good save from De Gea. Croatia win it back in the middle with nobody back for spain. Rebic drives it low and De Gea gets a foot to it. 
69' GOAL! 2-1 Jedvad at the back post and Croatia retake the lead. Modric with a perfect cross and the right-back turns it home.
67' Vlasic on for Rakitic.
67'   Asensio strikes and it rebounds straight to him. He can't shoot this time and it's a foul by Ramos on Vida. 
65'   Another chance for Spain. Isco with a nice trrun into the box and gets the ball from Ceballos. He's pushed over but recovers and then Asensio arrives to shoot but they get their wires crossed. Neither do shoot and it's cleared off Isco and out for a goal-kick.
64' Morata subbed on for Aspas.
63'   Aspas with a poked shot forward. It looked like it was going in but it hits the crossbar and slices over. 
61' Rodrico off for Asensio.
61'   Croatia the better team now. Rakitic with a run into the box and absolutely slams it wide. He ran straight through Spain's defence there. 
60'   Run down the field by Perisic after a nice flick by Kramaric. 
58'   Alba won it. 
58'   Corner for Spain. They have come to life now. 
57' GOAL! Aspas with the pass into Isco's path and he squares to Ceballos, who finishes it. 1-1. All of a sudden we have two goals! 
56'   Morata warming up. Luis Enrique up off his bench and he is all action.
54' GOAL! Kramaric finishes beyond De Gea. Ramos and Roberto make an absolute mess of it and it's slotted home by Kramaric. 
53'   Ball crossed in by Roberto and it's cleared. 
51'   Ceballos and Modric go at it again. Modric not happy and ref tells him to calm down. Spain keep it and still look for a way through.
50'   Rebic with another foul on Ramos.
50'  Busquets to Isco and he tries a little flick. Doesn't work out but Spain putting some pressure now.
50'   Another ball in behind and that's just pure hopeful. Between two Spain players and Kalinic grabs it. 
49'   Long ball down the field by Ramos to Aspas but he's offide. Asensio off the bench now to warm up.
47'   Saul is picked off by Brozovic. Croatia move forward and Ceballos clashes with Modric. No free as the two continue their little battle.
46'   Croatia get us back underway. 
Nope, no changes! 
And Spain follow them out. No changes, it looks like. Let's see. 
Croatia back on the field. 
45'+1'   Half-time. 
45'+1'   Ramos absolutely bundled over as Rebic hits him late. Nothing in it really. 
45'+1'   Spain win it back through Isco and he strikes. Saved by Kalinic and it's a corner. Swung in by Isco and Saul's header is into Kalinic's hands. 
45'   Ramos cross into the box and that's no good either.
45'   Ceballos plays it into the path of Sergi Roberto. 
43'   After some nice passing, Saul shoots with his right and it's over the bar. Never troubling the keeper. Spain really dominating now and Croatia just hanging on until the break.
41'   Still no way through for Spain but better this time. Roberto cross and it's blocked. Ramos looks for Alba and that's headed out. Spain turning the screw now. 
40'   Ball down the line again looking for Rebic but it's too heavy for him this time. 
38'   It's not even a free. It's a hop-ball. And it's back to Spain. Perisic pointing at his face but referee said nothing wrong. 
38'   Quick move out the field and Roberto catches Perisic with a hand to the face. He hits the ground and Croatia players surround him. He says it's a free but nothing more. 
38'   Alba with a cross after a quick move from Spain but that's straight to Kalinic. 
38'   Ball inside and that's to nobody. Sloppy again from Spain as they looka round and don't know who the ball was actually to. 
37'   Alba cross is cleared but Spain win the throw. 
36'   Better from spain now as they whip it in and win the rebound before piling more pressure on Croatia.
35'   Rodrigo with a nice run down the right and he crosses but it's blocked and out for a corner.
34'   Spain with loads of possession again. Ball by Ramos over the top but that's into Kalinic's hands.
33'   Ball sent over to Roberto who volleys it back up into the air. Aspas jumps with Kalinic and it's a free. He barely even brushed off him. 
32'   Nice spell of possession for Spain and Croatia fans aren't happy with it. 
29'   Ceballos into the box and he takes a bit of a tumble. Never a penalty and he knew it himself as he jumps back up and dusts himself off. 
28'   Rebic breaks free now and he thinks about shooting before sending the ball across the box. It's cleared by Spain. They're under pressure here when Croatia break.
26'   Rakitic fouls Roberto now. Loads of fouling in this one and it could spill over. 
25'   Modric wins it back and Croatia break. They're on the left and Perisic recycles to Rakitic, who switches play. 
22'   Modric catches Ceballos with a hand in the face. He hits the ground and now Rebic catches Busquets in the face. 
22'   Ramos with an acrobatic clearance and he battles for the ball again before Martinez rattles into the back of Kramaric. Free for Croatia. 
21'   Croatia fans singing for the opening 21 minutes and trying to egg their side on. They want revenge! 
20'   Alba limping now as the ball is clipped over the top to him. Rebic sees it off as he shields the ball from Alba and he stood on his foot or kicked his shin in the process. 
20'   Spain with the ball in the middle now as Croatia retreat. No signs of a way through for Spain yet. 
18'   Perisic again down the left. He shoots and it's blocked up to Modric on the right. He sends it across the box now and it's blocked and cleared. Brozovic fouls as he tries to win it back. 
17'   Ball sent in to Isco from Alba but he's offside. 
16'   Ceballos tripped up by Modric and wins the free. Croatia always nipping at Spain's heels.
15'   There has been a lot of that from Spain so far.
15'   Rodrigo to Sergi Roberto and he turns back to return it but he kicks it over the sideline. Dreadful pass. 
14'   Vida with a shoulder into Isco's chest now and he doesn't win a free. Croatia break and it lands at Perisic's feet. After a stepover, he drives it towards goal but Kramaric slides and can't reach it. What a start to this one!
13'   Croatia press Spain and they win a throw out of it. 
13'   Ramos with a dubious looking forearm to the back of Kramaric's head and he gets away with it. Strange one. 
12'   Rebic down the right hand side and he gets goalside of Alba. But Alba has support in Martinez and Spain scramble it away. 
10'   Through ball for Aspas and he is tripped in the box before Kalinic slides into him with his knees. Sore one indeed. 
9'   Poor corner from Modric and Ceaballos clears. Aspas from Ramos and Spain back on the attack. 
7'   Vrsaljko sends a cross in after being sent down the line by Modric. Ramos puts it out for a corner.
7'   Nice touch by Isco to get a yard for himself. Aspas pokes it to Rodrigo but he gives it away with a sloppy pass. Not a great start by Rodrigo. 
6'   Perisic down the left and he is onside. He brings it inside and strikes on his right. De Gea touches it onto the post. It's cleared and Croatia came close. Spain back on the ball now after that scare.
6'   Ball in behind is cut out by Vida again. He is forced to slide this time. Spain just taking slight control of this one now.
5'   Ball in behind for Aspas and Vida wins it. Foul on Lovren as Ceballos takes him out of it. 
4'   De Gea pressed and they work it out before Ceballos wins a throw. 
3'   Croatia playing it around in very tight quarters and lose it. They eventually win it back and break free but Ceballos wins it and plays it back to Martinez. Roberto to Rodrigo down the line and he's slow off the mark as Croatia win it back. Ball is changing owner here a lot in the early going. 
2'   Long ball whipped across the field by Ramos. Rakitic wins the second ball and drives forward. Sergi Roberto picks it up and is fouled. Intense start to this one.
1'  Ramos starts on the right with Iñigo on the left. 
1'   We are underway at the Stadion Maksimir
    It's 7 degrees in Zagreb tonight as the players get out of their tracksuits and get ready for action!
    Time for the Spanish national anthem. 
    Subasic gets his now too. 
    Corluka being awarded with his jersey for having won 103 caps for Croatia.
    De Gea has almost a brand new back four in front of him tonight. Ramos is the only survivor from the England game.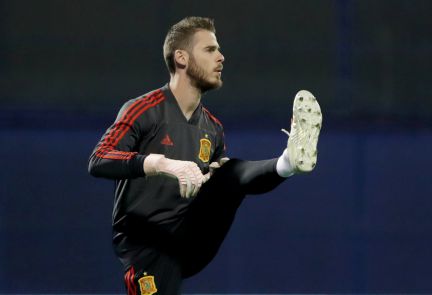 And he should play on the left with Ramos moving over the the right-hand side as Iñigo is left-footed. Will be interesting to see if Ramos, who plays on the left for Madrid, will shift over and how he does. Although you'd imagine there will be zero issue.
    The Spanish federation opened an investigation into why Martinez pulled out of the squad for the last international break. He has since said he is completely committed to Spain and there doesn't seem to be any lingering doubt as he starts tonight!
    Isco starts despite going through a rough time with Real Madrid under Solari recently. The Spanish national team has proven an antidote to his poor form with Real Madrid in the past.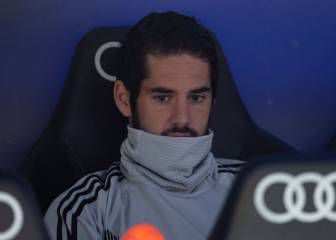 It's the first time since Lovren's comments about Ramos making more mistakes than him that they will play against each other.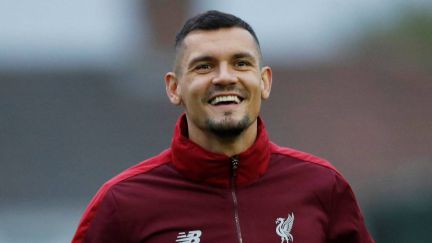 Not the biggest font on that graphic so here is the team news for Croatia in written form: Kalinic, Vrsaljko, Lovren, Vida, Jedvad, Rakitic, Brozovic, Rebic, Modric, Perisic, Kramaric
    Asensio doesn't start tonight but he says that he is ready to asume more responsibility. He might play a role off the bench though!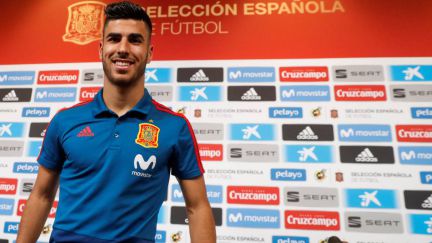 Spain XI: De Gea, Sergi Roberto, Martínez, Ramos, Alba, Busquets, Saúl, Ceballos, Isco, Rodrigo, Aspas.
    We have team news as Jordi Alba starts and both Isco and Dani Ceballos too.
    Hello and welcome to our live coverage of Croatia vs Spain in the Nations League with kick-off at 20:45 CET!
Croatia - Spain live online: preview
Croatia manager, Zlatko Dalic, has explicitly stated that his side are not out for revenge for their 6-0 hiding back in September but behind the scenes, he will surely be egging his side on to prove to the world that the result in Elche two months ago was simply a one-night slip rather than something more sinister. "Now, we do not seek revenge, but a really important victory," Dalic said before the game after saying his side performed well for the first 20 minutes of the game before fading badly after failing to convert a number of chances. Davor Suker, on the other hand, said what most Croatians are thinking: "We want revenge for the 6-0."
The Nations League returns on Thursday night with Croatia versus Spain at Stadion Maksimir with kick-off at 20:45 CET. The game has massive implications for Group 4. A win for Croatia will leave them just two points off Spain, who are sitting at the top of the three-team group, along with England sandwiched in between on four points. A win for Spain will see them secure passage to the semi-finals of the competition.
Croatia are without Ivan Strinic and Borna Barisic are due to injury but Milan Badelj is in the squad despite struggling with injury recently. The midfield three of Rakitic, Modric and potentially Brozovic will do battle with LaLiga three of Saul Niguez, Sergio Busquets and Dani Ceballos provided Luis Enrique doesn't spring any surprises. Meanwhile, Jordi Alba will have his hands full with either Perisic or Ante Rebic, who both impressed during the World Cup.
Spain, on the other hand, welcome back Jordi Alba, who has been lighting up LaLiga in recent months despite being given the cold shoulder by Luis Enrique for his first two squads as the manager of the national team. Inigo Martinez returns after a strange situation that saw him pull out of the last squad with very little understanding of his injury. The federation has said it was a lack of communication and the Athletic Bilbao defender has said his commitment to the Spain team is not in question. Meanwhile, Isco is going through a rough spell at Madrid but could play and without Diego Costa, either Rodrigo or Aspas or both could start up front along with Morata who has improved this season at Chelsea under Maurizio Sarri.