Nations League: Portugal qualify for finals after Italy draw
Portugal earned the point they needed to reach the finals after playing out a goalless draw with Italy at the San Siro on Saturday night.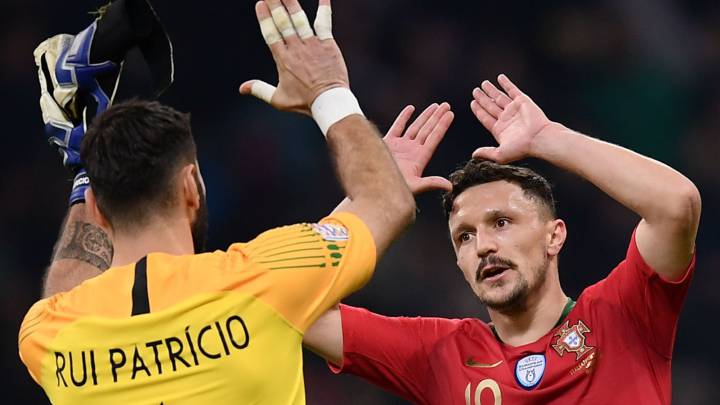 Italy vs Portugal: UEFA Nations League live updates
  Peeeep peeep peeeeeeep! Mr Makkelie blows his whistle and it ends goalless at the San Siro, meaning Portugal are through to the Nations League finals with a game to spare! They face Poland on Tuesday, but whatever happens in Guimaraes, the European champions will top Group A3, with Italy finishing second, and the Poles - whose relegation was confirmed in October - going down to League B.


93'   A minute left. Italy come again. It falls to Pellegrini just inside the box, he swivels and fires away a shot, but he's off balance and it's easily blocked.
91'   Danilo is called straight into action, heading behind a cross to give Italy a chance to swing in a corner... which Pellegrini heads towards the corner, only for Patricio to grab hold! 
90'   Four minutes of time added on.
90' Portugal make their final change, André Silva replaced by Danilo.
88'   Florenzi wafts over a cross from the right that drifts out past Patricio's post. Just over a minute of normal time left.
85'   Portugal make a second sub, Raphael Guerreiro replacing Bruma. Italy then also make a change, with Berardi brought on for Chiesa.
84'   There was a coming together between Chiesa and Rui in that move, with both players ending up on the turf and replays suggesting the Italian may have given his opponent a bit of a bosh in the face. The referee trots over to the touchline for a chat with his assistant, but takes no further action.
83'   Chiesa tumbles theatrically under Carvalho's challenge, but the referee is umoved. Insigne then picks the ball up inside the Portugal half and dashes towards the area before firing a shot on goal, but it's wide!
80' Here's that second Italy substitution. Verratti is the man to make way, Pellegrini comes on.
78' Italy are about to make a second change, bringing Roma's Lorenzo Pellegrini on. They have ten minutes to wrest back control of this game and find the goal they need to stay alive in the group.
76'   Again Portugal go close! First André Silva has a shot blocked by Bonucci, before the European champions recycle the ball and come back at the Italians. Bonucci again gets in the way to deflect Silva's cross out to the edge of the box, where Carvalho really gets hold of his shot... but Donnarumma saves superbly! It's all Portugal now.
74' Lasagna comes on for Immobile.
73'   And there's a chance for Portugal! Cancelo plays the ball into Mario on the penalty spot, and the West Ham man wriggles into a shooting position but fires over! Moments later, the visitors get Bruma into a good crossing position after Verratto loses it, but his ball from the byline is cut out. Italy are going to make their first change.
71'   Bruma picks the ball up on the left and runs at the Italy defence, but is crowded out of it. Bonucci is then booked for a challenge on André Silva moments earlier. It's a much more even contest right now.
68'   Chiesa steps on Cancelo, giving Portugal another chance to swing in a free-kick delivery. Ah, but wait: it's played short and is worked to Rui, who brings the ball to the edge of the box before unleashing a low shot towards Donnarumma's left-hand post... but it trundles wide.
66' And here comes that change. Pizzi is the man withdrawn for Joao Mario.
65'   The ball has been in the Italy half for a good three, four minutes or so; I'd say that's the longest the Portuguese have emerged from out of their cave this evening.
64'   Mario Rui carries the ball forward on the left and thrashes a shot towards the Italy goal, but it cannons off what appeared to be Bonucci's backside, and the chance is lost. 
63'   Portugal are preparing their first change - Joao Mario is getting stripped over on the bench and receiving his final instructions. 
61'   Biraghi loops a left-wing cross over to the back of the box, where Barella tries a Van Basten-esque volley - but sees his effort blocked.
57'   Cancelo receives the ball and advances into acres of space in the Italian half, but just as the right-back begins to entertain notions of grabbing the headlines with a wonderstrike from range, Chiellini steps into his path to block his shot and disabuse him of such thoughts.
54' Jorginho is the first man booked for Italy after giving away a free-kick 40 yards or so out from goal, and Portugal have an opportunity to swing it into the mixer. Pizzi delivers... but Donnarumma plucks it out of the sky.
50' Now Cancelo does get himself a yellow card after another foul.
47'   Cancelo fouls Verratti and then Biraghi almost in one movement, but manages to escape a booking. Moments later, Biraghi is back on the ball, picking out Chiesa with a fine low cross into the box that the Fiorentina forward turns first-time towards goal... but it's deflected wide! That looked to be heading in at the near post.
Peeeep! Back underway.
  The teams are coming back out at the San Siro, with no changes on either side. Italy have 45 minutes to keep their finals qualification hopes alive; if it stays this way, they'll finish second in the group regardless of what happens between Portugal and Poland on Tuesday, and the European champions will be through. 
Peeep peeep peeeeep! That's half time in Milan, where Italy have been all over Portugal but have not managed to translate that superiority into goals. The Portuguese have offered next to nothing, but are nonetheless 45 minutes away from securing qualification for the Nations League finals. 
46'   Two minutes of time added on at the San Siro.
45'   Italy again take up their position in the Portugal half, zipping it about until finally Verratti looks to lift a ball into Immobile's run into the box, only for Cancelo to get there first and head back into Patricio's hands. "Cancelo has been Portugal's best player in the first half," say our commentary team on Spanish TV. The competition has not been fierce, to be fair.
42'   Just as I write that, Portugal make a rare foray into the Italian half and win a free-kick to swing into the box. It comes to zip, though.
40'   Barella is brought down by a somewhat lumbering challenge by Dias, and Italy have a free-kick in shooting territory. Biraghi and Insigne stand over the ball, which the former finally strikes... straight into the wall! Portugal would rather like to get back into the dressing room, one suspects.
36' ...from which Bonucci heads just wide! It's surely only a matter of time before the hosts take the lead.
35' Italy are turning the screw here. Rui becomes the second Portugal player to go into the book for a foul on Chiesa on the right, and the hosts have a chance to swing the ball into the box...
34'   Insigne scuttles into the box and flops to the turf on the Portugal byline... but the referee says no. Moments later, though, there's a great chance for Immobile! Verratti feeds a wonderful ball in between the visiting backline for the striker to run onto and into the area, but Patricio is out to narrow the angle and blocks!
30' Neves is the first man into the book after a lunge on Barella. He does the old 'it was my first foul, ref' routine, but Mr Makkelie ain't having any of it.
27'   Insigne's slide-rule pass then almost gets Immobile in behind the Portuguese defence, but Patricio is quickly out to gather. Italy are clearly in much more desperate need of the points than the Portuguese, so from that point of view this dynamic isn't a total surprise; but Fernando Santos' men need to offer a little more than this. They've been so passive. 
25'   Italy knock the ball about in front of Portugal's two banks of four for what seems like an age, before quickening the pace and finding Barella on the right for the Cagliari man to send a volleyed cross towards the back post... but Immobile can't get on the end of it. 
21'   Jorginho chips the ball into Insigne, who wriggles his way into crossing space on the corner of the box and drifts a ball across the area, which is cleared for a corner. Once more, it fails to yield an attempt on goal but, despite clearing, the Portuguese again cannot get out of their half.
18'  Italy win a corner of their own, Biraghi skipping forward and sending in a cross that Cancelo gets in the way of and puts behind. It comes to nought, but the Italians win it right back and have Portugal pinned back in front of their area as they pop the ball about. Barella finally carves out a yard or two of shooting space and sends in a strike on goal, but it's too high.
13' Bernardo Silva pings in a low ball from the right that Bonucci has to be alert to put behind for a corner. The resulting corner then sees the defender win a free-kick off André Silva, and the hosts clear.
11'   There's the first moment of danger from the Portuguese. Bruma runs at a furiously backpedalling Italian backline, advances into the box and pulls the trigger, but sees his shot blocked by Chiellini. The locals roar with approval, and well they might: if he hadn't got himself in the way, Donnarumma had work to do.
10' Chiesa collects the ball and whips in a cross from the right, but it's deflected straight into Patricio's grateful arms.
7' Now Florenzi flashes a shot wide from just outside of the area! The Italians have come flying out of the traps; Portugal have barely had a sniff of the ball in the opening stages, meanwhile.
5' Rui Patricio hurt himself in the process of making that save, by the way, but appears to be OK now.
4'   There's the first chance for Italy - and it's a double one! They've had all the position in the opening minutes, and Insigne strides towards the Portugal box before unleashing a powerful drive that Rui Patricio beats out - but only as far as Ciro Immobile, who's following up at pace. However, the striker gets his shot all wrong and blasts over from five yards out!
1'   Early boos for Leonardo Bonucci from the home fans, who are clearly still irked by the defender hotfooting it back to Juventus in the summer after just a year at AC Milan.
Peeeeeeeeeeep! Portugal get us underway at the San Siro.
  Coin toss done... we're ready to go.
Anthems time. Portugal first, then Italy. Oh, I love the Italian anthem. They don't half belt it out.
Our referee is the Netherlands' Danny Makkelie, by the way.
Incidentally, should you be out to get yourself in front of a TV for tonight's Group A3 match-up in Milan, you may wish to have a look at our useful guide on how and where to watch.
For group leaders Portugal, on the other hand, it's rather more straightforward: draw tonight, and they will host the Poles next week having already booked their place in the finals.
  They Italians would then need the Portuguese to fail to defeat to Poland in Guimaraes on Tuesday.
  Anyway, on with the Group A3 permutations: Italy's late win in Poland last month leaves them two points behind tonight's visitors - having played a game more - and the Azzurri know that only a victory tonight will keep them in the hunt to reach June's finals.


Ronaldo has missed all four of Portugal's games since the World Cup after coach Fernando Santos agreed to give the Juventus star a break from international duty until the new year.
Before we look at where each side stands, let's check out the team news - starting with the hosts:
Good evening and welcome to our live coverage of Italy and Portugal's UEFA Nations League Group A3 clash at the San Siro in Milan, which kicks off in half an hour's time, at 20:45 CET.
Italy vs Portugal: UEFA Nations League preview
Italy host Portugal at the San Siro tonight (20:45 CET) knowing they must beat the Group A3 leaders to keep their hopes of reaching the Nations League finals alive.
The Italians sit two points behind the Portuguese - but having played a game more - and would already be out of the race to qualify had it not been for a last-gasp Cristiano Biraghi goal in Poland last month, one that gave the Azzurri only their second win in seven matches since Roberto Mancini was appointed as coach in May.
The hosts must now see off Portugal this evening, and hope the European champions fail to beat Poland in Guimaraes on Tuesday, if they are to stand a chance of topping the group.
Having claimed two wins from two so far in the Nations League, meanwhile, Portugal can ensure their passage to the last four if they pick up a point tonight - and are in pole position to be at June's finals despite being without star man Cristiano Ronaldo since the World Cup.
With coach Fernando Santos this summer agreeing to give Ronaldo a break from Portugal duty until 2019, the Juventus star is also absent from this month's squad.