England - Croatia: match report as Harry Kane seals England win
A dramatic afternoon at Wembley stadium saw England come from behind with late goals from Lingard and Harry Kane to qualify for the final four next summer.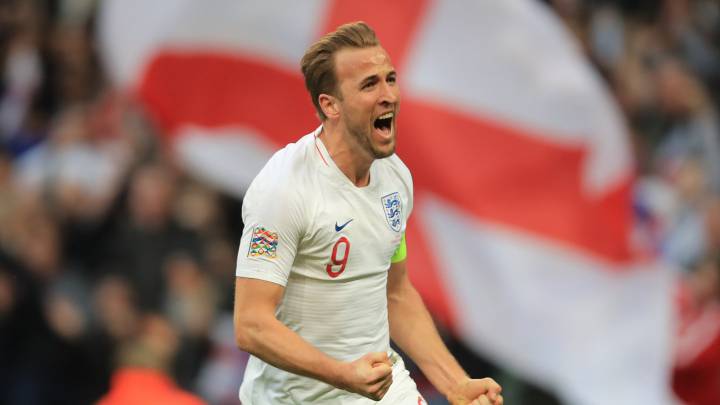 England v Croatia: as it happened
90'+3' FT....England win ...and head to Portugal to play in the first Nations League semi final. Croatia head to League B..... what drama this afternoon at Wembley.  
90'+3'   Croatia unable to string two passes together now ....   
England poised to join Portugal in the final four ....one minute to go ....
90'+2'   Croatia .... last throw of the dice....
90'   Pickford gather after Modric lobs the ball into the England box.....Croatia desperate now
3 minutes of time to be added
90'   Into added time we go ... 
Lovren booked for dissent
88'   Sterling  does well taking the ball into the corner ....
86'   Wembley rocking now with anxious looks on the Croatian fans .... "You're not singing anymore" rings out !
As we stand ... England head to Portugal ... Croatia go down ...
England 2-1 Croatia 
Kane fires England ahead
85'   England win a free kick as Kane latches on to the cross to score Gol gol gol  
83'   Kane shoots but no pace on the ball as the game flows from end to end .... this is great to watch .... 
Two chances for Croatia as the game becomes frantic...school-boy stuff .... both teams need to score.... 
81'   As we stand ...Spain head to the final four and England head to League B 
80'   Into the last ten....
As it stands ! 


Vlasic / Rog, final change for Croatia.
England 1-1 Croatia
Gol gol gol...England draw ...Lingard poking home
77'   Dele Ali slips the ball into the danger zone and Croatia forced to give away a corner as the fans get behind the home side
75'   The Croatia goal has certainly impacted England mentally. Very poor response from Southgate's side so far as Croatia fail to avial of a great breakaway with Brozovic wasteful.
Very poor afternoon from Harry Kane for England.... 15' to go at Wembley 
73'   Rashford heads for the dressing room....surprising move from Southgate with the United player causing havoc for the Croatia rear-guard.
Double change for England. Rashford and Delph off / Lingard and Sancho the replacements. 
71'   England pass the ball around the centre of the park but Kalinic really hasn't been tested in this half.  
70'   Croatia probe and win another corner...How much will England rue those early missed chances ?
69'   Just over 20 minutes for England to find two goals .... One to see Spain seal the place in the final four ...  
Jedvaj also booked
65' Card for Brozovic for taking out Rashford 
Croatia's Andrej Kramaric celebrates scoring their first goal with Marcelo Brozovic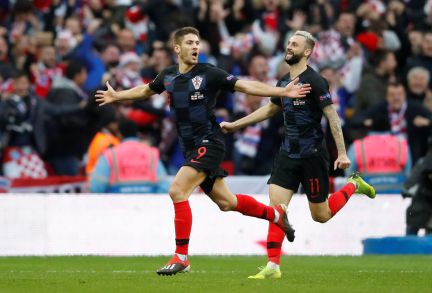 65'   Boos hailing from the away end being directed at the men in white as England move the ball around. 
Live Group 4, League A table 


Dele Ali on with Ross Barkley the player making way for the Spurs man  
Great break again from Croatia with the game now lacking shape after the goal ...great for the neutral !
59' Brozovic free but drives his shot wildly over the bar after a lightning counter from the visitors
59'   England need two goals now to avoid relegation
England 0-1 Croatia 
Gol gol gol gol ...... Croatia go ahead at Wembley.... Against the run of play ....Kramaric scores with a Dier deflection 
56'   England in the ascendancy now with Croatia forced to play deep inside their own half as Kalinic intercepts yet another ball 
54'   England probe looking for the goal that would put Southgate's side in the driving seat for a spot in Portugal next summer.
52'   Rashford sprints away again and delivers to Sterling who forces Kalinic to save. Croatia have no answer to Rashford's pace !
51'   Corner for Croatia as Modric and Perisic link well .... Decent spell for the visitors
A reminder....


49' Great burst from Rashford winning a corner for his side
48'   Pacey start from both sides again after the break. Similar to the first 45´.
46'   No changes for England so far...
Change for Croatia at the interval ...Brekalo for Rebic 
The teams take to the pitch with 45' to go in this Group 4 of the A League. All to be decided ...who's off to Portugal to play in the final four and who makes the drop to League B.... 
HT England 0-0 Croatia...Spain the winners at the break 
45'   The whistle sounds for the break just as Modric chips through a ball looking for Perisic. 
45'   1 minute to be added
43'   Good build-up play again from England but the men in white just failing to get a final shot on goal. Rebic latches onto the ball but delivers a dreadful shot blazing over the bar.  
40'   Plenty of noise coming from the 3.000 or so Croatian fans tucked in a Wembley corner. Despite the England pressure the men in black (with grey checks) look composed and comfortable.  
39'   Barkley shoots on the volley and hits the side netting. Poor from Kalinic who totally missed the cross ball.
39'   Call for a penalty for Croatia as Gomez takes out Kramaric right on the by-line. 
35'   Rashford is down and appears to be in distress....Jedvaj the culprit as the united player gets to his feet.
33'   Delph has been excellent in his distrubution this afternoon.  
England XI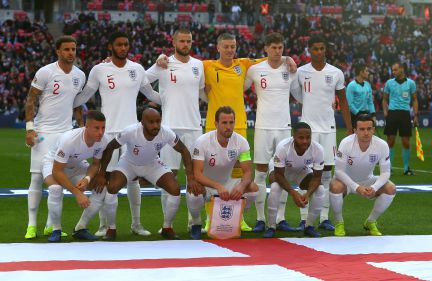 31'   A scoredraw would relegate England so Croatia need to score...
29'   The pace has dropped somewhat after a bustling first 20'. Croatia eeking themselves slowly back into the swing of the action.  
28'   Possession: ENG 68-32 CRO (%)
Injured Vrsaljko off and Milic is his replacement.
Barkley fould Croatian midfielder Modric and has the honour of being the first name in Mr. Sidiropoulous' notebook  
25'   Croatia give the ball away cheaply and end up conceding a corner kick from a lack of concentration 
18'   Pickford finds Rashford from a long kick out and Vrsaljko has to make a last gasp tackle to deny the United forward
18'   Croatia strike as Perisic tries his luck from long range but cleared for the first corner for the Balkan side
18'   Croatia yet to trouble Pickford in the England goal apart from that early mix up from the England keeper. 
18'   England surge forward again with Rashford cutting through the Croatian defence.... 6 corners for now England vs. 0 for the visitors  
15'   My word... Great ball from Delph as Kalinic commits ...Kane with a double effort with the Gent keeper in no mans land .... eventually the ball is cleared for an England corner.  England getting closer... 
15'   A 0-0 draw would see Croatia relegated
15'   Possession after 15': England 63% Croatia 37% 
 England's John Stones in action with Croatia's Ante Rebic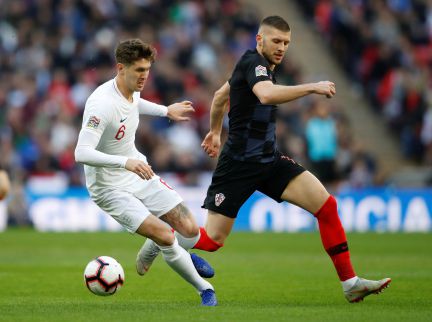 10'   England looking good now having eased themselves into the dynamic of the match. Sterling breaks with Rashford free but the City player goes for goal and Kalinic saves well. Kane free from the corner but the Spurs man loses his balance and fires over. 
9'   Vrsaljko fouled and appeals for a card for the infractor Barkley, the Greek ref waves his protest away. 
7'   Great sprint from Sterling as the ball heads out for a corner with Chilwell delivering   
6'   England attack again but the ball falls nicely for Kalinic. As it stands with the 0-0,  it's Spain heading to Portugal next June for the final four
5'   Decent pace to the start with plenty of intensity from both sides as Harry Kane is caught just marginally offside.
3'   What a miss from Rebic as Pickford chests out a back pass and the Croatian No. 18 blasts over with the goal at his mercy.
3'   Croatia with the early possession ... 
1'   The Wembley pitch has come under fire after the recent NFL game but it does look much improved today.
All set at Wembley ....Spain fans crossing their fingers for a draw.... Portugal and the final four awaits the winners.... Croatia to start .... 
Harry Kane and Croatian captain Modric exchange pennants in the centre circle. Today's match official is Greek ref. Anastasis Sidiropoulous. 
Not a 100% packed house at Wembley but imagine this will fill up as the final few stragglers take their seats.  
The teams take to the field .... England is all white, Croatia in their black and grey chequered shirts as the Croatian anthem plays. 
England manager Southgate in pensive mood ahead of the game. England on the cusp of a place at the Nations League final four in Portugal next June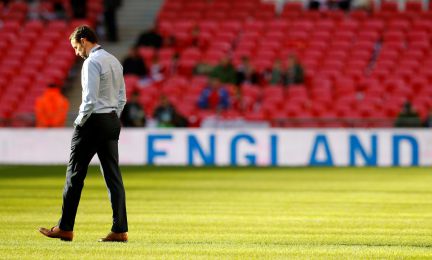 England's Harry Kane, Harry Winks and Ruben Loftus-Cheek during the warm up before the match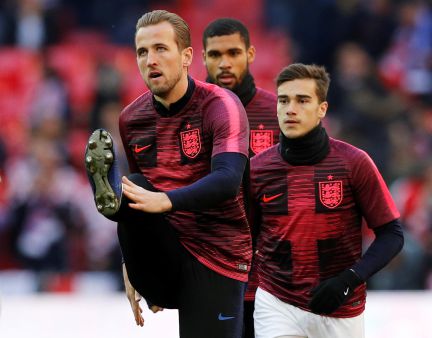 England and Croatia and even spain in action today with the permutation straight forward ahead of the Wenbley action: The winners of today's game will qualify for the Nations League semi-finals (final four) with the losers being relegated to League B. A draw would see Spain clinch top spot in Group 4. 
Hello and weclome to our live coverage as Croatia travel to Wembley for the final game in the Nations League with much to play for. We're underway in London at 1500 CET.
England v Croatia: preview
So, we reach the final game game in the inaugural UEFA Nations League and things in League A, Group 4 could not be more finely balanced.
This is how things stand ahead of the Wembley match: The winners of Sunday's game will qualify for the Nations League semi-finals (final four) with the losers being relegated to League B. A draw would see leaders Spain clinch top spot in Group 4.
Croatia were dealt a blow ahead of this afternoon's Nations League decider as they face England with the news that Barcelona midfielder Ivan Rakitic would play no role in the game after sustaining a hamstring injury in the tie against Spain on Thursday in Zagreb.
He did not specify the injury but Rakitic left the pitch in Zagreb suffering discomfort in the back of his right thigh.
"We want healthy players and Ivan in this moment is not 100 percent ready. Unfortunately, we are going to play without him."
Rakitic, 30, has played 102 games for Croatia but Dalic said they have players capable of filling in.
"We will see who will replace him. We have (Mateo) Kovacic, we have (Josip) Brekalo, we have (Milan) Badelj," he added.
"There is always a solution and we should stop whining about someone who's not going to be there. We will find a solution and we are going to Wembley to enjoy football."