Brais Mendez debut goal enough as Spain see off Bosnia
Brais Mendez's goal in the 78th minute was enough to see Spain passed Bosnia in Gran Canaria.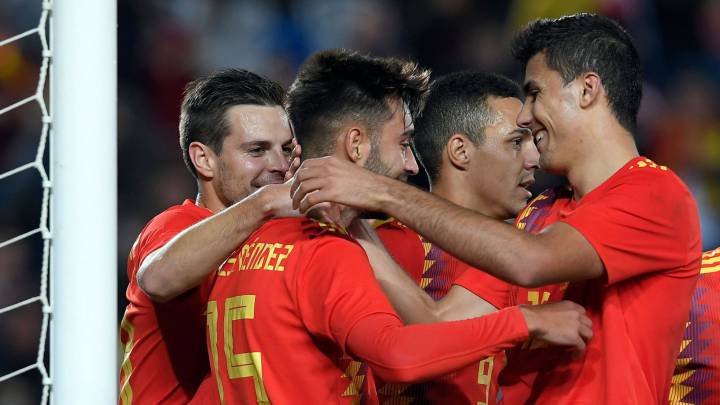 Spain 1-0 Bosnia and Herzegovina
There were debuts galore in Luis Enrique's final game of 2018 with Brais Mendez, one of the four debutants, scoring in the second half to seal victory for Spain at Estdaio de FGran Canaria on Sunday night.
The news of England's victory over Croatia, which knocked Spain out of the Nations League, took some sheen off the win, which was a tame affair in comparison to the helter skelter game in Zagrab on Thursday night against Croatia.
The winning goal came when Isco took a shot, which was saved, as the Celta Vigo midfielder followed it in to slot home with 15 to play.
Spain - Bosnia and Herzegovina live online: updates and commentary
90'+3' GAME OVER! 
90'+3'   Fornals shoots! He bends it wide. 
90'+3'   Fornals with a lovely takedown. 
90'+3'   Asensio with a shot from out on the right as he tries to bend it around the keeper and it's saved. 
90'+1'   We will have three minutes of added time.
90'+1'   Another corner.
90'   Fornals to Gaya for the Valencia connection. Gaya wins a corner. 
89'   Rodrigo with a run down the right and he does a stepover before sending it across goal. Out for a corner.
87'   Hermoso with an acrobatic effort that he shins up into the air and wide. Not great really.
85' Dzeko replaced by Kodro.
81'   Asensio looks for Isco moving ahead of him in the penalty area but his pass is too heavy. Out for a goalkick.
78'   Brais with another effort. Not bad but it drifts wide of the post.
78' Gaya with the cross and it's too heavy. Picked up by Isco and he cuts inside, shoots and sees the shot saved by the keeper. Mendez follows up with the goal! On his debut too.
77'   Free for Spain but Asensio sends it straight into the wall! 
75' Pau Lopez comes on for Kepa for the last 15 minutes.
73'   Gaya  down the left. He cuts back to Isco but Bosnia clear and it's another corner.
69'   Through ball from Asensio and Rodrigo almot gets to it but Sehic is off his line fairly lively.
68'   Shot from Visca but it takes a deflection and Kepa rushes off his line to grab it.
66'   Corner for Asensio to take. 
64' Double change. Rodrigo and Fornals on for Ceballos and Morata.
63'   Ceballos with a nice spin and plays it through but Bosnia defend it and clear. Spain back up the field though.
62' Krunic off for Bosnia. Duljevic enters.
59' Mendez comes on and makes his debut for Spain. He replaces Suso.
57'  Morata. How did he miss that? Morata from point blank range. Asensio shoots and it's saved before Morata rebounds it wide.
57'   Gaya with a cross and that's put behind now for a corner.
57'   Suso with a deep corner and Asensio takes it down. 
55'   Morata in a nice position as Asensio looks for him. Put behind for another corner.
54' Foul by Morata as he is booked. His frustration boils over as he takes Bicakcic down from behind. 
52'   Bosnia attack and Visca sends it across goal. Krunic slides in at the back post but can't get there. So close.
51'   He wants a corner and has a chat to the ref but he doesn't want to hear the pleas.
51'   Again. Spain move forward and Morata shoots. He strikes over the bar though.
50' Jonny makes way for Azpilicueta.
49'   Another nast one. Gojak takes Jony down and Spain win the free.
47'   Isco with a left-footed cross and Morata can't get end zip on it. He heads it over but that's a fairly tame effort.
46'   Back underway!
No changes for Spain, it looks like.
Teams emerge back onto the field in Gran Canaria and it's lashing rain! 
45'   Half-time! 
45'   Bosnia bring it out from the back. 
41'   Isco with a foul on Bicakcic as he brings the ball out from the back. Cynical but no foul in a not so dangerous position!
40'   Nice effort by Isco. Jony to Morata and Isco gets the ball onto his right before shooting low. Sehic saves. 
38'   Rodri runs into a cul de sac and loses the ball. Spain chasing and win it back before Besic kicks out at Jony. Referee gives him a real talking to. All a little unncessary. 
37'   Some confusion at the back for Spain. Ball crossed in from the left and it hits Jony before Llorente clears for a corner. Nice ball in by Cimirot.
37'   Dzeko back in his own half winning the ball back. He's been starved of the ball. 
33'   Isco runs inside but it's cut out and they win a throw. 
30'   Morata runs down into the box and Bicakcic gets back to foil his attempts to pull the ball back. The defender is lucky to get a foot on the ball or that was a penalty. 
27'   Spain have room to run into now with Isco, who passes on to Gaya. He crosses and it makes its way to Suso. He cuts onto his left and strikes. Over the bar and he wants a corner but it's not coming.
25'   Bosnia getting slightly more ambitious now with a clipped ball forward that Kepa has to grab. Still very tame though.
24'   Spain send it into the box and they press Bosnia before forcing Besic to put it out for a corner.
23'   Bosnia attack now and Spain win it back before Asensio turns around and goes back. They attack down the left now with Morata. Inside to Ceballos.
20'   Yellow for Gaya. He goes in really late on Visca and takes him out from behind. Awkward looking tackle.
16'   Isco and goes close now with a shot outside the box. Over the bar!
16'   Reall good chance for Spain. Ball sent in by Jony but the defender in front of Morata heads out as far as Asensio and he drives one towards goal. It's deflected and out for a corner.
16'   Bosnia win it back.
16'   Balle sent across the box by Asensio, who is everywhere so far. Suso gets it but he can't conspire with Jonny to get a shot or a cross in. 
15'   They win is back and it runs out for a throw as Spain start again.
14'   Bosnia really struggling here. They had that one shot at the start and absolutely nothing since.
10'   Ball over the top from Asensio again with Isco the target. Too heavy again. Asensio looking ambitious with his passing so far.
9'   Tame start to this one. Bosnia can't get a kick her. Spain dominating the ball but all fairly docile possession at the moment.
7'   Another nice move up the field, which starts with Asensio, but ends out on the left when Bosnia win it back. Foul by Spain and Bosnia back on the ball.
5'   Suso with some lovely control as he tries to go around Nastic but it's out for another goalkick.
5'   Ball out to the left again and Gaya crosses but it's straight back out to him. He wins a throw as his cross is blocked.
3'   Good start for Spain on the ball. No chances yet but plenty of players getting touches. Isco takes down a cross field pass and plays it through to Gaya but it's over the end line too.
2'   Asensio with a very long and deep cross to the back post but it's so long that it beats everyone and the end line. Goal kick for Bosnia.
1'   First chance of the game falls to Bosnia as Visca gets a shot off. Kepa saves it easily but Spain a little open there. 
1'   We are underway as Bosnia get us started! 
    Lovely touch. David Silva and his son on the field and recognised for his service to the national team. 125 games. 
    We are ready for action after the national anthems. It is 14 degree in Gran Canaria and it was raining earlier. 
    Bosnia's national anthem rings around the Estadio de Gran Canaria. 
    Here's the report of the England game, which means spain will go no further in the Nations League.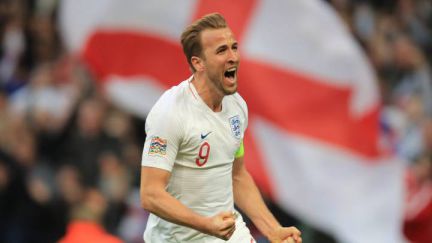 Isco is the captain for tonight's game.
    10 changes for Luis Enrique in total, which might be a kind of disguise, as it's harder to decipher whether he dropped De Gea or just rested him.
    Bosnia XI: Sehic, Cimirot, Bicakcic, Zukanovic, Nastic, Gojak, Besic, Saric, Visca, Krunic, Dzeko.
    Spain's have picked a really young team tonight! They have just two players over 25, who are both 26, in Morata and Isco.
    David de Gea, for the first time under Luis Enrique, does not start with Kepa afforded an opportunity in goals. Criticism of De Gea continues to grow louder with fans even calling for Iker Casillas to return to the fold.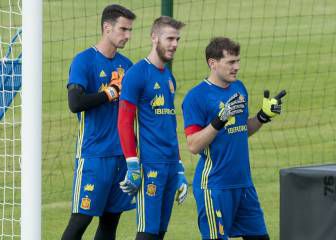 Spain XI: Kepa, J. Otto, Llorente, Hermoso, Gayà, Rodrigo H., Ceballos, Suso, Isco, Morata, Asensio
    Hello and welcome to our live coverage of Spain versus Bosnia and Herzegovina with kick-off from Gran Canaria at 20:45! 
Spain - Bosnia and Herzegovina live online: preview
Spain got word earlier in the day that England had beaten Croatia thus ending their Nations League's hopes as Gareth Southgate's men go through to the semi-finals in June. If they weren't told, they could probably hear the cheer from Wembley when Harry Kane put England ahead with five minutes to go from Estadio de Gran Canaria where they play Bosnia and Herzegovina at 20:45 CET.
Luis Enrique's spell in charge of the Spain team, having taken over from Fernando Hierro after the World Cup, has been bipolar. From an almost surreal 6-0 beating of World Cup finalists Croatia, to their own beating at the hands of England just a month later, Spain have shown two different sides on a number of occasions in the few short months since the former Barcelona manager took the roll.
Against Bosnia and Herzegovina, he is without Sergio Ramos through injury, which isn't ideal, as he needs his captain there to find out who to place beside him after Gerard Pique's retirement. Inigo Martinez is the latest to be paired with him but the three goals against Croatia on Thursday won't inspire confidence in that combination. David de Gea continues to come under heavy criticism after another multi-goal game and Luis Enrique might change his keeper for the game or at least chance Kepa for the second half.
Bosnia and Herzegovina are unbeaten in nine and have only lost once in 11 games under Robert Prosinecki. He is without his main midfielder in Miralem Pjanic, however, after he suffered a muscle injury recently. Dzeko should start, however, and Spain will have a brand new chance to prove their ability to defend a capable number nine after previous attempts against Harry Kane and Andre Kramaric failed.