Nations League: Netherlands into finals after comeback in Germany
Late goals by Quincy Promes and Virgil van Dijk secured the Dutch an unlikely point in Germany and sent Ronald Koeman's side into the finals.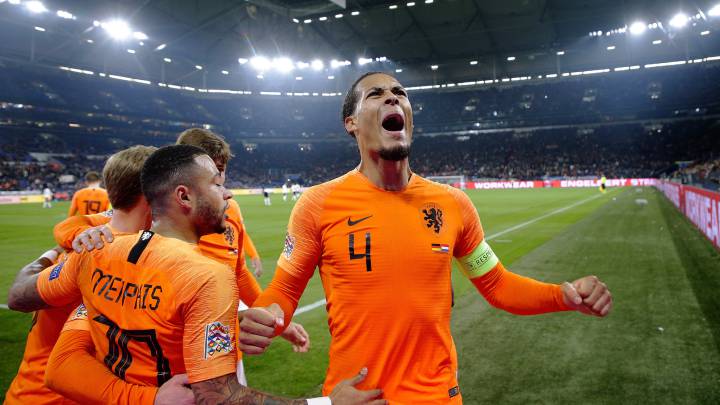 Germany 2-2 Netherlands: report
Netherlands scored twice in the last five minutes to recover from two goals down and earn a 2-2 draw against relegated Germany in the Nations League on Monday to secure a spot in next year's finals ahead of world champions France.
Virgil van Dijk struck a close-range volley in stoppage time to equalise for the visitors after Quincy Promes had cut the deficit in the 85th minute with the Germans having led through early goals from Timo Werner and Leroy Sane.
Switzerland, England and hosts Portugal had already qualified for the four-team finals in June.
The Germans, who suffered a shock first-round exit at the World Cup in June and lost a German record six times this year, are in last place in League A Group 1 behind France, who just missed out the finals, and the table-topping Dutch.
Germany 2-2 Netherlands: as it happened
90'+4' GAME OVER! Netherlands are in the final four after that draw.
90'+1'   Germany have capitulated.
90' VAN DIJK! GOAL! What just happened. Ball in from the right and Van Dijk slots it home. Vilhana delivers and De Jong just heads it on with Kimmich on his back. Lovely finish.
89'   Corner now for Germany as Muller takes off down the right. He is no hurry to get the ball or for anyone to rush over and take this.
87'   Goretzka to Reus and he plays it to Kehrer. Strikes and he fluffs it. 
85' GOAL! Promes scores for Netherlands. Lovely finished just outside the box. Neuer stretching but had no chance.
82'   Netherlands have no answer here. They don't even seem all that concerned. They have tried to be fair but no massive hurry yet.
79' Goretzka replaces Sane.
79'   Another nice ball into the box and Germany get it away. Netherlnds improving here still but not goals yet.
78'   His ankle is sore it seems. Corner comes in and it's a foul in the box.
78'   Better from Depay as he takes it on his right after a nice run. Neuer saves with his foot. Corner Netherlands. Looks like Depay is in some discomfort.
77'   Tete with a lovely ball into the box and Germany just control it and clear. They need an attacker meeting that ball.
76'   Depay's delivery is poor though.
74'   Depay is fouled. That comes after a loely move from De Ligt as he swivles around the defender. Van Dijk makes his way up the field for the free.
71'   Reus sends it across goal but Sane can't get a clean shot away as the Netherlands defend it not too convincingly.
69'   Muller on the break as he tries to play it through to Sane. It's over him though and he has to turn to get to it, which he can't. Ball goes out for a goalkick.
66'   Marco Reus booked now. Germany went close after a little scramble in the box but Netherlands broke and Reus forced to foul.
66' Dilrosun off injured for De Jong.
66' Gnabry comes on for Muller.
63' Reus on for Werner.
61'   Free whipped in and Gnabry frees up Werner down the field as he holds of Tete and finds space enough to shoot. 
61'   Netherlands getting closer. They haven't had any chances but they are occupying more dangerous spaces. 
59' Vilhena on for Wijnaldum.
58'   Depay winding up a shot but Sule gets back and nicks it off him. He falls over but no free. Good tackle.
56'   Promes with a bouncing effort into Neuer and he smothers it.
55'   Netherlands do win a free on the left though as it's sent in. Neuer with a strong fist away.
53'   Depay in the box and Hummels gets a foot in but referee doesn't even take a second look. Depay still limping but no free.
52' Yellow for Kroos. Depay tries to sprint forward and he's pulled back. Kroos knew himself he was going to get booked for that.
50'   Offside now for Germany but De Ligt looked like he was keeping the attacker onside. Netherlands get lucky that time.
48'   Netherlands on the ball now and Sane gets a foot in to win it back. He moves down the right and he plays it to Kroos, who launches one into the sky. That was a shot I think.
46'   Straight away and Germany have a shot. Werner strikes and Cillessen saves.
46'   Netherlands get us started for the second half.
45'+2'   HALF-TIME! 
45'+2' Dilrosun replaces Babel.
45'+2'   Two minutes added time at the end of this half as Blind clears the ball up the field.
45'   Babel eventually gets up and limps off. He is chatting to the physios but he has to be done for the day as they can't risk him.
43'   Babel is down injured as he grabs his hamstring. Looks like he's done for the day.
43'   Netherlands calm it down and recycle. 
42'   Schulz hauled down but Werner picks it up and advantage is played. They're in the box but Netherlands clears and they have a nice opportunity here. Babel out to the left.
41'   Netherlands really struggling here and they do have too few midfielders. Promes and Babel not involved enough and they are being overrun here. 
40'   Schulz again proving to be a headache down the left. Inside Gnabry and he heads just wide with a lovely glancing effort.
39'   Sent in by Kroos and Hummels nearly gets there only to be beaten in the air by Van Dijk.
38'   Yellow for Wijnaldum now as Kimmich is hacked down. 
35'   Schulz down the left. Ball into Sane and it makes its way to Werner. But then Blind comes across and clears. Germany are going from 0 to 60 in seconds. They are sitting back and soaking up pressure before turning on their heels and attacking when they win it back.
35'   Blind crosses and Sule heads it onto the roof of the net. He nearly beat his own keeper.
34'   Much better from Netherlands. 
33'   Depay sends in a disappointing cross. Schulz clears.
32'   They've been very conservative on the ball. That's better though as Promes finds Tete and he's fouled by Schulz. Chance for Netherlands to send it in. 
30'  Ball across to Neuer and he kicks it up into the air and gives a chance for Netherlands to win it back. 
30'   Whipped in and Rudiger is the target. Headed out as far as Gnabry and he strikes. Cillessen saves and sends it up the field but Germany win it back. They've been impressive since that first goal.
30'   Schulz wins the corner for Germany now. 
28'   Long ball to Babel and he bulldozes Kimmich out of the way but loses it in the penalty area. A good old-fashioned shoulder charge that the referee lets go.
27'   And Germany still looking like the more dangerous side. 
25'   Sting gone out of Netherlands now if there ever was one. They're shocked here. 
24'   Werner whips it out low to Sane.
21'   Ball back to Neuer as Depay arrives looking to block it but he launches it clear. 
20' 2-0! Kroos with a ball to Sane and he puts a move on De Ligt before slamming home. Slight deflection certainly didn't help Cillessen.
18'   De Ligt lets the ball run and nearly lets Werner in. He kicks it up into the air and isn't convincing again. Germany on the ball now.
18'   Netherlands continue to dominate the ball around the middle but no way through for them yet. 
18'   Van Dijk out to Blind. 
16'   Netherlands on the ball again. Germany delighted to let them have it and provided they counter like they did earlier. 
15'   Depay into the wall and his second attempt is blocked too. 
14' Promes fouled by Hummels. He slices him down at the edge of the penalty area and the referee doesn't even wait to see if there's an advamtage. He blows the free and produces the yellow. Depay?
14'   Headed up into the air and Germany get it away but Blind wins it back.
13'   Corner now for Netherlands. Sule gets it out as Netherlands threaten.
11'   De Ligt caught out there by that ball. There was an ocean of space between Netherlands' defenders.
9' TIMO WERNER! GOAL! Gnabry with a lovely ball and Werner heads it into himself before he strikes. 1-0. Nine in 23 for Germany not for the number nine.
8'   Netherlands continue to play it around the back. The patient game here by them. Babel steps in and wins it back after Germany win it back. Hummels ends up winning it back off Depay.
7'   Kroos with a pass in behind and it's cut out but Netherlands win it back.
6'   Netherlands finally get their feet on the ball now. Blind to Babel and they attack the left.
5'   Van Dijk heads it back up into the air.
5'   Corner now for Germany. Kroos to take. 
4'   Depay with some nic feet and then a nice ball over the top to Babel. It's too far out of his reach though.
3'   Ball clipped forward and Van Dijk heads it down before it comes back down to him. He clears.
1'   Not even 30 seconds gone and Werner passes to Kehrer and he drives it wide.
1'   Netherlands and Germany is underway. The home side tip off.
    Much heavier and bulker defence for Loew as he looks to stop Netherlands from set-pieces potentially. Netherlands have injected some speed down the right hand side.
    Havertz, Ginter and Hector drop out for Germany as lowe makes three changes. Hummels, Sule and Schulz replace them.
    Steven Bergwijn and Denzel Dumfires drop out for Netherlands as Tete and Promes come in to the starting XI on the right-hand side. Obviously there to repel Sane's advances down that wing.
    If you haven't jumped aboard the De Jong's hype train, read this and you just might be ready to board! 
    Hello and welcome to out live coverage of Germany versus Netherlands as Koeman's side look to seal qualification for the Nations League final four and Germany look to avoid embarrassment on home soil.
Germany - Netherlands live online: preview
Germany are relegated from their Nations League group and Netherlands have done an excellent job under Ronald Koeman in restoring some pride in the orange jersey after a forgettable few years. But they both still desperately need to win for different reasons when they meet in Veltins Arena in Gelsenkirchen on Monday night at 20:45 CET.
Joachim Loew is without Sami Khedira, who pulled out of the squad recently, but Marco Reus could return. A victory over Russia will do little to paper over the increasingly visible cracks in Germany's national team but a win against Netherlands might help after Manuel Neuer says they have promised the coach they can turn it around. If they can't win, however, it will mean four games in the Nations League and zero wins after a horrific World Cup campaign that saw them eliminated in the group stage.
Netherlands beat France on Friday night with Memphis Depay putting on a virtuoso performance as he reminds the world why Manchester United were keen to sign him for over €30 million back in 2015. Koeman, who needed a reputation revamp himself, after poor spells with Sunderland and Southampton, is working wonders with a young, fresh and exciting new generation of Oranje talent. A win over Germany and a place in the final four of the Nations League next June would add to the intrigue growing around this team. He should keep the same side that beat the World Cup winners on Friday with no new injuries and everyone raring to go and beate Germany on home soil.