Giroud penalty earns France friendly win over Uruguay
Olivier Giroud netted a second-half spot-kick as the world champions saw off Uruguay in an international friendly in Paris on Tuesday.
France 1-0 Uruguay: as it happened
Peeep peeep peeeeeep! Giroud's penalty is the difference as France keep a first clean sheet in five games and see off Uruguay, who have now lost their last four. 
93'   Vecino has a decent shooting chance 20 yards out from goal, but dribbles a weak effort into Lloris' arms. To say Uruguay have packed little punch in front of goal would be kind.
93' France make their sixth sub, Griezmann coming off for Sissoko.
91'   France break and suddenly Griezmann is dashing clear through the middle of the Uruguay defence, but Bentancur is back well to slide in on the striker and snuff out the attack. 'Grizi' timidly appeals for a foul, but the referee is unmoved.
90'   Three minutes of time added on.
89'   Just over a minute left at the Stade de France. Uruguay are heading for their fourth straight defeat.
86'   Suárez cleverly wins a free-kick off Kimpembe on the right, and the Uruguayans have another opportunity to swing it into the mixer. They utterly spurned the last one, but this time the delivery is a fine one. However, Rami is well placed on the edge of the six-yard box to clear. Otherwise, there were a couple of white shirts queuing up to bury it.
84'   I say. Jonathan Rodríguez should probably score there. Cavani drops deep and flights a lovely ball over the France defence to meet Rodríguez's run into the box, but the substitute gets his volley all wrong and the French breathe a sigh of relief. For all that the visitors have looked distinctly second best, they could so easily have been level there.
81' Méndez is the latest Uruguay player into the book after bringing down Fekir.
80' And here is France's latest substitution, Alassane Pléa replacing Giroud and coming on for his international debut. Immediately afterwards Rami almost gets Lloris into all sorts of trouble after a rather needlessly extravagant pass back, but Les Bleus' captain gets there in time and the hosts survive the scare.
78'   France are preparing a fifth change. A frustrated Bentancur gets himself a yellow card for booting the ball away after fouling Fekir, and can clearly be seen mouthing every swear word under the sun as he receives his booking. 
75' Uruguay brought on Jonathan Rodríguez for Lucas Torreira a couple of minutes ago, I neglected to inform you. Rodríguez is quickly into the action, scutting into a promising position on the left byline, only to see Rami deflect his cross back off him and out for a goal-kick.
74'   Mathías Suárez whips a cross in from the right, but it's meat and drink for Rami, who heads away with the minimum of fuss. Uruguay look like they could play until this time tomorrow and scarcely threaten to score.
73'   Uffff. Thauvin almost catches Campaña out with what appears to be a mishit cross from the right. It was drifting under the goakeeper's crossbar. Soon after, the Marseille man is asking for a free-kick over on the right-hand byline after tangling with Laxalt, but is told by Skomina that he isn't getting one.
70'   France make another change, and it is Nbombele who makes way. He's replaced by his Lyon team-mate Nabil Fekir.
69'   Oooh, that was lovely combination play. Nbombele feeds the ball into Griezmann, who swivels on a sixpence and lobs a return pass over the Uruguay backline and into the run of the Lyon midfielder - but Campaña is out quickly to snuff out the danger. 
67'   Laxalt sends a long ball into Suárez, who brings it down and wins a free-kick off Kimpembe. Expert striking playing by the Barcelona man. It's a chance for Uruguay to deliver it into the box... but it's cleared far too easily.
65'   Suárez plays the ball to Bentancur before setting off into the box in search of the return, but Kimpembe deals with it. 
62' France make their third substitution, Matuidi coming off for N'Zonzi.
60' Uruguay make their first change of the night, De Arrascaeta replacing Valverde.
57'   Griezmann fizzes the ball into Giroud at the near post, but the Chelsea striker can't arrange his feet in time - it was fired at him at a fair old pace, to give hin his due - and it's out for a goal-kick.
56'   Laxalt crosses, but France hook clear. Vecino then chips an aimless pass over the top and out for a goal-kick. Uruguay have been so disappointing going forward.
54'   Griezmann cuts inside and hits a dipping shot on goal, but it's weak and Campaña collects comfortably. Moments later, France think they've got 'Le Petit Prince' through on goal, but the flag is up.
52'   Cavani exchanges words with Skomina; one suspects he may have been respectfully inviting the Slovenian to reconsider his penalty decision.
51' Up steps Giorud... and he buries his penalty low to Campaña's right! The keeper went the right way, but it was too well struck and too far into the corner.
Mendy plays a low ball into Griezmann, whose first shot is blocked. The ball then falls back at the striker's feet, but his second effort pings back off Cáceres - who is penalised for handball! The Uruguayans are not happy with the decision.
50' Penalty to France! 
47'   Matuidi gets to the byline and, with the ball running out of play, scoops out a cross onto the head of Giroud, who nods over from 10 yards. A goal-kick is given: I'm not 100% sure whether that actually goes back to Matuidi. Replays suggest he didn't stop the ball from crossing the line before getting his boot to it.
Peeeep! We're back underway.
Back out come the teams at the Stade de France. France have made a half-time substition, with Presnel Kimpembe replacing Sakho, who must still be feeling that heavy fall late on  in the opening 45.
Peeep peeep peeeeep! It's goalless at half time in Saint-Denis, where France should really be ahead but aren't, and to to insult to injury - well, injury to injury, more like - have seen Kylian Mbappé forced off after hurting his arm.
44'   Just the one minute of time added on, despite that stoppage for Mbappé's injury, not to mention the substitution that followed.
40'   Sakho falls awkwardly and appears to have hurt his back. He's quickly up on his feet, though, and looks like he'll be fine. Moments later, Thauvin has his first meaningful touch of the ball - and almost wriggles into a shooting position in the penalty area, but is crowded out by a gaggle of white shirts. From the resulting corner, Matuidi gets his head on the delivery inside the six-yard box, but succeeds only in fouling Campaña.
38'   Griezmann slips in Mendy on the left, but the full-back has just drifted into an offside position and the chance is lost. It's been all France possession over the past few minutes, but it's not like Les Bleus have created much, either.
34'   Thauvin is on.
  PSG face Liverpool in the Champions League in eight days' time, and could be without both Neymar and Mbappé. Penny for Cavani's thoughts....
33' Off comes Mbappé, with Florian Thauvin to replace him. He's still getting himself stripped on the sideline.
32' Not well, is the answer. He quickly makes the universal 'substitute me' gesture, and drops to the turf.
31'   Mbappé's back on. Let's see how he gets on.
Given that Neymar was taken off injured earlier this evening in Brazil's friendly with Cameroon, this could end up being a terrible evening for Paris Saint-Germain. Mbappé is off the field receiving attention, but is back up on his feet.
29'   France open up Uruguay once more! Ndombele slides a lovely through ball into Mbappé, who's charging in on Campaña... but the goalkeeper jsut gets there first!  The loose ball falls to Pavard, but he sends his shot off target! Ooh, and hold on: Mbappé is down and looks in some pain after falling awkwardly on his arm in that coming-together with Campaña.
25'   Mbappé receives the ball on the 'D' and slips it right into the forward run of Pavard, who fizzes it low across the box... but can't find a blue shirt!
24'   This time Vecino does manage to draw a save from Lloris, pinging an outside-of-the-boot effort towards the France goalkeeper's top corner, but failing to get enough power on the effort. Lloris claims with relative comfort.
22'   Méndez sends in a right-wing cross for Uruguay, but Rami beats Vecino to the ball before Valverde fouls Kanté, and the French can clear. 
17'   And again France should score! A corner delivery falls to the feet of Matuidi, who strikes at goal from six yards out - but Vecino gets his body in the way and somehow Uruguay get away with it!
With France breaking at pace, Griezmann pings a gorgeous through ball for Mbappé to run onto and in on goalkeeper Campaña... but he sends his dinked effort across the face of goal! Moments later, Bentancur almost gets his head to a left-wing cross for Uruguay.
15'   Just as I write that, Mbappé should score!
14'   Uruguay are starting to get a hold of possession at last, enjoying a good two-minute spell on the ball which, although it doesn't bring much of an attacking threat, will do them good.
12'   Uruguay mount their first meaningful attack, winning one corner, then two. The second finally sees Vecino get his head to a good-looking ball into the box, but Lloris grabs hold.
9'   France look rather like they've been told in no uncertain terms to try and play a little better than they did in Rotterdam. Which isn't hard, admittedly; they were thoroughly ropey.
8'   Back come France. Mendy slips a low ball into the box to Giroud, whose first touch takes him away from Méndez... but also takes him a little wide. He hesitates a moment too long about taking his shot, and Uruguay survive.
6' Uruguay still haven't really had a sniff of the ball. Griezmann and Matuidi combine to get Mendy into a crossing position on the left wing, but the debutant can't quite bring the ball under his spell and the chance is lost.
4'   Giroud goes close to giving France an early lead! It's an excellently worked move. Mbappé drops deep to collect the ball, looks up and flights a lofted pass to Matuidi on the left corner of the box. He cushions a lovely little first-time ball into the run of Giroud... who pulls his shot wide of the near post!
2'   Torreira earns himself a stern talking-to after scything down Giroud, but escapes a booking. It's been all France possession so far.
Peeeeep! The hosts get us underway.
Anthems done, coin toss done... We're ready to go at the Stade de France. The French in their traditional blue, white and red, the Uruguayans in their white away strip.
Tonight's referee is Slovenia's Damir Skomina.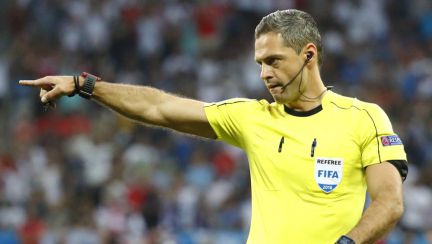 And now 'La Marseillaise'. Watching 80,000 Frenchman belting it out is an awfully rousing spectacle, I must say.
And out come the teams! Anthems time. Uruguay first.
Should you be looking to watch tonight's friendly on the box, by the way, you may wish to avail yourself of our useful guide on how and where to watch.
Óscar Tabárez makes just the one change to the team that lost to Brazil in London, Real Madrid midfielder Fede Valverde replacing Gastón Pereiro.
  France coach Didier Deschamps makes three changes to the defence that started the defeat to the Netherlands, handing Ferland Mendy a debut at left-back and bringing in Mamadou Sakho and Adil Rami at centre-back. It's pretty much as you were further forward, though, with Tanguy Ndombele for Steven N'Zonzi in midfield the only other difference to the side that lost in Rotterdam.
Anyway, kick-off is just 20 minutes away, so let's dive straight into the team news, beginning with the hosts...
  Meanwhile, Uruguay arrive in France fresh from a 1-0 friendly defeat to Brazil at the Emirates Stadium. That reverse was their fourth in the last five games - a negative sequence that began with World Cup quarter-final defeat to their hosts tonight...
  France welcome the Uruguayans to Paris on the back of a hugely disappointing week in the Nations League. Les Bleus were poor in Rotterdam on Friday as they went down to a 2-0 defeat to the Netherlands - and that loss, allied with the Oranje's 2-2 draw with Germany last night, saw the world champions beaten to Group A1 top spot - and a place in June's finals - by Ronaldo Koeman's resurgent Dutch side.
Hello and welcome to our live coverage of toinght's glamour friendly between France and Uruguay at the Stade de France, which gets underway at 21:00 CET.
France vs Uruguay: match preview
France host Uruguay in an international friendly tonight (21:00 CET) fresh from being pipped by the Netherlands for a place in the UEFA Nations League finals.
Les Bleus' 2-0 defeat to the Dutch on Friday, coupled with the Oranje's dramatic draw in Germany yesterday evening, saw Didier Deschamps' men just miss out on top spot in Group A1 and the chance to add Nations League glory to their World Cup triumph last summer.
They now face Uruguay for the first time since they knocked the South Americans out of the tournament in Russia, goals by Raphael Varane and Antoine Griezmann giving the French a 2-0 quarter-final victory over Óscar Tábarez's side.
Meanwhile, the Uruguayans arrive in Paris on the back of a 1-0 friendly defeat to Brazil in London - their third straight loss - and are without a host of key figures such as Diego Godín, José María Giménez and Fernando Muslera.
However, they do have Luis Suárez and Edinson Cavani in their ranks, and the big-name strike duo will certainly fancy their chances of scoring goals against a home team who have been very leaky at the back of late, managing just one clean sheet in their last six.