James Rodriguez wants return to Real Madrid
Madrid loanee James Rodriguez wants to return next summer, but that will depend on whether or not Bayern Munich choose the right to buy him.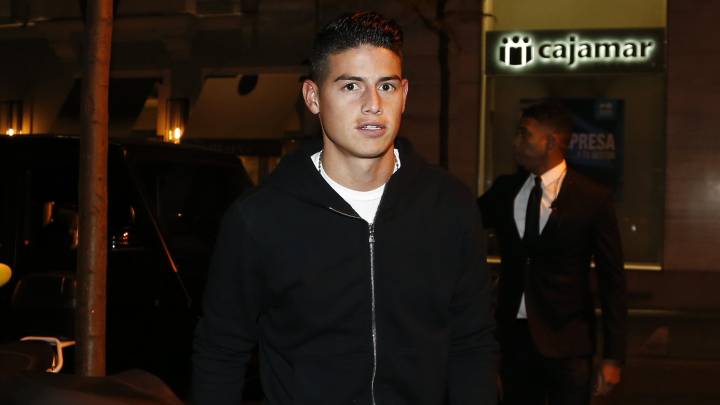 Whether he likes it or not, James Rodriguez's future will be decided by Bayern Munich next summer, and Real Madrid will have no part in that decision. And neither will the four clubs that are interested in signing him: Manchester United, Milan, Juventus and Barcelona.
According to reports in the German media, the Colombian international is no longer happy at Munich for a number of reasons. He has reportedly not adapted to new coach Niko Kovac or his style of football and is understood to be missing former coach Jupp Heynckes. On top of that he has not had the best season so far due to injury. And with the situation greatly changed at the German club, James' number one preference right now would be a return to Madrid.
All rests on the purchase option
In 2017, Bayern paid Madrid 13 million euros to loan the midfielder for two years and have the option to purchase him for 42 million euros at the end of the season – which would be a total cost of 55 million euros. If they choose the option to purchase, however much James wants to return to Madrid, it won't happen unless Madrid are willing to pay the price the German club asks for his repurchase, which would likely be his market value of 80 million euros.
Therefore, the only realistic way that James could return to the Bernabeu would be if Bayern decide not to activate the purchase option. In that case, the Colombian would return to Madrid at the end of the loan period next summer to fight for his place, with the likes of Ceballos, Isco, Asensio and Lucas Vázquez.
Other clubs must wait to see how it plays out
The other clubs that are interested in signing him will also have to wait for Bayern to buy him and then sell him at his market value. That would be the only way that the Colombian could leave in the January transfer window. Or if Bayern doesn't take the purchase option, these clubs will wait for his return to Madrid, and – if he is seen as expendable at the Bernabéu – could then try to negotiate his sale next summer.
At the moment the Colombian is back in Madrid where he is recovering from a knee injury suffered sustained on November 14 that will keep him side-lined for at least a month. Once his recovery is complete, he will have to return to Germany and await the decision that Bayern Munich take on his future.