Rashford agent uses Real Madrid to threaten Manchester United
The representative of Old Trafford youngster Marcus Rashford has reportedly spoken with LaLiga giants Madrid in an attempt to raise the stakes.
Marcus Rashford is one of the recent jewels of the Manchester United academy. He caught the imagination of fans of both the Old Trafford club and England's national team some time ago and is still only 21 years old. Other big clubs around Europe have also being paying attention to his development, not least, Real Madrid.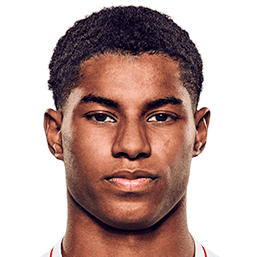 Rashford wants more minutes at United
United have been trying to manage the early career of Rashford cautiously by giving him pitch time, but not making him an integral feature of the starting XI. The striker has been part of the first team for almost three years, and reports are that he is getting a little impatient about finally getting a starring role.
His quality on the ball, blistering speed, clinical striking and versatility to occupy different positions in the attacking third, make him a prime candidate to strengthen most of the top teams across the continent and, in today's inflated market, an estimated cost of around 56 million euros doesn't seem excessive.
According to various media sources in England, the feeling that Rashford's development isn't progressing as he would like under United manager José Mourinho, his agent has spoken with the current European Champions to ensure their wishes are taken seriously. The player himself is said to not want to leave his boyhood club but he wants to cement his place in a top team, and knows from Gareth Southgate that he needs to be playing regularly to get the nod for England, a team that will be playing in the Nations League Final Four in Portugal next June.
Mourinho's call on Rashford
Knowing that contact has been made with Real Madrid, United aim to get the youngster to extend his current deal - which ends in 2020 - with a massive salary offer of 8.75 million euros plus bonuses. It seems that Rashford wants to stay and United want him to stay, therefore the condition of playing more minutes comes down to the decision of Mourinho. The Portuguese coach is a fan but is prone to use him off the bench or substitute him early.
Splitting pitch time with Lukaku, Alexis, Martial and Lingard is not easy and this may prove to be to Santiago Solari's advantage. Real Madrid could certainly use a player like Rashford, and with so many years ahead of him, would make him ideal for the generation project underway at the Bernabéu.