Solari responds to Asensio: "All of us have to carry the team"
"From the fans to the president, coaching staff, players... Each and every one of us who loves Real Madrid carries the team" the Argentine coach added.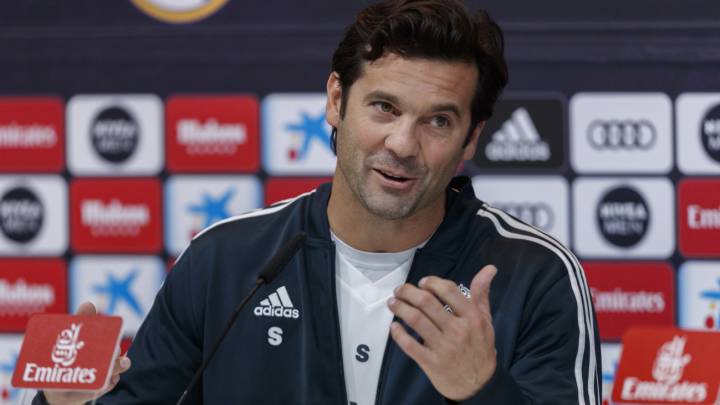 Santiago Solari appeared before the media in Valdebebas this afternoon to preview tomorrow's trip to Eibar, Real Madrid's first league game since the international break. The Argentinean thanked his players for their efforts in returning back to work on time and also responded to a question of who is responsible for carrying the team.
What's the hardest part of your job once the international break is over?
The most difficult part is the travelling the players do - they all return from different countries at different times, some only play one game, others play two, they return in dribs and drabs over the course of the week… Some have to make stopvers. Some return on Tuesday, others on Wenesday... the good thing is that we're all together now. The player to arrive was Vinicius but he was back in time for the training session. All of them made a great effort to get back.
Only one Zidane
After several victories on the trot, do you see yourself as the new Zidane?
I answered that question on my first day. You cannot compare Zidane to anyone - he's a club legend for what he did as a player - he had an exquisite touch and I was lucky enough to battle alongside him in the team; as a coach I don't know because I don't have the statistics but he must be the most successful coach this club has ever had. I admire him for the man he is, I can't compare him with anyone - we have to leave him be.
What were your thoughts on Asensio's comments about carrying the team?
The only things the players say which interest me is what they say out on the pitch. That's what's important and as for carrying the team, here at Real Madrid all of us carry the team - from the fans to the president, directors, coaching staff, medical staff, players... each and every one of us who loves Real Madrid carries the team… Every has responsibility and a role to fullfil.
Modric lauded
It looks like Modric is going to win the Ballon d'Or…
Wonderful. Fantastic. Fully deserved, as it would have been had Varane or Benzema won it.