Eibar 3-0 Real Madrid: match report
Goals from Gonzalo Escalante, Sergi Enrich and Kike García sealed a famous victory for the Basques, who could have inflicted even more damage.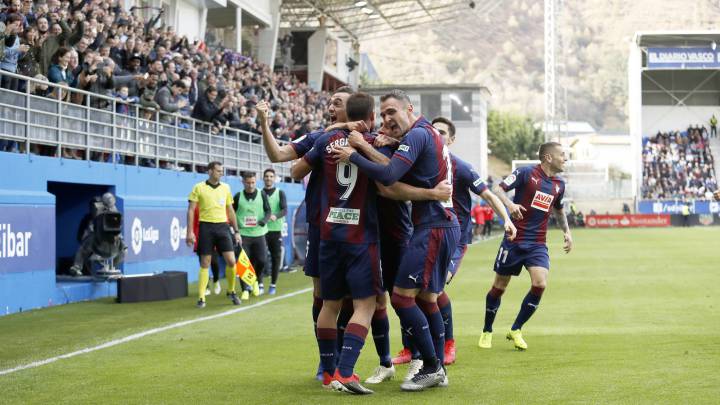 As honeymoons at Real Madrid go, Santiago Solari's three-week stroll in the sand was idyllic: Four games and four wins against obliging opposition, plaudits lapping the shore of his fledgling tenure as the goals rattled in at one end and were largely prevented at the other.
After Eibar completely outplayed the European champions to record a 3-0 victory – the first time in the Basque club's history they had beaten Saturday's visitors – the marriage contract signed between coach and club has suddenly assumed an air of folly, the football equivalent of staggering out of a Las Vegas shotgun wedding in full Elvis attire.
In Real's case, the king is still very much alive but the only trace of Zinedine Zidane that remains on the side Solari inherited from the jilted Julen Lopetegui is the Club World Cup winners' badge emblazoned on the shirt. The players that won three Champions League trophies in succession have long since departed, in person in the case of Cristiano Ronaldo, and in spirit among those who remain.
Florentino Pérez probably assumed his last trick had worked again; promote Castilla coach, turn season around, win stuff. The Real president, watching grimly from the stands in Ipurua, will have been thoroughly disabused of that notion as he witnessed his billionaire assembly cowed and outplayed by a squad that combined cost a few million euros more than Vinicius Junior.
It was no coincidence that Eibar's masterful victory was orchestrated by the most experienced bandmaster currently operating in Primera. José Luis Mendilibar was overseeing his 183rd game in the Spanish top flight on Saturday, Solari his fifth as a senior manager. What was it Manuel Pellegrini said about guitarists and pianists as a parting shot towards the Bernabéu?
The mismatch was apparent almost immediately as Eibar laid out their stall from the start, playing their manager's tune to perfection. Real were allowed no time on the ball, the defence was harried, the midfield swamped, the attack, such as it was, isolated. The first warning shot was fired as early as the third minute when Kike García unleashed an ambitious effort that the tips of Thibaut Courtois gloves and the woodwork combined to keep out. It was a sign that the home side were brimming with confidence. Real's recent wins may have smoothed the ruffled feathers of Madridismo but Mendilibar, a wily campaigner, was fully aware that a fox in the chicken coop will sow panic. After the first goal went in, Real never looked like getting back into it.
His defence remains the weakest link and Solari has found, as have so many of his predecessors, that there is no easy fix in the Quick Guide to Taking Over at Madrid. Compounding that is a plodding midfield, epitomised by Toni Kroos' lack of urgency. Luka Modric can at least point to a lengthy Russian summer for his lack of incisiveness. Kroos has no such excuse. Neither can Solari fully evade censure when he stubbornly persists with Dani Ceballos, a fine player but one cut from a different stone than the Eibar centre he was expected to tame.
Solari facing an uphill task at Roma, Valencia
Gonzalo Escalante, Sergi Enrich and Kike García provided the goals to seal a convincing victory that could have been even more glorious had Thibaut Courtois had an off-day. As it was, the Belgium keeper spared his side further misery with a sting of fine saves. At least Pérez, whose eye may have alighted on the excellent performance of Marc Cucurella on Eibar's left while Ronaldo's supposed heir, Marco Asensio, floundered on Real's, can satisfy himself with one piece of summer business that came good, even if it was an impulse purchase.
Lopetegui may not have been the most attractive bride, his main allure being that he was available, but Pérez may wonder as he travels back to Madrid whether the union wasn't worth a spot of counselling. With Roma and Valencia up next for Solari, El Presi may rue dusting off his sacrificial altar while Lopetegui was still barely over the threshold.
Other than Courtois, only Casemiro will emerge from Saturday with his credit intact. Where Solari looked for a virtuoso on guitar, what he desperately needed was someone to hit the percussion in midfield. That Real have no replacement for the Brazilian is a dereliction of transfer duty. That they were utterly lost without him in Ipurua was further indication of how far the mighty have fallen in just six months.
Eibar vs Real Madrid live online: as it happened
90'+3' And that's it! Eibar 3, Real Madrid 0. There will be little sleep in the small Basque town this evening as the Gunners record a first-ever victory over the European champions! 
90'+3'   LaLiga is so tight this season that this victory has catapulted Eibar from 13th to seventh, two points behind sixth-placed Madrid, who may slip out of the European places this weekend. 
90'+2'   Final roll of the dice perhaps for Madrid as they try and find a consolation but, quelle surprise, Bale is called offside. 
90'+1'   Three minutes added. 
90'   Courtois plucks a cross out of the air with Charles, who is depserate to get on the score sheet, closing in on the far side. At the other end Bale hammers a shot into the stands. 
89'   Vinicius gets a sight of goal but drags a poor effort wide of the near post. One minute of the 90 left for the visitors to endure. 
88'   Marcelo is dispossessed again and barely bothers to try and get back. Carvajal cuts out the cross though. 
86' Cucurella is freed on the left again but even the whippet-like winger has had it now and simply thumps a cross into Varane.  Kike García goes off and Pablo De Blasis comes on. 
85'   Real launch a rare cohesive attack but Eibar are not going to let this go now and flood back to thwart the incursion. 
83'   Vinicius penalised for handball, rather harshly, but Eibar are happy enough to take their time over the free-kick. Kike García finds himself in the area but hasn't got the puff left to shake off the attentions of Carvajal. 
82' Change for Eibar as Orellana heads off to an ovation with Sergio Álvarez coming on. 
81'   Real look utterly dejected now and would probably welcome the whistle 10 minutes early. Benzema, again, offside as Marcelo finds him with a cross. 
79'   In a season of generally poor performances from, lest we forget, th three-times reigning European champions, this has got to rank up there with the worst. Vinicius is cauhgt offside as he tries to race through. We've lost count now of the number of times the lino has rasied his flag against the visitors. LaLiga will probably be getting a repetitive strain injury claim tomorrow. 
78'   Benzema pulls off his best touch of the afternoon to backheel the corner out for a throw. Real lose possession on the edge of their own area again and Orellana tries a snap shot that flies high and wide.  
77'   Orellana forces a corner on the left. Real look like they've already given up on this one. Eibar, naturally, fancy another. 
76'   Courtois! What a save! Charles connects with a flying effort and the Belgium keeper makes a glorious stop. Eibar coul dbe four or five clear by now were it not for Courtois. 
75'   Marcelo is caught out of position and Orellana feeds substitute Charles, but Courtois, who is one of few Real players to have earned their keep this afternoon, reads the danger and races out to smother. 
74'   Orellana is down on the far side after what looked like an accidental boot on foot tangle with Marcelo. He's back up though and Eibar come again... 
73' Enrich goes off to a huge ovation, as does Asensio, minus the ovation. The Real winger has been fairly anonymous all afternoon. Vinicius comes on for Madrid. 
72'   Real try and build a move but Benzema, once again, is caught offside on the left. He glares at the lino as if it's something personal but the assistant was quite correct. 
70'   Marcelo puts Benzema through but the close attention of two Eibar defenders is enough to put the number nine off and Riesgo hurls himself to the floor to deny the Frenchman. 
69'   In another move to sun up Real's impotence, Bale tries to find Benzema and the cross flies over the head of the Frenchman. He gets another bite of the cherry though and sends a shot flashing across Riesgo's goal. 
67'   Cucurella, who has been excellent this afternoon, again skips down the left and feeds Kike García, who fancies his chances from outside the area but doesn't connect cleanly and sends it into the stands. Why not? Everything Eibar try is coming together while the exact opposite is true for Real. At the other end, Benzema is caught offside again. 
66'   Isco tries a backheel and it's straight to Jordán. Real are in complete disarray and Eibar almost get through again via Enrich at the other end. 
Eibar have now mustered double the number of shots Real have managed, with seven on target. 
63' Isco enters the fray and it's Modric, incredibly, who makes way. How Ceballos is still on the pitch is beyond our comprehension. 
62'   Courtois! What a save from the belgium keeper to prevent a fourth! Orellana skins Ceballos on the right and has a decent crack that Courtois claws away for a corner. Real are really on the ropes!  
61'   Real have 30 minutes to find three goals in order to salvage something from the game but Eibar look the more likely to score at the moment.  
60'   Real finally get forward but again the attack breaks down as they run out of ideas on the edge of the area again. 
59'   Can Real possibly pull this one back? The visitors are on the back foot again. 
56'   And it's Cucurella again who provides, sending in a low cross that Real fail to clear and Kike García is there to hammer it in from close range. Utter disarray in Real's defence there, from the cover on the right to the marking in the middle. Eibar will care not a jot though. The home side are 3-0 up and half an hour away from a first ever victory over Madrid! 
56' Gooooooooooooool! Eibar hit the net again! 
55'   Riesgo! The Eibar keeper just gets to a cross ahead of Asensio, who only needed the lightest of touches to turn that in. 
53'   Madrid with a Basque mountain to climb now and whatever Solari had up his sleeve changes-wise has now been compromised with the loss of Odriozola.  
52' It looks as though Odriozola twanged a hamstring during that passage of play and he's heading off with Carvajal on in his place. 
51'   It's that man Cucurella again, who gets the better of Odriozola and feeds the number nine with a glorious ball. He takes a touch and fires past Ramos and Courtois to send Ipurua into raptures! 
51' Goooooooooool! Enrich! Eibar 2-0 Real Madrid! 
50'   Ceballos is caught in possession by Escalante but Ramos blocks his path to goal. We fancy the number 24 will be the first to come up for Madrid. 
49'   Cucurella is having the game of his life and reads Modric's quick free kick to deny Odriozola a clear line to goal on the right. Excellent work from the former Barça youth teamer. 
48'   Isco and Vinicius out to warm up for Madrid. 
48'   Enrich! Cucurella gets away down the left again and finds the striker, but it's a difficult one to control and he heads over. 
47'   Eibar start the second half as they did the first, pressing Madrid at the back and almost forcing Varane into an error. Ramos just about beat Enrich to the cross-field ball though.  
46'   And we're back underway! No changes at half time by the looks of things. 
Eibar managed six in the opening 45, with four on target. 
Plenty for Solari to ponder at half time. Eibar are looking very solid at the back and are winning the midfield battle as well. It may be time for Isco to strip off, Real need a player who can keep the ball and pick a pass and at the moment, there isn't one on the pitch for the visitors. 
45'+1' Benzema dances on the touchline trying to evade the attention of two markers... and accidentally backheels it out for a throw. And that's the half! Eibar 1-0 Real Madrid. 
45'+1'   Eibar try to play it in through Orellana and Enrich but it bobs out for a goal kick, which will probably be the last chance for Real to level before the break. 
44'   Modric does well to win the ball in midfield and releases Asensio but the winger clips the heel of Peña as he tries to get away and that's a free kick to Eibar, which they will be in no hurry to take. One minute added. 
43' Bale goes down, Madridismo holds its breath, but he's fine and has a few choice words of his own for the ref, who reaches for his top pocket in response. 
42'   Cucurella needs to watch his step as he goes in hard on Ceballos. He's on a yellow already and holds his hands up immediately with a little look of concern in his eye. 
41'   The visitors win a corner and Ramos rises above the defence but he thumps his header into the stands behind the goal. 
40'   That Bale was at right back there to help out Odriozola and running back towards his own goal before finding Courtois pretty much sums up Real's attacking intent at the moment. 
38'   Real seem incapable of holding on to the ball for more than two or three passes at the moment, unless they're being played across the back line with Eibar screening. It's all the way back to Courtois. Solari will be mildly relieved this performance is taking place away from home. 
37'   García! The free kick is whipped in and the Eibar striker doesn't know too much about it. It hits his chest and goes straight into Courtois'. 
36'   Free kick to Eibar out on the right as Ceballos makes a horrible challenge on Orellana. The big gins are lumbering up. 
35' Jordán finds his way into the book for a clumsy challenge on Kroos, who takes it all in his stride. 
35'   Modric tries his luck from distance but that's bread and squashed tomato for Riesgo. 
33'   Riesgo! It's a decent effort from Bale, hit low and hard around the wall towards the far corner, but the Eibar keeper was equal to it! 
32'   Chance for Madrid now as Benzema is clipped on the edge of the area. Bale fancies the look of this... 
31'   Eibar are all over Madrid at the moment and Peña has another chance to cross from the right but again overhits it. Clearly not his forte but Real are struggling across the board to get their foot on the ball. 
30'   Ruben Peña will be watching the Spanish version of Match of the Day this evening. After losing the ball in the glare of the sun, he recovers to play a backheel through Asensio. He spoils it a little by then whacking a cross into orbit but he'll enjoy Youtubing that when he gets home. 
29'   Asensio hits a decent cross on the run but Riesgo, who isn't Eibar's first choice, judges it perfectly and makes a wonderful catch with Bale bearing down on the far side. 
28'   Eibar almost through again! Kike García plays Escalante in but he's narrowly offside. Real all at sea again at the back there. 
27'   Solari isn't short of options on his bench mind. Isco, Vinicius, Fede Valverde... 
25'   Real win a throw as Bale tussles with Jordán but there's been little to trouble Riesgo so far. Benzema gets a sniff on the left of the area but is penalised for using his elbow to get there. This is rather reminiscent of the Lopetegui Madrid at the moment. No control in midfield, no ideas in attack, no goals on the board. 
23'   Marcelo loses the ball in midfield, Odriozola intercepts, Eibar recover, Varane loses the ball, Cucurella almost gets away, he loses it and it's back to Ramis, who bangs one forward towards Cucurella but finds the stands instead. It's scrappy stuff at the moment. 
21'   Varane is across like a bolt of lightning to deny Cucurella a clear run at goal. Eibar really up for this today and Real, as is so often the way, are creaking at the back. 
20'   Asensio gets away down the left and clips a cross in but it takes a deflection and lands plum in the paws of Eibar keeper Riesgo. 
19'   How will Solari react to that? This is the first time he has found himself behind as Real Madrid coach. 
17'   Ceballos got himself into a right old pickle there with Escalante breathing down his neck. The Spain international sure ain't no central defender and he won't want to see the replay of that too often this evening. 
17' Goooooooooooool! It stands! Eibar take the lead! 
16'   Eibar hit Real on the break there through Cucurella and Escalante turned it in after Courtois' initial save. No shades of offside... we wait... 
16'   Oh, hold on, pesky VAR is coming into play... 
16' Goooooooooooool! Escalante! 
15'   Corner for Real now, their first, as Oliveira checks Benzema's run. 
14'   It's a training ground job, wqorked out to Cote on the edge of the area and he whips a cross in for García, whose headed effort pings just wide of Courtois' upright. Eibar in the ascendancy at the moment. 
13'   Cote thunders down the left and wins another corner... 
12'   Cucurella, a former La Masia cadet, is giving Odriozola a headache on the Real right. Will be interesting to see how that battle develops. At the other end, Benzema is caught offside again. 
10'   Off the line! Cote saves the day for Eibar as he scoops Benzema's tame effort off the paint! Asensio built that chance with his first run at the home defence and although Benzema fluffed his first touch he recovered to nudge the ball towards goal and Cote earned his coin there with a timely intervention. 
9'   Corner for Eibar as Ramos nicks a cross off García's boot. Courtois punches clear but the ref blows for a foul on the Belgium stopper anyway. 
8'   Modric plays a glorious ball to Bale, who knocks it on to Benzema. The Frenchman is clean through but the whistle intervenes as he was adjudged offside, which he was, albeit by a whisker. 
7'   Real start to control possession and Eibar drop back in numbers. Bale flashes a cross over the area but it's clean through and out for a throw on the other side. 
6'   A lively start from both sides and it looks like we're in for a bit of a cracker at this rate. 
4'   Bale! The Welshman thrashes a left-footer into the far corner of the net and wheels away... to find the flag up. No arguments from the Real man, he was a good couple of yards in front of the last defender. 
3'   Woodwork! What a strike from Kike García, who picks up Orellana's knock-on and hammers a shot from 25 yards out that thumps into the post. It looked as though Courtois got his fingernails to that one, in which case a fine save to match the effort. 
2'   Eibar seem to have a plan to target Varane as he tries to play out from the back. With Orellana and Cucrella out wide to keep the full backs occupied, that leaves Enrich and Kike García to harry the central defenders. 
1'   And we're off! Eibar out of the blocks quickly and pressing Madrid in defence. That will be their game plan as long as energy levels allow. 
Worth remembering that Eibar coach José Luis Mendilibar is currently the most experienced manager in Primera División, with 182 games under his belt. Solari, at the opposite end of the scale, is overseeing his third. 
The teams are in the tunnel and we're about to get underway. Plenty of responsibility for Ceballos today, who has clearly moved up the pecking order under the new managerial set-up. 
Isco has played just 51 minutes since Solari took over and has not started any of Madrid's last five games. That could come to a head in January. 
Real Madrid's away record this season makes for some depressing reading for Madridistas. Solari's side have won two, drawn one and lost three while shipping 13 goals on the road and scoring just 10. At home, Eibar have conceded just eight and won three out of six. 
The appoinment of the Argentinean hasn't been good news for the Spain international, who is one of the least-used players under the new regime. 
José Luis Mendilibar said in an interview with El País before today's game that football is losing something of its essence with all the innovations and technology seeping into the game but if there is one ground in Spain where football remains as pure as a mountain stream it is Ipurua. Eibar's style also tends towards the more industrial end of the spectrum so it won't be an easy ride today for Madrid. 
He doesn't have too many selection issues to make but Solari will have to decide whether to risk Dani Carvajal or hand the right back slot to Álvaro Odriozola. 
Santiago Solari has won four out of four since taking over from Julen Lopetegui and history favours his side today, with Eibar having taken a single point off the reigning European champions in eight attempst in Primera. You can see what the new Real boss had to say about today's game here. 
As ever, if you're reading from afar we've provided a handy guide as to how and where you can watch today's game. 
Hello and welcome to AS English's live coverage of Eibar vs Real Madrid from the Ipurua stadium in the Basque Country.