Late Dembélé equaliser denies Atleti after Costa ends drought
Barça prevented Atlético from leapfrogging them in LaLiga after Diego Costa's goal was cancelled out by a late Ousmane Dembélé strike.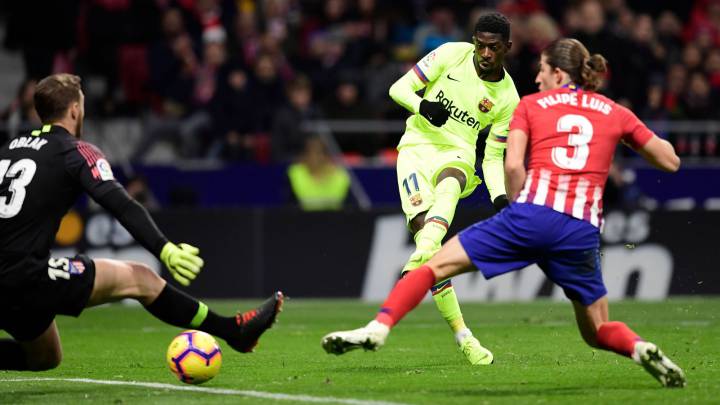 Atlético Madrid 1-1 Barcelona: as it happened
  Peeep peeep peeeeeep! And that's that! Diego Costa's first LaLiga goal since February looked to have won it for Atlético Madrid, but Ousmane Dembélé's fantastically taken late equaliser denies the hosts a first league victory over Barcelona in eight years and prevents Diego Simeone's men from leapfrogging the Catalans at the top of the table. It was an entertaining conclusion to what, in truth, was a not quite so eventful game at the Wanda Metropolitano. Barça remain top and Atlético go second, although both can be overtaken by Sevilla, who face Real Valladolid tomorrow afternoon. Thanks for reading!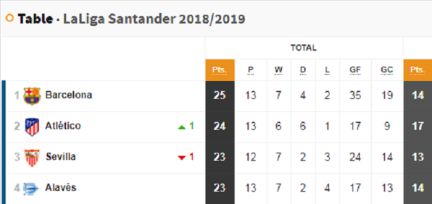 92' Rafinha gets himself a more than deserved yellow card after cutting out Lucas' charge forward on the counter, after the Atlético defender had himself stopped a Barcelona break. They're going at it hammer and tongs, now.
It's been an exciting end to a pretty unexciting match.
91'   Four minutes of time added on at the Wanda. After that late equaliser, can either side dig out an even later winner?
  The ball is played into Messi on the 'D', and the Argentine touches it on expertly to find the run of Dembélé, who's arriving at pace and in yards of space on the right of the box. He shapes to shoot, but instead takes a touch inside before blasting in past Oblak! All square!
90' Gooooal! Dembélé equalises for Barcelona!
87'   No. Off the wall and out for a corner, which comes to nought (via a few half-hearted appeals for an Atleti handball).
86' Rodri is the next man into the book after hauling down Messi 30 yards from goal, and the Argentine has another opportunity from a free-kick. It's fair to say he has not had his eye in so far; will that change now?
84' Barcelona make another change, Malcom replacing Vidal.
82'   It's all happening now, as Atlético win a free-kick that's almost a carbon copy of that Messi one. Griezmann steps up... and plops it over.
81'   Barcelona win a free-kick just outside of the Atlético box, in prime Messi territory. But his effort is tame, and Oblak catches it with the minimum off fuss. Messi came into this game with a whopping 28 career goals against Atleti, but he hasn't looked like making that 29 with any of his attempts tonight.
80'   Griezmann is almost in for a second... but Vidal nips in to nick it off the Frenchman's toes on the edge of the Barcelona box.
79' That is Costa's last involvement. He has picked up an as yet unidentified injury, and Ángel Correa is on in his stead. Barcelona also make a change, Arthur coming off for Ousmane Dembélé.
Griezmann swings over a corner towards the back post, where Costa beats Rafinha to it and nods in past Ter Stegen - who should really have done a lot better. Atlético lead!
77' Gooooal to Atlético! The deadlock is finally broken, and it's Diego Costa with it! His league drought is over!
Replays suggested it was a hand... although it may be that it touches his head first before rebounding onto his arm, which is, as I understand it, doesn't count as handball.
73'   Vitolo wins a free-kick on the left wing when he turns away from Semedo and is brought down by the full-back. There's a fair old amount of pushing and shoving as the ball is sent into the box, before Atlético's players are all surrounding the ref for what appears to be a handball by Vidal as he attempted to head clear. The video ref has a look... and says no penalty. 
70' Yellow cards for Costa and Umtiti after a spot of handbags between the pair, which came about after the Barcelona defender got a little bit hot under the collar over a slightly naughty challenge on him by Filipe Luis. 
66'   Barça break. Messi sets off towards the Atlético box and, despite Koke's attempts to foul him, wriggles clear and feeds Suárez on the right... but his ball back into the box is aimless, and is cleared behind for a corner - from which the Uruguayan finally gives away a goal-kick. A chance lost.
63'   Atlético make their first change, Lemar coming off for Vitolo. One winger for another.
There was also a vital touch from Piqué that took the ball away from Costa, by the way.
59'   And just as I write that, Atlético go as close as they have all night to scoring! It's great work on the right by Griezmann, who holds off Arthur well and barrels to the byline before fizzing the ball back into the six-yard box - where Costa is sliding in, but can't quite get the connection he needs to turn it into the net!
56'   Barça are just starting to step it up a gear. Vidal slips the ball to Messi in shooting territory just outside of the box, and his shot is scrambled behind for a corner. That comes to nothing, but the visitors win it straight back and are beginning to carry a more significant threat.
Still no league goals for Costa since February, of course.
54'   Costa does well there. Without any support to speak of, he carries the ball right up into the Barcelona half and, despite being surrounded by yellow shirts, wins a throw-in by the corner flag. It comes to nought, however. 
52'   Barcelona pin Atlético back in their area, and Messi almost wriggles into shooting space from Vidal's ball to the top of the box, but the hosts clear. The home side are struggling to get a sniff of the ball at the mo.
48' Griezmann miscontrols in the centre circle and lunges in on Vidal, earning himself a yellow card.
47'   Alba is felled on the left wing, presenting Messi with an opportunity to flight the ball into the box. His delivery drops loose to Arthur on the edge of the area... but the Brazilian's shot is blocked!
46'   No changes for Atlético Madrid.
Peeeeep! Back up and running at the Wanda.
Rafinha is on at the break for the injured Sergi Roberto.
By the way, we also have live coverage of River Plate and Boca Juniors' Copa Libertadores second leg, which has been significantly delayed after Boca's bus was attacked by fans of the home side. Cal has all the chat here.
Peep peep peeeep! That's half time at the Wanda, where it remains goalless after a first 45 that has brought no clear-cut goalscoring chances and not a whole lot of excitement, either.
47'   Piqué ends up in a heap after coming off worse in a 50-50 challenge with Costa. After a brief bit of treatment he looks like he'll be fine, though. Barça are holding off until half time to bring on Roberto's replacement, it would seem.
46'   Roberto limps off with a face like thunder, and it appears that Rafinha will be the man to replace him.
45'   Two minutes of time added on at the Wanda Metropolitano.
44'   Sergi Roberto looks like he's done a hammy, and that will surely be the end of his night.
42'   Piqué isn't a million miles away from a comedy own goal, there. Griezmann sends a slightly hopeful cross into the box, where there is not a single red and white shirt. That doesn't stop Piqué from wafting something of a panicked leg at the delivery, and forcing Ter Stegen to scuttle quickly back across his line to stop the ball from looping into the Barça net.
39'   Messi sclaffs his free-kick over the bar.
38' Oblak gets his clearance all wrong, and Messi pounces on the ball to win a free-kick off Lucas just outside of the box. The Frenchman gets a yellow card for the challenge, which replays strongly suggest wasn't a foul. He gets the ball, doesn't he? 
35'   And Robinson has his hat-trick! "This is like a Champions League semi-final."
32'   "This is like a game of chess," says Michael Robinson on Spanish TV, book of football clichés in hand. You have to hand it to him: he's really digging deep to find ways of saying there isn't all that much happening.
30'   There's the night's first manifestation of the Messi-Alba connection, as the Argentine drops deep, looks up and pings a low ball into the left-back's run into the box. It's just too short, though, and the hosts deal with it.
28' Busquets lunges in on Lucas and is the first man into the book. It's a foul that gives Atlético a free-kick on the left, 30 yards or so out... but when the ball is delivered into the box, Rodri is penalised for a foul on Suárez. 
24'   Atlético knock it from side to side in front of the Barcelona defence, but it's all a little huff and puff and the Blaugrana clear.
22'   Barcelona win a free-kick on the right, but Messi shanks a delivery that sails out over the top of Oblak's goal. "The two sides are showing each other so much respect," said Michael Robinson on the Spanish TV coverage a few moments ago, which seems like a nice way of saying that not a whole lot has really happened yet.
Replays suggest a possible Filipe Luis handball may have been the subject of the video ref's scrutiny.
18'   Back come Barcelona at Atlético. They win one corner, then two... but before the second can be taken, Gil Manzano stops play for a chat with his video ref. What the men upstairs think they've seen remains a mystery; after a good minute of consultation, the ref says play on. From the corner, Arthur feeds Roberto's run towards the byline with a lovely little ball, but his ball into the middle is right at Oblak.
15'   Atlético let Barcelona knock the ball about for a good little while in front of their two banks of four, before breaking at pace when they win it back. Griezmann makes his way towards the visitors' box before feeding Lemar in a good shooting position... but his shot is feeble! It trundles into Ter Stegen's arms.
11'   Griezmann slips the ball forward to Lemar to run at the Barcelona defence, but the winger knocks it by Umtiti, bounces off his compatriot, and is told by Gil Manzano that he ain't getting a free-kick.
8'   Messi runs at a backpedalling gaggle of Atlético defenders, twisting and turning before flighting in a ball towards Vidal's run into the area. Oblak comes out and flaps at it dreadfully, but Vidal is penalised for a foul on the goalkeeper and the hosts clear.
6'   Now Atlético enjoy a spell of possession and, when they come forward, Griezmann wins a free-kick off Semedo out on the left. Will Atlético swing it in this time? Yes, but Koke's delivery is meat and drink for Ter Stegen.
4'   It's been all Barcelona possession since... albeit without much of a threat of any early end product.
1'   Barcelona pop it about for the first 45 seconds or so before Semedo gives the ball away in his own half and hands Atlético's Diego Costa an early chance to run at the Blaugrana backline. He is quickly brought down, and Los Rojiblancos have an opportunity to swing it into the box. Ah... except they take it short, and when Lemar is caught offside the chance is lost.
Peeeeeeep! We're underway.
Out come the teams at the Wanda! We're treated to a rousing, a cappella rendition of Atlético's club anthem. Almost ready to go.
Jesús Gil Manzano is the referee at the Wanda tonight.
Incidentally, should you be out to take in tonight's big game on the box, then you might wish to make use of our guide on how and where to watch.
That's Vidal's first LaLiga start for Barcelona since the end of September, by the way. It had been thought that Ousmane Dembélé may also make a league line-up for the first time in almost two months, but in the end the Frenchman - who was left out altogether against Betis after missing a training session - is on the bench.
There are three changes to the Barça XI that started the 4-3 defeat to Betis, the most notable of which sees centre-back Samuel Umtiti return from injury to make his first appearance since September. Meanwhile, Nelson Semedo is in at right-back and Sergi Roberto shifts forward into what looks like a four-man midfield, in which Arturo Vidal also plays. No Ivan Rakitic, who is both injured and suspended.
Atlético boss Diego Simeone makes four changes to the team that beat Athletic, with Savic and Hernández coming in at centre-back for Godín and Francisco Montero, and Ángel Correa and Thomas Partey making way for Koke and Lemar in midfield.
Anyway, kick-off is at 20:45 CET, which is just half an hour away - so let's get stuck into tonight's team news.
They'll have to do so without the injured defensive trio of Diego Godín, José María Giménez and Juanfran, although they do welcome back Stefan Savic, Lucas Hernández, Koke and Thomas Lemar, who were all ruled out of the win over Athletic Bilbao last time out.
  If they are to leapfrog Barcelona, however, Atlético must end a run of eight years without beating their visitors in LaLiga. Not since a 2-1 home victory in February 2010 have they claimed the points against the Catalans in the Spanish top flight.
  Good evening and welcome to what is undoubtedly this weekend's stand-out fixture in LaLiga, as Atlético Madrid welcome leaders Barcelona to the Wanda Metropolitano.
Atlético Madrid vs Barcelona: match preview
Atlético Madrid host leaders Barcelona tonight (20:45 CET) knowing that a win will see them leapfrog the Spanish champions at the top of the LaLiga table.
Atlético out to end winless sequence against Blaugrana
To do so, though, third-placed Atleti must end an eight-year winless league run against Barça. Not since goals by Diego Forlán and Simao Sabrosa earned a 2-1 home victory in February 2010 have they taken all three points against the Catalans.
Diego Simeone's men must also contend with significant absences from their defence - one that has conceded fewer than any other team in LaLiga this season (eight) - with Diego Godín, José María Giménez and Juanfran all injured.
However, Stefan Savic, Lucas Hernández, Koke and Thomas Lemar are all available to Simeone after missing the 3-2 win over Athletic Bilbao a fortnight ago.
Barcelona visit Atleti side unbeaten in nine in LaLiga
Meanwhile, Barcelona arrive at the Wanda Metropolitano looking to get back to winning ways after a 4-3 defeat to Real Betis at the Camp Nou before the international break.
But just as recent history does not point to an Atleti triumph, so too do the statistics serve to temper expectations of an away win: Barça visit a side on a sequence of nine games without loss in Primera División, and who remain unbeaten at home in the top flight this term.
Ernesto Valverde must do without Ivan Rakitic, who is both injured and suspended, while Philippe Coutinho and Thomas Vermaelen remain sidelined with thigh problems.
But having returned to the squad against Betis two weeks ago, Samuel Umtiti makes his comeback to the Barcelona XI after recovering from a knee injury that has kept the central defender out of action since late September.