River-Boca: Copa Libertadores final second leg postponed again
River Plate vs Boca Juniors: the return leg of the 2018 Copa Libertadores final at El Monumental was on Sunday rescheduled for a second time.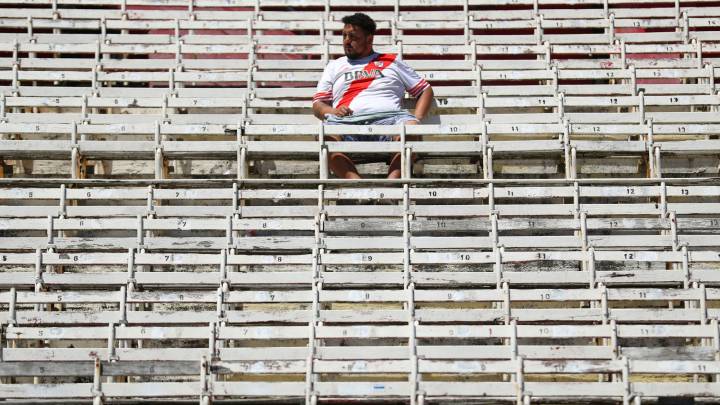 River Plate - Boca Juniors live: Copa Libertadores final postponed again - as it happened
    That's it for tonight. We will be back tomorrow with more news but for now, the mayhem has died down and while there are still plenty of questions that need answers, we won't be getting them tonight. Plenty of officials from the clubs and CONMEBOL need to have a serious think about this in the coming hours and we will have more in the coming days! Not a ball kicked this weekend despite two false alarms. 
    All eyes will be on Argentina again, well, more specifically in Paraguay. The meeting takes place in Asuncíon, Paraguay on Tuesday at 10:00 AM local time. Find out what time that is where you are from right here.
    This article from the New York Times' Rory Smith is excellent by the way. It was written last night after the original mayhem.
    Another very scare thing is to consider what kind of tragedy we could have had on our hands. The bus driver lost consciousness and if you've seen the speed the bus was going through the River fans in order to get through the crowd, it could have been a serious tragedy.
    Here is the timeline of exactly what happened that led to the postponement.
    Another very possible outcome, apparently, is to play the game with fans at the Monumental on the 8th of December. 
    Here's a look at the Argentinian league table right now. Neither side pushing for the top really.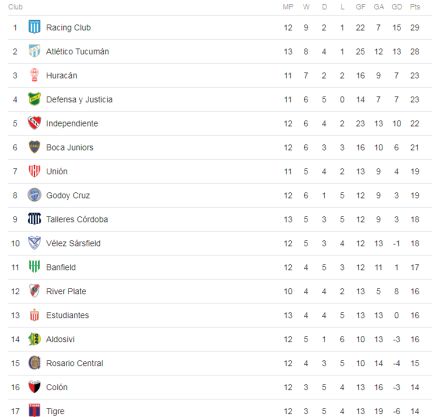 You'd wonder what the next game between these two teams in the league will look like! 
    The chicken dance is something Tevez has done before.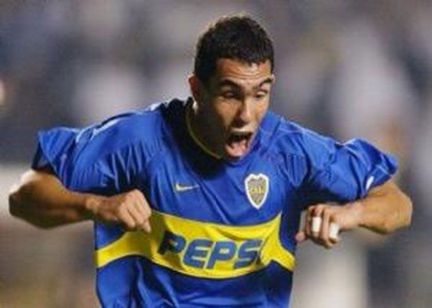 Not sure if they are suggesting that this means it was just or not but they have said it. Nothing condones what happened to that bus yesterday.
    The bus driver's name is Darío Ebertz. He was going by "El Gringo" earlier just for the record. 
    The soundbites and news stories continue to come out tonight after a horrific weekend for Argentinian football. 
    The bus driver says, "there should have been more police cover because of the quanitity of River fans waiting for the bus, I had to accelerate to get out of the area."
    Infantino is currently in Ezeiza with Claudio Tapia. It's a city 35 kilometres southeast of Buenos Aires. He will leave the country in the coming hours. 
    Horacio Rodríguez Larreta, Buenos Aires city official says, "there is something very difficult to fight and that's human stupidity."
    River's president continues: "Yesterday, I had an agreement for Boca not to play with a disadvantage. Yesterday, they were forcing Boca to play and not just anyone, it was Infantino, the President of FIFA."
    "I don't want any advantage whatsover and because of that, it was postponed. Before the announcement to postpone the game, Dominguez said that we would sign something to play today," the River Plate president continues.
    "We will play the postponed game this week in River's ground," he says. 
    D'Onofrio:  "The president of CONMBEOL told me that the game would be played and because of this, we had to open the doors. After that, he spoke with me and he explained to me that the games was postponed and I told him that I was in complete agreement."
    Rodolfo D'Onofrio will speak to the media in just a few moments. He is River Plate's president.
What we currently know:
Game postponed without date set for when it will be played.
Metting on Tuesday to find a date.
Could be played behind closed doors or even in another country
Boca, according to Angelici, want the game awarded to them as per Article 18.
    That game being played in a neutral venue is all well and good for River Plate but I'm sure that Boca Juniors know that they have a case to have this game awarded to them! 
    Tevez, who is really not happy as you'd expect, says "I think this is a shame. What CONMEBOL is doing is a shame. I tell this personally. If someone wants to take action against me for it, do it, I accept it."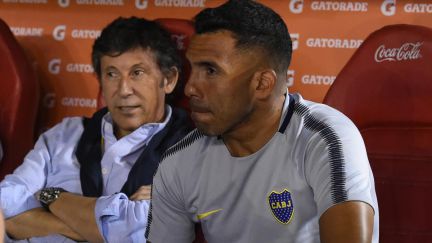 If you're late to this or you've been under a rock for the last two days, here is how it all happened yesterday.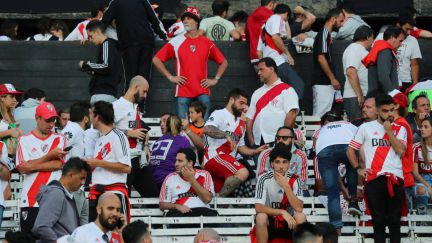 Continued reports that fans took advantage of the mayhem and broke into cars. This is something that goes far beyond a football rivalry.
    Boca Juniors players currently leaving their hotel. The saga seems to be finally drawing to a close.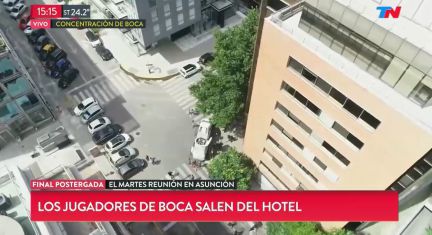 Meeting at the moment between Francescoli, Gallardo, D'onofrio and the River Plate technical staff at Monumental. 
    The G20 Summit takes place for the first time in South America next week with Buenos Aires being the location. Participants include: Chile, Jamaica, Netherlands, Papua New Guinea, Rwanda, Singapore, Spain.
    Angelici would probably even suffice for a neutral venue but ultimately he will fight to have Boca awarded the game like River Plate were five years ago.
    According to ESPN, the second leg will not be played at Monumental. They are looking at playing in Abu Dhabi and the winner will stay there for the Club World Cup.
    River Plate currently leaving the stadium.
    He says they will wait for the decision of the tribunal but it feels like he wants Boca to be awarded this game.
    He says: "We owe it to ourselves, everyone, the fans of Boca, the people of Boca. The games are won on the field but at the same time I have to defend the club."
    He continues, "We had players with problems with their vision, breathing. The medical part of physical and mental. Yesterday, we were in no condition to play. I didn't want to play, but at the same time, I told the manager that if we couldn't convince them, he had to play."
    And now Boca's president, Daniel Angelici, is speaking: "For Argentinian football, this is so sad, a few misfits have stained Argentinian football, a a party that the whole world was waiting for.
    He continues: "From a sporting point of view, we would have been at a complete disadvantage if it had been played. That's what I told the president [of CONMEBOL]. We'd have been asking a lot of the players; we'd have been at a disadvantage." 
    Boca's coach speaks: "What we had to experience before the final isn't something you should have to go through. The best thing for Boca was not to play, because we're not in the same condition as River."
    Here are the game for the Club World Cup. The winners of the Libertadores will play in the semi-final on the 18th and it might be nice for their opponents to know which team they are playing at least a week before. 
    All seems quite as of now though.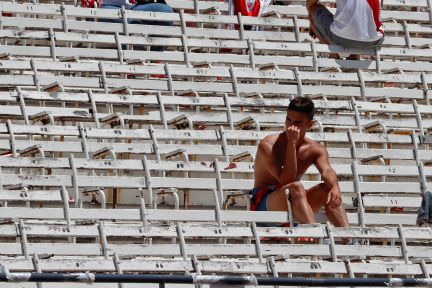 We will be keeping you abreast of any news here as it develops so stay tuned. It looks like, for now, nothing more will happen but this is probably one of the drawn out situation in world football. 
    Here is the article from 2015 when River Plate were awarded the game after Boca fans sprayed an irritant in the tunnel as Boca players were waiting there. 
    Dominguez says the conditions weren't equal for both sides and it's true. How could they have felt safe on the field after everything that happened. And imagine if they had won? This was always the proper outcome but it was a coin toss as to whether CONMEBOL would see sense. They have.
River, however, are insistent that the game will be going ahead today, with their press department releasing the following statement: "River Plate wishes to confirm that, according to what was agreed by the South American Football Confederation (CONMEBOL), the match will be played at 17:00 today."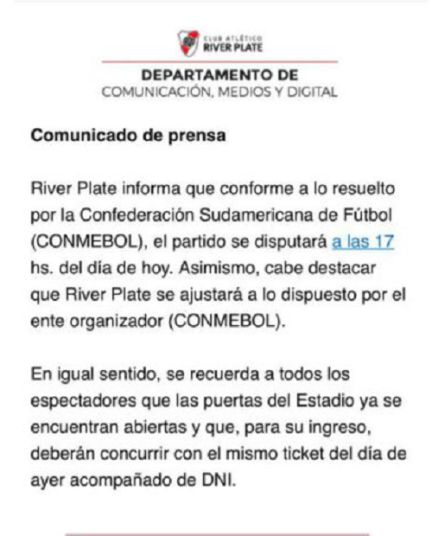 However, there are now doubts about whether this rearranged clash will now go ahead, after Boca confirmed that they have formally requested that the second leg again be suspended to allow the Copa Libertadores final to be played "in conditions of equality".
Three players had to have hospital treatment after being left with cuts caused by glass from the bus's broken windows, leading to the decision to play the title decider 24 hours later than originally scheduled, today at 17:00 local time (21:00 CET).
Good evening and welcome to our live build-up to rearranged second leg of the 2018 Copa Libertadores final between River Plate and Boca Juniors, which was delayed by 24 hours after the Boca team bus was attacked by fans of River.
River Plate vs Boca Juniors: preview
River Plate and Boca Juniors are scheduled for a second attempt at playing the second leg of their 2018 Copa Libertadores final at El Monumental today, after yesterday's clash was delayed by 24 hours in the wake of an attack by River fans on the Boca team bus.
Three members of Boca's squad required hospital treatment after players were left with cuts caused by glass from broken windows and were also affected by tear gas used by police against the River supporters involved.
The rearranged match is due to begin at 21:00 CET, but in the hours ahead of kick-off the fixture was thrown into doubt after Boca confirmed that they have formally requested that the return leg again be suspended to allow the final to be played in "conditions of equality".