COPA LIBERTADORES
Maradona calls for CONMEBOL to award Boca Libertadores title
The Dorados head coach Diego Maradona has made a plea on social media for CONMEBOL to declare Boca Juniors as Libertadores champions.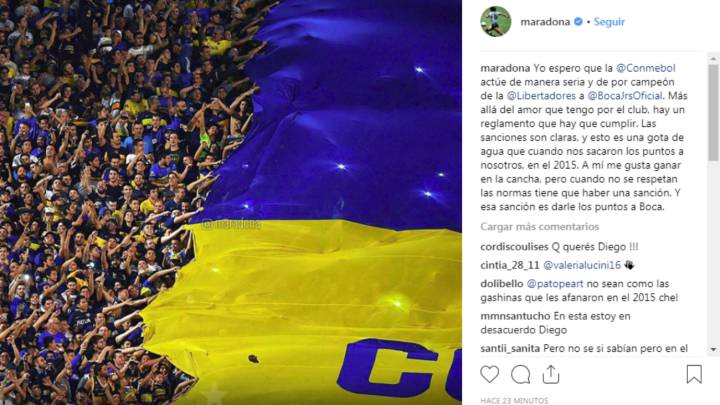 Head coach of Mexican side Dorados de Sinaloa Diego Maradona has made his feelings public after Saturday's incidents which led to the postponement of the second leg of the 2018 Copa Libertadores final.
"El 10 de Argentina" took to his Instagram account and explained why he felt that Boca should be declared as 2018 Libertadores champions with rivals River Plate being punished.
"I hope that Conmebol act in a coherent manner and award the Libertadores title to BocaJrsOficial. Apart from my emotional ties with the club, there are rules to be respected. The sanction should be clear-cut as it was in the base back in 2015. I prefer always to win on the pitch, but when the rules have been violated, then a sanction needs to be applied. And this sanction in my view is always the title to Boca".