PSG-Liverpool: Dominant first half display enough for PSG
Despite a strong second half performance from Klopp's men, one shot on target all evening was a telling statistic on a poor night for last season's finalists.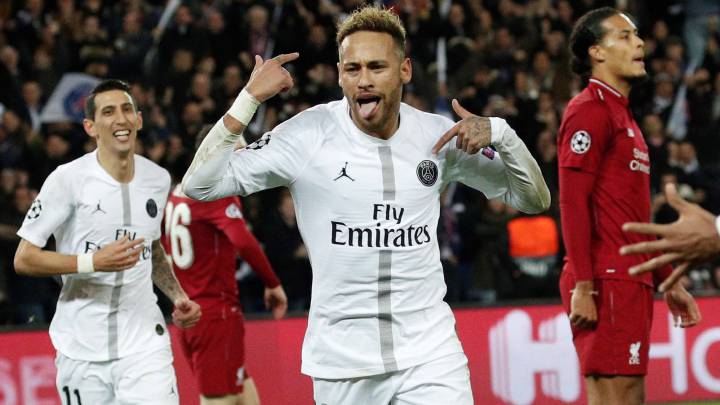 PSG - Liverpool: as it happened
Here's how Group C looks tonight after the two games: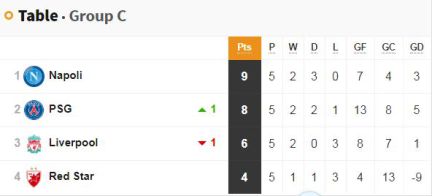 Final games: Liverpool- Napoli / Red Star-PSG on December 11 
Still all to play for in Group C with PSG, Napoli and Liverpool still candidates to secure the 2 spaces. Red Star have an incentive too in the final game in Belgrade vs PSG with an (outside) tilt at a Europa League spot. What a group ! 
FT in Naples too with a 3-1 win for the home side
90'+6' That's it .... Full time in Paris: PSG 2-1 Liverpool
One shot on target all night (the penalty) is the reason why Liverpool leave Paris pointless 
90'+5' Keita booked
90'+5' Neymar carded
90'+4' Verratti carded.... last minute
90'+4'   Time ticking down as Neymar claims he was elbowed in the face....
Robertson carded this time for a foul on Neymar
90'+2'   Neymar strikes and forces Alisson to save pushing out for a corner....
Van Dijk carded for a late (very) late challenge on Neymar
90'   We'll have 5' of time added....
88'   Shaqiri and Henderson over the ball but the ref. awards PSG a free-out for pulling in the area.... PSG fans celebrate the decision  
88'   Salah upended and wins his side a dangerous free kick ... Shaqiri range !
86'   Bernat breaks free but makes a meal of the pass .... Time running out here ...PSG have been poor in the second half but Liverpool, despite their dominance have created little. This will be Klopp's third away defeat in thie Group C.     
85'   Whistles from the home fans for the change 
Final PSG change as Mbappe is replaced by Rabiot
83'   Mbappe breaks into the Liverpool box, shuffles and gets his shot off but it drifts over and wide....
82'   Free kick for Liverpool heade out for a corner for the visitors 
81'   Neymar looks for a penalty after being upended by van Dijk...nothing given by the Polish official.... 
78'   LFC corner.....Shaqiri takes but PSG clear ....time running out in Paris ...
Shaqiri on / Milner off.... Klopp's last throw of the dice...
75'   If things stay as they are, Liverpool would  need to beat Napoli by more than 1-0 at Anfield .... a draw for Klopp's side tonight would be ideal for their campaign.  
72'   Thiago Silva getting attention again with his head being observed the PSG medical staff.
Shots on target: PSG 7-1 LFC
Sturridge on - Firmino off . Liverpool make their second change of the night.
69'   Momentum slipping ever so slightly from Liverpool as PSG are starting to claw their way back ointo the action. Despite their dominance in this second period, few chances created by the Reds. Marquinhos thunders a header off the Liverpool post ... major let-off for the visitors as we head into the final 20' in Paris.   
Keita on for Liverpool with Wijnaldum making way
Goal in Naples and it's the visitors with Ben Nabouhane pulling one back (3-1)
Cavani off - C. Moting also for PSG 
Di Maria off - Alves on for PSG
63'   First touch of the second half from Cavani? Very discreet performance from the Uruguay star tonight
61'   Liverpool free-kick comes to nothing as Tuchel appears to make the first change of the evening ......Cavani or Di Maria I'd say would be the players to give way. 
Thiago Silva is down injured as play is held up
59'   Little action from Neymar and Mbappe as Liverpool break once again as Firmino heads just over...PSG midfield being over-run here
57'   This is excellent pressure from Liverpool....
56'   Silva comes to PSG's rescue as Sane fires a dangerous ball into the area.... Whatever Klopp said to the men in red at the interval has certainly worked.
54'   Sane takes a very un-subtle tumble looking for a break from the Polish ref...nothing doing as play continues. Liverpool pushing here looking for the equaliser.
Napoli go 3-0 ahead with Mertens on target again
52'   Nice work from Sane but the ball into the box from the Senegalese striker falls staright into Buffon's arms
50'   PSG down to ten men momentarily as Di Maria gets attention on the sideline
49'   Milner almost finds Firmino as Liverpool look to find a way back. Di Maria in trouble as play is held up....
47'   PSG starting with plenty of intent here
Gol ..... no ruled out... Marquinhos was in an offside position .... 
46'   Liverpool start the half.....A big 45' needed for the Reds to keep their European dream very much alive 
46'   PSG taking their time in making a re-appearance .... No changes at the break it would appear
46'   Teams poised to return to the pitch at Parc des Princes....Can Klopp's side snatch, what would be a valuable point?
Still 2-0 in Naples with Red Star Belgrade mathematically saying farewell to the 18/19 UCL tonight....
Whistle blows and we head to a break at the Parc des Princes. Liverpool back in the mix despite being outclassed for much of the first 45'.
Initally the ref. was pointing for a corner for the Reds but after consulting the touch line official, the spot kick was awarded. Tucked home expertly by the Liverpool player it has to be added.
PSG 2-1 Liverpool
Milner to take .... and drives it home .... 2-1 game on ..... Gooooooooooooooooooooalllllll
Di Maria takes out Sane but the ref says "penalty"...  
Big pènalty call for Liverpool!
43'   A long ball almost lets Salah in but the pass is just too long for the Egypt international to latch onto
Neymar celebrates the PSG second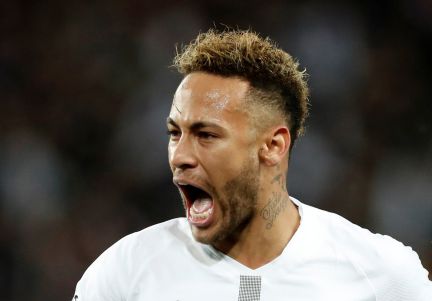 42'   Into the last 5' of the half.... 
Liverpool's Champions League journey could be derailed with these scorelines....Currently third in the group with an Anfield tie against Napoli their last game   
Napoli too go 2-0 up in Southern Italy with Mertens scoring for the Serie A side
The PSG front three combine to perfection.... Neymar feeds Mbappe...the teenager finds Cavani, strikes on goal and Alisson can only palm the ball into the path of the Brazilian    
PSG 2-0 Liverpool 
Gol gol gol ..... Neymar puts PSG two ahead ..... 
35'   Neymar taken out by Millner and the Brazilian yet again goes to ground. This was a nasty challenge it has to be said.   
Another card...Gomez carded for a tug on Neymar  
33'   Bernat celebrates the opener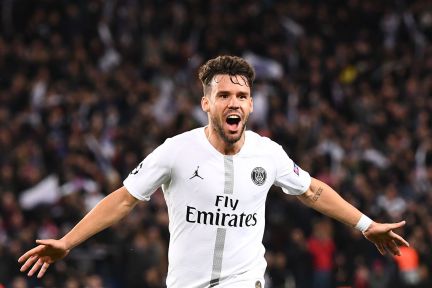 This is how the group currently stands: (Live as of 2130 CET) 


30'   PSG strike and almost catch Liverpool out as the ball eventually falls to Neymar who optimistically tries to lob Alisson. 
30'   It may have taken a PSG goal to shake Liverpool up but Klopp's side have had the best of the past ten minutes or so. 
29' Possession so far: PSG 61-39 LFC (%)
Didier Deschamps watches on from the stands with Mick Jagger spotted earlier too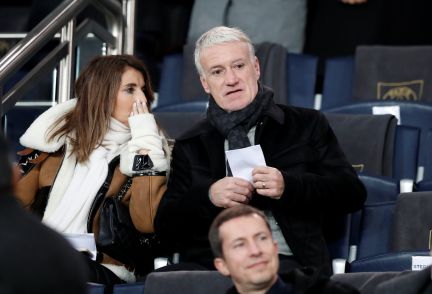 26'   Much better now from the visitors as they start to pass the ball about with purpose....Still no way through the white shirts with PSG happy to sit deeper now and soak up pressure. 
Another card and this time it's for a PSG player in the book with Verratti carded for high feet
23'   Tonight's LFC starting XI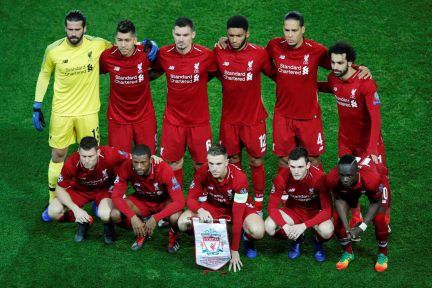 20'   Buffon with little to do so far in Paris ....Alisson the busier of the keepers as Salah drives a shot into the side netting
Klopp looking almost wistful at Parc des Princes this evening... Results in both games not going the way for the English side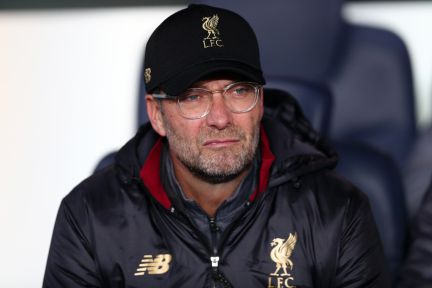 Tonight's PSG side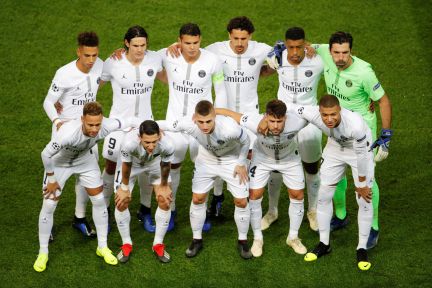 Wijnaldum ..first name in the Polish ref's book tonight...
16'   After a very bright start from the visitors, it's been one way traffic from PSG who look the hungrier side 
Napoli ahead too in Italy...Hamsik putting the Serie A side ahead
Poor defending from the Liverpool rear-guard as Lovern gives the ball away in the box back into the path of Bernat who, with the aid of a slight deflection slots home...   
Gol Gol Gol...Bernat puts the home side ahead....  
11'   Neymar shoots straight at Alisson and then stays down .... The Brazilian striker looked to be in some pain as the game goes on....  
A Napoli and Liverpool win would see the end of PSG's involvement in the 18/19 Champions League and would immediately add the heat on German boss Tuchel.... Drama !!!! 
Play held up as Di Maria is attended to by the PSG medical team after taking a knock. The Argentine player seems okay to carry on....
8'   PSG now starting to dominate proceedings with "The Reds" sitting deep looking for Salah to strike on the break
5'   Fine save from Alisson as Di Maria unleashes a half volley that forced the Brazilian stopper into action....PSG have the ball in the net but the flag was up ....no goal ....    
3'   First chance of the night falls to Mbappe who wins a corner for his side.... Di Maria goes short but Liverpool break through Salah.... Very bright start from both sides. 
2'   Plenty of noise coming from the PSG fans tonight.... as opposed to the Ligue 1 games, the Champions League nights really "rock"   
1' We'll keep you posted too with updates from Naples, with Napoli taking on Red Star in the other Group C clash.   
PSG in white tonight, Liverpool in red.... Off we go in Paris 
The Champions League anthem belts out as both sides line up.... Liverpool fresh from a 0-3 win at Watford with PSG seeing off Toulouse with a narrow 1-0 win in Paris. 
All smiles as Jurgen Klopp greets Gigi Buffon ahead of the PSG-Liverpool clash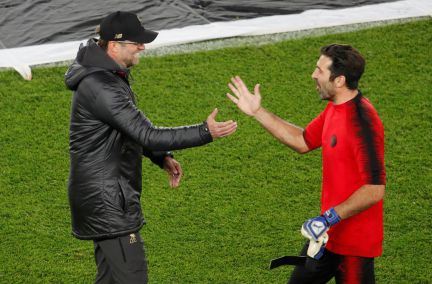 And Liverpool's XI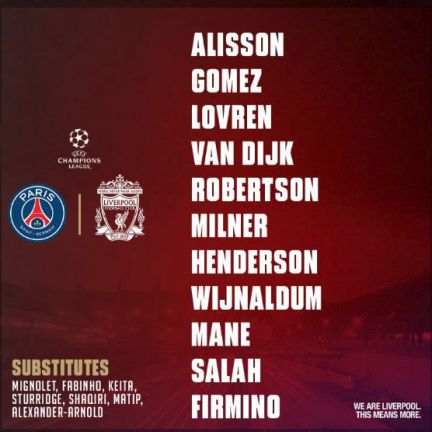 PSG start with this formation-line-up: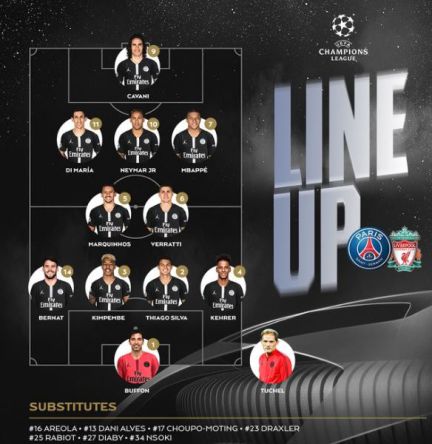 In case you missed it earlier, here's the starting XI's for both sides.
PSG will, once again be wearing their Nike vs Jordan black kit.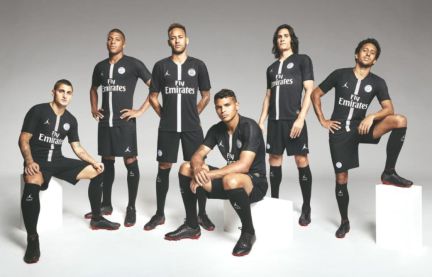 11C tonight in the City of Lights with just a 6% of rain during the 90 minutes
Klopp looking intense as kick-off looms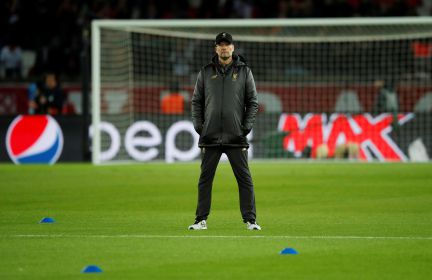 Neymar in pre-match warm up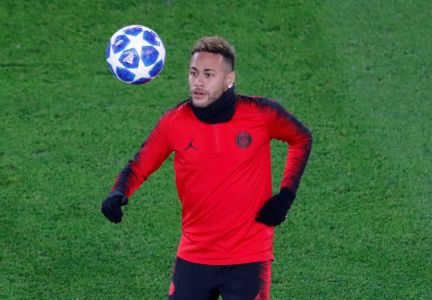 Group C is very, very, very tight....with just two games to go, this is how things stand: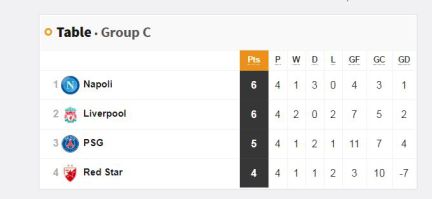 Earlier today PSG U-19 edged out their Liverpool counterparts in a Youth League thriller with the French side winning out 3-2. 
This is how things stand for Liverpool tonight as they face PSG...a win in Paris means Klopp's men they will qualify for the knockout stages with a game to spare as long as Red Star Belgrade fail to beat Napoli in Italy.
PSG fans form a line ahead of tonight's UCL clash as the 2100 CET kick off looms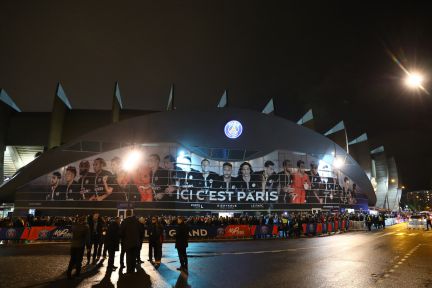 Good evening and welcome to our live coverage of PSG-Liverpool. 
PSG - Liverpool: preview
The Premier League giants make the trip to the Parc des Princes tonight for what is a crucial clash in Group C of the Champions League. Napoli (six points) and Liverpool (six) are the top two, but only narrowly ahead of PSG (five) and Red Star Belgrade (four) with two games remaining.
Klopp's side have endured struggles away in Europe recently – losing four straight matches on the road – and while Tuchel praised his fellow German, he knows his team can make the most of home advantage.
"I'm not surprised by their performance overall. Jürgen does an unbelievable job, he is an unbelievable trainer and you can see his input and his achievement in three and a half years," Tuchel told a news conference.
"At the same time we have the feeling that in away games we can get it and it's proven. I'm pretty sure it will be a different Liverpool side than in Belgrade [when the Reds lost 2-0 earlier this month]," he said.