Fiorentina 0-3 Juventus: match report
Goals from Rodrigo Bentancur, Giorgio Chiellini and Cristiano Ronaldo handed the leaders a regulation victory against Fiorentina.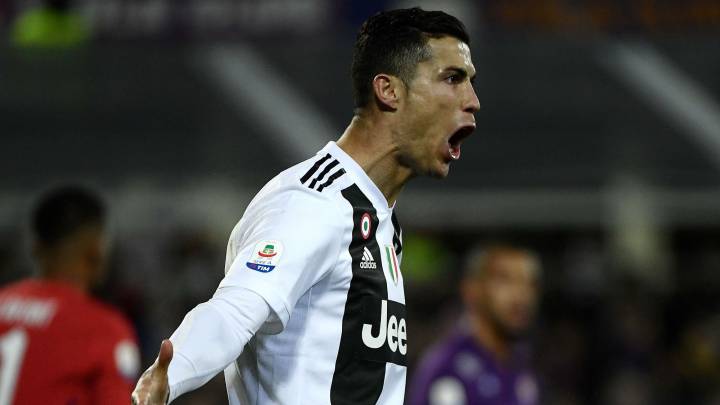 Juventus maintained their status as the only unbeaten side across Europe's top five leagues with a 3-0 defeat of Fiorentina in the Stadio Artemio Franchi and opened up an 11-point lead over Napoli at the top of Serie A as the march of Massimiliano Allegri's team to an eighth straight Scudetto gathered steam.
Fiorentina went into the game as underdogs, a run of five draws and failure to score more than once in a game since a 2-0 win over Atalanta in September hardly the basis for an overdose of optimism in Florence with Serie A's victory artists rolling into town.
The home side suffered from a lack of precision in the movement of the ball and were hampered by Giovanni Simeone's isolation up front despite the best efforts of Federico Chiesa to link the midfield and attack, drifting into wide positons and causing Juve more headaches than the rest of his team could muster.
Fiorentina no match for champions elect Juventus
Juve keeper Wojcjech Szczesny occsasionally had his gloves warned occasionally on a chilly evening but was rarely in danger of surrendering a clean sheet, his five saves on the night being mostly regulation and the greatest threat he faced coming from a defensive mix-up and a ricochet off the onrushing Edmilson.
At the other end, Alban Lafont had a busier evening. Juve's first was no fault of the French keeper, Rodrigo Bentancur slicing through the Fiore back four and burying a crisp effort into the far corner but the visitor's second was a cruel blow after Lafont had kept his side in it with a sprawling stop from a Cristiano Ronaldo free kick. Having parried a shot, the Fiore number one watched helplessly from the deck as the ball spiralled up, evaded two defenders and the head of the Portuguese and then bounced in at the far post with backspin worthy of a Wimbledon final.
Juve's victory was practically assured from there – no side since Chievo have managed to score twice against Allegri's side in the league and that was on the opening weekend – but a handball in the area by Edmilson applied the final nail. Ronaldo, who needs little invitation to step up, duly dispatched an unstoppable shot into the top corner to complete a routine victory and send Juve even further clear at the top of the table, from where it seems increasingly unlikely they will be dislodged between now and May.
Fiorentina vs Juventus live online: as it happened
90'+2' And that's it! A fairly comfortable win for Juve, who remain unbeaten in Serie A after a staggering 14 games and have only dropped two points the entire season to date. 
90' Two minutes added as Veretout goes in the book for hitching an unsolicited piggy back on Matuidi. 
89'   Kean has been full of running since coming on and calls for a long ball as he looks to break but Juve are playing the percentages now. Szczesny probably quite fancies another clean sheet. 
88'   Fiore still probing but Juve have got this in the bag now. 
87' Mandzukic off now for young Moise Kean. 
86'   Juve will open up an 11-point gap over Napoli, who are away at Atalanta on Monday, with this win. 
84'   Fiore are still after a consolation but the puff has left the home side a little now given the slim likelihood of scoring four in five minutes. Szczesny makes another regulation save from Milenkovic as the clock ticks down. 
83' Cuadrado off for Douglas Costa now, the Brazilian being handed the chance to turn on the afterburners against a tiring defence. 
82' According to Whoscored, Fiore have been dispossessed q5 times this afternooon. Added to about 100 missed passes and the score line doesn't look too unfair. 
82'   Fiore haven't given the ghost and try to build an attack around the Juve area but once again, a loose pass brings it all to a halt. 
80' And that's the final contribution Ronaldo will make as he is hooked by Allegri for the first time this season in Serie A. 
79' And that pulls the Portuguese level with Piatek at the top of the scoring charts this season. And he also gets a yellow for celebrating by hoofing the ball in celebration. 
78' Goooooooooooool! You don't save those! Ronaldo hammers it into the top corner giving Lafont no chance. 
77'   Mandzukic clips in a ball and Edmilson handles! 
77'   Penalty to Juve! 
76'   It was a decent hit, but whacked a defender en route to the goal and it's yet another corner for Juve. 
75'   Ronaldo is down in agony after being tripped by Gerson while in full flow. Free kick to Juve, at about the perfect range for the Portuguese... 
74'   Cuadrado and Biraghi have been having a running battle all afternoon and have a few words after another tussle. 15 minutes for Fiore to salvage something from this. 
73'   Juve happy to stroke it about without real intent now as they look fondly at their two goal cushion. 
71'   It's a long way back for Fiore from that. Gerson whips in a cross but it's got too much on it for Simeone to reach.  
69'   Pioli despairs on the touchline. That was a horrible way to concede. Fiore have been riding their luck at the back though and conceding far too many corners. And Lafont can sleep tonight safe in the knowledge that his defence sholjd have a head, foot or any other part of the anatomy to that. 
68'   Well, it will probably be awarded to Chiellini anyway... Lafont makes a save and the ball spirals into the air. Nobody, Ronaldo included, can get a touch and it bounces up and into the far corner! 
68' Goooooooooool! Chiellini, of all people! 
67'   Yet another corner to Juve as Lafont and his defence get into a bit of a pickle. Fiore strong under the delivery though. 
66'   Szczesny! Decent save from the Pole as a shot is hammered through a sea of legs. He can't have seen that one until late, but it was right at him, fortunately for Juve. 
65' Benassi off for Fiore, Pjaca on to have a pop at his parent club, the Croatian being on loan in Florence from Juve. 
64'   Ronaldo! It's a decent hit from the Portuguese and Lafont does well to push it round the post for another corner. 
64'   Free kick to Juve in a dangerous area as Milenkovic clatters Cancelo on the edge of the area. 
62'   It's one of those to you, to you and then back to the defence though, the visitors obviously having realised that Fiore are pretty solid under the aerial stuff. 
61'   A nice move from Fiore, with Simeone and Edmilson involved, ends with Chiesa curling an effort goalwards but Szczesny saves. Juve then break and Dybala has an opening but it clips a defender and Juve have yet another corner. 
60'   The game has really opened up now and it's end to end stuff. Chiesa pops a cross in but it was more hopeful than anything and duly bobs out on the far side unmolested by a boot. 
58'   Chiellini channels his inner Tony Adams and goes on a thunderous run through the middle but he can't squeeze off a shot to end the move. Fiore come at the Juve defence and Simeone does well to get free on the right but his cross is cut out by Szczesny with Biraghi closing in. 
56'   Ronaldo clears but only as far as Biraghi, who whips a vicious cross into the area but there's nobody there to meet it and Juve play it out, rather coolly it has to be said, under pressure from Simeone. 
56'   Chiesa, who looks like the Fiore player most likely to make something happen, wins a corner for the home side... 
55'   Chiesa! The Italian wriggles free in the area and draws a smart save from Szczesny. Bonucci is there to give it an industrial hand out of the box with a Sunday league punt to safety.  
54'   Cuadrado! The winger has a go from distance but it's straight down Lafont's throat and the Fiore keeper has a straightforward stop to make. 
52'   Another woeful ball from Fiore as Chiesa clips a pass straight out for a throw. There's been far too much imprecision from the home side this afternoon. 
51'   Chiesa makes a wonderful last-ditch challenge to halt Cuadrado in his tracks with Ronaldo streaking forward in support. A most timely intervention there. 
50' Vitor Hugo also finds his way onto the naughty step with a trip on Cuadrado, who has been on the floor as much as he has been upright in the second half.   
49' Bentancur goes into the book for a trop on Gerson in midfield as the Brazilian was looking to break. It's a long way out and played out wide before being cleared by Juve. 
48'   Fiore win a corner and appear to have out after the break with a plan to harass Cancelo, who has been forced into two errors since the restart. 
47'   Benassi! The midfielder gets a sight of the onion bag but pulls his shot wide of Szczesny's far post. It was a decent chance, that. Veretout also has a bite but the Frenchman's effort is well over. 
46'   Juve get us underway, no changes on either side as yet.... 
The teams are back out on the turf and the second half is about to begin... 
Fiore's pass success rate of 66 percent is something Pioli will look to address in the second half. Simeone is feeding on scraps and there were far too many loose balls from the home side , Edmilson a particular culprit in that respect. 
Both sides managed two shots on target in the first half but Juve had the better of the final 20 minutes. 
45'+1' And there's the whistle! Juve take a 1-0 lead into the break. 
45'+1'   Juve still pressing but Fiore get their foot on the ball and aim to keep it there until the whistle goes. Juve have been all over the home side in the last 10 minutes. 
45'   One minute added... 
43'   Whump! Straight into the wall. Out for a corner. 
42'   Ronaldo eyeing it up but it's a bit close for the Portuguese... 
42' Free kick to Juve as Milenkovic brings down Dybala after a lovely one-two with Ronaldo. Right on the edge of the area... 
41'   Fiore mounting a desperate rearguard action as the half draws to a close, Juve have the smell of 2-0 in their nostrils and fancy achieving that before the break. 
39'   Dybala! The striker gets a sight of goal and cracks a left footer that Lafont does well to save. Cuadrado pounces on the rebound but smacks his shot so far into orbit NASA were probably a bit concerned what it might hit. It certainly didn't bother Lafont. 
38'   Long from Fiore, Simeone has no chance of getting to it, Biraghi clatters into Cuadrado and then protests his innocence as the winger hits the floor. 
37'   A terrible ball from Edmilson hands Juve a chance to break and Cancelo unleashes one from distance that flashes wide of Lafont's far post. 
36'   Fiore build an attack and Chiesa chances his arm but it's not a shot that is going to bother Szczesny from there. 
34'   Simeone! The ball falls very kindly for son of Diego but he makes an awful hash of trying to get hit foot around it and Szczesny gathers. 
33'   This time the delivery is excellent, straight into the area and with plenty of fizz but Fiore clear. 
32'   Victor Hugo plays an awful back pass towards his keeper but it's so heavy it's out for a corner... 
31'   Fiore look for an immediate response and pile forward but Edmilson and then Simeone can't get a shot off as Juve legs and arms flail around. Gerson then commits a foul and the opportunity passes. 
29'   The Uruguayan plays a glorious one-two with Dybala and bears down on goal, sending a left footer across Lafont and into the far corner. 1-0 to Juve! 
29' Goooooooool! Bentancur! 
28'   Ronaldo goes to ground and turns to the ref expectantly, but doesn't get his free kick. 
27'   Fiore are having plenty of problems playing it out at the moment. They appear to be in a 4-2-3-1 and Simeone is hardly the kind of bustling forward who's going to be able to hold the ball up against Bonucci and Chiellini. 
25'   So Juve have to settle for a corner, which is cleared by the home side. 
24'   The ref is over having a wee look at his screen... Not given! In fairness, Biraghi was going to ground and didn't have much say in where the ball hit him. 
23'   Oooh, controversy. Looks as though Biraghi cut out Di Sciglio's cross with his arm there and Juve appeal for a penalty. VAR being consulted.... 
22'   Allegri is hollering on the touchline and it's not surprising. Juve have been a bit disjointed so far. Another corner comes to naught and if this was a boxing match Fiore would be edging it on points at the moment. 
21'   And there's one right there! Edmilson chases down a lost cause, forces Chiellini into a mistake and the rebound almost catches Szczesny off guard. The Pole does well to react though and keeps it out. 
20'   20 minutes in and neither keeper has really had a save to make so far. 
18'   Cuadrado plays a lovely backheel to Ronaldo, but the Portuguese's touch deserts him, not for the first time this afternoon, and Fiore recover. 
17'   And it's Fiore who have a free kick now. Dangerous area, just on the edge of the box. But it's straight into the wall as well from Biraghi... 
16'   But it's Dybala who takes, straight into the wall. Ronaldo then incurs the whistle as he goes in hard on Cholito Simeone and Fiore get a free kcik to ease the pressure building up on their goal. 
15'   Free kick to Juve, Ronaldo over it... 
14'   Ronaldo! A glorious ball from Cancelo over the top gives the Portuguese a sniff of goal but he can't quite dig it out from under his feet. 
13'   It's a decent delivery and Milenkovic is up to meet it but guides his header just wide of the far upright. The home side looking the more likely to open the scoring at the moment. 
12'   No clear chances yet from either side, Benassi's early strike the closest anyone has come yet. The home side win a corner though... 
11'   Fiore looking to build some possession now with Juve shadowing the back four. A poor control from Chiesa sees Juve win a throw. 
9'   Cuadrado and Simeone get into a tussle an Cholito is poenalised for handball. Free kick to Juve. It's a decent delivery and could have spelt trouble for Lafont but his defence stand firm and get it clear. 
7'   Chiellini down and clutching his ankle now as he and Simeone go for the same ball and both clatter into Szczesny. 
6'   Dybala sends in a cross but it's not a good one and Lafont claims it easily. Ronaldo goes down and smiles ruefully as a Fiore throw is awarded. 
4'   Juve corner as Cancelo goes ona gallop down the right, it lands dangerously in the area but Bentancur is there to hoof it to safety. 
3'   Juve free kick now as Milenkovic brings down Ronaldo... but it comes to naught and Fiore bring it out again. 
2'   Benassi! Fiore's top scorer unleashes a real piledriver from distance and it flashes just wide of Juve's sticks. An early warning as to what the midfielder is capable of. 
2' The home side win an early free kick as Mandzukic clumsily bundles Chiesa over... 
1' Here we go! Fiore get the ball rolling! 
The teams are out and we're about to get underway... the Serie A ditty lights up the stadium woofers. 
Cristiano Ronaldo will be looking to sneak ahead of Krzysztof Piatek in the Capocannoniere stakes today. The Pole has 10 this season, Ronaldo currently stands on nine. 
No heavy stomachs tonight, or over the next month, as the Juve boss discusses his side's busy Christmas schedule and food intake.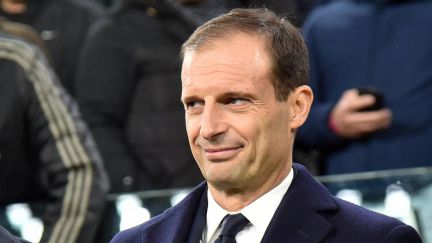 The "Viola" will take to the field this evening in a special shirt commemorating the year to mark what would have been the 100th birthday of inspirational South African political figure Nelson Mandela.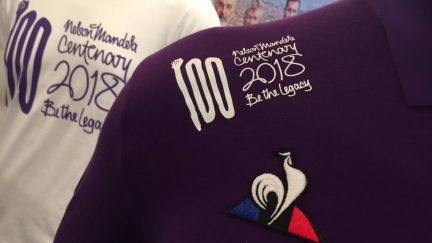 We say it every week, but that's a quite a bench Allegri has at his disposal: Pinsoglio, Perin, Benatia, Pjanic, Douglas Costa, Barzagli, Kean, Rugani, Bernardeschi, Spinazzola. 
It could have been so different. Milan coach Gattuso confirms Cristiano Ronaldo was on the brink of signing for the Rossoneri in the summer.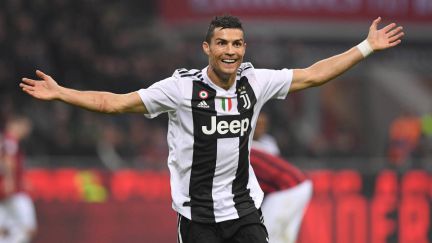 Fiore captain Germán Pezzella has been passed fit to play today in a boost to Stefano Pioli. 
Fiorentina have not had the best of this fixture over the years but there is little love lost between the opposing fans so Juve can expect a raacous welcome when they take to the pitch in Florence. 
Juve will be aiming to make it 14 Serie A games without defeat today after a blistering start to the season in which they have won 12 and been held to a draw just once. 
Hello and welcome to AS English's live coverage of the Serie A fixture bewteen Fiorentina and Juventus from the Stadio Artemio Franchi. Kick-off is at 18:00 CET.