COPA LIBERTADORES
River Plate, Boca ready for travel as Madrid plans revealed
Boca Juniors will arrive on Wednesday and train in Las Rozas while River Plate will arrive the same day but head for Valdebebas where they will set up camp.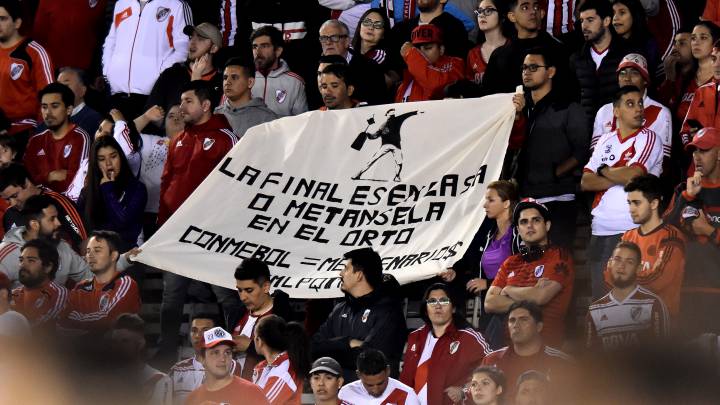 Follow River Plate v Boca Juniors live online

The president of CONMBEOL, Alejandro Domínguez, says "the final of the Libertadores will be played at the Santiago Bernabéu, it's irreversible." After some intense mettings, many arguments and complaints in Argentina, River Plate and Boca have no other options than to pack their bags and travel to Madrid for the game. The countdown begins after the failed attempt to play the second leg at the Momuntal in Buenos Aires two weeks ago.
Boca Juniors plan to make Tuesday morning's training session their last in Buenos Aires before meeting at Casa Amarilla at 18:00 local time where they will travel to the airport. From Wednesday until the game, Boca will train and stay in Las Rozas sports center, the Spanish football federation's home.
"I have a opinion but we can not take the focus off the group, CONMEBOL decided that it will be played in Spain," says Guillermo Barros Schelotto, the Boca manager in his first appearance since the events outside the Monumental almost two weeks ago. "Boca and River will not have a normal Copa Libertadores atmosphere."
"To play the Libertadores 10,000 kilometres away... some day we will remember this as an complete embarrassment. They robbed River fans. They robbed them of a unique opportunity. This group will prepare in the best possible way to give them some happiness," said River Plate coach, Marcelo Gallardo after the Gimnasia game.
River have announced their plans to travel to Madrid on Wednesday at 2pm according to AFP and they will use Valdebebas, Real Madrid's training facility, as their base.



Copa Libertadores
*Update 4 de diciembre de 2018



Copa Libertadores
*Update 4 de diciembre de 2018