"Messi 5th in the Ballon d'Or? It's crazy, he's the best!" - Valverde
Barcelona's coach hopes his team will give Josep Lluís Núñez the perfect tribute by beating Cultural Leonesa tomorrow and says Luis Suárez should be back for the derby.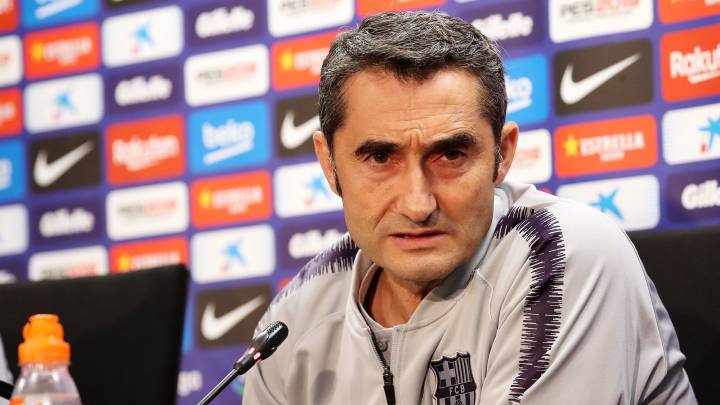 Ernesto Valverde faced the media this afternoon to preview tomorrow's Copa del Rey return leg against Cultural Leonesa. The Barça coach started his press conference with a few word for former club presdient Josep Lluís Núñez, who passed away yesterday. "He's one of the most important presidents in Barça's history - the one who was in the post for the longest period of time, he was there when I arrived as a player. And for everything he gave to this club, I think he's the most important; on a personal level I experienced his influence at first hand. This year he sent me a card to congratulate me for the trophies the team won; he wrote that when he signed me as a player, he had no idea that he was signing a future coach. It was a very touching card to receive and it sums up the man he was. We're all grateful for everything he did for this club and I hope we can toast a victory tomorrow to dedicate to him".
What kind of game are you expecting? Cultural's coach says that, with the results they've been getting lately, they'll be in no mood for partying...
It's all relative but obviously, this is very significant game for them. I know that they haven't been getting the results they've wanted in the league. We struggled in the first leg at their ground and it's always good to highlight how difficult these games are because in Cup ties, there's every chance of losing. We know tomorrow's game is a special one for both of us. They made us suffer in the first leg, they played a very intense game and so we'll need to be ready to respond to that.
Changes expected
What's the hardest part of tomorrow's tie, preparing for the game or selecting your XI?
There are a lot of things to consider. We think we have a few players who could make their return from injury… I'm not going to elaborate on my plans - we'll have to wait and see. We'll see what happens with Cillessen and Samper - and Vermaelen.
Aleñá has now been listed in the first team squad...
He earned that step a while ago. We thoght he was going to be with us this season but after his injury and the operation he had at the end of last season, we decided to give him time to recover. The idea was to register him in January but because of what happened to Rafinha, we brought it forward. We hope he continues to earn a place in the side and finding his own place.
How would you describe Lenglet?
He's a completely trustworthy player in every sense of the word - very professional. Some times players take time in adapting but he settled in to the dynamic of the team very quickly. He's turned out to be a key player for us because he's been forced to cover for two or three other players who've been out injured - playing time that would have been shared between Umtiti and Vermaelen but has fallen on him. It's a real luxury to have him here with us.
Madness for Messi to be ranked fifth
Do you think it's normal that Messi ends fifth in the Ballon d'Or?
I'm not going to enter into whether there are inconsistencies in these kinds of awards or not. That's something for them to explain. For us, it's absurd but we congratulate Modric.
How do you see Athletic's current situation?
It's something I'm obviously very close to, I'm following them with interest. The results haven't been good but I think there are a lot of positive things about how they're playing. Athletic have been in this situation many times before and I've been through it with them myself. When the results don't come, it's when you really need to stick together and that's what they'll do this time.
How's Luis Suárez?
We're optimistic. We hope he'll be back for Saturday's game.