Barcelona 4 - 1 Cultural Leonesa (agg. 5-1): Copa del Rey 2018/19
After a postive start from the visitors, goals from Munir, Malcom, and a brace from Denis Suárez made relatively light work of reaching the last 16.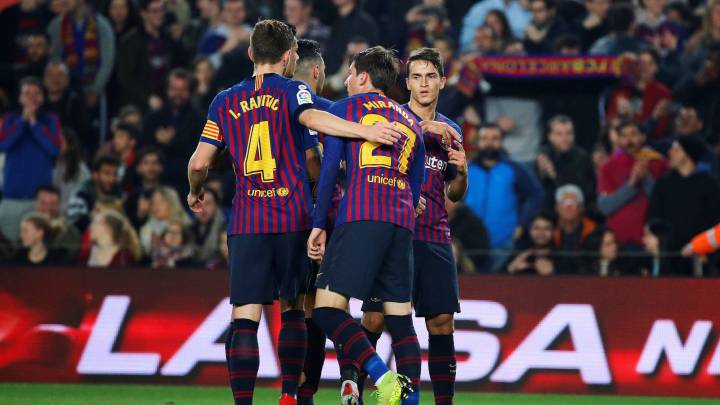 Barcelona vs Cultural Leonesa live: how it happened
Thank you for joining me for tonight's game. We'll be back again very soon for more live action...
Barcelona 4-1 Cultural (agg. 5-1) | In the end a very comfortable night for the current holders who are through to the last 16.
90'+2' Peeeeeeeep! That's it all over with just the two extra minutes played.
90'+1'   Another free-kick chance for the visitors. Swung in to the crowd and the ball drops out to Martinez who skies it.
90'   There should be quite a bit of stoppage time if the ref decides to play it all (it's really not necessary) but in the meantime Cultural have a free-kick. Wasted into the wall.
Actually, I'm feeling for the Brazilian right now. He can't continue and is in tears as he leaves the field. What a shame for the 21-year old trying to prove himself at his new club. Here's hoping it's not too serious.
86'   After some treatment, Malcom is back on the pitch but is walking around gingerly. Like a man not sure if he should stay where he is or go off somewhere else. That's at least a situation he's familiar with, eh Roma!
84'   Not much action to report on but Malcom has just fallen awkwardly, and looks in pain. Possibly his knee twisted, although let's go with the medical team's assessment rather than mine.
82'   Carles Aleña (the young man who scored late on against Villarreal at the weekend) has impressed again today. Hungry for the ball, confident on it, and bags of quality with it. It will be fun to watch his development.
80'   With ten minutes to go in this game the result is not in question (it hasn't been since mid-way through the first half, to be honest!). Instead this is a chance for players to do something special, impress their managers, and maybe make a headline.
78' Change for Cultural: goalscorer Señé off for Antonio Martinez.
74'   Miranda now dances his way into the area but his cross is cleared just when it looked like another goal was about to be clocked up..
72'   Suárez again takes a hit but it's blocked well.
  Barça 4-1 Cultural (agg. 5-1) | That build-up play continued until it reached the feet of the young Riqui Puig who played a delightful pass into his teammate's path. Suárez then dragged a right foot shot across to the opposite side of the goal. Lovely.
70' Gooooaaaaaaaalll! Denis Suárez gets his second
70'   A nice few minutes of build-up play from the home side. The Cultural period seems to have passed.
67'   Chance! Munir is set free and bearing down on Palatsi but the keeper does well to smother the chance. He then chases after the ball to prevent any follow up trouble.
65'   Another corner earned by the visitors (which all started from some very composed defending in their own area, it should be said) and Alonso rises highest to win the header. Once again, the Cultural player is on it, once again they can't get under the ball.
63'   More pressure for a reinvigorated Cultural team. Only a well-timed sliding block from  Thomas Vermaelen prevents further danger.
60'   Corner for Cultural. A second soon would at least raise some eyebrows. It's delivered right into the mixer but the header, under pressure, is well over the bar.
59' Capilla on for Mancebo is the first change for the León lads. Also, just after the goal on came Riqui Puig for Oriel Busquets.
  Barça 3-1 Cultural (agg. 4-1) | Well that wasn't expected but fair play to the Segunda B side. A lovely shot from outside the area by the impressive Ortiz had Cillessen diving at full stretch. His save was turned back across goal and the captain was there to turn home. Three more, ahem!
54' Goooooaaaaallll! Señé taps home for Cultural
53'   Before the substitution can be made, the visitors have a free-kick in the middle of the opposition half. It's drifted into the crowded penalty area but headed to safety by Vermaelen. Good play then from Ortiz earns them a corner.
51'   Valverde has clearly told his side not to relax, there the press went right up to the Cultural penalty area, with a foul being given away. Another change afoot for Barça.
50'   Denis Suárez is hugging the left touchline and rolling his foot over the ball with the swagger of his namesake. Miranda too looking to overlap down this side.
48'   Yip, the hosts are wanting to take full advantage of playing in front of a big crowd and have enough of an intensity in the first few minutes to suggest they want to score as many as possible.
46'   Immediately Barça make a break down the left but the space is quickly closed down.
We're back underway.
There is one change before we get going: Rakitic off, Sergio Busquets on. (Two Busquets in the Barca midfield)
The teams are slowly making their way out of the Camp Nou tunnel. Let's see if there are any changes at the break.
One player many will be hoping to see come off the bench will be 19-year old Ricard Puig. Movement and build of club legend Andres Iniesta, much is expected of the young lad.
Goals from Munir, Denis Suárez and Malcom, all very well taken, have removed any potential nerves from the Camp Nou and it will be interesting to see how both managers, and players, approach the second 45, with important league games awaiting them at the weekend.
After a positive start from the less illustrious visitors, this game quickly drifted in the direction of the home team. Possibly the makeshift line-up from Valverde needed a few minutes to find their feet but when they did they made sure of the outcome of this game...even before the oranges were cut.
45' Half-time whistle blows
Barça 3-0 Cultural (agg. 4-0) | A little dinked cross and the Brazilian is all alone in front of goal to powerfully nod home. Game was over. It's now being wrapped up for burial
43' Goooooaaaaaaalllll! Malcom gets a third.
42'   Ortiz back on after a good rub.
40'   Ouchie! Ortiz down getting some magic sponge action after knee-knock-knack (as it's known in the medical profession!)
37'   Semedo does well there to fight back and win the ball in the middle of the park but nothing comes of the play thereafter.
35' First card of the game. A lazi leg from Miranda sees him go into the book. No complaints from the Barça man.
32'   A little time permitted for the back line of  Alonso, Viti, Albizua, Bernal to knock the ball about but then the press arrives and they're forced to go long. Talking of long, it's going to be one of those nights.
29'   More and more pressure on the visitors' goal, as this reserve side look to be enjoying themselves. Cultural need three goals at the Camp Nou without reply to go through to the next round and you'd get some tasty odds on that happening. No, put your cash back in your pocket!
Barça 2-0 Cultural (agg. 3-0) | What a finish from Suárez, a curling effort from outside the area and the diving Palatsi can't reach it as it nestles in the far side netting.
26' Goooaaaaaallll!!!! Denis Suárez doubles the lead
23'   Certainly that goal appears to have taken the considerable wind out of the Cultural sails. Disappointing for any neutrals looking for a tasty game. The Barça second string starting to turn the screw.
21'   POST! Munir almost doubled his and Barça's lead on the night. Latching onto a lob into his path he then slid the ball past Palatsi but it clangs back off the upright. That could have been that.
Barça 1-0 Cultural (agg. 2-0) | Aleñá's neat connecting play led to the ball reaching the feet of Munir near the penalty spot, back to goal. Control, turn and a lovely strike into the far post gave the keeper no chance.
18' Gooooaaaaaaallll!!! Munir opens the scoring.
17'   Aleñá is pulling the strings for the hosts when they start to build, always coming to collect the ball off his teammates.
15'   More controlled possession for the team in white. They work it back to Palatsi in goal who then launches an inch-perfect pass to Ortiz on the left wing. His first touch kills it and he looks to build but a foul from Busquets stops play.
12'   Just as I was about to say that the visitors look very relaxed out there, a simple pass out of the back is fluffed, letting in the Barça attacking trio. The action is too slow and too easy to read, though, and the eventually cross from Malcom is over everyone.
10'   There's a bit of a lull in play before Malcom is given a chance to have a run at left-back Víctor Díaz. The Cultural lad is having none of that and knocks him to the ground fairly.
7'   Save! Cilessen called into action. Great collect and strike from Mancebo insice the area but it's straight at the reserve keeper who blocks. The guests are not going to be invited back if they continue to dominate the conversation.
5'   The hosts get themselves in order and start to build up a little pressure leading to a a headed chance for Munir. Easily gathered by Palatsi.
3'   Chance! The free-kick was dealt with but from the resultant corner Cultural had a great chance to open the scoring within the crowded six-yard box. Eventually Barça get it clear but immediately the white shirts are snapping at the heels. 
2'   Barça start off with a little possession but are given no time to settle and it's the visitors with the first dangerous chance: a free kick to launch into the area...
We're off!
Before kick-off we'll have a minute's silence (supported with some moving music) after former Barça president Nuñez passed away at the weekend
The teams are out on the field warming up and getting their picture taken. Almost time 
This gives a chance for the fringe players to impress. Aleñá will hope to add to his goal at the weekend, while there is also a start for Oriol Busquets, who admired Deco as he was developing his own game. The exciting talent of Riqui Puig is likely to be seen later in the game.
As expected, there are a number of household names missing tonight for Barça. The likes of Messi, Piqué and Jordi Alba were given the night off completely, while Coutinho, Lenglet and Sergio Busquets may be hoping to just watch on from the sidelines. 
So, what's the manager of Cultural, Víctor Cea, been saying ahead of this game?
"It's not about enjoying it. It's about turning the situation around. We are all responsible and we aren't happy with what has been happening these last few weeks.
"Against Barça, we have to make the most out of the short period of time we will have the ball. We can't let this opportunity slip by, although next Sunday's league game is what matters most."
Despite this poor run, they have got themselves to this point in the Copa, knocking out Navalcarnero, Fuenlabrada and Lorca en route. A shock result in the Camp Nou tonight and they'll be in the last 16...as well as a lot of newspaper headlines.
Cultural now lie in the 3rd tier, and coming into this game they sit sixth in the league - and importantly haven't won in their last six games. What a night to change that!
Founded in 1923, the spirited minnows (aaargh!!) have mixed it with the big boys for a whole season before. In the mid-1950s they spent their one and only campaign in the top flight of Spanish football.
So, what do you know about the visiting team that I'll try to avoid calling 'plucky' or 'little' over the next couple of hours? Well, let's have a look... 
As you may have heard, former Barça president Josep Lluis Núñez passed away recently and at training today the players observed a minute's silence.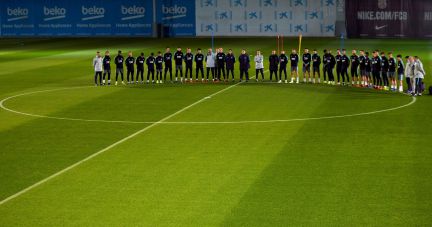 With just that late Lenglet header the difference in the first leg, Valverde will be keen to put this tie to bed as quickly as possible. That's sometimes easier said than done.
The Camp Nou crowd will be looking forward to seeing a few newer faces on the pitch tonight, although as we said in the preview, some more familiar ones may be required too.
Good evening and welcome to the second leg of this Copa del Rey clash between Barcelona and Cultural Leonesa.
Barcelona vs Cultural Leonesa live: preview
In what should have been a complete reshuffle for an almost dead-rubber of a game at the Camp Nou, Ernesto Valverde will no doubt have had a lot more thinking to do ahead of the Copa del Rey second-leg. Still massive favourites, of course, and still an opportunity to use the fringe players, but a single-goal lead does not allow complacency, even against a much weaker opponent.
Barça's interesting choices
Between the completely injured (Umtiti, Rafinha, Arthur, Suárez, Samper), the ones with a knock (Cillessen, Vermaelen), and those regulars just crying out for a break (Piqué, Alba, Busquets and Messi), Valverde will do well to squeeze out an XI without involving some of his first team stars. Rakitic, Vidal, Coutinho and Dembélé could be seen on the pitch at some point.
Puig in the spotlight
Clement Lenglet's goal in the 90th minute is the only thing that separates these too sides (oh, apart from the hundreds of millions of euros backing each side!), but home advantage means that few expect an upset. Riqui Puig, a bit of a sensation from the pre-season match against Milan in San Jose, could well make his official debut for Barça, at just 19 years old. His physical build and style of play has the name of a certain legend in these parts, Iniesta, being used in comparison. It's early days for him...but a great chance for him to impress the home fans who have such hope.
So, the focus from most is on the kids on display...but an opening goal from the lowly visitors will change all that.