COPA LIBERTADORES FINAL | RIVER-BOCA
Tevez: "Spain has shown how to get tough with the hooligans"
Gago, Tevez, Benedetto and Barrios attended the press at the Ciudad del Fútbol in Las Rozas, Madrid - two days before the Copa Libertadores final.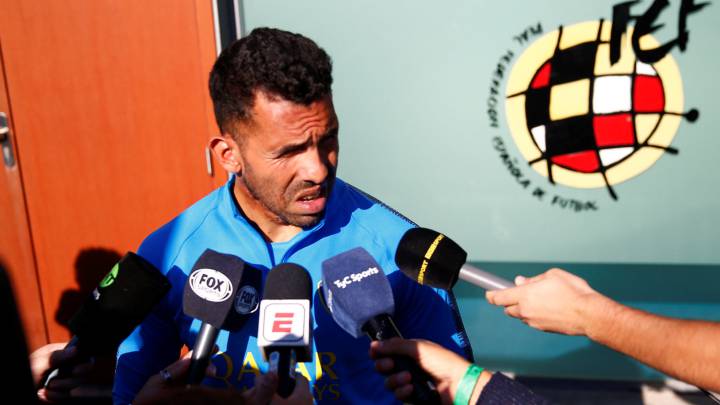 Boca Juniors players Fernando Gago, Carlos Tevez, Darío Benedetto and Wilmar Barrios attended the press after the squad's first training session in Madrid at the Ciudad del Fútbol in Las Rozas. The four Boca stars spoke about all of the issues surrounding Sunday's Copa Libertadores final at the Bernabéu.

Carlos Tevez
Holding the final in Madrid: "It's difficult to focus on the game. We have only just arrived in Madrid after a long journey. And I thought I was the one who knew nothing about history... Maybe they should change it to the Conquistadors of America Cup. It's all a bit strange. We'll be going into the game after 40 days of punishment - that's why it's important to have something we can focus on so that we can do what we've come here to do.
"For both teams, it's difficult for us to be here. The seniors players have to make everyone understand that we're contesting a Copa Libertadores final and not a summer friendly. We have to make the others grasp that idea".
Violence: "We're all tired of all that. They have to leave all of that to one side. It's over. The important thing is what happens out on the pitch. It's also important the example that Spain is setting with the hooligans - getting tough with them. That's something we need too".
Families come along for the trip: "Being with the family is always important - lets be honest. We've come to play a final which our people want us to win and we want them here with us. Although we have our families with us, we're focused on what we have to do".
Darío Benedetto
Huge final: "It's a privilege to play at the Bernabéu, any player would love to be able to play on that pitch. Let's hope it's carnival, a great show, and that people back home in Argentina can see what we are going through".
Boca fans: "We'd like to thank all of our fans for the great send-off they gave us and also for the welcome we received here in Madrid. Di Zeo? That's not a matter for the players, he's a supporter. If he can come, it's good new because he's one of the leaders of Boca's supporters".
Wilmar Barrios
"We're going to enjoy this to the full because it's a new experience for Boca and it important for us, the players. The fans waving us off was a great motivation for us and we hope we can pay them back in the final".
"Some of the best players in the world play at the Bernabéu. We're relaxed, a few things went on in Buenos Aires but it's only important that we go into the game well".
Gago
"We need everyone to make this a big party so that's how this game will be remembered".
"The barras? We're not here to talk about them".