D'Onofrio: "I always support Real Madrid; Bernabéu came to my house"
The River Plate president spoke to La SER about Madrid's interest in Exequiel Palacios: "Butragueño spoke to Francescoli. We'll talk again after the final".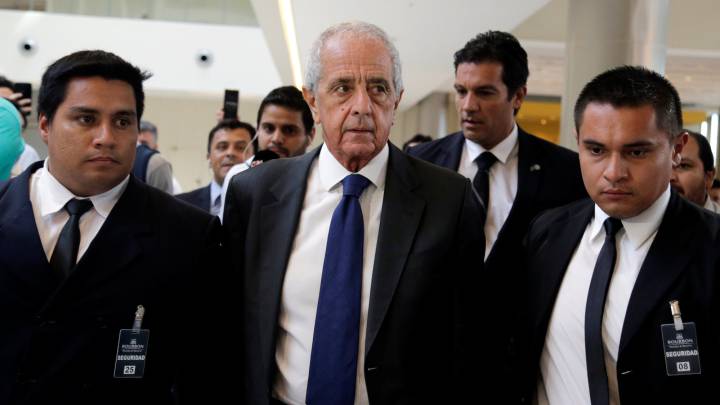 River Plate president Rodolfo D'Onofrio was the special guest on El Larguero in which he discussed Sunday's Copa Libertadores final which will be played on neutral ground, at the Santiago Bernabéu.
A disaster to be holding the game in Madrid: "Yes, it's disgraceful because this is an historic match. It's a crazy idea but there are reasons we are here - 800 metres from River's stadium, things were not done well and an act of vandalism was committed next to the team bus".
River Plate and Madrid to discuss transfer target
Palacios: "Butragueño spoke to Francescoli and we're due to talk again after the final. It's great to see such a great set of supporters and such a beautiful stadium".
Relationship with Real Madrid: "We're based at Real Madrid's training complex. I have good friends at Atlético like, Gil-Marin and Simeone. Real Madrid is the White House - we see ourselves in the same way. Whenever I visit the club museum I see the River Plate shirt and I have a good relationship with Florentino. It's sad that we can't play the game in our stadium but we're happy to be at the White House because we'll feel quite at home. Whichever team plays against Madrid, I always support Madrid. That's not to take anything away from the affection we have for Simeone, who made us champions. I've enjoyed a personal relationship with Madrid since the Di Stefano era. Santiago Bernabéu came to my house when my father was an auditor for the Argentinean Football Association. I have a great admiration for Madrid and whenever I am here, although it's not my home, it feels close to being home for the historical relationship I have with Real Madrid".
Boca want River to be disqualified: "The head of security in Buenos Aires knew that security had been undermined at that moment. It's a disadvantage for River to have to play the return leg away from home. How can we not feel persecuted when there are people who've had to pay thousands of dollars to come here".
Bad advert for Argentine game
Playing the final in another city: "It's shameful for Argentinean football. It's unheard of".
River's Barra brava radical fans: "I don't want to see them at River or anywhere else. To kick them out, you need to have proof that they have done something inside the stadium. They are developing a special camera to end the problem. We aren't the police and we can't confront them. Those involved in security have to get rid of that minority group".
Violence in football
Barra bravas in Madrid: "I don't know if they are coming to Madrid. I just hope that with the proper precautionary measures, nothing happens close to the stadium".
Measures to be taken against football violence in Argentina: "We need the national authorities to ensure that they don't let perpetrators walk free 24 hours after being arrested. I don't believe that they have bribed the police and judges. We need to impose a severe law. I hope this doesn't turn out to be another 11-S moment which might be the end of Argentine football. We want River to play this game and whether we win or lose, we want it to be a big party".



Copa Libertadores
*Update 7 de diciembre de 2018



Copa Libertadores
*Update 7 de diciembre de 2018