Barça hit Dembélé with huge fine in excess of 100,000 euros
The club have already informed the player who has accepted an economic punishment. He bore the brunt of a lot of jokes from his team mates in Monday's session.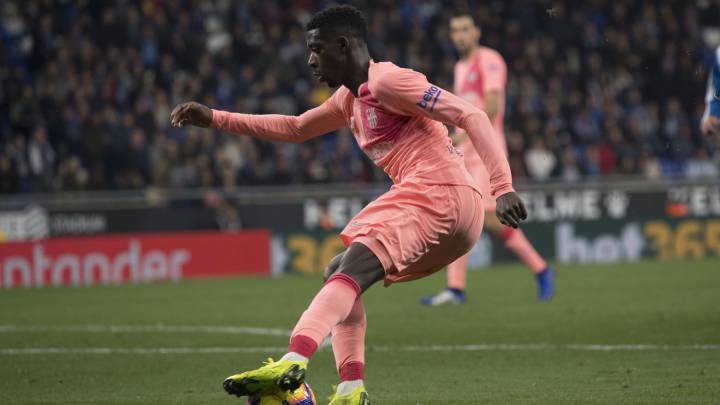 Ousmane Dembélé will need to dig deep into his pockets as punishment for his absent-mindedness on Sunday. He arrived two hours late for the morning training session, which had been scheduled for 11:00 hours - just a few hours after his scintillating display and wonderful goal against Espanyol in Cornellà-El Prat. Diario AS understands that the fine imposed by Barcelona will exceed 100,000 euros, "and could even be double or triple that figure", although the actual figure and details of the fine will be kept private.
Dembélé hitting top form
It wasn't the first time that Dembélé has kept his team mates waiting. Ernesto Valverde has included him in his squad list for tonight's game against Tottenham - even though on Sunday, when the player failed to show at the Ciutat Esportiva, the coach was furious. The club realizes that in terms of performance, Dembélé is in an excellent moment of form and that keeping him apart from the group or benching him as punishment would be detrimental to the team.
Training ground banter
Dembélé's team mates at least have seen the funny side. The player arrived an hour early for yesterday's session and spent the workout bearing the brunt of an endless stream of good-natured jokes and comments. Gerard Piqué, Sergio Busquets and Jordi Alba couldn't resist cracking a few remarks to difuse the situation which Dembéle took with good humour.
Barcelona players know that Valverde is generally very flexible with the internal rules of the dressing room but they're not too happy with Dembélé being fined because it has set a precedent. From now, anyone arriving late will face punishment.