Real Madrid capitulate to CSKA in Champions League
It was a depressing night for Real Madrid in their last game in Group G of the Champions League as they were thumped 0-3 by CSKA Moscow.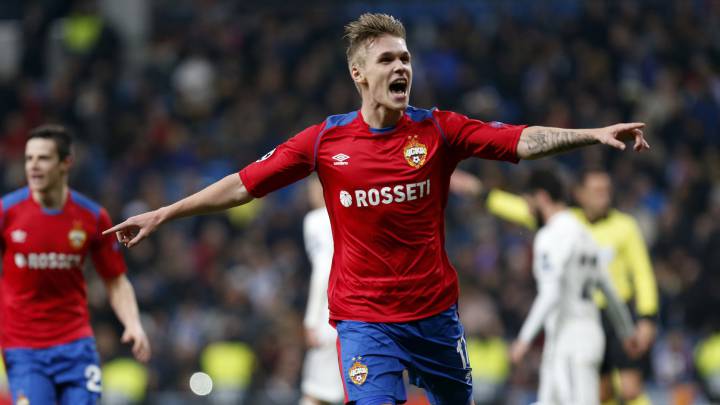 Read: Real Madrid suffer heaviest ever European home defeat
Real Madrid vs CSKA Moscow live online: as it happened
90'+3' GAME OVER! Some fairly heavy whistles for Real Madrid.
90'+3' One last change as Nishimura comes on for Sigurdsson right at the death.
90'+3' CSKA break and Fede Valverde gets really lucky. He probably could have been sent off for that challenge on Chalov.
90'+1'   Three minutes of added time at the Bernabeu. 
90'   Isco shoots from miles out. Saved by Akinfeev.
90'   The Bernabeu is neatly empty. Loads of blue seats left.
88'   Vinicius with a shot that ends up in the stand. That was just a dreadful effort. He has been their best player though. 
86'   Vinicius with a hopeful chip into the middle. Bale touches it down to Asensio and he blazed wide. Not far off though from a really tight angle.
84'   Vinicius with a strike. It hits Asensio. Bale over the top then to a limping Bale. No chance. 
83'   Vinicius with a run down the left and it's into the penalty area. Nobody there to meet it either though and Akinfeev gathers after a touch from Magnusson. They want a free for the backpass but that would have been really harsh.
82'   Cross comes in from Carvajal. Vallejo had stayed up there and he tries to get a foot on it. He can't though and Akinfeev deals with it.
81'   Corner sent in and punched clear.
81'   Carvajal with a cross and that's blocked by Fernandes for a corner. Hard to tell exactly where this goal for Real Madrid will even come from.
78'   A little more intensity not to Real Madrid's play. They're slightly more panicked too. Vinicius with a cross inside but nobody is there. Bale continues to limp his way through.
74' Marcelo off for Carvajal.
73' GOAL! GOAL! GOAL! Sigurdsson with the finish. Out of almost nothing. Chalov runs into the box and spins. He plays it to the goalscorer and he shoots.
72'   Strike from Valverde. He's way out and it takes not one, but two deflections. It lands perfectly to Akinfeev.
70'   Vinicius fouled. Looked like a dive on the ground from him. But the referee bought it.
69'   Oblyakov in the box and it's put out for a throw for CSKA. Their first attack in a while but they lose it and Real Madrid counter. 
68'   Odriozola down injured now. He took a knock in the stomach.
67'   Isco with the run into the penalty area and he gets a corner. Bale back on but he's not comfortable.
67'   Real Madrid continue with just 10 players. 
65'   Bale limps off. Let's see if he can continue.
65'   He went over on his ankle it looks like. He's not comfortable.
65'   Bale injured now. He's grabing his foot. Referee asks him if he needs assistance and he says yes, very much yes.
64'   Almost an own goal. Marcelo with a cross and Bale chases it down but Becao heads it onto the roof of his own net.
63'   Real Madrid with loads of possession but they have looked toothless in the second half here. CSKA have them right where they want them.
61'   Shot from Vlasic as he turns the defender and gets time to strike. Well wide in the end but had Courtois scrambling.
59'   Kroos across to Isco and he lays it off to Marcelo. Cross and it's too high for Vinicius. 
58'   Llorente off for Kroos.
58'   Fernandes drives forward again. Vlasic with a foul on Sanchez. 
55'   Vlasic shapes up to cross but he shoots instead. Courtois palms it away. And Real Madrid counter. Vinicius rides a couple of challenges and gets it across to Isco. He waits before shooting and it's wide. Great chance to pull one back.
54'   Extended pressure from CSKA here. Out for another corner now.
54'   Javi Sanchez heads the cross out for a throw. Kroos warming up for Real Madrid. 
53'   It does come in and Magnusson gets it. He shoots but it's blocked for another corner.
53'   Ready to be sent in but the ref isn't ready. Llorente and Fernandes pulling and dragging. 
52'   Isco wants a free and he doesn't get it. Meanwhile, play goes on and the ball is swung in. He is lucky CSKA didn't score there as he complained to the ref. Corner for Real Madrid.
52'   Asensio loses the ball to Vlasic. That's really weak from the attacker. 
51'   Bale playing centre forward and he did a straight swap with Benzema. 
51'   Vinicius in from the left. He cuts onto his right and drives it wide. 
50'   Odriozola slides in and Magnusson slides in. He gets lucky as the ball doesn't even go out for a corner either. 
49'   Isco loses it and then wins it back and plays to Llorente. He recycles. Marcelo swings in a cross and Shchennikov puts it our for the corner.
48'   It's headed out and then Bistrovic fires over.
47'   Foul by Marcelo as CSKA get a chance now to whip one into the box from the right.
46'   We are back underway for the second half! Bale is on now. Can he bring Real Madrid to life?
46' Bale comes on for Real Madrid. Benzema makes way.
45'   HALF-TIME!
45'   Last attack and that's another chance for CSKA Moscow. 
42'   2-0! Real Madrid all over the place at the back. Schennikov with the finish as Fernandes shoots and it's blocked up by Courtois. Really poor defending all around by Real Madrid. 
41'   A dangerous cross in from Asensio and Vallejo there in the mix. Headed out by the CSKA defender and it's a corner.
40'   Isco fouled now as he recieves the ball from Marcelo. It's a foul by Nababkin. 
39'   That was a brilliant team move as they tore through Madrid's center. 
37'   WHAT A GOAL! CSKA with a sweeping move forward  and Sanchez is caught ball-watching. 0-1 to Moscow now.
36'   Chalov with a perfect ball into Vlasic in the middle and he can't control it properly. Marcelo sweeps in to clean up. 
35'   Bistrovic in the penalty area and he drives a cross low and to the middle. Cleared in the end by Madrid. 
34'   Crossed in and cleared by Real Madrid. Valverde with the clearance. Better from the visitors in the last couple of minutes. Fernandes to Vlasic and he strikes. That's really now great as he hits it low and wide. Options ahead of him too or to maybe keep it and go backwards.
33'   There's a corner for CSKA Moscow. Marcelo blocks it out over the line. Vlasic to take. 
32'   Asensio through on goal! That is the chance of the game so far. Lovely link play with Benzema. He hits it straight at Akinfeev.
31'   CSKA Moscow struggling here to get possession. A walk in the park for Real Madrid so far but no goals yet. Only a matter of time really. 
30'   Benzema from the back post. He hits that just lovely. It's blocked though. Good chance for Real Madrid.
30'   Asensio with another effort now. It's almost the exact same spot and it's saved by Akinfeev for a corner. 
29'   Isco with the free. It hits the wall though. They had a man behind the wall too lying down. That's the new trend. 
26'   Isco wants it. So does Asensio. But it looks like it will be Isco.
26'   Asensio gets goalside of the defender with the through ball. He misses the chance to shoot though. Benzema back to Llorente just after that and he tries the shot. Vlasic with the block on his foot though and it's a free for Real Madrid. 
23'   Benzema chests the ball into the path of Isco. Vinicius gets it on the left and cuts inside and then back out. He eventually strikes with his left. SAVED! That was a lovely strike. It comes back out to Asensio and he bends one with his left. Curled onto the crossbar and over.
21'   Referee says no free.
21'   Benzema drops out to the left and he picks the ball up. Real Madrid continue to keep the ball and now Llorente moves forward but is shoved off the ball and to the ground by Nababkin.
19'   Isco gives the thumbs up to the bench. Looks like he is okay.
18'   Vinicius with a cross after a lovely little flick. Goes way over everyone though and wide. Some nice flashes from the Brazilian so far. 
16'   Isco hasn't recovered from that. Not sure if he can continue. We will have to watch that one. 
16'   Real Madrid very calm now as Vinicius is fouled again. Defender comes through the back of him. 
15'   High pressure from Benzema and Isco and they nearly win it back. Isco gets a sore ankle for himself in the process though as the slide comes in. They win a throw too for their efforts.
13'   Magnusson with a ball way, way across the field to Fernandes. He manages to keep it in with his head and the cross comes in. Courtois gathers and launches it out the field. Asensio with a shot and it's saved.
11'   Vinicius with a lovely pass to Asensio and he repays the favour with the return pass. Vinicius shoots and it's blocked.
8'   Asensio to Marcelo and he plays a quick ball inside to Isco. He takes it down but the touch is slightly too heavy and two CSKA defenders envelope him. Cleared. 
7'   It goes all the way back and Odriozola takes it. After some passing around, Marcelo sends one forward. CSKA recover.
7'   That's a really neat run by Vinicius. He gets a yard to cross too. Cleared by CSKA but Real Madrid continue to apply pressure. 
6'   Magnusson with a cross and Marcelo just taps it back to Courtois. He clears it and Vinicius is fouled. 
5'   Sanchez and Vallejo combine and Isco picks it up before he launches one towards Odriozola. He has been dropping deep so far to pick up the ball and spreading it around. No joy so far but quite an obvious strategy.
4'   Odriozola takes it down and plays it to Isco. He searches for Vinicius with a through ball. Cleared for a throw by CSKA.
2'   Cross comes in from the right hand side from Odriozola in search of Benzema but it's headed away. Valverde ends up hitting it but he doesn't catch it cleanly and it bounces off the ground. CSKA comfortable with that one.
1'   CSKA with the first chance. Fernandes down the right hand side. He crosses but it hits a leg in the six-yard box and goes wide. Goal kick for Courtois and Real Madrid's first touch of the ball.
1'   We are underway and Real Madrid get us started. 
    The players emerge onto the field at the Bernebeu. Really chilly one tonight in Madrid with the temperature dropping significantly in the last couple of days.
    24 years and 100 days is the third youngest Real Madrid side in the Champions League ever. And it's the youngest since 2005 against Olympiakos when they had an average age of 23 years and 36 days.
    Marcelo has only played three of the last nine LaLiga games and he has missed the last two. He is back tonight though with Odriozola starting at right-back again. It has been a case of musical chairs at the back for Real Madrid recently and Carvajal was displaced against Huesca. 

    A pep in Isco's step recently too.

    CSKA started really well with a draw against Plzen and a win over Real Madrid but they lost against Roma, twice, and then to Plzen most recently. They are, however, looking to do the double over Real Madrid which would be something. 
    CSKA Moscow XI: Akinfeev, Fernandes, Magnusson, Becao, Nababkin, Shchennikov, Oblyakov, Bistrovic, Vlasic, Chalov, Sigurdsson.
    Moscow XI: Hruska, Havel, Hejda, Hubnik, Limbersky, Hrosovsky, Prochazka, Kopic, Cermak, Kovarik, Chory.
    Isco has returned to square one under Solari and it is reminiscent of his spell under Zidane. He returns to the eleven today and could be a smart move to reignite some of the players form who haven't been playing much in recent months.

    One month on since his debut start against Melilla, Vinicius has just played a part in three games for a total of 61 minutes but he gets his first ever start tonight.
Solari continues to rely on youth with a really young central defensive pairing. It's Sanchez' third start ever for the first team after making his debut against Melilla earlier in the season and Vallejo has played just 90 minutes so far this year, which came in the Copa del Rey. 
    Navas was expected to start tonight. This report of him planning his exit could be interfering with his playing time but he likely won't play another minute for Madrid this year.
Navas is reprtedly looking for a way out in the summer so Solari doesn't seem keen to entertain him at the moment. 
    Two of the four untouchables under Solari start tonight. Ceballos' role seems to be waning though as he is left out completely.

    We have Real Madrid's starting XI. Vinicius starts and so does Isco.

Despite there being nothing at stake, there are certain players - looking at you Isco and Asensio - who have the chance to impress. Will they take it and move themselves into real contention to secure a first eleven place under Solari as they did with Lopetegui?
Los Blancos have already secured top spot in Group G (a convincing 5-0 aggregate scoreline over the two games against Roma ensuring there is no doubt of head-to-head problems). CSKA, however, have a place in the Europa League up for grabs. 
Hello and welcome to our live coverage of Real Madrid's final group match in the Champions League. This evening they welcome CSKA Moscow to the Santiago Bernabéu and the referee will be blowing his whistle at the earlier than usual time of 18:55 CET.
Real Madrid vs CSKA Moscow live online: match preview
Santiago Solari may not have started the 2018/19 Champions League campaign, but he will bring it to a close. Qualification for the knockout stages has already been achieved so tonight the home manager can give some of his so-called fringe players a chance to impress him and the Bernabéu crowd that they deserve a place in a far-from-convincing first team. Moscow arrive in the Spanish capital sitting bottom of Group G, but in the knowledge that if they better the result of Plzen (who play Roma), a place in the Europa League is theirs.
Real Madrid
Winning both games against Roma secured first place in the group, as well as the 9.5 million euros that comes with it. Pressure off the result means more pitch time for those that were given a run-out against Melilla in the Copa del Rey, a goal-fest, but not one on which to rest any laurels. Players like Isco and Asensio were nailed on for starts under doomed manager Julen Lopetegui. Solari has, as yet, been less convinced. Keylor and Vinicius are also expected to be included in the starting side: one a regular in the European success under Zidane, the other, an interesting story unfolding, but still in the first chapter.
CSKA Moscow
The Russians arrive with the opportunity to extend their stay in European competition into the new year and will fancy their chances knowing that there will be some changes made by Solari. Not only that, in the reverse fixture they emerged victorious over the Champions League holders. How adventurous Viktor Goncharenko goes at the Madrid defence could be key to them becoming the first side to beat Los Blancos home and away in the same group stage since Juve in 2008/09.