Juventus finish group stage on a low with defeat to Young Boys
Guillaume Hoarau scored a goal in either half and despite Dybala's late strike, Juventus could not avoid defeat to Young Boys in the Champions League.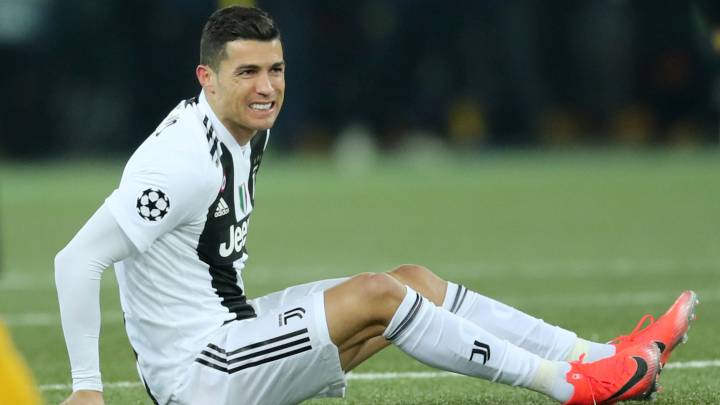 Young Boys 2-1 Juventus: match report
Juventus finished the Champions League group stage on a low after a 2-1 defeat to Young Boys, who were both disciplined and more clinical than their opponents, on Tuesday night in Bern, Switzerland.
The Serie A leaders still finished the group top thanks to Manchester United's defeat to Valencia in Spain but Massimiliano Allegri has plenty to chew on after his side's second defeat in the competition.
Guillaume Hoarau stepped up to send Young Boys ahead from the spot after 30 minutes. Alex Sandro, who had just come on for an injured Juan Cuadrado, took Nicolas Ngamaleu's legs from under him in the penalty area to put the 0-0 draw in jeopardy.
Wojciech Szczesny got a hand to it but he could only help it onto the post before it finally went in.
Hoarau grabbed the game's second goal on 68 minutes when he finished with his left after a nice counter by the home side. As Juventus pushed forward, there were increasingly large spaces in behind Juventus' defense and Young Boys were exploiting them every chance they got.
Paulo Dybala made a difference when he came on late in the game and scored with a rifled finished inside the box with 10 minutes to go. He scored a second too from outside the box but as he wheeled away in celebration, the referee told him it was not allowed as Ronaldo was ruled to have been offside and blocking the keeper's vision.
It ended 2-1 with Manchester United's game ending the same way meaning the Old Lady remained top with 14 points. Young Boys are out and will be a distance memory once the knockout stages arrive but Allegri's side will need to learn lessons from their performance in Bern.
Young Boys vs Juventus: live updates
90'+5' GAME OVER! What a victory for Young Boys.
90'+5'   Into the 5th minutes of added time. Headed down and saved by Woelfi.
90'+4'   They do. Cross comes in and it's headed out for a corner. 
90'+4'   Mbabu launches clear and that's the four minutes. Juve have one more chance maybe.
90'+2'   WHAT A GOAL! Dybala absolutely buried it and Ronaldo was offside as he ducked out of the way and the keeper couldn't see it.
90'+2'   Corner for Juve as time runs out for them! 
90'+1'   Four minutes of added time.
88'   Costa's cross is way too deep.
87'   Bernardeschi cross and Ronaldo hits the post.
85' Ngamaleu replaced by Schick
83' Corner. Woelfi booked for something too. Maybe he kicked the ball away or something? 
83'   Dybala gets a shot off. It's tame by Woelfi can't quite gather it properly. 
83'   Another Douglas Costa cross. Way too high this time and Young Boys half clear it.
82'   Costa cross and Ronaldo is waiting in the box. It won't fall for him though.
81'   Cross centered by Mandzukic but it's cleared by Young Boys. 
80' Douglas Costa to Ronaldo and he lays it off for Dybala. Buried it! GOAL and game on.
79'   Fassnacht with a lovely spin and Young Boys on the attack. Hoarau falls over as he swings a foot at it. No penalty.
77'   Just wide in the end and Juventus have to try again.
77'   Douglas Costa with an excellent effort. Woelfi dives for it but hemight have been beaten if that was on target.
75'   Young Boys want another goal! They're enjoying this. There's so much space all over the field.
73'   Can Dybala make a difference? This has been a very disjointed display from Juventus. Young Boys have sliced them open a few times. 
72' Dybala on for De Sciglio.
70'   Hoarau nearly makes it a 3-0 with his hat-trick. He gets the ball from Mbabu and tries a chilena.
70'   Douglas Costa sends a shot towards goal now from the left. Woelfi saves.
68' Guillaume Hoarau does it again! That's a nice finish too. Ngamaleu plays it into his path and he puts the ball on his left before slamming home. 2-0.
66'   Ronaldo beats the offside track and lobs one into the box. Mandzukic used his body to push the defender in the back and heads it towards goal. Saved by Woelfi.
64' Fassnacht fouled by Bernardeschi and he's booked.
63'   Cross in from the right and Christian Fassnachtsends a header toward goal. He forces the save from Szczesny. Comfortable one for him but a nice header.
62'   Douglas Costa gets a yard away from Mbabu and he crosses. Mandzukic close but it's headed away and Young Boys counter. 
61'   There's a corner for Young Boys and a breather from Juventus possession.
60'   The ball hasn't been in Juventus half in a while They continue to knock on the door here.
58'   Worked short and Bernardeschi gets it. Blocked off him and it comes back to Pjanic and he is offside. 
57'   Another corner.
57'   Costa cross. Headed out again.
57'   Ball inside the box and that's cleared for a throw. Juventus definitely improving here.
56'   Bentacur out to De Sciglio. He wins a throw. Juventus turning up the intensity here but it's all in very docile positions.
53'   Bernardeschi corner and it's headed out. Just not clicking for Juventus tonight in attack.
53'   Mbabu puts it out for a corner as Costa takes him on. Really good defending from Mbabu.
53'   Another counter for young Boys. Sow with the ball and he gets it nicked off him as he tries to cross. Juventus' turn to counter.
53'   Douglas Costa with a little pass into the path of Ronaldo. He can't control it though and he looks up to the sky. Just not his night.
52'   Mbabu cross. Cleared and Young Boys back up the field. Ball sent in from the left but Ngamaleu falls to the ground. Some of the home crowd wanta  penalty but no chance and even the player knows it.
51'   Douglas Costa with a dangerous ball into the box but Woelfi gathers it.
48'   Mbabu runs into the box. He almost can't believe he's made it so far up the field. He thinks about shooting and eventually does. Blocked. 
46'   Cross is too close to the keeper. Woelfi gathers.
46'   And another corner for Juventus.
46'   So close to the equaliser. It was the scorer of the first goal, Hoarau, who volleys it onto his own crossbar. Corner for Juventus. 
46'   Foul by Lauper on Bernardeschi. Juve to whip this one in. Pjanic the man standing over it.
46'   We are back underway for the second half. 
45'+3'   That's half-time! 
45'+3'   Juve with some pressure but Young Boys repress the challenge. They send it in again and it's headed out again. 
45'+3'   Nice cross that nearly falls to De Sciglio but Young Boys counter. Sandro wins it back.
45'+2'   Ball into the penalty area for Mandzukic but it's put out for a corner by Aly Camara.
42'   Sandro shot. Wide. 
42'   It hits the wall and falls to Ronaldo. He drives it wide.
42'   Free for Juventus just outside the box. Little doubt who is taking this one. Ronaldo lines it up. But it's Bernardeschi in the end.
41'   Young Boys are really well organised. 
40'   Juve losing and so are Manchester United. If they could turn around the result in Valencia, they'd be top as it stands.
37'   Garcia gets a kick on the back of the heel from De Sciglio after he put his front of his when he went to kick the ball. Both players hurt themselves in that one.
37'   Long ranger from Bonucci but Woelfi grabs that one.
34'   Young Boys going backwards now and working more on the counter. Juventus having trouble breaking them down. They've had a couple of chances so far but nothing really concrete.
31'   Ngamaleu gets the ball on the right. Young Boys with a 3-on-3 situation and he ends up winning the corner. 
30' GOAL! Hoarau sends it past Szczesny. The keeper got his hand to it but can only touch it onto the post and in. 1-0 to Young Boys.
28'   Penalty for Young Boys. Alex Sandro the man penalised as Ngamaleu robs the ball off him and he swipes his leg from under him.
27'   Chance for Juventus. Cross in from Mandzukic and Coste opens out his body to sidefoot it home. Well wide in the end but he found himself in plenty of space there.
26'   Alex Sandro with a foul on Ngamaleu.
25'   Juventus counter and Ronaldo gets a heel on it but that's over the bar too.
24'   Ronaldo thrown on the ground and he sits there for a while having a moan. Young Boys attack anyway and they move up the field at speed. Shot comes in but that goes all wrong. 
21' Cuadrado can't continue. Alex Sandro coming on.
21'   Alex Sandro warming up just in case Cuadrado can't continue.
19'   Cuadrado is injured now as he has a chat to Allegri. Looks like he needs treatment.
18'   Shoots and gets a corner.
18'   Another corner. Juve fail to deal with it and Hoarau takes one on his chest.
17'   Mbabu with a move down the right. He gets held up by two Juve players and eventually wins a corner. Nice move as he spins around De Sciglio but can't get through Bernardeschi. Corner.
16'   Ronaldo gets a through ball and has Mandzukic just inside. He strikes wide and the Juve captain was free to tap home if he hadn't shot. 
15'   Another nice ball over the top as Mandzukic looks over his shoulder waiting for it to fall to him. 
13'   Perfect pass by Douglas Costa into Ronaldo in the box. His touch takes it away from him though and Woelfi gets a hand to send him further out to the left. Shot eventually comes in but it's tame and Young Boys clear.
12'   There's a free on Pjanic. Foul as he stops Young Boys on the break. Some highly skilled tactical fouling so far tonight. 
11'   Juve on the ball now as Szczesny plays it out. This game being played at the pace of a Sunday morning kick-around. And that's actually doing an injustice to the effort people put in on a Sunday morning.
8'   Mandzukic caught a little but late. He turns his ankle and gets a free. He's okay though.
8'   Young Boys have been the better side so far. They're dominating possession now too. No chances for them so far though.
7'   Douglas Costa sends the all across the field and Ronaldo gets it. He thinks he was fouled but he wasn't. Then he handles the ball as he chases it down and tries to block Mbabu's clearance.
6'   It looks freezing in Bern.
5'   Young Boys with a nice break. Sow to Mbabu and he gives it back. Too heavy though and Sow runs it over the endline. Goal kick.
3'   He gets away with it though. Young Boys on the ball now and Ngamaleu tries to make a way into the danger zone. Rugani steps in his way and gets fouled for his troubles. 
3'   Mandzukic puts the keeper under pressure and he nearly makes a mess of the clearance. 
2'   Foul on Ngamaleu by De Sciglio. 
2'   Long ball out by Woelfli and that's too long for Mbabu. 
2'  Juvtry to attack but Young Boys win it back and then lose it again. 
1'   Ready for action in Bern. We have the whistle and Juventus kick us off. 
    Players emerge from the tunnel and they stand in the chilly Swiss night. It's -2 degrees there! 
    With every passing moment, Ronaldo's absence being felt more and more at the Bernabeu. They just lost to CSKA Moscow 0-3, which is their heaviest defeat in the Champions League at the Bernabeu. 
We've also got live coverage of Real Madrid's Group G clash with CSKA Moscow at the Bernabéu, where the Russians are now 3-0 ahead and set to send shockwaves rippling throughout Europe - even if it isn't a full-strength home side...
If you're looking to get yourself in front of the TV for Young Boys vs Juventus, don't forget to take a look at our useful guide on how and where to watch.
Winger Juan Cuadrado starts at full-back for Juventus, who easily saw off Young Boys 3-0 in the sides' opening Group H meeting in October.
  And in old-school, text format: Young Boys: Wölfli, Mbabu, Camara, Benito, García, Sow, Lauper, Aebischer, Ngamaleu, Hoarau, Fassnacht; Juventus: Szczesny, De Sciglio, Rugani, Bonucci, Cuadrado, Costa, Bentancur, Pjanic, Bernardeschi, Mandzukic, Cristiano.
Here is how Group H looks, with Juventus two points ahead of Manchester United, Valencia in third and certain to drop down into the Europa League, and Young Boys purely playing for pride at this stage. 

Juve will also be sure of progressing as group winners if second-placed Manchester United, who like the Bianconeri are already through, fail to beat Valencia at Mestalla.
  Juventus head into this evening's matchday-six clash top of Group H and already through to the last 16, but with first place not quite assured. However, Massimiliano Allegri's men can rubber-stamp their qualification as group winners with a victory in Bern.
Good evening and welcome to our live coverage of Juventus' trip to face Young Boys in Champions League Group H tonight. Kick-off is at 21:00 CET, and team news should be in very shortly.
Young Boys vs Juventus: preview
Already-through Juventus travel to the Swiss capital of Bern to face Young Boys in the Champions League tonight (21:00 CET) knowing that victory will secure top spot in Group H.
The Serie A champions will also be guaranteed qualification as group winners if second-placed Manchester United, who likewise go into matchday six certain of progression to the last 16, fail to beat Valencia in the section's other fixture.
Paulo Dybala grabbed a hat-trick as Juve claimed a comfortable 3-0 win over Young Boys - who have just one point from five games and are mathematically certain of finishing bottom - in the sides' opening group meeting in early October.