Central African football official arrested for war crimes
Patrice-Edouard Ngaïssona is accused of coordinating attacks on the CAR's Muslim population between 2013 and 2014.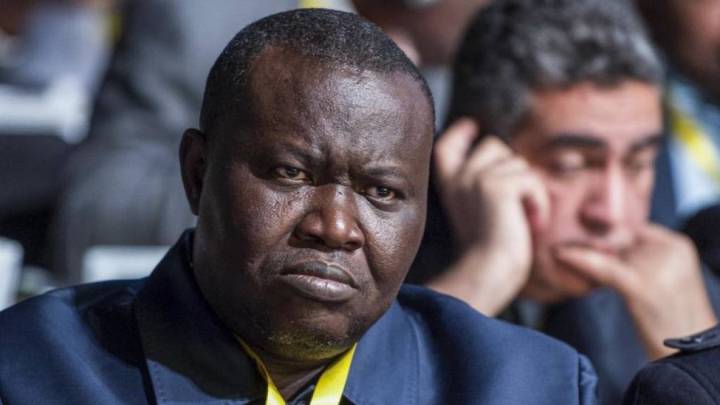 The Central African Republic's (CAR) senior football official Patrice-Edouard Ngaïssona has been arrested in France on suspicion of committing war crimes in his country.
Ngaïssona, a former President of the CAR's football association and a member of the executive committee of the Confederation of African Football since last February, is accused of coordinating attacks on his country's Muslim population between 2013 and 2014.
In a statement, the International Crime Court (ICC) said the football official faces extradition to The Hague. He denies all the accusations.
Last week, Ngaïssona's arrest warrant was published, accusing him of crimes against humanity (murder, extermination, deportation, etc) and war crimes (murder, torture, mutilation, etc).
Anti-Balaka coordinator
Ngaïssona is accused of committing abuses between September 2013 and December 2014 in the West of the CAR, when he was the general coordinator of the Anti-Balaka movement.
Back in 2013, the former French colony was plunged into turmoil when a group of predominantly Muslim rebels from an alliance of militias – the Seleka – seized power in the majority Christian country.
A band of Christian militias - the Anti-Balaka – raised up to counter the Muslim rebels. Since then, thousands have died in numerous clashes, and, according to the United Nations, more than a million people have been forced to flee their homes.
In his role as Anti-Balaka general coordinator, the ICC says Ngaïssona committed crimes against humanity and war crimes including murder, torture and recruitment of child soldiers.
"This is a major step forward in the fight against impunity in the Central African Republic. The ICC arrest warrant for Ngaïssona includes crimes against humanity and war crimes, ranging from murder and torture to forcible deportation and recruitment of child soldiers," said Samira Daoud, Amnesty International's West and Central Africa deputy director.
"The ongoing serious violence in CAR – including an attack on a displaced persons camp that killed up to 100 civilians in Alindao last month – is a testament to what happens when impunity reigns.
"Today's arrest sends a hopeful message that all those responsible for past and ongoing crimes under international law in CAR will be brought to justice – either at the ICC, in national courts or the country's hybrid Special Criminal Tribunal."
Ngaïssona's arrest comes after Alfred Yekatom, an alleged former Anti-Balaka commander, was captured by the ICC on 17 November.