Solari opens the door for Keylor after Champions League snub
Despite already having top spot in the Champions League group sewn up, Keylor Navas was not given a run out like other 'reserve' options in the team.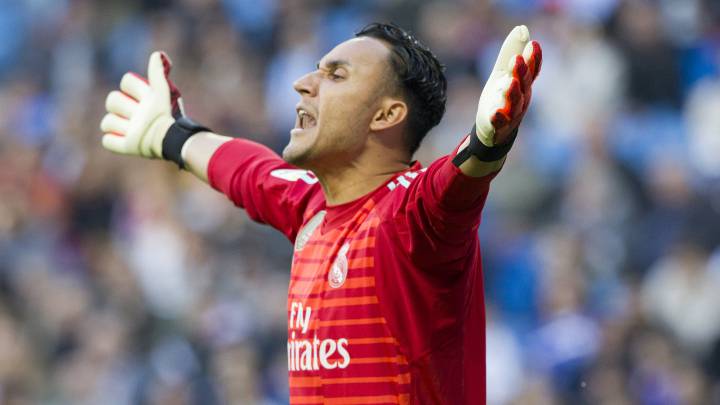 Keylor Navas took yet another blow on Wednesday evening. With Real Madrid already qualified in first place in their Champions League group, Santiago Solari made a number of changes across the lines. This didn't, however, happen with the goalkeeper. Thibaut Courtois lined up once again and the message seemed clear: Keylor is for the Copa del Rey. LaLiga and Europe is for the Belgian, whatever the situation.
Keylor reduced to Copa
As already reported by AS, the Costa Rican goalkeeper does not want to remain at Madrid as a reserve. He is upset about his current role in the team and wants to find a way out. Decisions like that of Solari against CSKA Moscow just add to this desire to leave. The most attractive destination appears to be the Premier League, where his reprsentatives have been working for several weeks to get a seductive offer. Most likely the move will happen at the end of this season, rather than in January, and the Spanish giants are said to understand his frustration and are willing to let him leave.
The winter transfer market option has not been ruled out, though, certainly by the player. Los Blancos are less likely to agree to this with memories of last season when it was first choice Keylor who picked up an injury and Kiko Casilla offered a significant drop in performance levels. He'll almost certainly, therefore, be kept on the books for the duration of this campaign as cover for the clear number one, Courtois.
Navas lost the shield of Zidane
With the departure of Zidane, Keylor lost his protection. The French coach prevented the arrival of David de Gea, and later of Kepa Arrizabalaga, who went on to replace Courtois at Chelsea for a record transfer fee. The Costa Rican's place between the posts was non-negotiable for Zizou but that's not a view shared by others since.
Julen Lopetegui's short-lived Madrid career saw him opt for the middle ground, LaLiga for newly-signed Courtois and the domestic and continental cups for Keylor. In Solari's short reign he has altered that distribution of pitchtime, with no rotation in the two major competitions for that position, even when there is little at stake.
Lunin trajectory
Real Madrid's plan, it should be noted, is to promote another new recruit, Andriy Lunin, to the back-up option. The Ukrainian 19-year old was impressive during pre-season and, despite not playing much this season on loan with Leganés (only two appearances), there is a lot of belief in Madrid. There is a talk that his loan destination will be changed in January to ensure he becomes a starter, with eyes on his development.