Bernabéu unimpressed despite Real Madrid win over Rayo
A Karim Benzema goal saw Madrid beat Rayo Vallecano and get back to winning ways, but Los Blancos left the field to whistles at the Bernabéu.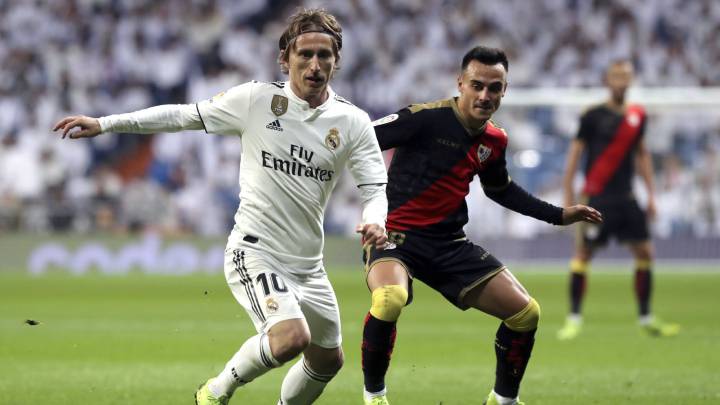 Real Madrid 1-0 Rayo: as it happened
  Peeep peeep peeeep! And that's that! After a nervous finish at the Bernabéu, Karim Benzema's early goal is enough to see Real Madrid squeak past an impressive Rayo Vallecano and move to within a provisional two points of top spot, with leaders Barcelona still to play this weekend. It might well have been a different story had Toni Kroos not been denied by the post, or had Marco Asensio not passed up gilt-edged chances either side of the break, but, either way, this was by no means a Madrid peformance to silence the doubters, and it was little surprise to hear jeers greet the final whistle. Take nothing away from the visitors, though; they could - and really should - have snatched a far from ill-deserved point at the death. Míchel's men have now pushed each of Madrid, Barça and Atlético all the way, losing by just a single goal to each of the big-name trio. They remain mired in relegation trouble, but can take heart from that as they bid to haul themselves out of the drop zone.
92' Defensive midfielder Federico Valverde is on for Real Madrid, who are rather hanging on now.
91'   How have Rayo not equalised there?! Somehow Real Madrid survive. First Alegría turns a dropping ball over his head and towards Courtois' goal from six yards out, but the Belgian parries. His clearance falls straight to Velázquez, who fires it right back where it came from - and, between them, Courtois and Carvajal scramble it away from the underneath the posts!
90'   Three minutes of time added on. 
88'   Ooh, here we go. Vázquez gives away a free-kick in the left-hand channel that is in prime swing-it-into-the-mixer territory. Can Rayo steal a late equaliser? No, they cannot. Varane heads behind, but the flag was up for offside anyway.
86'   Real Madrid appeal for a handball in the box by Ba, which if given would have been a free-kick, as it was just outside. Nothing doing, though. Vinicius then gets a glimpse of goal, but is put off sufficiently by a black and red shirt and sees his snapshot fly off target. 
83' Imbula becomes the third Rayo man into the book after bringing down Ceballos (Bebé was booked 20 minutes or so ago, I neglected to tell you). I'd quite like to see Isco brought on, just to see what kind of reaction he gets from the home fans. I suspect Solari is going to leave him well alone though. Ba then escapes punishment after leaving Vázquez in a heap with a crunching, ball-first-legs-second challenge.
77' Benzema has hurt his ankle and, after being replaced by Vinicius, limps straight down the tunnel.
73'   Alegría is immediately involved, causing a spot of chaos in the Madrid backline before laying the ball back to Bebé, whose shot is blocked. Imbula is then the latest Rayo player to have a dig from outside of the box, but pulls his effort wide. This is becoming a decidedly nervous closing period for the hosts.
72' Rayo make their third and final change, meanwhile, Alex Alegría replacing Embarba. Modric then has a half-chance to put Madrid two the good, but blasts his shot on the run over the bar.
70' Real Madrid make their first change, Asensio trotting off after what can only be described as a pretty profligate night's work, and Ceballos coming on.
69'   Again Rayo zip the ball about with aplomb, García finally slipping Embarba in behind Carvajal on the left, only for the Real Madrid right-back to recover well and win a free-kick off the Rayo forward. Very decent stuff from the visitors, though.
66'   Advíncula cuts inside and slaps in a shot that's comfortably cut out by Ramos. However, Rayo then retrieve possession and pop it about very nicely indeed, before Bebé picks it up, gets it out of his feet and pings a swerving effort towards goal... which Courtois beats out! 
63'   ...which Ramos heads in! Two-ni.... no! The flag is up for offside, and replays show that the assistant referee was absolutely right. Just off.
61'   Asensio carries the ball forward but is shephered wide by the Rayo defence, who then give Los Blancos an opportunity to swing it into the box after Carvajal is fouled. That set piece comes to nought, but moments later they get an almost identical dead-ball chance... 
58'   The recently introduced Bebé bangs a speculative shot well off target from range.
55'   Kroos wins and delivers a free-kick on the left, which the Rayo defence duly repel. Moments later, Asensio's control from a long ball pinged into him takes him in behind the visiting backline, but Llorente - who is clearly offside - takes the ball off his team-mate's toes, and the flag goes up. Silly.
53' Rayo make a double change: Medrán and the recently skinned Gálvez are off for Ba and Bebé.
50'   Another great chance falls to Asensio, and again he spurns it! Modric produces a dazzling bit of skill to completely hoodwink Gálvez and drive into the box, where he cuts it back to the young Spanish winger, who takes a touch and utterly puts his foot through it... only to see a gaggle of black and red shirts get in the way and block his effort!
  Peeeep! Teams back out at the Bernabéu, and we're underway.
As things stand, with Real Madrid leading Rayo and Barcelona and Sevilla still to play, it's looking nicely poised at the top of LaLiga. A Barça slip-up at Levante tomorrow - which, given that they lost there last year, not to mention the fact that the Granotas are having a fine season, isn't beyond the realms of possibility - would really put the cat amongst the pigeons.

Peeep peeep peeeeeeep! That's half time at the Bernabéu, where Benzema's well-taken early goal is all that separates the sides. Madrid have had a couple of clear chances to add to their tally, but Rayo might well also have troubled the scorers in that first 45 - particularly when Velázquez headed inches wide soon after the hosts' opener.
45'   No time is to be added on at the end of the half, we're hearing. Meanwhile, Asensio receives the ball in lots of space in the left-hand channel, but wastes a good chance to get it into the middle. Up the other end, there are timid Rayo shouts for a penalty after Vázquez challenges García on the Madrid byline, but again De Burgos is unmoved.
42'   Rayo win another corner on the right. Velázquez header, anyone? No, not this time. Courtois comes out and claims. 
41'   Rayo win themselves a dangerous free-kick on the left-hand edge of the box. Can the visitors steal an equaliser shortly before half time? Er, no. Embarba blasts it off target. That was a monumental waste.
38' Gálvez gets the game's first yellow card after a nasty challenge on Llorente.  In other news, the journalist Antón Meana has told Spanish radio station Cadena SER that former Madrid boss Zinedine Zidane is in one of the Bernabéu's swishest boxes watching the game.
36'   Vázquez is appealing for a penalty after what he feels is a push in the box by Moreno, but the referee says: nothing doing. As, presunably, do his colleagues upstairs.
35'   Kroos stands over another free-kick, this time on the right, but again it is cleared. Moments later, however, the German is in position to gobble up a Benzema lay-off on the edge of the 18-yard box and thud a left-footed shot off the post! So close to a second!
31'   That's excellent hustle from Kroos, who chases down Vázquez's cleared right-wing cross, outmuscles Advíncula, and is then fouled by the Peruvian. The German then dusts himself down to take the free-kick from the left corner, but it comes to nought.
That Benzema goal is his sixth in LaLiga this season
, by the way, meaning that the Real Madrid striker has already surpassed his not exactly garguantuan haul of five in the whole of last term.
24'   Benzema pulls the ball back from the right-hand byline and, after a spot of pinball on the edge of the six-yard box, Rayo clear. Benzema has been very lively.
21'   Velázquez is involved in everything right now. Rayo win a free-kick on the left flank that Embarba swings towards the back post, where the central defender gets his head to it. However, he doesn't get as clean a connection as he did a few minutes ago, and Courtois scoops up the ball. It's been an eminently watchable affair since Benzema's goal.
18'   Now Velázquez has to look alive in front of goal to block a Vázquez volley, although replays suggest the Real Madrid winger's shot was heading just wide. 
17'   No sooner do Rayo almost level, than Real Madrid almost double their lead! Kroos releases Asensio in behind the away defence with a lovely first-time ball, and the winger sets off at pace towards Dimitrievski's goal - but the Macedonian beats out his shot! Could, and should, have been 2-0.
15'  So close to a Rayo equaliser! After Llorente does well to get back and cut out a dangerous Embarba ball into the danger area, Los Franjirrojos win themselves a corner on the right. The ball is delivered right on to Velázquez's head... but he glances just wide of Courtois' post!
It's such a simple goal. A long ball is played into Vázquez on the right, and he looks up and feeds an angled through ball between the Rayo backline into the run of Benzema into the box. The Frenchamn collects, gets the ball out of his feet and fires in across Dimitrievski!
12' Now Real Madrid have troubled the visitors! Benzema gives the hosts the lead with his first goal in just over a month!
8'   Just as I write that, Real Madrid get Carvajal into an inviting crossing position on the right-hand byline. However, his low cross is well cut out.
6'   Benzema tries a silky bit of combination play with Marcelo midway through the Rayo half, but the visitors clear. It remains all Madrid possession, but they've yet to particularly trouble their guests. It's a minky old night in Madrid, and judging by the decent amount of empty seats in the Bernabéu, a fair few fans have decided they'd rather be somewhere else a bit drier and warmer.
3'   Benzema leads an early forward break that finally sees Vázquez send in a cross that Rayo keeper Dimitrievski grabs hold of, before a raking Marcelo ball over the top is almost pulled down by Asensio in the box. All the possession has, not wholly surprisingly, been Real Madrid's thus far.
Modric holds his Ballon d'Or aloft before Ramos trots over and plants a kiss on his cheek... and we're underway at the Bernabéu!
Our referee tonight is Ricardo de Burgos Bengoetxea.

With just a couple of minutes to go until kick-off at the Bernabéu - where the teams are now out - you may wish to avail yourself of our useful guide on how and where to watch Real Madrid vs Rayo Vallecano.
Also incidentally, Luka Modric will parade his Ballon d'Or trophy in front of the Real Madrid home fans before kick-off.

  Incidentally, Real Madrid now know the identity of their Club World Cup semi-final opponents, who they'll take on at Zayed Sports City Stadium in Abu Dhabi on Wednesday: Los Blancos will be lining up opposite Kashima Antlers, after the Japanese side beat Mexicans Guadalajara 3-2 in the second round of the tournament today. That'll be a repeat of what was a hugely entertaining 2016 final, then.

  Having only ever managed one away win over Real Madrid, back in 1996, Rayo arrive at the Bernabéu on a far-from-ideal run of just the one victory in their last 11 LaLiga games. Decidedly ropey form, indeed; however, a shufties at Madrid's league record in the same period reveals that, at least in terms of defeats, the pair are pretty much level-pegging in the ropiness stakes: six for Rayo, five for the hosts...
Bale scored four that day, but, as mentioned below, will play no part this evening. After coming away from the CSKA defeat with an ankle issue, the Welshman has not trained since and has been left out of the hosts' squad. Sergio Reguilón, Casemiro, Nacho Fernández and Mariano Díaz are also unfit to play.
Most recently, and most memorably, a nine-man Rayo found themselves on the end of a 10-2 walloping by Real Madrid in December 2015 - having actually been 2-1 ahead at one stage...  

  For all that it has been a pretty grim league campaign so far for fourth-placed Madrid, they do still only sit five points off leaders Barcelona - who have just been joined on 31 points by Atlético - and now, in their final game before jetting off to the United Arab Emirates for the Club World Cup, Los Merengues have the chance to cut that gap to a provisional two against a second-from-bottom Rayo team who have lost on each of their last eight visits to the Bernabéu.

Rayo's bench, meanwhile, is: Alberto García, Akieme, Abdoulaye Ba, Pozo, Bebé, Alegría and Sergio Moreno.
Having started that game, Isco is back on the bench this evening - and it'll be interesting, to say the least, to see what kind of reception he gets when his name is read out, and if he is brought on. The Andalusian is joined on the comfy car seats by: Keylor, Vallejo, Valverde, Odriozola, Ceballos and Vinicius.
That 3-0 midweek humbling by CSKA was Madrid's heaviest ever home defeat in Europe, and was one that saw CSKA become the first team in a decade to do a Champions League group-stage double over the 13-time continental kings. The Bernabéu faithful were not happy, reserving particular stick for the troubled Isco - who at one point appeared to give a bit back...

  Having lost forward Trejo to an 11th-hour injury that sees the Argentine join Lass Bangoura, Javi Guerra, Gael Kakuta and Gorka Elustondo in the sick bay, Rayo also cannot field their top scorer, Raúl de Tomás, owing to the terms of his year-long loan move to Vallecas from the Bernabéu in the summer.

  Rayo XI: Dimitrievski, Tito, Velázquez, Gálvez, Moreno, Imbula, Comesaña, Medrán, Advíncula, Álvaro, Embarba. Míchel makes three changes to the side that lost 2-0 to Real Betis last Sunday: Emiliano Velázquez replaces the suspended Jordi Amat in central defence; Tito comes in at right-back and Luis Advíncula, who played in the position in Seville, seemingly pushes further forward; and midfielder Álvaro Medrán, a Real Madrid youth product, is in for the injured Óscar Trejo.
  Real Madrid XI: Courtois, Carvajal, Varane, Ramos, Marcelo, Llorente, Modric, Kroos, Vázquez, Benzema, Asensio. As expected, there are plenty of changes to the weakened side that lost to CSKA in midweek: Dani Carvajal, Raphael Varane and Sergio Ramos all return to the line-up in defence, Luka Modric and Toni Kroos come back into the engine room, and winger Lucas Vázquez starts in attack. Gareth Bale is injured and isn't even in the squad.
We have team news at the Bernabéu!
 That's because Santiago Solari's men may have qualified for the Champions League last 16 as winners of their group, but that fact was largely forgotten on Wednesday night as the tournament holders - albeit with a far from full-strength side - suffered a surprise 3-0 home defeat to CSKA Moscow in their final fixture in Group H.
Indeed, this morning's AS front page labels the week-16 match a Bernabéu day of "judgement" for Los Blancos...

Hello and welcome to our live coverage of Real Madrid's LaLiga clash with Rayo Vallecano, which kicks off in an hour and a half's time. Team news should be in shortly, ahead of a match which, after the events of midweek, Madrid dare not lose - or, in truth, fail to win.
Real Madrid vs Rayo : preview
Real Madrid host strugglers Rayo Vallecano today (18:30 CET) aiming to get back to winning ways after suffering a record defeat in midweek.
Real reeling from midweek humbling by CSKA
CSKA Moscow sent shockwaves rippling across the continent when they claimed a 3-0 Champions League victory at the Bernabéu on Wednesday night, condemning the tournament holders to their heaviest ever home loss in Europe.
In their final game before flying to the UAE for the Club World Cup, Santi Solari's fourth-placed side will now look to bounce back in LaLiga against a team who have lost on each of their last eight visits to Madrid's stadium - most recently being humiliated 10-2 in 2015.
No De Tomás for Rayo at the Bernabéu
Rayo sit second from bottom in Primera División with just two league wins all season and, as part of the deal that took striker Raúl de Tomás to the club on a year-long loan from Madrid this summer, cannot field their top scorer this evening.
However, Míchel's men have managed to make life difficult for big-name opposition this term, having been unfortunate to lose by a single goal to both Atlético Madrid and Barcelona. Indeed, the latter defeat, at Vallecas last month, came despite Los Franjirrojos being ahead with three minutes to go.