Cristiano Ronaldo settles feisty Turin derby from the spot
The Juventus forward buried his 70th-minute spot kick to hand his side victory over a Torino team who ran themselves ragged but lacked a cutting edge.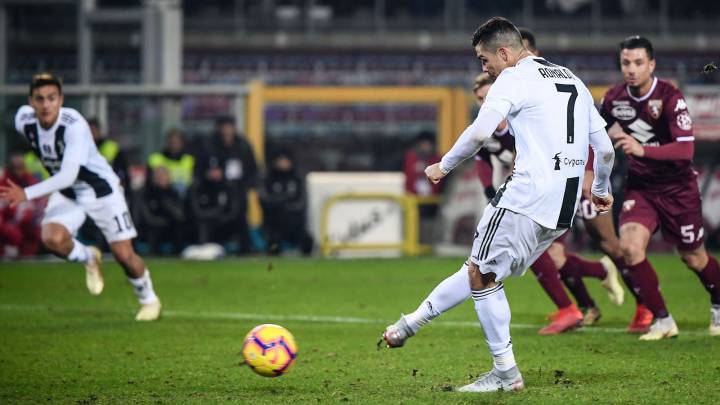 Cristiano Ronaldo ensured Juventus maintained their perfect away record in Serie A with a 70th minute spot kick to deny Torino what would have been a deserved point in the Turin derby.
The Portuguese moved level with Krzysztof Piatek on 11 goals in the race to be crowned Capocannoniere while Juve moved temporarily 11 points clear of Napoli at the top of the table with Carlo Ancelotti's side in action away at Cagliari on Saturday.
Torino vs Juventus live online: as it happened
90'+3' Torino launch it forward and Zaza almost gets a sniff but Chiellini hacks it clear. Kitchen sink stuff from the home side, but Juve win the ball back through Pjanic and it's all over! 
90'+3'   Ronaldo chases down a lost cause on the left and it's out for a goal kick. One last roll of the Torino dice... 
90'+2' Perin in the book for taking his sweet Georgia time over a free kick. Pjanic goes down under a challenge and is in little hurry to get back up. 
90'+2'   Four minutes added... 
91'   Ronaldo! The Portuguese finds himself in the area and looks for a shooting angle but his effort clips a defender's heel and lands in the grateful gloves of Ichazo. 
90'   Parigini runs the ball out on the far side. 
89'   Ronaldo is completely alone up front now as the visitors drop back to protect their lead. Time running out for Torino. 
87'   Di Sciglio remains on the deck after that challenge, it looked as though he landed a little awkwardly. He's off to the touchline for the old magic sponge treatment and Juve are down to 10 temporarily. 
86'   Baselli plays it into Izzo but the defender is pulled up for a foul on Di Sciglio. He did use the Juve defender as a bit of a climbing frame there. 
85'   Free kick to the home side as Zaza is bundled to floor by Mandzukic. Quite the running battle between those two this evening. 
84' Aina is off for Torino, Alex Berenguer coming on. 
84'   Djidji steps in to mop up a bit of a defensive mess with Dybala desperately trying to dig the ball from under his feet. 
83'   Juve look happy enough to defend their lead now and hit on the break when the chance arises. 
80'   10 minutes left for Torino to salvage this game. Chiellini is down clutching his back. It looked as though Zaza got a boot into the defender's back there, it was accidental but it will be a minor miracle if the Torino striker ends this game on the pitch. 
79'   Ronaldo finds Can on the right but, well, he can't and the Germany international hits a tired cross straight out for a goal kick. 
78'   Torino are still pushing for a deserved goal but there are some tired legs out there. Another shuffle from Mazzarri is surely imminent. 
76'   Torino break through Belotti and Parigini gets his first touch, belting a shot goalwards but straight into Di Sciglio. 
75'   Parigini on for Torino, who are still right in this game after the intervention of the eye in the sky. 
74' Another free kick to Juve out on the right, simliar position to the last one, but this time there's no danger.  Ansaldi heads off after a decent shift. 
73'   Ruled out! 1-0 to Juve it remains! 
72'   Possibly Ronaldo offside, as far as we can tell, when he nodded the ball on. 
72'   Oh, hold your horses, looks like VAR is getting involved... 
72' Gooooooooooool! Mandzukic! 
71' Ansaldi in the book for reasons unknown. 
70'   That's a cruel blow for Torino, who have taken the game to Juve, but the home side can have no complaints about the award. Ronaldo now also moves level with Piatek as top scorer in Serie A. 
69' Gooooooooooooool! Goooooooooooool! Ronaldo buries it low and hard and Ichazo almost keeps it out but it was just too powerful. He got a glove on it though. 
68'   It's Ronaldo, needless to say... 
67'   Penalty! Mandzukic is sent flying by Ichazo after Zaza's awful back pass and the ref points to the spot! Dreadful mistake from the striker, however much he was racing back to help out his defence. 
65'   Meite protests his innocence as he batters into the back of Dybala but the ref is not having any of it and its another Juve free kick. The ref has been pretty lenient this evening and has let the game flow but the fouls are flying in left, right and centre now and the game has become a bit scrappy. Both managers will be looking to their benches around about now. 
64'   Free kick to Juve out on the left as Baselli brings down Matuidi. It's clipped towards Bonucci and out for a Torino goal kick. 
62'   Belotti has another bite of the cherry from an Ansaldi cross but it was just behind the Torino skipper and he can't get enough purchase on the ball to send it towards Perin's sticks. 
61'   Ronaldo skips in from the right, dances through a couple of challenges and hammers a shot goalwards but it's blocked. 
60'   Juve look to take a little bit of the tempo out of the game with a few balls across the midfield and both sides take a bit of a breather. Belotti looks absolutely done in already. 
58'   Juve's corner is cleared and Torino have the opportunity to break. Juve recover through and Can wins a free kick in midfield after a tangle with Rincón. 
57'   Baselli saves Torino's bacon! The Torino midfielder manages to get a block in on Dybala's shot after good work on the left from Ronaldo. That was Juve's best chance of the game so far. 
56'   Ansaldi with a low shot from distance and it's bread and butter for Perin. 
55'   Another free kick to Torino and again it's Belotti, who has covered every inch of turf this evening, who is the man fouled. 
54'   Matuidi! Ronaldo twists and tirns and finds Alex Sandro, who whips in a low cross. The Frenchman gets a touch and it's going in but Ichazo smothers the danger. 
53'   Belotti forces Perin into another save and Torino claim a penalty as Zaza is hauled to the floor in the area but the ref shakes his head. Juve are on the ropes here... 
52'   It's an outswinger and Belotti almost gets his head on it. All Torino at the moment. They can smell a goal here. 
52'   Belotti! The striker tries to catch Perin out and almost succeeds, drawing a fine save from the Juve keeper. Corner to the home side... 
51'   Izzo! The ball is slung in and the defender meets it at the far post but can't keep his header down. 
50' Can in the book now as he clatters into the onrushing Belotti and sends the Torino skipper flying. 
49'   Another Torino free as Dybala clips Ansaldi but this one is a bit further out, taken quickly and eventually all the way back to Ichazo. 
48'   A training ground routine but its telegraphed by Torino and out for a Juve throw on the far side. 
48' Pjanic goes in the book for a trip on Belotti and Torino have a very handy looking free-kick situation. 
47'   Juve nick the ball in midfield and Ronaldo gets a run at the Torino back four but he runs out of ideas on the edge of the area and is pickpocketed. 
46'   A slick early move from Juve, Ronaldo feeding Dybala who slots the ball into the path of Matuidi. The Frenchman can't hit the target though. 
46'   And we're back underway! 
Ronaldo and Mandzukic having a right old barney as they await kick-off. The Portuguese looks less than pleased about something. 
We're about to get underway for the second half as the players make their way out. No further changes at half time by the looks of things. 
45'+3' Belotti whacks an attempted cross straight out and that may be the last chance of the half. Perin hoofs the ball back into play and the ref blows for half time. A cracking 45 in Turin but it remains goalless at the break. 
45'+2'   Another corner for Torino... can they nick one on the whistle? It's an inswinger from Ansaldi and Perin is forced to come out and punch clear. Torino still pushing as Juve drop back in numbers. 
45'+1'   Meita gets in a tangle and Can takes advantage to try and pick out Mandzukic but Izzo gets a foo in the way. That was a timely intervention with the big striker almost given a clean sight of goal. 
44'   A minute of normal time left, Torino have a goal kick after Mandzukic fails to get on the end of a ball over the top. There will be four minutes added. Can blasts a shot from distance into the upper tier, Ichazo just has to stand there and watch it fly. 
42'   Djidji literally flies into a tackle to deny Mandzukic and Juve have a corner. Dybala sends it in and the unlikely figure of Chiellini prods the ball towards goal but Ichazo makes a comfortable save. 
41'   The corner comes to nothing though and Torino get on the front foot again, Di Sciglio stopping Ansaldi in his tracks on the Juve right. 
40'   It's not a bad hit from the Portuguese but it wallops Zaza on the back and it's out for a corner. 
38'   It's sent to the far post again and Belotti tries to rurn it back into the area but Juve hack it clear and have the chance to break. Ansaldi decides to take out Mandzukic to thwart the threat. Free-kick to Juve, well within Ronaldo's preferred range... 
38'   Corner to Torino as Meite blasts a ball towards goal and gets a chick of Chiellini instead. 
36'   Torino look the more likely to break the deadlock here but a lofted ball to Belotti sees the home side's captain called narrowly offside. 
35'   Zaza! The Torino striker has a pop from distance but Perin makes a solid save. 
34'   It's all the way back to Ichazo from Torino and it says a lot about the home side's performance so far that that was the keeper's second touch as far as we're aware. 
33'   Zaza needs to be careful as he batters into the back of Mandzukic. He's on a yellow and apparently on a mission to reduce his side to 10 men... 
32'   Perin! Baselli sens in a great cross and Aina almost turns it in but the Juve keeper makes a great initial stop before swiping the ball away from the attentions of Izzo. 
32'   Juve clear again but Belotti picks up the ball on the left and is floored by Matuidi. Free-kick for the home side on the left in a very inviting position. Up come the big guns... 
31'   It's into the near post and Ronaldo clears. Another corner for Torino... can they make this period of pressure count? 
31'   Another corner for Torino as Ansaldi leathers a cross in and Sandro nods it out. 
30'   Baselli drives towards goal and tries his hand but was it the right option? He had Belotti on his left. It's a corner though. 
28'   Alex Sandro gets into a bit of a pickle under pressure from Belotti and plays a hospital ball to Perin, who does well to clatter it clear with two maroon shirts bearing down on him. 
26' Zaza goes in the book for a crazy challenge on Alex Sandro from behind. The ref has no hesitation and the former Juve man gets his name on the naughty list. 
25'   A lovely piece of play from Torino sees Izzo get away on the left but his cross is blocked. Another attempt from the left is straight out for a goal kick but the home side are knocking on the door. 
23'   Rincón is down in agony after a 50-50 with Di Sciglio and has a face like thunder as he drags himself back to his feet. The Juve man will need to watch his back. 
22'   Belotti breaks throught the Juve back line but finds the rather sturdy figure of Bonucci to get past and doesn't manage it. The home side look slick on the break though.  
20' And indeed Salvatore Ichazo is on. His first touch is to boot the ball clean out for a throw. We assume he's a no nonsense sort of a chap, the Uruguayan. 
19' Sirigu hoofs a clearance and grimaces as he clutches his back again. It looks like that's definitely it for the Torino keeper as he's helped to his feet again. It's a technical knock-out basically. He surely has to come off.  
18' Ronaldo appears to block Nkoulou and Torino players wave the imaginary card but the ref doesn't go for it and the home side have to settle for a free kick. 
17'   Pjanic sends the ball to the far side and Can connects but doesn't really wrap his boot around it and his shot trickles wide. 
15'   It doesn't look good for the Torino keeper and a change appears to be coming up. In the meantime, he'll have to defend a corner... 
14'   Ronaldo! The Portuguese gets his boot on a fine volley and sends Sirigu into a sprawling save equal to the effort. Excellent stop from the keeper, but he's down again and seems to be still suffering the after-effects of that challenge from Can. 
13'   Juve build an attack but Torino's back three are well-placed to repel the danger. The visitors are settling on the ball now though and the marron shirts are being gradually pushed back. 
12'   Ansaldi gets a talking to as he scythes through Can and Juve have a free kick. It looks as though Sirigu is ok after all. 
11'   Play is paused as Sirigu gets gingerly to his feet and it does not look good for the keeper, but he appears set to soldier on for now. 
10'   Pjanic delivers and it's a decent one but Sirigu is fouled by Emre Can and goes down in obvious discomfort, clutching his back. The physios are out to treat the Italy international. 
8'   Perin hoists the ball into play and Torino are on it like a flash. Juve win it back though and try to play Matuisi in but the ball is nicked off the Frenchman's boot and it's out for a Juve corner. 
7'   The Portuguese adopts the position and Sirigu spits on his gloves in anticipation. It's a training ground routine as Pjanic touches it for Ronaldo but the number seven lashes a shot out for a throw on the far side. Not his finest ever effort, that. 
6'   This time it's Zaza on the trot down the left who is pulled up for offside. At the other end Ronaldo is floored and Juve have a free-kick on the edge of the area. 
5'   Ronaldo is up for a cross but the lino has his flag aloft, much to the Portuguese's chagrin. 
4'   Ansaldi picks out Aina with a fine cross-field ball but the on-loan Chelsea winger plays a loose ball inside and Juve get their boots on the pig skin at last. 
3'   Torino try to work something on the left through Ansaldi but the black and white shirts are all over the former Atlético man and it's out for a throw. Decent start from the home side, who have enjoyed plenty of the ball. 
2'   Juve are pressing hard early on and Torino are finding it difficult to get out of their own half. Aina goes on a jinking run down the left but is easily dispossessed by Alex Sandro. 
1' And we're off! Torino get the ball rolling. 
The players are emerging from the tunnel and the stadium erupts! Huge roar from the home support, who are clearly up for this one tonight. 
We're just a few minutes from kick off now and the Stadio Olimpico Grande Torino is rocking. There's not an empty seat in the house. 
Juventus are the only side in Europe's top five leagues with a perfect away record this season, their only dropped points coming at home against Genoa. Since the opening day of the season when Juve beat Chievo 3-2, Allegri's side have only conceded twice on the road. 
Cristiano Ronaldo has been instructed as to the importance of the Derby Della Mole... by one of Juve's kitmen. "I realised that Juventus fans refuse to lose two matches: against Inter and Torino" the Portguese said ahead of the game. 
Juve's record in Serie A this season: WWWWWWWWDWWWWWW. Can Torino turn the tables on their city rivals for the first time since 2015? 
  There's no place for Iago Falque, with the Spaniard eventually missing out after a last-minute issue. That's a bit of blow for the home side. Simone Zaza, a former Juve man himself, comes in up front alongside Belotti. 
As ever, we've thrown together a handy guide as to how and where to watch the Turin derby. 
  Cristiano Ronaldo will be looking to add to his tally of 10 goals and five assists in Serie A this season ahead of a planned rest for the Portuguese forward over the course of Juve's next three fixtures, as prescribed by Massimiliano Allegri. 

Hello and welcome to AS English's live coverage of the Turin derby bewteen Torino and Juventus from the Stadio Olimpico Grande Torino. Kick-off is at 20:30 CET.