Real Madrid: Simeone jibes that have led Modric & Co to hit back
Luka Modric and Thibaut Courtois this weekend both bit back at the Atlético boss, who has made a habit of taking swipes at Real Madrid...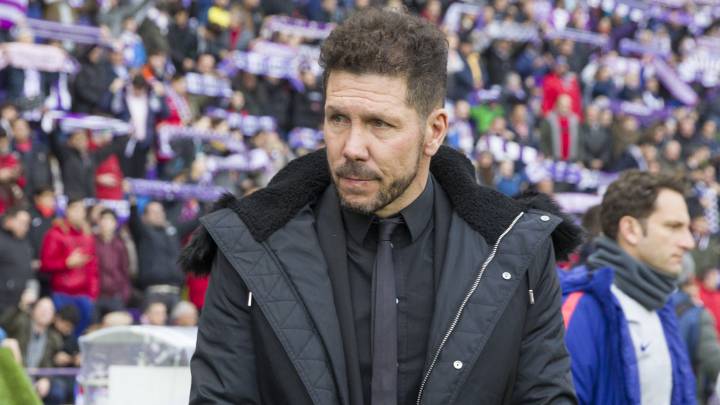 On Saturday, Real Madrid pair Luka Modric and Thibaut Courtois both bit back at Diego Simeone over the barbs that the Atlético Madrid coach has been aiming at his city rivals. Firstly, Modric told an interview in his native Croatia that the 48-year-old "always feels the need to belittle Madrid". Later, after his side's 1-0 win over Rayo Vallecano, Courtois added: "Simeone criticises Madrid so as to be popular with his fans. He always does it, attacks Madrid for being the best in the world."
These are just some of the Simeone jibes that have left Madrid's dressing room at the end of its tether with the Argentine:
Message to Madrid's fans before River-Boca
As he arrived at the Bernabéu to watch River Plate and Boca Juniors' Copa Libertadores final clash last Sunday, Simeone caused annoyance among the Real Madrid faithful by comparing them negatively with the fanbases of the Buenos Aires clubs. "The atmosphere inside the stadium is going to be different to how it normally is," he told reporters. "Particularly because at the Bernabéu the support is not as passionate as at Atlético Madrid, or in Bilbao or Seville."
Modric and the Ballon d'Or
Simeone did not agree with Modric's 2018 Ballon d'Or win. Asked about the award on the day after the midfielder picked up the France Football gong in Paris, 'El Cholo' said, "Playing for Atlético makes it more difficult [to win it]," adding: "[Atleti forward Antoine Griezmann] won the World Cup; that's very difficult. Everyone can choose who they think is most appropriate. We congratulate Modric; he had a very good season. For me, the best were [Raphael] Varane and Griezmann."
Courtois and his The Best keeper award
Simeone also did not pass up the chance to offer his take on why Courtois, who played under him in a three-year spell at Atleti, was selected as The Best FIFA Goalkeeper 2018 in September. "In the world of football, you have to know where you are and the way things work," he said, in comments that the Belgian international sought to disprove yesterday. "He joined Madrid and won the award for best keeper. When he was with us, it was won by Keylor Navas, who was at Levante [and moved to Madrid]."
"Madrid snap up all the good players..."
As well as these three recent Simeone swipes at Madrid, there are plenty more to be found if we wind the clock back a bit further. Discussing Los Blancos' greater financial clout in the transfer market, for example - an issue he often likes to touch on - he claimed late last year: "Madrid snap up all the good players; the rest of us are not in a position to do the same." In summer 2015, meanwhile, he memorably suggested that external forces would ensure Madrid were crowned LaLiga champions that season, declaring: "They can't go seven years with just one league title. This year, I think it'll be difficult for any other team to win it; sadly, I think it's dangerously set up for Madrid." In the end, though, it was Barcelona who lifted the trophy.