Real Madrid: Cristiano Ronaldo empties the Bernabéu
The departure of the Portuguese has coincided with a notable drop in attendance figures at Real Madrid's stadium this season.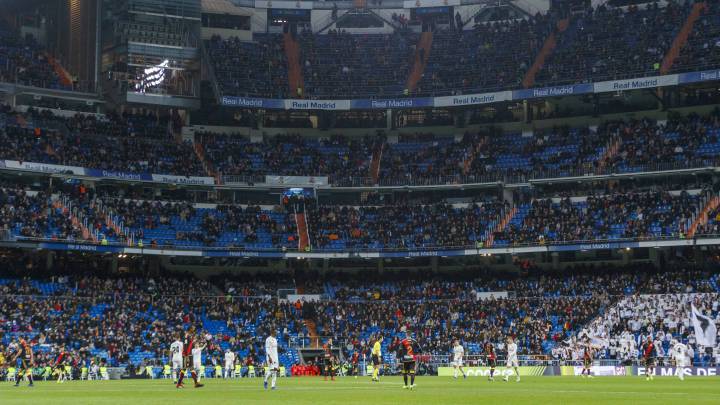 The rafts of empty seats on display in the Santiago Bernabéu during Real's uninspiring 1-0 victory over Rayo Vallecano have become habitual this season. Just 55,229 spectators turned out for the game, filling just 68 percent of the stadium's capacity.
It was the third such attendance in as many games, with the Copa del Rey fixture against Melilla drawing 55,243 fans and the Champions League game against CSKA pulling in 51,636. Both matches were lacking in box office glamour – Primera sides habitually put out weakened teams in the early rounds of the cup and Real had already qualified for the knock-out stages of the Champions League – but the trend has spread across the board this season.
Of the 12 games played at the Bernabéu, only seven have attracted more than 60,000 spectators and just one, the derby against Atlético, over 70,000. By the same stage last season, only the Copa game against Fuenlabrada had drawn fewer than 60,000.
The "Ronaldo effect" spreads from the pitch to the stands
There are several reasons why fans are staying away in droves, with an average of 5,000 fewer for Liga games and 11,000 for European fixtures. Santiago Solari's side are not playing vintage stuff, there has been no big name signing to attract interest and the squad is extremely familiar to the home support. But a decisive factor has been the departure of Cristiano Ronaldo, the main attraction at the Bernabéu for almost a decade.
On the opening day of the season with Getafe the visitors, the Bernabéu turnstiles clicked just 48,466 times, the lowest attendance at the stadium since May 24, 2009, precisely the last home game before Ronaldo signed for the club that summer. During the entire nine seasons the Portuguese spent at the Bernabéu, there had never been an attendance as low as that registered on the opening day of the 2018-19 campaign, evidence that Ronaldo's influence on the pitch was as valuable to Real Madrid as his ability to shift seats in the venerable stadium.